Sod Poodles' Five-Homer Night Not Enough In 8-7 Loss To Tulsa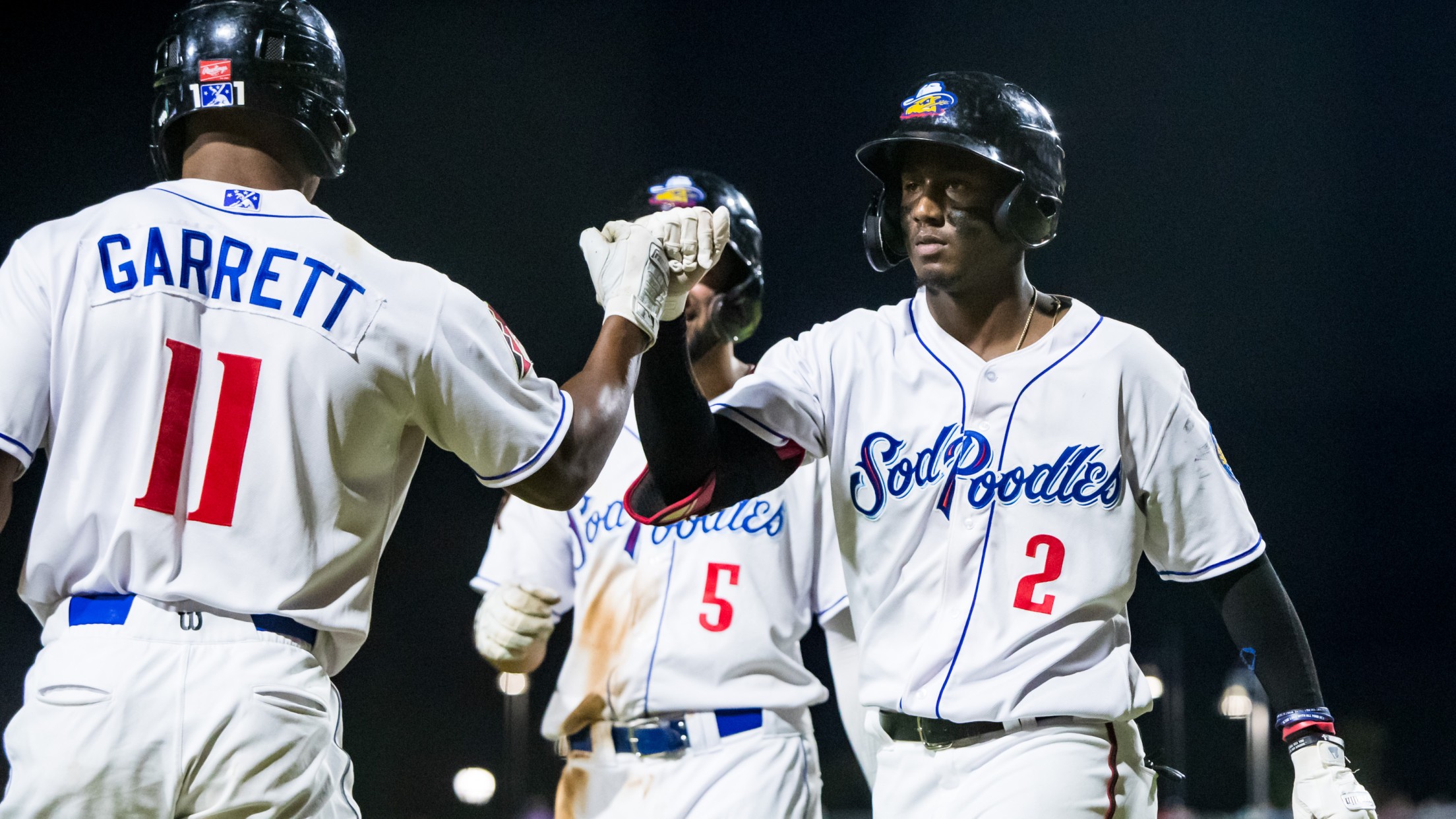 Friday, September 10, 2021 vs. Tulsa [LAD] Tulsa Drillers (59-53) | Amarillo Sod Poodles (54-57) The Soddies fell 8-7 to the Tulsa Drillers Friday night at HODGETOWN. After trailing 5-0 through the first five-and-a-half frames, the Soddies battled back to get within a run. After Tulsa extended to a three-run
Friday, September 10, 2021 vs. Tulsa [LAD]
Tulsa Drillers (59-53) | Amarillo Sod Poodles (54-57)
The Soddies fell 8-7 to the Tulsa Drillers Friday night at HODGETOWN.
After trailing 5-0 through the first five-and-a-half frames, the Soddies battled back to get within a run. After Tulsa extended to a three-run lead in the top of the ninth, Amarillo battled once again, getting within a run with two outs, but, with the winning run at the plate, fell short with a strikeout to end the late rally.
Soddies starter Drey Jameson (L, 3-1) took his first Double-A loss and first since June 19 after his five frames of work while Tulsa's Michael Grove earned his first win of 2021.
Tulsa struck early in the second inning, initiated by a leadoff double by Hunter Feduccia. Following a wild pitch during the next at-bat, Devin Mann put the Drillers up 1-0 with his sacrifice fly ball to right field. Ryan Noda and Hamlet Marte added a pair of singles and proceeded to double steal to get into scoring position. However, Jameson would induce a shallow flyout and strikeout looking to keep it a one-run contest.
After keeping Tulsa off the board and stranding two runners in the second, Mann contributed once again in the third with a leadoff home run to put the Drillers up 2-0. Noda restarted the frame with a single and after a wild pitch, Amaya singled to left field to plate a second run to extend the visitor's advantage to 3-0.
The Soddies got their first baserunner aboard in the fourth when Eduardo Diaz led off the frame with a walk to end Tulsa righty's Michael Grove's perfect bid. After Geraldo Perdomo flied out and Diaz was caught stealing, Stone Garrett singled for Amarillo's first hit of the night before Buddy Kennedy struck out to end the half.
In the fifth, Tulsa continued their offensive momentum after Noda knocked his third hit of the night, a two-run home run, to plate Mann, who walked with two outs to extend the frame, giving the Drillers a 5-0 lead.
The Soddies found a rhythm in the bottom half of the fifth when both Dominic Canzone and Dominic Miroglio struck homers to plate Amarillo's first two runs.
After the Drillers added a run in the sixth to jump to a four-run lead, the Soddies continued to battle. With reliever Bryan Brickhouse in the game for Grove, Diaz reached on a fielding error while Perdomo followed with a monster home run out to right field. Kennedy added a one-out triple to right-center field and was driven in on Dominic Fletcher's groundout to bring the score to 6-5 and the Soddies within a run.
In the ninth, Tulsa's Mann gave the Drillers a cushion with a two-out, two-run home run to straightaway centerfield, extending their lead to 8-5.
In the ninth, after stranding runners in each of the last two frames, Soddies first baseman Andy Yerzy connected and knocked a one-out solo home run and then, with two outs, Luis Basabe cranked the team's fifth long ball of the night to bring them within a run. After a walk by Diaz to continue the rally, the red-hot Perdomo battled to a full count but struck out looking to end the contest and fall 8-7.
The Sod Poodles and Drillers continue into game five tomorrow night at HODGETOWN. Right-hander Bryce Jarvis (1-2, 6.04 ERA) gets the ball for Amarillo and will face off against Tulsa righty Gus Varland (1-3, 3.98). First pitch is scheduled for 7:05 PM from HODGETOWN.
Notes:
PerdO-MY: Geraldo Perdomo continued his hot streak Friday night with his third home run since August 5. Since his reactivation, Perdomo is batting .321 (34-for-106) with five doubles, three triples, four home runs, 17 RBI, 15 walks, and three stolen bases.
*Homer Happy: *With five home runs on Friday night, the Amarillo Sod Poodles have now hit 136 home runs during the 2021 season. Another four over their last nine games would give them the most homers in a single season in franchise history, topping the 139 by the 2019 Texas League Champions.
*Dom Bombs: *Two of the Soddies three Doms - Dominic Canzone and Dominic Miroglio - slugged homers Friday night at HODGETOWN in game four against Tulsa. Both homers produced the first two runs for Amarillo in the fifth inning and marked home runs 6 and 10 respectively.
Streaks Intact: Outfielder Dominic Canzone and shortstop Geraldo Perdomo extended their respective hitting streaks on Friday night. Canzone has hit safely in each of his last eight games, batting .414 (12-for-29) with two home runs, five RBI, four walks, and six runs scored. Perdomo, the D-backs No. 9 rated prospect, has recorded a hit in each of his last seven games. He is batting .429 (12-for-28) in the span with three doubles, a triple, two home runs, eight RBI, and five walks.
Win Streak Over: The Soddies win streak came to an end Friday night after Amarillo took three straight from Tulsa. The team's longest win streak of the season was recorded at the end of August (five games) to tie a franchise-high set in 2019.
Drey's Day: In his seventh Double-A start, D-backs No. 17 rated prospect Drey Jameson took his first loss at the level and first overall since June 19. In the outing, he tossed five frames, allowing five runs, and tied career-highs with eight hits and four walks surrendered.
Newcomer: One of the Soddies newest arms, Wesley Rodriguez, made his Double-A debut Friday night, tossing two frames with two hits and a run allowed and two strikeouts. The Bronx, New York native began the 2021 season with High-A Hillsboro, going 1-4 with a 3.45 ERA in 28 games. He was selected by the D-backs in the 12th round of the 2015 MLB draft out of George Washington High School.