Soddies Offense Silenced By Drillers
Fletcher, Carroll, Diaz All Extend Hit Streaks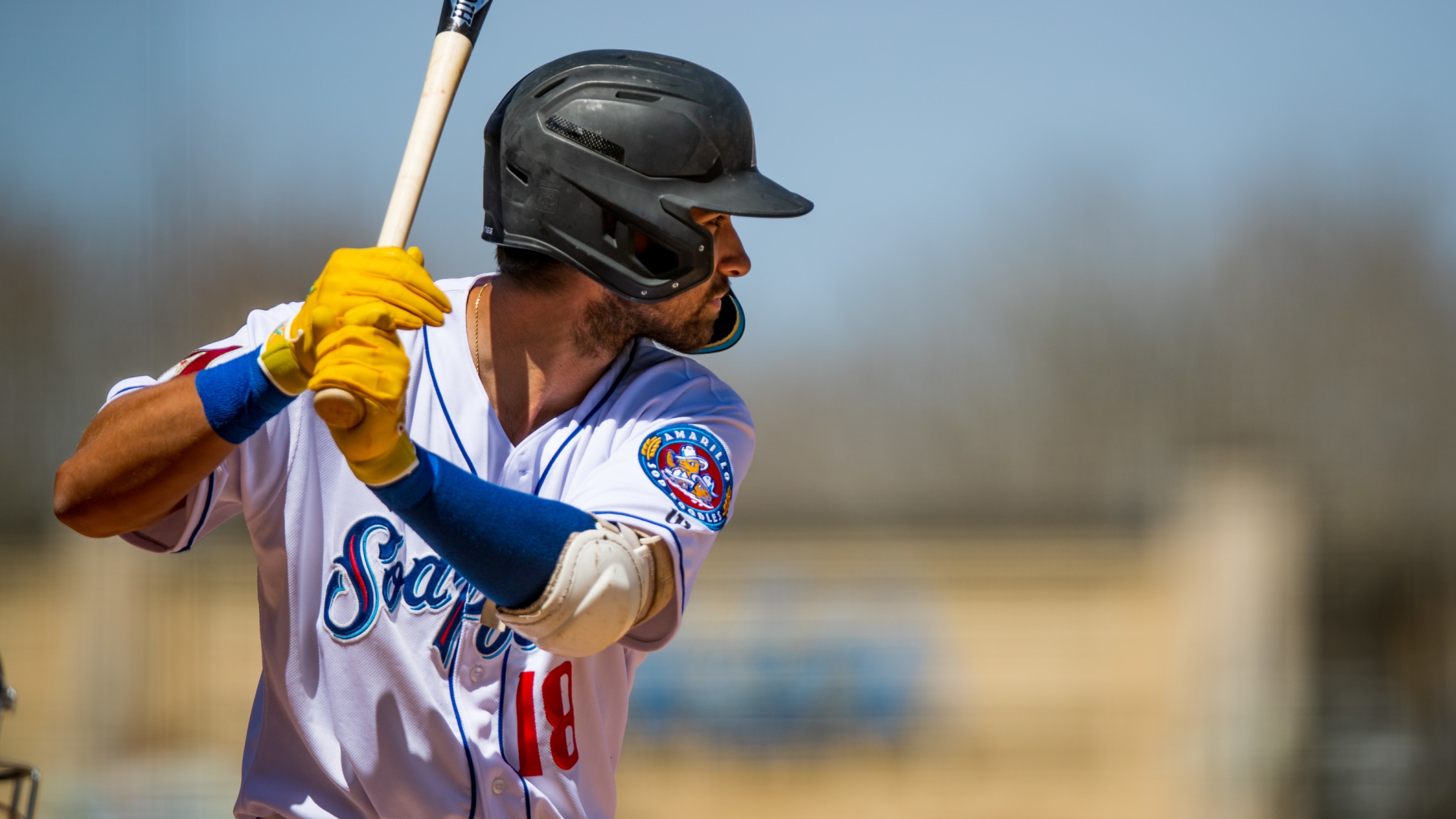 (John Moore)
Amarillo, TX – The Sod Poodles dropped game two of the current six-game set against the Drillers by a score of 9-2 on Wednesday night. Tulsa scored the first six runs of the game while also keeping the Sod Poodles at bay until the sixth. For the second game in
Amarillo, TX – The Sod Poodles dropped game two of the current six-game set against the Drillers by a score of 9-2 on Wednesday night. Tulsa scored the first six runs of the game while also keeping the Sod Poodles at bay until the sixth.
For the second game in a row, Tulsa plated two runs in the opening frame of the game. Right-hander Brandon Pfaadt was on the mound for Amarillo and saw the first Driller hitter he faced standing on second base after just one pitch. A blooper dropped in front of Corbin Carroll in right field to start the ballgame. The next two batters reached base with singles, scoring one and then the other scoring later in the inning on a wild pitch. Pfaadt limited the damage though, striking out the next two batters and getting out of the inning with a fly ball to center field, keeping a Driller stranded in scoring position.
The Dodgers' No. 18 rated prospect, Gavin Stone made his Double-A debut and got into a groove early, retiring the first six Sod Poodles he faced with five strikeouts including the first four he faced. A solo home run in the second inning and another two runs on three hits crossed the plate in the top of the third for the Drillers to make it 5-0.
Outfielder Dominic Fletcher added a single in the bottom of the fourth inning to extend his current hit streak to 22 games.
Hey Siri,

What do @Domfletch15 and @taylorswift13 have in common after this single in the 4th?

They're both feeling 𝙏𝙬𝙚𝙣𝙩𝙮 𝙏𝙬𝙤.

He is scalding. pic.twitter.com/xzyCQDIA5f

— Amarillo Sod Poodles (@sodpoodles) May 19, 2022
Carroll made it six straight games with a hit after notching another two hits on Wednesday including his team-leading third triple and second in as many games. Carroll would score easily on a wild pitch for the first Amarillo run of the game.
Corbin Barrels a ball into the WORLD FAMOUS @ANB Triple 🔺

Back-to-back games with a triple for the @Dbacks No. 2 rated prospect. Plus speed on display pic.twitter.com/3bVo58NaIv

— Amarillo Sod Poodles (@sodpoodles) May 19, 2022
Some self-inflicted wounds by the Sod Poodles defense in the top of the seventh extended the Drillers at-bats. Three errors in the inning - all with two outs - pushed the Tulsa lead to 9-1. With some electricity in the sky, the game went into a 39-minute lightning delay after the 7th inning stretch. Jorge Barrosa reached on a throwing error in the bottom of the ninth before advancing to third base on a balk and later scoring on a ground out to cap the night's scoring.
The series will continue on Thursday night with D-backs' No. 4 rated prospect Blake Walston making his third start in Double-A since being promoted from High-A Hillsboro on May 1. The southpaw is looking to bounce back in front of the home crowd after starting his Double-A career allowing eight hits and seven earned runs back on May 7 against Midland. In his last start, the D-backs' top-ranked pitching prospect struck out three over 3.2 IP against Springfield last Friday night. First pitch for another Thirsty Thursday presented by Barnes Jewelry is slated for 7:05 PM in downtown Amarillo.
Notes:
T-Swift Vibes: Dominic Fletcher extended his MiLB-leading hit streak to 22 games with a single in the bottom of the fourth inning. Fletcher is hitting .346 on the year and .385 (35-for-91) during this insane stretch. His 34 RBI still rank in the top 10 in all of minor league baseball and 3rd most in Double-A this year.
Swing And A Miss: Coming into today's start, right-hander Brandon Pfaadt had 36 of his D-backs' farm leading 41 come via swings and misses (87.8%). In today's game, Pfaadt struck out four and had three of them coming on called third strikes. He currently ranks T-9th in Double-A with 45 strikeouts and has had 80% of them come on swinging strikeouts.
Leather Let Down: The Sod Poodles tied their season-high with four errors on Wednesday night. The team also committed four errors in a winning effort back on May 22 against San Antonio.
Double-Triple: OF Corbin Carroll smacked his third triple of the year showing off his plus-ranked speed. Carroll now leads the team with three triples on the year and has hit a triple in consecutive games after recording a triple on Tuesday night as well. He became the first Sod Poodle in 2022 to record triples in consecutive games and the fifth time it has happened in franchise history. Jake McCarthy accomplished it twice in 2021 while Dominic Fletcher also did it last season. Ivan Castillo was the lone Soddie to accomplish the feat in 2019. All five times have come here at HODGETOWN.
Dos For Diaz: Eduardo Diaz picked up another multi-hit game for Amarillo, going 2-for-4 on Wednesday. It is Diaz's eighth two-hit game and 14th multi-hit performance in 2022 which leads all Sod Poodles players. Since seeing his AVG at a season-low .238 after his first 18 games, Diaz has hit safely in his last 10 games and is hitting .413 (19-for-46) with seven mulit-hit games.
Dude, Where's Our Runs: The two runs scored by Amarillo on Wednesday are tied for the second-fewest runs in a game this year. Amarillo was shut out against Midland on May 5 and the team had scored just two runs in two other games prior to Wednesday's 9-2 loss to the Drillers. Still, the Sod Poodles rank second in minor league baseball in total runs scored with 266 runs, trailing the Dodgers' Triple-A affiliate in Oklahoma City who have just two more runs scored with three extra games under their belts.
You Gotta Earn It: The Sod Poodles bullpen combined to not allow a single earned run over the final five innings on Wednesday. It was the fourth time in their last eight games played that the Sod Poodles' bullpen had not allowed an earned run.
*Win or Worst: *The Sod Poodles have now lost their last three games in a row going back to the series finale in Springfield on Sunday. Amarillo will need a win over the Drillers on Thursday to snap the cold spell and avoid losing a season-high four straight games. Amarillo also lost three straight from May 5-7 against the Midland RockHounds.
RISP Reward: Amarillo went 0-for-7 with runners in scoring position. The team currently ranks second in the minors with a .319 AVG with RISP which only trails the Salt Lake Bees who are hitting .326 as a team.