Soddies Walk Off In 10th, Earn Second Straight Win Over Tulsa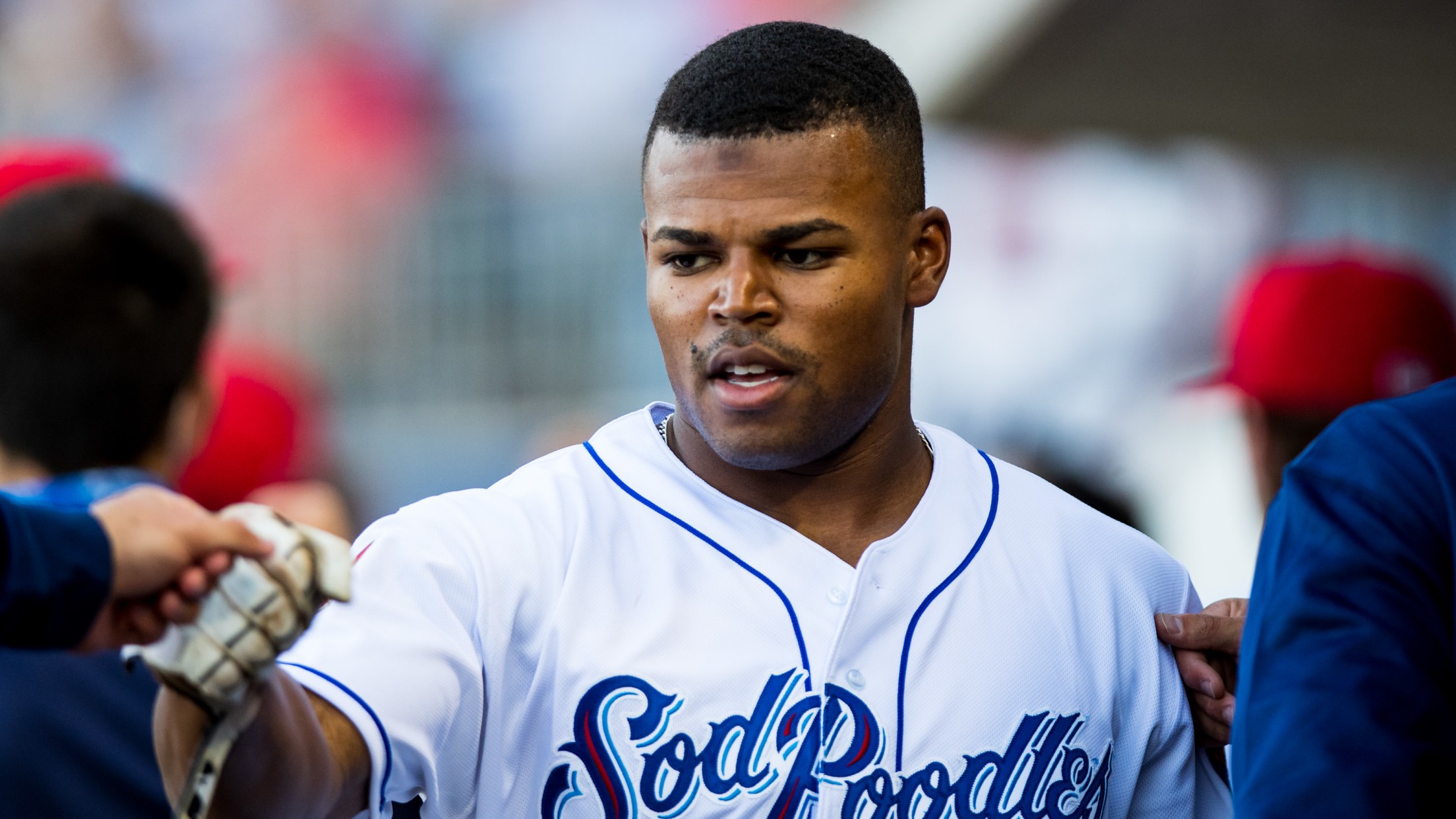 Wednesday, September 8, 2021 vs. Tulsa [LAD] Tulsa Drillers (58-52) | Amarillo Sod Poodles (53-56) The Amarillo Sod Poodles walked off in the 10th inning Wednesday night at HODGETOWN to defeat the Tulsa Drillers 6-5 courtesy of Stone Garrett's line-drive double. The extra-inning victory marked the second consecutive victory against
Wednesday, September 8, 2021 vs. Tulsa [LAD]
Tulsa Drillers (58-52) | Amarillo Sod Poodles (53-56)
The Amarillo Sod Poodles walked off in the 10th inning Wednesday night at HODGETOWN to defeat the Tulsa Drillers 6-5 courtesy of Stone Garrett's line-drive double. The extra-inning victory marked the second consecutive victory against the Drillers.
Garrett finished the night going 2-for-4 with an RBI, walk and two stolen bases while Eduardo Diaz, Dominic Canzone and Andy Yerzy combined for five RBI.
Amarillo starter Brandon Pfaadt tossed five solid innings despite allowing four solo home runs and struck out eight batters in the no-decision. Soddies relievers Tyler Jones, Kenny Hernandez, and Blake Workman (W, 2-6) combined for five strong innings out of the pen with four combined hits allowed, one run, and six strikeouts.
Tulsa jumped right out the gate in the contest when James Outman knocked the game's first pitch out and over the left-field wall. Michael Busch followed with a solo home run of his own on the third pitch of the game to make it a quick 2-0 Drillers lead.
In the bottom of the second, the Soddies battled right back. Following Dominic Fletcher's one-out single and a walk to Canzone, Diaz smacked a triple to left-center field to plate both runners and tie the game. In the next at-bat, Yerzy slugged a towering home run to right field to give the Sod Poodles the 4-2 advantage.
In the top of the fifth, Tulsa got back into the scoring column when Outman hit his second home run of the night to bring the Drillers within a run. With two outs, Miguel Vargas knocked the fourth home run of the game for the visitors to tie the game at four apiece.
In the sixth, Fletcher lined a one-out double to centerfield to set Canzone up for a seeing-eye single into right field to break the tie and put the Soddies back on top 5-4.
In the eighth, Tulsa's Vargas led off with a single and proceeded to get into scoring position with a stolen base. With two outs, Hunter Feduccia lined a soft single that just landed fair to tie things back at 5-5.
In the bottom half of the eighth, Amarillo brought the go-ahead run into scoring position after Garrett walked to lead off the frame and stole second with nobody out, but Soddies bats weren't able to produce to untie the knot.
After a quiet ninth frame on both sides, the game went to extras.
In the top of the 10th, with Busch starting on second base, Vargas popped out for the first out. Justin Yurchak then dumped a shallow fly ball down the left-field line for a base hit to keep Busch at bay and put runners on the corners. Following another pop-out by Ryan Noda for the second out, Soddies reliever Blake Workman tossed a third and final pop-out to Feduccia to strand the runners.
In the bottom half of the 10th, with Jancarlos Cintron starting on second base, Garrett lined a one-out double to the left-centerfield gap to walk the Soddies off 6-5.
The series continues with left-hander and D-backs' No. 18 rated prospect Tommy Henry making his team-leading 22nd start. The 2019 second-rounder out of Michigan is currently 3-6 with a 4.78 ERA. Henry will face Tulsa righty Clayton Beeter (0-1, 3.00).
Notes:
*WALK OFF: *The walk-off hit by Stone Garrett Wednesday night marked the third for Amarillo in 2021 and the first since June 19 when Alek Thomas drew a bases-loaded walk against Midland to win 12-11. The first walk-off hit by Amarillo this season came on May 19 when Dominic Fletcher hit an RBI single to win 3-2 in 12 innings also against Midland at HODGETOWN. All walk-off hits for the Soddies this season have been at home.
*Free Baseball: *The Drillers and Soddies went to extra-innings Wednesday night in game two of the series at HODGETOWN, marking the fourth extra-inning game of the 2021 season in Amarillo. With the victory, the Soddies improved their extra-innings home record to 2-2 and 4-5 overall.
Yerzy City: Amarillo catcher Andy Yerzy knocked his third home run with Amarillo and 19th overall this season Wednesday night. Yerzy is now tied for 2nd in the category among D-backs minor leaguers with Visalia's Neyfy Castillo, trailing fellow teammate Stone Garrett, who has collected 20.
Swipin': Stone Garrett's two stolen bases Wednesday night marked 14 and 15 of the season for the Texas native. He is now just two shy of Jake McCarthy, who stole 17 bags while with Amarillo.
*Brandon FAUGHT: *In his fourth Double-A start, Amarillo starter and Arizona Diamondbacks No. 26 rated prospect took the no-decision after five innings of seven-hit, four-run ball with one walk allowed eight strikeouts. In the outing, he allowed a career-high in home runs in a start with four solo homers given up to Tulsa. Pfaadt currently leads all D-backs minor league arms in strikeouts (149) and innings pitched (120.2).
Can-Do Canzone: Soddies outfielder Dominic Canzone improved to a .517 average (14-for-29) with 15 RBI with runners in scoring position after his single in the sixth on Wednesday against Tulsa. He also had an opportunity in the eighth but was unable to produce. Overall, he has two doubles, a triple, and two home runs in 2021 at Double-A with runners in scoring position.
Triple Trouble: Soddies outfielder Eduardo Diaz collected his second triple this season at Double-A and the 18th of his career Wednesday night. Overall, the Soddies have collected 33 triples as a team this season, which currently leads all of Double-A.
*# 2 Hot To Handle: *D-backs' No. 9 rated prospect Geraldo Perdomo continues to contribute with the bat since rejoining the club after a stint on the development list. After beginning his 2021 campaign with Amarillo hitting .151 in his first 47 games, he is batting .316 in 26 games since his activation from the Development List on August 5th and leads the squad in runs (24), triples (3), and second in hits (31). In the series opener with Tulsa on Tuesday, he added his fourth home run of the year - a towering 417-foot shot that landed in the player's parking lot beyond the right-field berm. He also tied his season-high with three-RBI in the series-opening win. He has four multi-RBI games this year with every one of them coming since August 5th.