Sox shutout Pelicans 1-0
Ward hurls second-straight scoreless performance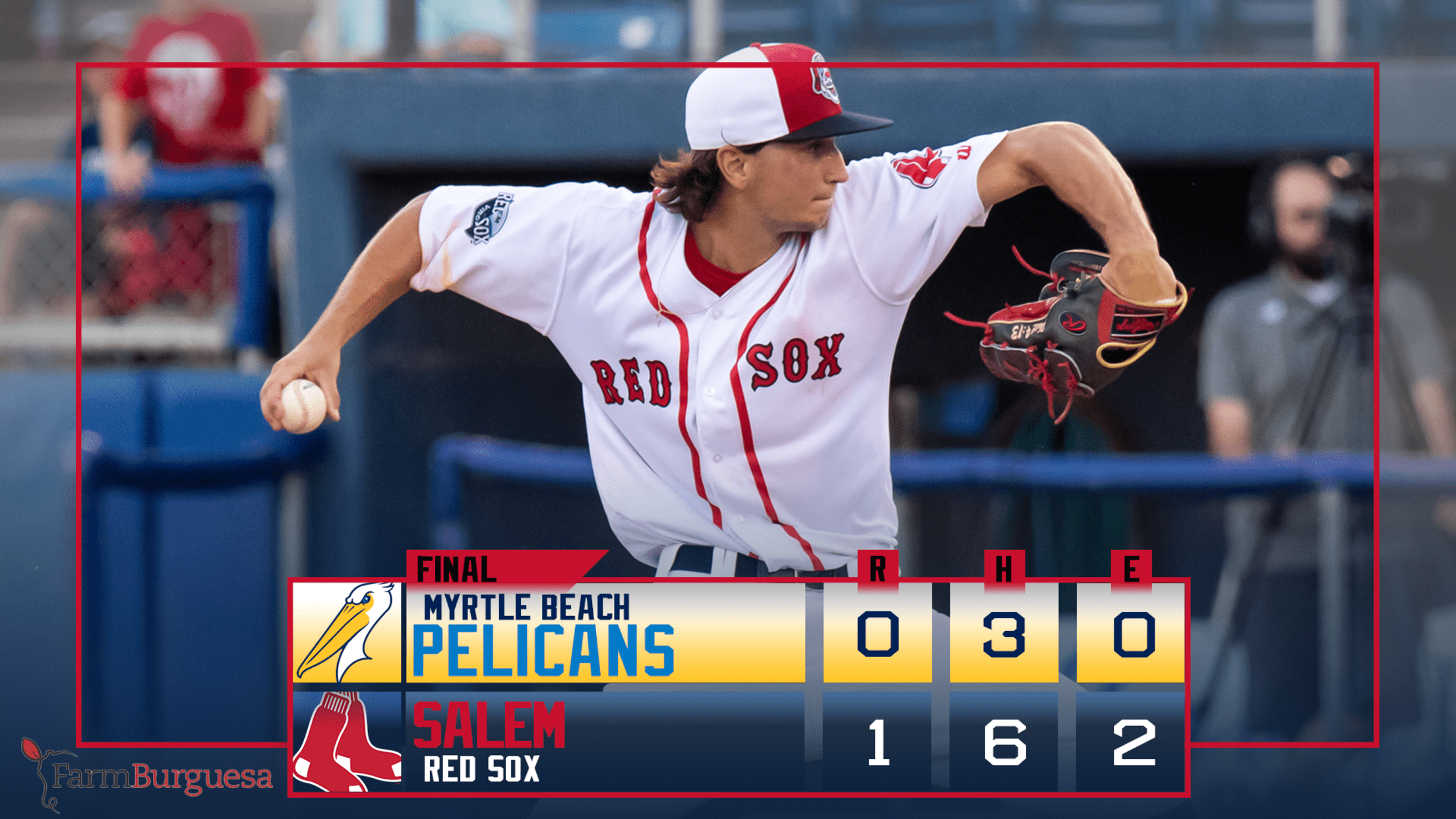 Thaddeus Ward delivered his second-straight shutout performance Friday night in South Carolina. (John Wacher)
MYRTLE BEACH, South Carolina (August 16, 2019) - Thaddeus Ward dealt five innings of shutout ball en route to a 1-0 win for the Salem Red Sox over the Myrtle Beach Pelicans Friday night at TicketReturn.com Field.How it Happened * The stalemate finally broke in the fifth inning. Keith Curcio
MYRTLE BEACH, South Carolina (August 16, 2019) - Thaddeus Ward dealt five innings of shutout ball en route to a 1-0 win for the Salem Red Sox over the Myrtle Beach Pelicans Friday night at TicketReturn.com Field.

How it Happened
* The stalemate finally broke in the fifth inning. Keith Curcio led-off with a single, Victor Acosta delivered one of his own to push runners onto the corners before a sacrifice fly from Devlin Granberg brought Curcio home to take a 1-0 lead.
* Thaddeus Ward retired after five innings of one-hit ball. The righty racked up seven strikeouts.
* Keith Curcio doubled to start the seventh before torrential rain brought the game to a halt for 52 minutes.
* The bullpen carried the final four innings, permitting just two hits and striking out three.
Standout Sox
* Thaddeus Ward: 5.0 IP, 1 H, 0 R, 0 ER, 3 BB, 7 K
* Keith Curcio: 3-for-4, 2B
* Logan Browning: 1.0 IP, 1 H, 0 R, 0 ER, 1 BB, 0 K - H (2)
* Angelo Gomez: 2.0 IP, 1 H, 0 R, 0 ER, 0 BB, 2 K - H (4)
* Andrew Schwaab: 1.0 IP, 0 H, 0 R, 0 ER, 0 BB, K - S (11)

Noteworthy
* Salem's defense delivered the performance of the year, including diving snags from Garrett Benge and Tanner Nishioka and a basket catch by Thaddeus Ward.
* Jagger Rusconi's lead-off single extends his hit streak to five games.
* The win was the seventh time the Sox have shut out an opponent this season.
What's Next
Salem Red Sox at Myrtle Beach Pelicans, August 17, 2019. First pitch is scheduled for 6:05 PM EST.
RHP Daniel Gonzalez vs TBA
Listen: SalemSox.com, TuneIn Radio, ESPN Blacksburg WKEX 1430 AM/94.1 FM, WGMN 1240 AM/93.3 FM
Watch: MiLB.TV
The Salem Red Sox are the Advanced-A affiliate of the Boston Red Sox and call Haley Toyota Field in Salem, Virginia home. The team was founded in 1968 and purchased by Fenway Sports Management in December of 2007. For more information on the Salem Red Sox, please visit SalemRedSox.com or contact Melanie Newman at [email protected].