Spikes name 2019 year-end award winners at home finale
Pages, Figueroa, Ralston, Warner honored during pre-game ceremony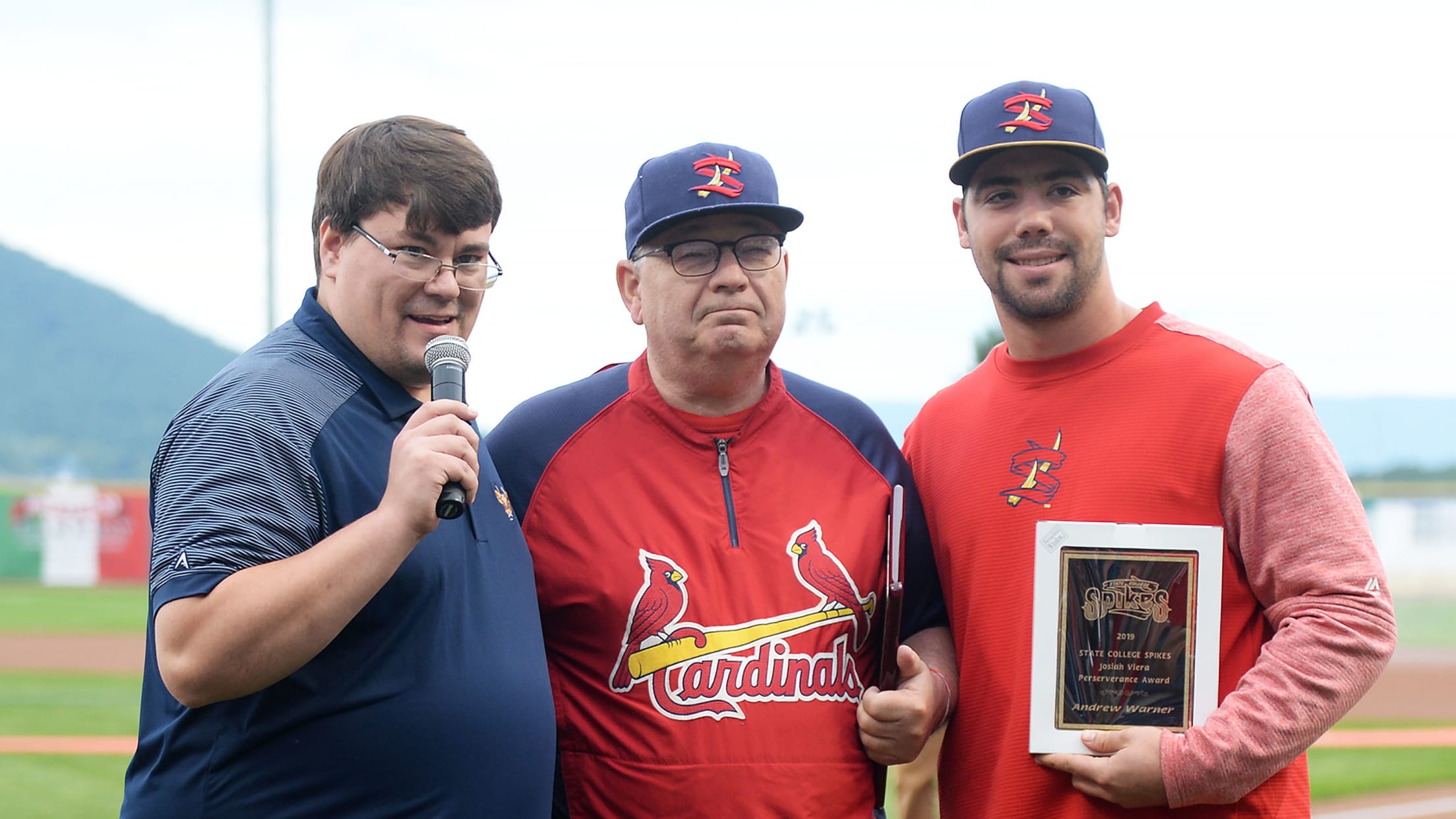 Andrew Warner (right) accepts the Josiah Viera Perserverance Award from Josiah's grandfather Dave Bohner (center) as Director of Communications Joe Putnam (left) oversees the proceedings on Sunday. Warner is the first-ever two-time Spikes award winner. (Steve Manuel)
The State College Spikes announced their 2019 year-end award winners before Sunday's regular season home finale at Medlar Field at Lubrano Park. Infielder Martin Figueroa and catcher Pedro Pages shared the club's Most Valuable Player award, while right-handed pitcher Jack Ralston earned the Spikes' Pitcher of the Year award and
The State College Spikes announced their 2019 year-end award winners before Sunday's regular season home finale at Medlar Field at Lubrano Park. Infielder Martin Figueroa and catcher Pedro Pages shared the club's Most Valuable Player award, while right-handed pitcher Jack Ralston earned the Spikes' Pitcher of the Year award and Andrew Warner won both the Josiah Viera Perseverance Award and the inaugural PSECU People's Choice Award.
Figueroa split time at second base for the Spikes but was named to the New York-Penn League All-Star Game as a first baseman owing to his versatility. The Elizabeth, N.J. native was originally selected by the Astros in the 32nd round of the 2017 MLB Draft out of Rhode Island. Figueroa then played the 2018 season for the Sussex County (N.J.) Miners of the Can-Am League before signing with the Cardinals and joining the Spikes in 2019. The switch-hitter has recorded a .282 batting average and .360 on-base percentage, with four home runs and 27 RBI, tied for third-most on the team, over 35 games this year.
Pages joined the Spikes after being drafted in the sixth round by the St. Louis Cardinals in 2019 out of Florida Atlantic. The Doral, Fla. native ranks in a tie for fourth in the New York-Penn League with 17 doubles, and his .299 batting average through August 31 is eighth-best in the loop. Pages is also fourth in the league with a .402 on-base percentage, eighth in slugging percentage with a .443 mark, and his .845 OPS ranks sixth-best in the NYPL. The catcher has also put together a team-best 23-game on-base streak, a streak that remains active as of Sunday.
The pair of Spikes join Justin Byler (2007), Chase d'Arnaud (2008) Brock Holt (2009), Adalberto Santos (2010), Wes Freeman (2011), D.J. Crumlich (2012), David Washington (2013), Danny Diekroeger (2014), Casey Grayson (2015), Tommy Edman (2016), Evan Mendoza (2017), and Stanley Espinal (2018) on the list of Spikes MVP award winners.
Ralston, a native of Newhall, Calif., was drafted by the Cardinals in the seventh round this year out of UCLA. The right-hander made a strong debut in the professional ranks, going 17 1/3 innings without allowing a run to start his pro career. Ralston has racked up five saves in as many opportunities with a 1-0 record and a 1.16 ERA in his first 16 appearances of the season. The right-hander has also limited opponents to a .134 average.
Ralston joins Tony Watson (2007), Alan Knotts (2008), Kyle McPherson (2009), Kevin Decker (2010), Nick Kingham (2011), Clay Holmes (2012), Nick Petree (2013), Will Anderson (2014), Pedro Echemendia (2015), Steven Farinaro (2016), Daniel Castano (2017), and Franyel Casadilla (2018) as recipients of the Spikes' Pitcher of the Year award.
Warner became the first Spikes player to win two year-end awards in the same season after smashing a team-leading seven home runs and earning a 2019 New York-Penn League All-Star Game berth. The Columbia (Mo.) College product was drafted in the 40th and final round of the 2018 MLB Draft, but has become a power source for Johnson City last year and State College this year. Warner is hitting .248 with a .342 on-base percentage over his first 45 games. The Lee's Summit, Mo. native has also produced eight doubles, a triple and 28 runs batted in while scoring 25 runs.
The Josiah Viera Perseverance Award was introduced in 2014 as a tribute to the Spikes' honorary bench coach, who passed away this past December. Josiah faced challenges everyday due to Hutchinson/Gilford progeria but became rallying point for the Spikes over the past seven seasons thanks to his determination, perseverance and joyous spirit in the face of adversity.
The Lee's Summit, Mo. native follows 2015 catcher José Godoy , 2016 third baseman Danny Hudzina , 2017 pitcher Levi MaVorhis and 2018 infielder Brady Whalen as a recipient of this prestigious honor.
Warner also became the first winner of the PSECU People's Choice Award, presented by the Spikes and PSECU to the fans' choice as the Spikes' top player of the year, as solely determined by fan vote.
Fans can catch more future baseball stars and enjoy plenty of family fun during the 2020 season with Spikes Season Seat Memberships.
Season Seat Members enjoy numerous benefits, including early entry into the ballpark for every game, giving them the first opportunity at many of the Spikes' fantastic giveaways.
Season Seat Memberships are available as either one-year or three-year terms, with a $100 deposit per seat. However, those purchasing a three-year membership do not have to pay for all three years at once. Customized payment plans are also available by speaking with a Spikes ticket representative.
In addition, fans committing to Season Seat Memberships before Friday, October 25, will be entered in a drawing which could give them their 2020 season seats for free. Fans purchasing one-year memberships will receive one entry per account, while fans committing to three-year memberships will receive three entries per account.
Season Seat Memberships also give Spikes fans a membership in the Extra Innings Club, which grants access to a wide array of exclusive events at the ballpark throughout the year.
To purchase a Season Seat Membership and enjoy amenities that last all year long, call a Spikes ticket representative at (814) 272-1711.
Additional team and ticket information can also be viewed at StateCollegeSpikes.com.