Mejia propels Redbirds to Triple-A crown
Cards infielder goes 5-for-5, plates five in Championship Game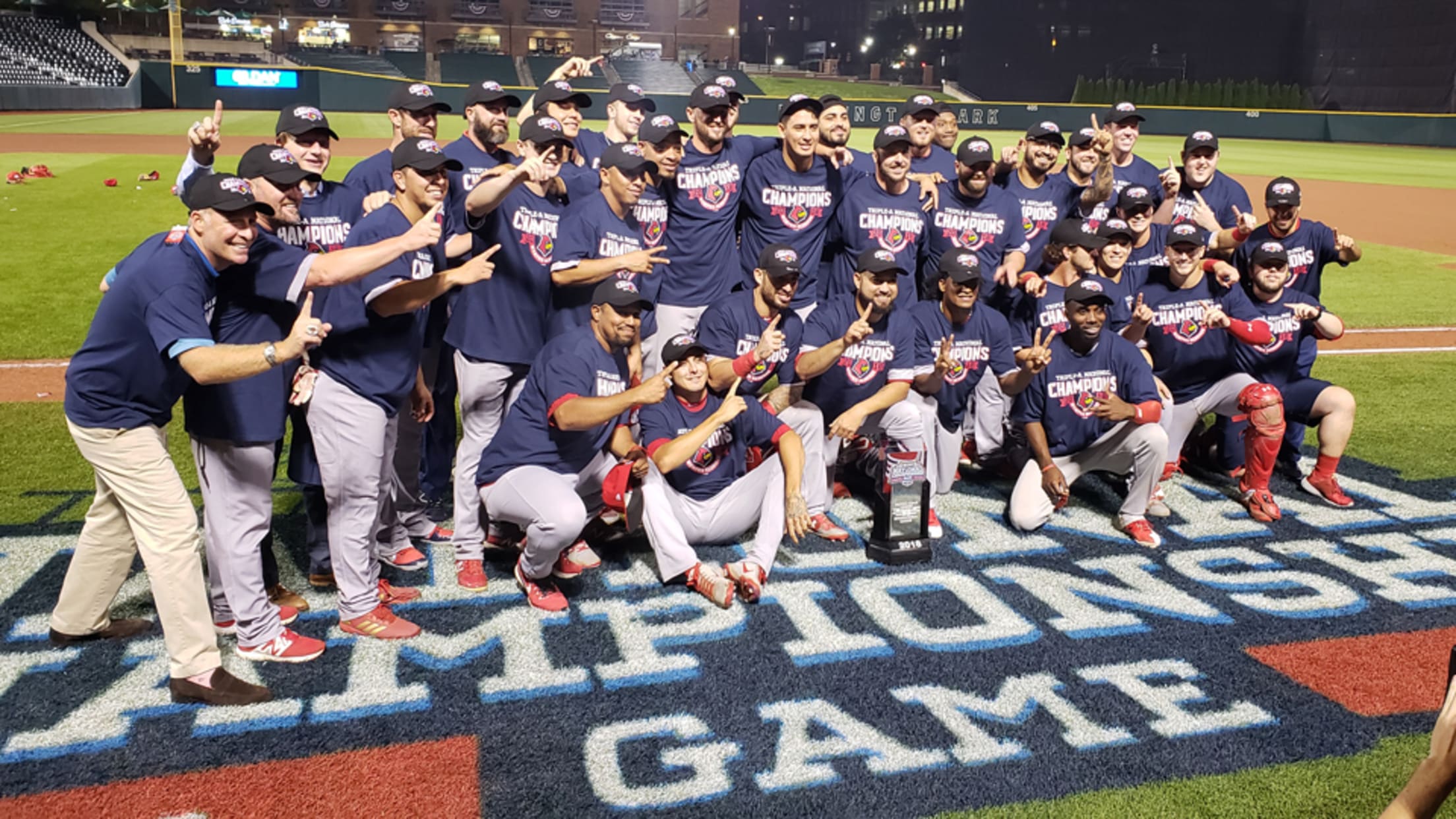 Memphis won back-to-back Pacific Coast League titles en route to the Triple-A National Championship. (Kelsie Heneghan/MiLB.com)
COLUMBUS, Ohio -- After 140-regular season games, nine playoff contests and four Champagne showers, Stubby Clapp kept his message short."Last speech of the year. Four words: I love you guys," the manager told his soaked squad.With a big game from Alex Mejia, who went 5-for-5 with five RBIs and three
COLUMBUS, Ohio -- After 140-regular season games, nine playoff contests and four Champagne showers, Stubby Clapp kept his message short.
"Last speech of the year. Four words: I love you guys," the manager told his soaked squad.
With a big game from Alex Mejia, who went 5-for-5 with five RBIs and three runs scored, Memphis rolled past Durham, 14-4, to avenge last year's loss and claim the Triple-A National Championship on Tuesday at Huntington Park.
"It signifies the whole year, as far as getting good quality pitching and then the bats come alive for us and good, consistent defense," Clapp said. "Guys are just playing good, solid baseball all the way around and we get the 'W.'"
Mejia was a part of all five of the Redbirds' run-scoring innings, coming home in the first on a double by Cardinals No. 6 prospectRandy Arozarena and in the third on a triple by Lane Thomas.
An inning later, it was Mejia's turn to bring someone home. The University of Arizona product knocked a two-run single to right field on the first pitch from reliever Ryan Weber. Mejia added a two-run double to center in the sixth and an RBI single to center in the eighth. The 27-year-old does not have a five-hit regular-season game since St. Louis selected him in the fourth round of the 2012 Draft.
"I had a few [big games], but this is definitely one that feels really good. To end the season, deservingly as how we should have," Mejia said. "I was just keeping things simple, keeping the same approach. Thinking about that right-center gap, trying to drive it somewhere over there."
• Complete postseason coverage »
After collecting his last hit in the eighth, Mejia blew a kiss to teammate Edward Mujica, a reliever who insists he's Mejia's good luck charm. The designated hitter said that kind of fun and friendship around the clubhouse is what led to the team's success.
Mejia had an electric postseason run, going 13-for-33 (.394) with four extra-base hits and nine RBIs in eight Pacific Coast League games before raking in Tuesday's nationally televised contest.
"I think the main key is just going out there, having a plan, a nice routine like I've had the whole year and just go out there and play," he said. "More focused on helping the team any way I can, as opposed to focusing on if I can get a couple more hits. ... Just worried about doing your part and carrying your weight to help the team win."
Thomas also had a big night, going 3-for-5 with a homer, triple and five RBIs. Sandwiched between the center fielder and Mejia, Arozarena contributed three hits and two RBIs.
Starter Kevin Herget got the win, yielding two runs on five hits with four strikeouts in 5 1/3 frames. The 27-year-old right-hander was excited to get the opportunity to pitch in the Championship Game after spending most of last season in the bullpen. While Herget noted he hadn't faced Rays prospects since his time in the Florida State League, it didn't affect his preparation.
• Bulls' Sandberg leads, succeeds with a smile »
"My approach throughout the year has been kind of the same," he said. "I don't really look too much at the hitters, I just execute my game plan and, obviously, make adjustments throughout the game as I see it."
The Bulls chipped away at the early eight-run deficit on RBIs from Austin Meadows, Jason Coats and Brandon Snyder.
After getting word from Cardinals president of baseball operations John Mozeliak, who was staying dry outside the clubhouse, Clapp interrupted the postgame celebration to tell his team that right-hander Giovanny Gallegos was getting promoted to St. Louis. The reliever notched an 0.54 ERA with 16 strikeouts and three walks over 16 2/3 innings since being acquired from the Yankees on July 29.
"It's a lot of fun whenever you get to give anyone the opportunity to go to the big leagues and live out a dream," Clapp said. "Gallegos is going to get to go with the Cardinals. He's been with the Yankees and now he's going to get to enjoy this in St. Louis."
After being on the losing end three times (at the 2000 Triple-A World Series and the Triple-A National Championship Game in 2009 and 2017), Memphis wins its first national title. The Bulls beat the Redbirds a year ago, 5-3.
"It's bragging rights, it's a national title," Clapp said. "Nobody's better."
Kelsie Heneghan is a contributor to MiLB.com. Follow her on Twitter @Kelsie_Heneghan.