Staff Spotlight Featuring Blair Jewell, Director of Entertainment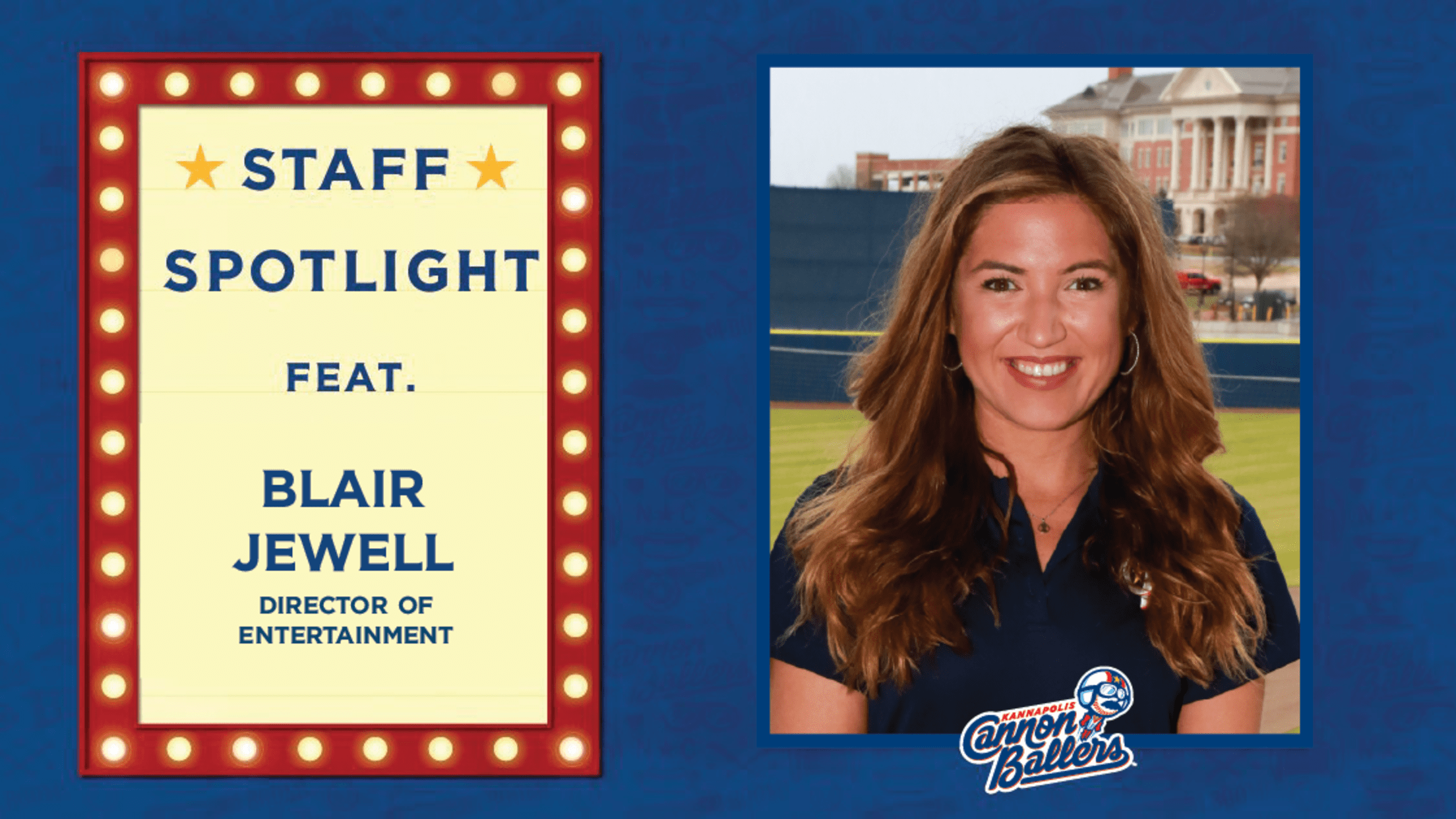 Blair Jewell, Director of Entertainment | Birthday: September 26th | Hometown: Winchester, VA Blair is thrilled to be entering her 3rd season in Kannapolis and her 7th season in MiLB. A native of Virginia, Blair graduated from Messiah College in '14 with a degree in Communications. After graduation, she began
Blair Jewell, Director of Entertainment | Birthday: September 26th | Hometown: Winchester, VA
Blair is thrilled to be entering her 3rd season in Kannapolis and her 7th season in MiLB. A native of Virginia, Blair graduated from Messiah College in '14 with a degree in Communications. After graduation, she began her journey in MiLB, working several seasons in Harrisburg, PA for the Harrisburg Senators. Blair is in charge of creating the Cannon Ballers promotional schedule and leading the game entertainment on the field/throughout the stands!
What song do you have completely memorized from start to finish?
One of my best performances would be "I Want It That Way" by the Backstreet Boys. Though "Stronger" by Kanye West would be a close second.
What would your perfect room look like?
My ideal room aesthetic is light and bright with a pop of color!
What's the best way to start the day?
A giant cup of coffee! I'm a bit of a coffee fiend and drink at least 5 cups a day.
What's the farthest you've ever lived from home?
My rule has always been wherever I move to, I have to be able to drive home in a day! The 6 hour trip that I have now is the farthest I have ever been, though I haven't lived in my hometown since I graduated college.
What is something special about the place where you grew up?
Winchester, VA for many years was known as the apple capital of the world--12 million bushels of apples were harvested there each year! To celebrate this my town holds a yearly Apple Blossom Festival. We show our hometown pride decked out in pink, green and white!
What are you looking forward to in the coming months?
I can't wait for the day we open the ballpark! So many people have put their heart and souls into it and I can't wait for the day we can share it with the community.
Who inspires you to be better?
My mom, dad and late-grandma! They have always taught me with hard work, dedication and kindness-- I could accomplish anything and thrive in any profession I choose.
What's one thing most people don't know about you?
Growing up and in college I was terrified of talking in front of any group of people!
What is your favorite quote?
"Think positive, be positive "-- it's so easy to get caught up in negativity! I always try to find a positive in a situation, even it's just a small glimmer of positivity.
Describe the best experience you have ever had at a sporting event.
One that I will never forgot was sitting a few rows behind the home dugout at Nationals Park in 2016 at Game 1 of the National League Division Series against the Dodgers! The energy in the ballpark was electric.
When you were a kid, what did you want to be when you grew up?
I always thought I'd end up being teacher! I've always had knack for working kids, and thought that would translate well to teaching.
What's the best compliment you've ever received?
The first one that comes to mind is one I got a few years ago, pretty early in my career-- that I had an effervescent personality and radiated positivity.