Twins' Gonsalves, Curtiss ready to contribute
Hurlers have sights set on Minnesota after stellar 2017 campaigns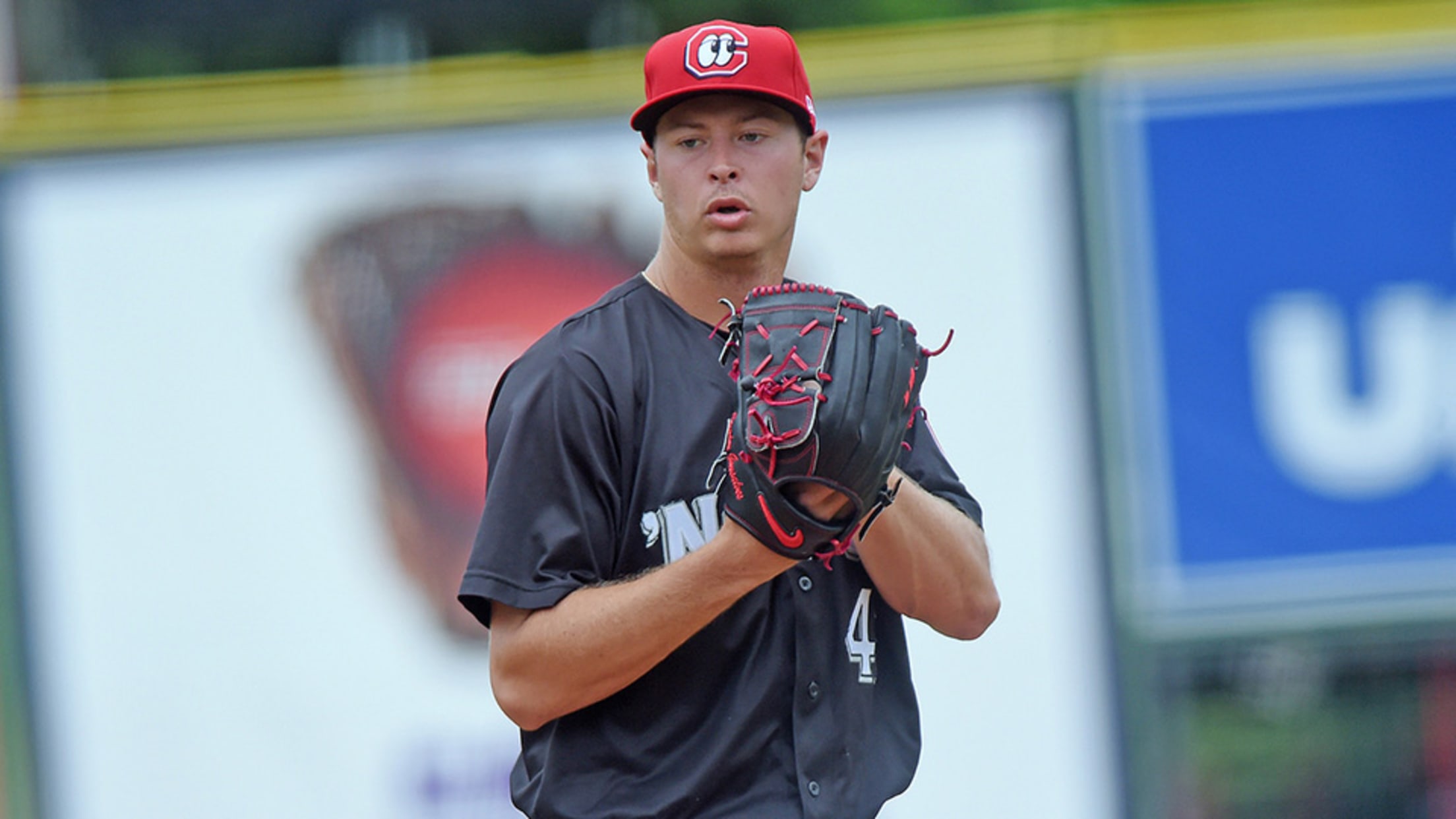 Stephen Gonsalves went 8-3 with a 2.68 ERA at Double-A this year, striking out 96 and walking 23 in 87 1/3 innings. (Brian McLeod/MiLB.com)
This offseason, MiLB.com is taking a look at the most outstanding campaigns by players in each system across Minor League Baseball and honoring the players -- regardless of age or prospect status -- who had the best seasons in their organization.The Twins lost 103 games in 2016 and finished with
This offseason, MiLB.com is taking a look at the most outstanding campaigns by players in each system across Minor League Baseball and honoring the players -- regardless of age or prospect status -- who had the best seasons in their organization.
The Twins lost 103 games in 2016 and finished with the worst record in the Majors by nine games. This season, they won the American League's second Wild Card with an 85-77 mark, a 26-game improvement that helped earn Paul Molitor the Manager of the Year award.
Minnesota's farm system also enjoyed impressive gains, posting the highest overall winning percentage (.592) of any organization. Double-A Chattanooga went 91-49 and won both halves in the Southern League before splitting the title with Montgomery, while Triple-A Rochester finished 18 games above .500 and Class A Advanced Fort Myers and Class A Cedar Rapids each made the playoffs.
Twins Organization All-Stars
Catcher -- Mitch Garver, Rochester (88 games), Minnesota (23 games):
Garver set career highs with 17 homers and a .541 slugging percentage that would've ranked second in the International League behind Phillies slugger
Rhys Hoskins
if he had enough at-bats to qualify. Garver's career .793 OPS displays his hitting acumen, but his defensive improvement has been impressive as well. After throwing out 32.6 percent of would-be basestealers in his first two seasons as a pro, he's thrown out 39.2 percent over the past three campaigns.
"We expect him to be on our Major League roster next year contributing," Twins vice president of player personnel Mike Radcliff said. "He's gone through our system and -- in particular the last couple years -- he's addressed the defensive side and elevated that to the level where we feel real comfortable with him. He's always hit ... it was always a question whether he's going to throw and catch and call a game enough to stay back there, and in our mind he's gotten to that level."
First baseman -- Jonathan Rodriguez, Chattanooga (119 games), Rochester (five games): Signed as a Minor League free agent in November 2016, Rodriguez enjoyed easily the best season of his career at Double-A Chattanooga in 2017. The 28-year-old posted a .309/.414/.525 slash line, set personal highs in most offensive categories and led the Southern League in OPS, slugging percentage, on-base percentage and run scored while tying for the lead in batting average.
"He had an MVP-quality year in Double-A," Radcliff said. "He's just a 1B/DH, so he has to hit, and he did that at the highest level this year. He was essentially the most productive player in our organization. It's still to be determined what Major League value he's going to have. He's a threat, he knows what he's doing and he's really got good hitting presence and instincts."
Second baseman -- Jose Miranda, Elizabethton (54 games): Miranda struggled for the GCL Twins in 2016, but the 19-year-old took a big step forward at Rookie-level Elizabethton this year. The 6-foot-2, 180-pound infielder tied for the Appalachian League lead with 11 homers, drove in 43 runs and scored 43 times while posting a .283/.340/.484 batting line and putting up a five-hit game on June 30.
"I don't know if we know where he's going to end up playing," Radcliff said. "He's still athletic and agile enough to play the middle infield now, but our thought will be that he's going to be a pretty large young man -- he's got a good frame, will add weight and probably end up in a corner. He's got a good swing, launch angle, chance to have length and finish to his swing for power; he's got the ceiling to be a good hitter. He was one of the youngest guys in that league."
Third baseman -- Travis Blankenhorn, Cedar Rapids (118 games): After spending most of 2016 at second base, Blankenhorn started a career-high 54 games at the hot corner in 2017. While his average dipped from .286 in 25 games last year with Class A Cedar Rapids to .251 with the Kernels this season, that coincided with a drop in BABIP (batting average on balls in play) from a sky-high .403 to a more normal .312. The 21-year-old made up for that by drawing more walks (47) than he had in 112 career games entering the season (34) and blasting 13 homers, driving in 69 runs and stealing 13 bases -- indicative of an all-around skill set that gives Minnesota confidence in his future.
"He's progressing how we want him to progress," Radcliff said. "He's another guy who thinks he can hit everything, so we're trying to address that and help him understand what he can and can't do. He reminds us a lot of a guy like [former Twins third baseman Corey] Koskie as a Major League hitter, a middle-of-the-lineup guy with run-producing ability down the line. He's real competitive, a good athlete and might have a little better chance to play second than Miranda. It's going to be interesting to follow both those guys."
Shortstop -- Jermaine Palacios, Cedar Rapids (62 games), Fort Myers (62 games): Palacios rebounded from a poor 2016 at Cedar Rapids, adding almost 100 points to his batting average by hitting .320 with the Kernels and nearly doubling his slugging percentage to .544 -- numbers that would have finished second and first, respectively, in the Midwest League over a full season. The No. 25 prospect in the system, he had a tough time adjusting after moving up to Class A Advanced Fort Myers but still hit .269 and stole 11 bases, and if his personal history is any indication, he should take a step forward in his second tour of the Florida State League next year.
"We feel real good about the [shortstop] position. We added [top overall pick] Royce Lewis, we have Nick Gordon ahead of JP and we have Wander Javier who's just now getting his feet on the ground in the states," Radcliff said. "We've got a lot of guys with upside and ceiling, and [Palacios] had the best year of all those guys. He did the most damage offensively and continues to show that he'll be able to stay at short, which was our concern."
Outfielders -- Zack Granite, Fort Myers (five games), Rochester (71 games), Minnesota (40 games): Granite made his way to the Majors this season after batting .360/.412/.492 through July 6. While that success didn't translate in Minnesota, it was an impressive campaign for Granite, who missed most of April with an oblique injury before returning to eventually hitting .470 in June and earning a callup. The 25-year-old slowed down on the bases, swiping only 18 bags after pilfering 56 in 2016 for Chattanooga, but his improvement as a hitter didn't go unnoticed.
"He's got a chance to be a fourth outfielder because he's a good center fielder," Radcliff said. "We've got to start playing him around more because he'll be basically the next guy up to fill in. He's learned how to use his speed both offensively and defensively and developed into a real tough out, whether first or second or batting at the bottom. He's pushed himself into the Major League picture."
Brent Rooker, Elizabethton (22 games), Fort Myers (40 games): After a monster season with Mississippi State -- .387/.495/.810 with 23 home runs in 67 games -- Rooker hit the ground running after the Twins took him 35th overall in this year's Draft. He homered seven times in 22 games with Elizabethton to earn a quick promotion to Fort Myers, where he continued to rake with a .280/.364/.552 batting line, 11 home runs and 35 RBIs. Overall, he drove in 52 runs over his first 62 Minor League games.
"Rooker had a great year and added on to the epic SEC season he had," Radcliff said. "We drafted him last year and didn't know what we had, and this year he blossomed into one of the all-time offensive performers in the toughest college league in America. It's all about the bat -- he's OK as a defender, big, strong and has a presence at home plate. He's one of those guys who funnels the ball where he wants and engulfs home plate."
Akil Baddoo, GCL Twins (20 games), Elizabethton (33 games): Taken out of high school with the 74th overall pick in 2016, Baddoo struggled in his pro debut last season but improved his OPS from .570 to .800 in the Gulf Coast League to earn a promotion to Elizabethton in 2017. He stepped up his game even further with the E-Twins, posting a .357/.478/.579 line with three homers, five stolen bases and 39 runs scored in the Appalachian League. He finished strong with five multi-hit games in his final nine contests and didn't make an error all season.
"He had a really good year, no question about it," Radcliff said. "He's somebody we had high hopes for when we drafted him. His body kind of changed; as an amateur player he was more of a runner but he added a bunch of weight and got real strong through the chest and back -- maintained his speed but has more strength than as a high school guy. The only thing he doesn't do is throw very well, [but he has] decent instincts and should be able to play anywhere. He has a chance to have on-base and power production."
Utility -- T.J. White, Chattanooga (96 games): White had never posted an OPS above .688 since being drafted in the 18th round out of UNLV in 2014, so his .276/.358/.484 batting line for the Double-A Lookouts in 2017 represented a massive improvement. He added power to his game, homering 14 times after entering the campaign with nine long balls in 256 career games, and improved defensively, cutting his errors from 23 in 81 games last season down to 10 in 93 contests this year. He mostly played third base but saw some time at first as well.
"He brings it everyday and never slows down," Radcliff said. "He has the same high energy and focus every day. He's a leader by example. He's always had a decent swing, just more disciplined and seeing spin and realizing what he can and can't do this year. He can run, throws fine. We might have to see how versatile he is this year to see where else he can [play] on the field."
Right-handed starting pitcher -- Clark Beeker, Cedar Rapids (20 games), Fort Myers (three games): Beeker was dominant as a member of the Kernels, going 11-3 with a 2.03 ERA and walking 17 batters over 128 2/3 innings. The 24-year-old didn't allow a run over his final four starts in Class A before moving to Fort Myers, where he allowed at least three runs in each of his three starts after yielding that many runs in four of his 20 starts with Cedar Rapids, but his 12-4 record and 2.63 ERA overall were still impressive.
"It's kind of amazing for such a nondescript amateur player to come into the organization and just elevate past so many other guys, and that's what he did," Radcliff said. "He has good spin, which might be his best asset, has both breaking balls, he'll throw it over and isn't afraid. His ceiling remains to be seen, but he had a great year and put himself on the map. He was a little older for the level, so now he'll be a little more even as we move him up."
Honorable mention -- Zack Littell: Littell spent most of his season in the Yankees organization, but we'd be remiss to leave out a pitcher who went 19-1 with a 2.12 ERA. He won five of his seven starts at Chattanooga with a 2.81 ERA and looks to be a nice get for the Twins as part of the return package for left-hander Jaime Garcia.
Left-handed starting pitcher -- Stephen Gonsalves, Chattanooga (15 games), Rochester (five games): Gonsalves is the top-ranked lefty in the system, and he was also the most productive in 2017. After posting sub-2.10 ERAs the past two seasons, he went 8-3 with a 2.68 ERA for the Lookouts while striking out 96 and walking 23 over 87 1/3 innings before posting a 5.56 ERA in five appearances -- four starts -- with the Red Wings. Ten of those runs came in two poor appearances, though, as Gonsalves allowed four runs over 19 innings in his other three starts.
"He's one of our better prospects, probably a Major Leaguer at some point next year," Radcliff said. "He hasn't slowed down and continues to have a success at every level, improving what he has to. He has a more usable breaking ball now and doesn't throw all fastballs like he did at lower levels. He's working on a cutter and slider. He's just got great mound presence, savvy and know-how."
Honorable mention -- Nik Turley: Turley is no longer a member of the Twins organization -- the Pirates claimed him off waivers on Nov. 6 -- but that doesn't take away from an outstanding campaign. The 28-year-old started 13 of the 23 games he appeared in, posting a 2.05 ERA and 79-to-22 strikeout-to-walk ratio while spending most of his time with Triple-A Rochester. He struggled in the Majors, however, with an 11.21 ERA in 17 2/3 innings.


Relief pitcher -- John Curtiss, Chattanooga (21 games), Rochester (18 games), Minnesota (nine games): Curtiss saved 13 games for the Lookouts with a microscopic 0.72 ERA and kept the good times rolling with the Red Wings, closing out six of his seven opportunities while posting a 1.85 ERA. He had a better WHIP and held opponents to a lower batting average at the higher level, finishing with 68 strikeouts over 49 1/3 total innings before joining the Twins in late August.
"His numbers were mind boggling in Double-A," Radcliff said. "It changed a little as he moved up, but he's got velocity and a slider that's a two-plane hybrid hard breaking ball. He's got swing-and-miss pitches and is as focused and laser-beam dedicated as any human being we've ever had. He's a little bit cerebral and takes that to the Nth degree in his preparation. He's a different dude in regards to his mentality, and it all played out for him this year."