Stripers' hitting coach Magallanes along for Braves' Postseason ride
Bobby Magallanes reunited with Gwinnett pupils Adam Duvall and Rafael Ortega in September call-up to Atlanta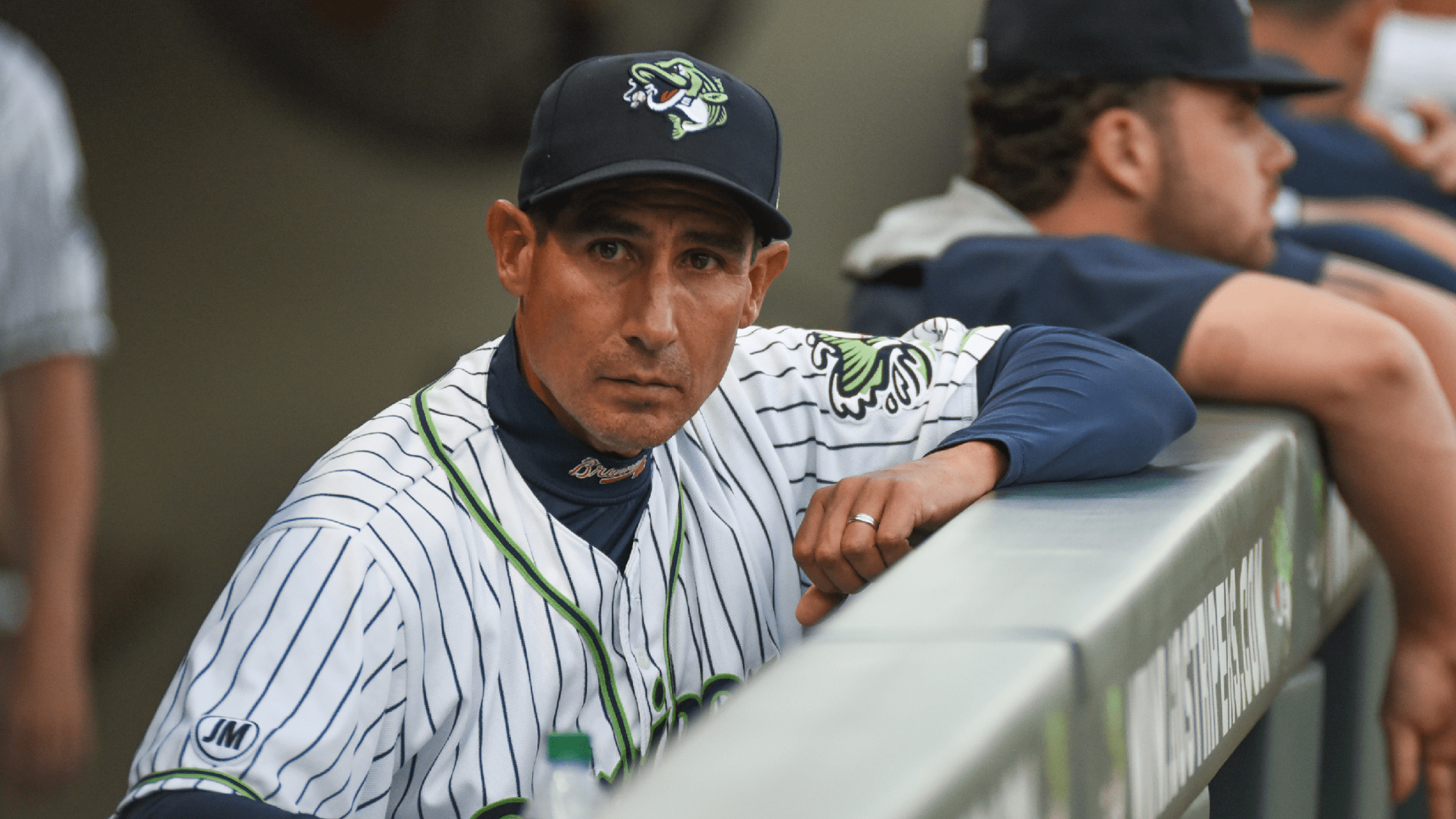 Under the guidance of Bobby Magallanes, the Stripers set an Atlanta Braves Triple-A record with 200 home runs in 2019. (Jamie Spaar)
ATLANTA, Ga. - Not long after Gwinnett's playoff run ended with a 5-4 loss at Columbus in Game 4 of the Governors' Cup Semifinals on September 7, Bobby Magallanes found out his season wasn't over. The first-year Stripers hitting coach learned he was one of two minor league coaches receiving
ATLANTA, Ga. - Not long after Gwinnett's playoff run ended with a 5-4 loss at Columbus in Game 4 of the Governors' Cup Semifinals on September 7, Bobby Magallanes found out his season wasn't over. The first-year Stripers hitting coach learned he was one of two minor league coaches receiving a September call-up to assist the Atlanta Braves' major league staff.
He arrived in time to join 14 former 2019 Stripers in celebrating the Braves' National League East Division title on September 20, and remained with the club as they opened the NL Division Series against the St. Louis Cardinals on October 3.
"Any time you can be a part of a championship team, especially when we clinched the division and being a part of that, it's great," Magallanes said. "More than anything, it's being there with the guys that were in Gwinnett, it's just special to be able to share it with them. Especially with all the grind and the hours that we had in those (batting) cages, it was pretty special."
Magallanes was a deserving choice for a late-season promotion after leading Gwinnett to top-five finishes in the International League in home runs (4th, 200), runs scored (4th, 781), RBIs (4th, 740), slugging percentage (4th, .461), OPS (4th, .809), total bases (5th, 2,173), walks (5th, 498), and on-base percentage (5th, .348). His Stripers obliterated the Atlanta Braves Triple-A single-season record for homers, launching 39 more than the 1993 Richmond Braves (161). Driven by that consistent offense, the Stripers finished 80-59 and won the IL South Division by 5.0 games.
By season's end, he had worked with seven hitters who had played for both Gwinnett and Atlanta: Johan Camargo, Adam Duvall, Ender Inciarte, Alex Jackson, John Ryan Murphy, Rafael Ortega, and Austin Riley. His two brightest pupils - IL Postseason All-Star Duvall and Gwinnett Player of the Year Ortega - both made Atlanta's NLDS roster.
"It's the relationships you build, that's what we're here for, we're here for the players," Magallanes said. "Being able to be in that grind with them day-in and day-out, to me that's what is special about it. To see their development, to see how they keep getting better and better, we're seeing the fruit of it right now in those two guys that are up here in Ortega and Duvall, that they can contribute to hopefully a World Series team. That's what it's about, it's about those guys."
After struggling to a .195 average between Cincinnati and Atlanta in 2018, Duvall spent 101 games in Triple-A in 2019, setting Gwinnett single-season records in homers (32), RBIs (93), slugging percentage (.602), and OPS (.965). Ortega hit .285 with a career-high 21 homers, reached base safely in 99 of 111 games, and led the league in runs (83), doubles (34), and extra-base hits (58) when he had his contract selected by the Braves on August 13.
"They're both great workers," said Magallanes about Duvall and Ortega. "They put in the time, they really did. They ran with it, they took ownership of their careers. I was just a tool for them, a resource to help them out. They put in all the work. Absolutely, hard work does pay off. When you prepare and you're ready to play when that opportunity comes, they took advantage of it and now they're here."
Magallanes was especially impressed by the work ethic of Duvall, a former National League All-Star who accepted a demotion to Triple-A in March and logged 94 games with Gwinnett before finally seizing an opportunity with Atlanta on July 27. Duvall's season-long reclamation story culminated with a legendary moment on October 4, when his pinch-hit two-run homer off Cardinals' second-half ace Jack Flaherty capped the Braves' 3-0 win in Game 2 of the NLDS.
"Phenomenal," said Magallanes about Duvall's demeanor with the Stripers. "I admire him and respect him so much with his attitude and how he went about it. He knew he needed to work on things, and he came in with that attitude day in and day out. He didn't worry about things that were out of his control. He just came in and said, 'I need to get better, I know I need to be here,' and when the opportunity came, he was ready."
Tasked during the Triple-A season with overseeing the adjustments of former major leaguers like Duvall and Ortega, as well as the development of up-and-coming prospects like Cristian Pache and Drew Waters, Magallanes is now embracing a more supplementary role with the Braves.
"I'm here to help with whatever (hitting coach) Kevin Seitzer and (assistant hitting coach) Jose Castro need," Magallanes said. "I'm here just to help any way I can and be of assistance. I'll share some things with some of the guys I've had (in Gwinnett), but really I'm just here to help any way I can."
Magallanes is hoping the Braves will need his assistance all the way through the World Series. Once Atlanta's Postseason run does come to an end, he will return home to Arizona for a quiet, baseball-free off-season.
"Head home and finish up my schoolwork," said Magallanes about his plans. "I'm in a master's program right now (at National University), Performance Psychology, so I'm going to be busy with that. My kids can't wait for me to be home. They're happy I'm here, but they miss dad. I'm going to go home and be a husband and a father."