Suarez helps River Cats shut down Rainiers
Duggar's three-hit night leads offense in victory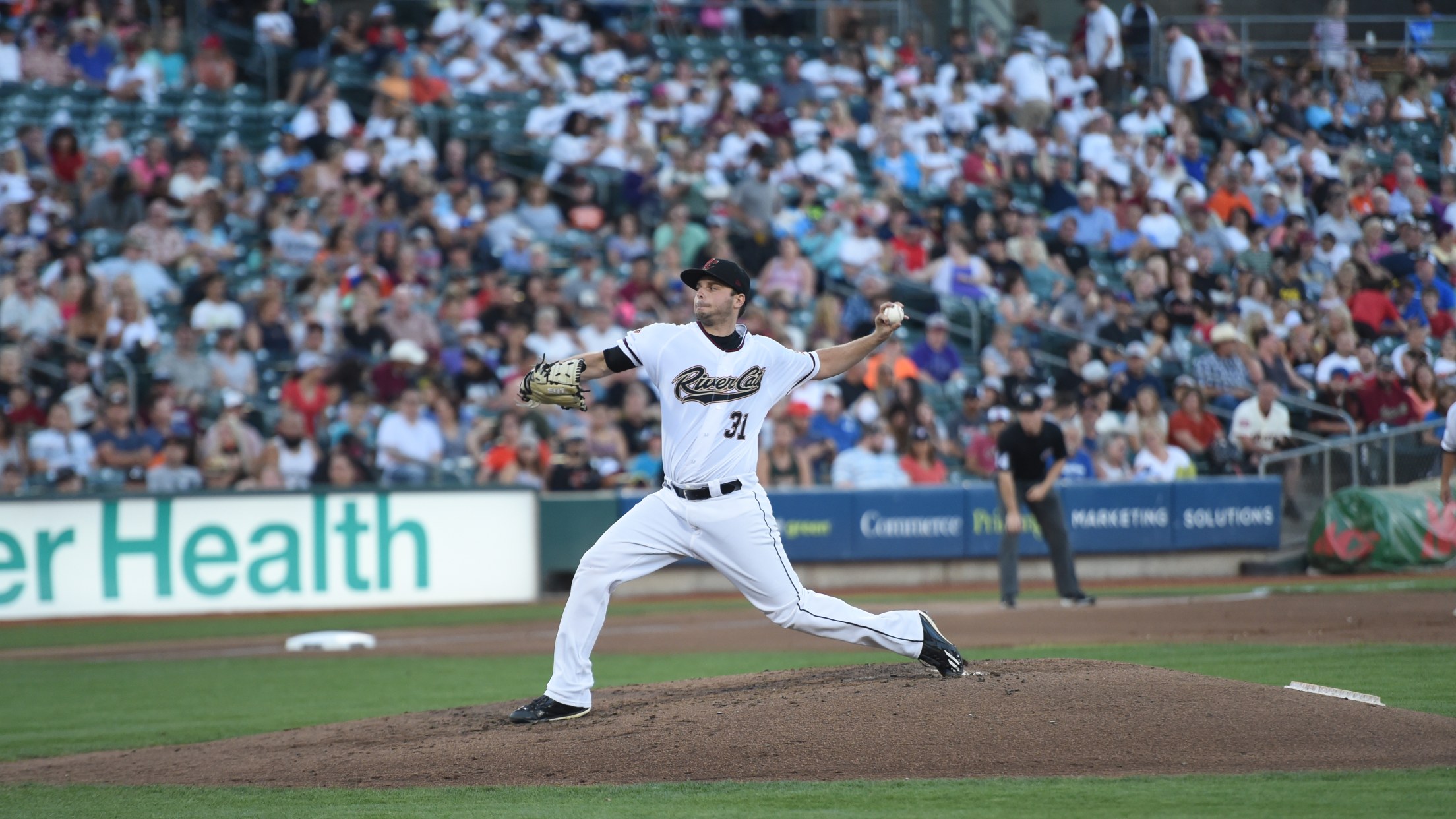 (Kayla Neuman )
TACOMA, WA -- Five shutout innings from starter Andrew Suárez paved the way for the Sacramento River Cats (7-9) to defeat the Tacoma Rainiers (8-8) 8-4 in game one of this three-game set.The Rainiers did push across three runs in the sixth inning thanks to three singles and a throwing error
TACOMA, WA -- Five shutout innings from starter Andrew Suárez paved the way for the Sacramento River Cats (7-9) to defeat the Tacoma Rainiers (8-8) 8-4 in game one of this three-game set.
The Rainiers did push across three runs in the sixth inning thanks to three singles and a throwing error by shortstop Chase d'Arnaud, putting one earned run on Suarez's line for the night. But D.J. Snelten entered and recorded the final out of the inning to end Tacoma's surge.
Center fielder Steven Duggar was back in the leadoff spot Saturday night after a day off and reached base three times, scoring twice. He singled in the first and scored on Austin Slater's base hit, singled in the fifth and scored on Ryder Jones's base hit, and knocked in a run in the sixth with his fourth double of the year.
For game two, right-hander Casey Kelly (0-1, 7.11) will make his fourth start of the season for the River Cats, while the Rainiers will send left-hander Aríel Miranda (0-0, 6.75) to the bump.
First pitch Sunday afternoon will be at 1:35 p.m. (PT). Catch all of the action live online at rivercats.com, on the MiLB First Pitch app, and live on Money 105.5 FM.
Additional Notes
• The Giants have been slowly extending the pitch limit of Suarez, and others, as the season has progressed. After throwing 77 pitches on opening day, the left-hander reached 99 pitches in Tacoma tonight, with totals of 83 in San Francisco and 97 in San Jose in between.
• Alen Hanson collected two hits again, giving him six multi-hit games in his last eight contests. He has a .449 batting average through 55 plate appearances.
• The River Cats set an early-season high for stolen bases, stealing three bags against Tacoma. Hanson took his sixth base of the season, while Ryder Jones and Myles Schroder got on the board with their first.