Syracuse Powers Past Gwinnett, 10-6
Eleven hits not enough as G-Braves drop opener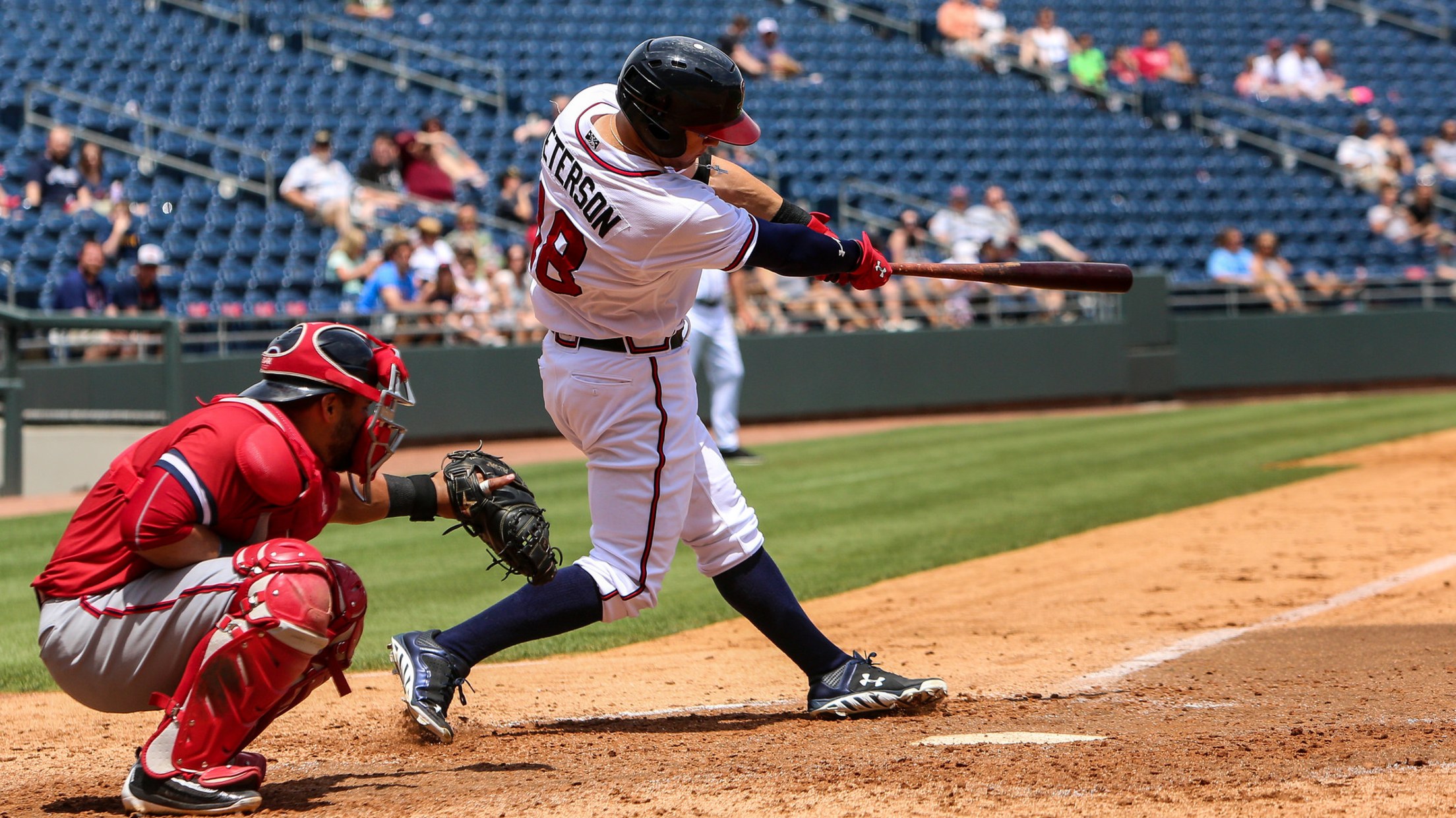 Dustin Peterson hit two doubles in Gwinnett's loss on Friday. (Karl L. Moore)
SYRACUSE, NY- The Syracuse Chiefs (38-66) spoiled the Triple-A debut of 20-year-old left-handed pitcher Luiz Gohara  with a 10-6 win over the Gwinnett Braves (51-53) on Friday night in game one of the three-game series at NBT Bank Stadium. Syracuse plated its first run in the bottom of the first as Gohara
SYRACUSE, NY- The Syracuse Chiefs (38-66) spoiled the Triple-A debut of 20-year-old left-handed pitcher Luiz Gohara with a 10-6 win over the Gwinnett Braves (51-53) on Friday night in game one of the three-game series at NBT Bank Stadium.

Syracuse plated its first run in the bottom of the first as Gohara walked leadoff batter Zach Collier and then threw the ball wildly to first in an attempted pickoff. Collier moved to second on the error and then moved to third on a throwing error by Rio Ruiz . Chad Huffman hit into a 6-4-3 double play, scoring Collier from third for a 1-0 lead.

In the top of the fourth, Gwinnett's Jace Peterson ripped a two-out single to center off Syracuse starter Taylor Hill. Dustin Peterson then doubled to deep left, scoring Jace Peterson from first to tie the game at 1-1. A single by Carlos Franco to left plated Dustin Peterson for a 2-1 Gwinnett lead.

The lead did not last long. In the bottom of the fourth, Gohara walked Huffman and then gave up a single to center to Clint Robinson. Spencer Kieboom singled to left, scoring Huffman from second with the tying run. A single by Alejandro De Aza loaded the bases and Robinson scored the go-ahead run from third when Michael Almanzar hit into a 4-6-3 double play. The Syracuse lead grew to 5-2 in the bottom of the fifth when Robinson (15) hit a two-run homer to right off Gohara.

But the inning that ultimately decided the game was the bottom of the seventh, where the Chiefs scored five runs off Gwinnett reliever Enrique Burgos . A two-run single with the bases loaded by Robinson pushed the Syracuse lead to 7-2. An RBI single to center by Kieboom made it 8-2, and then with the bases again loaded, Almanzar hit a single to left, plating two more runs for a 10-2 advantage.

Gwinnett made a late run as Ronald Acuña Jr. led off the top of the eighth with a triple off Syracuse reliever Austin Adams and would later score when Ruiz hit into a 6-4-3 double play. Trailing 10-3, the Braves got a three-run, pinch-hit homer in the top of the ninth by Matt Tuiasosopo (8) to cut the lead to the eventual final of 10-6.

Gohara (L, 0-1) worked 4.2 innings with four hits, five runs, four earned, five walk and five strikeouts. Evan Philips went 1.1 innings with one hit. Burgos was credited with only one third of an inning with five hits, five earned runs, two walks and one strikeout. Rhiner Cruz pitched the final 1.2 innings with three strikeouts.

For Syracuse, Hill (W, 3-5) tossed 6.0 innings with seven hits, two earned runs, two walks and one strikeout. Adams (H, 2) worked 2.0 innings with two hits, one earned run, one walk and four strikeouts. Neil Ramírez pitched one third of an inning with two hits, three earned runs, three walks and one strikeout. Neal Cotts (S, 2) went two thirds of an inning with two strikeouts.

At the plate, Gwinnett was led by Dustin Peterson who had a 3-for-4 night with two runs, two doubles and an RBI. Acuna was 2-for-4 with a run and a triple. Dansby Swanson , playing in his first Triple-A game, was 1-for-4 with a single and a walk.

For Syracuse, Robinson was 3-for-4 with three runs, a home run and four RBIs. Kieboom went 2-for-3 with two RBIs.

The G-Braves and Syracuse Chiefs play game two of the three game series Saturday at 7:05 at NBT Bank Stadium. Gwinnett will start right-hander Matt Wisler (5-5, 3.50) and the Chiefs will start Washington Nationals rehabber Shawn Kelly. Air time is 6:35 p.m. with Tony Schiavone on 97.7 FM "The Other Side of the River."

The G-Braves return home for game one of a three-game series against the Norfolk Tides on July 31. For tickets, call 678-277-0340 or visit GwinnettBraves.com/tickets.