Bourjos homers in loss to Grizzlies
Center fielder collects two hits including his second home run of season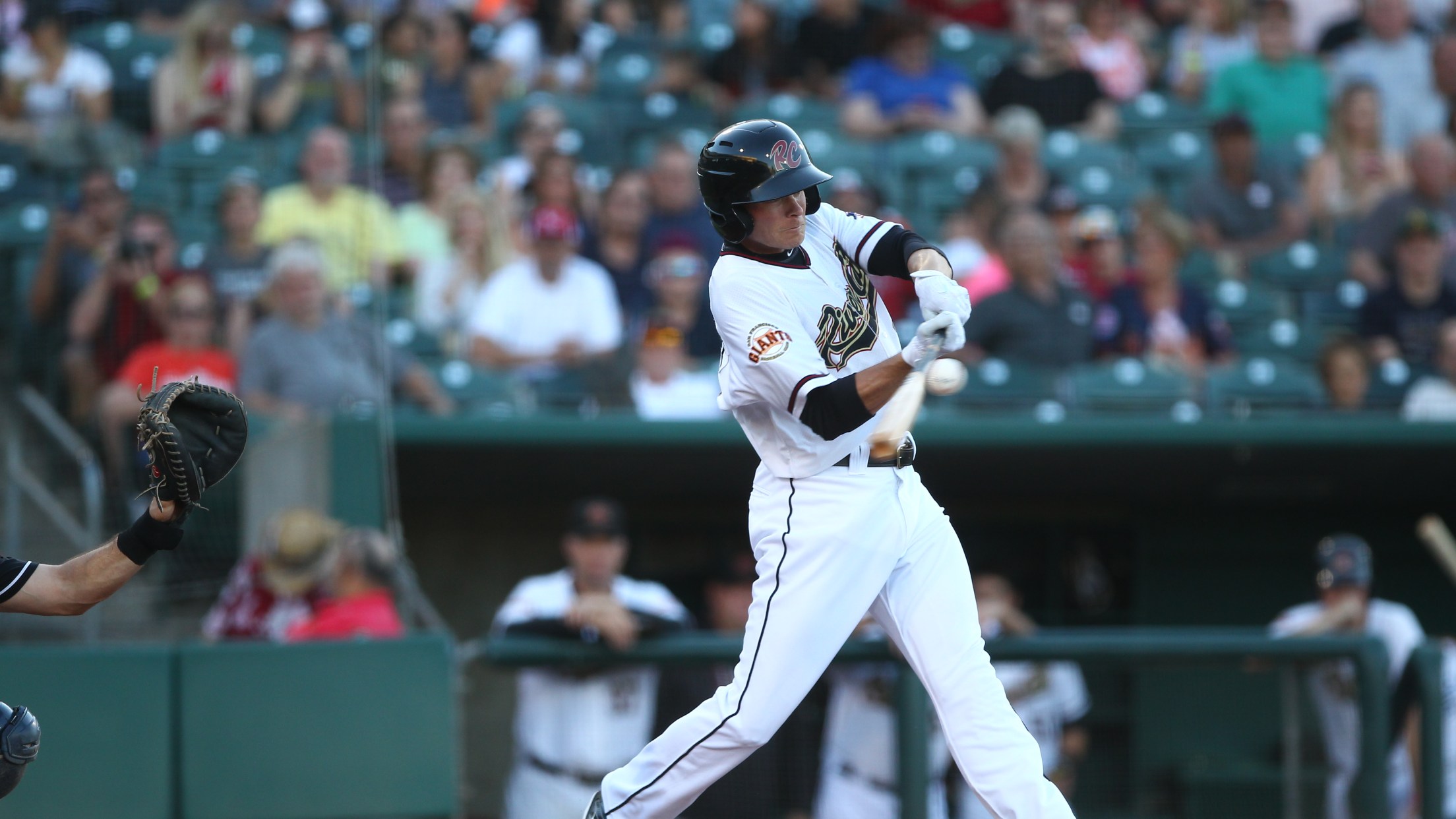 WEST SACRAMENTO, CA -- The Sacramento River Cats (50-77) kicked off a ten-game homestand with a 9-2 loss to the Fresno Grizzlies (73-54).Center fielder Peter Bourjos led the offense, which was held to just five hits, with two knocks featuring a solo home run in the fifth inning.The bullpen did
Gomez hit seals extra-inning win for River Cats
Garcia collects first three Triple-A hits in 8-5 victory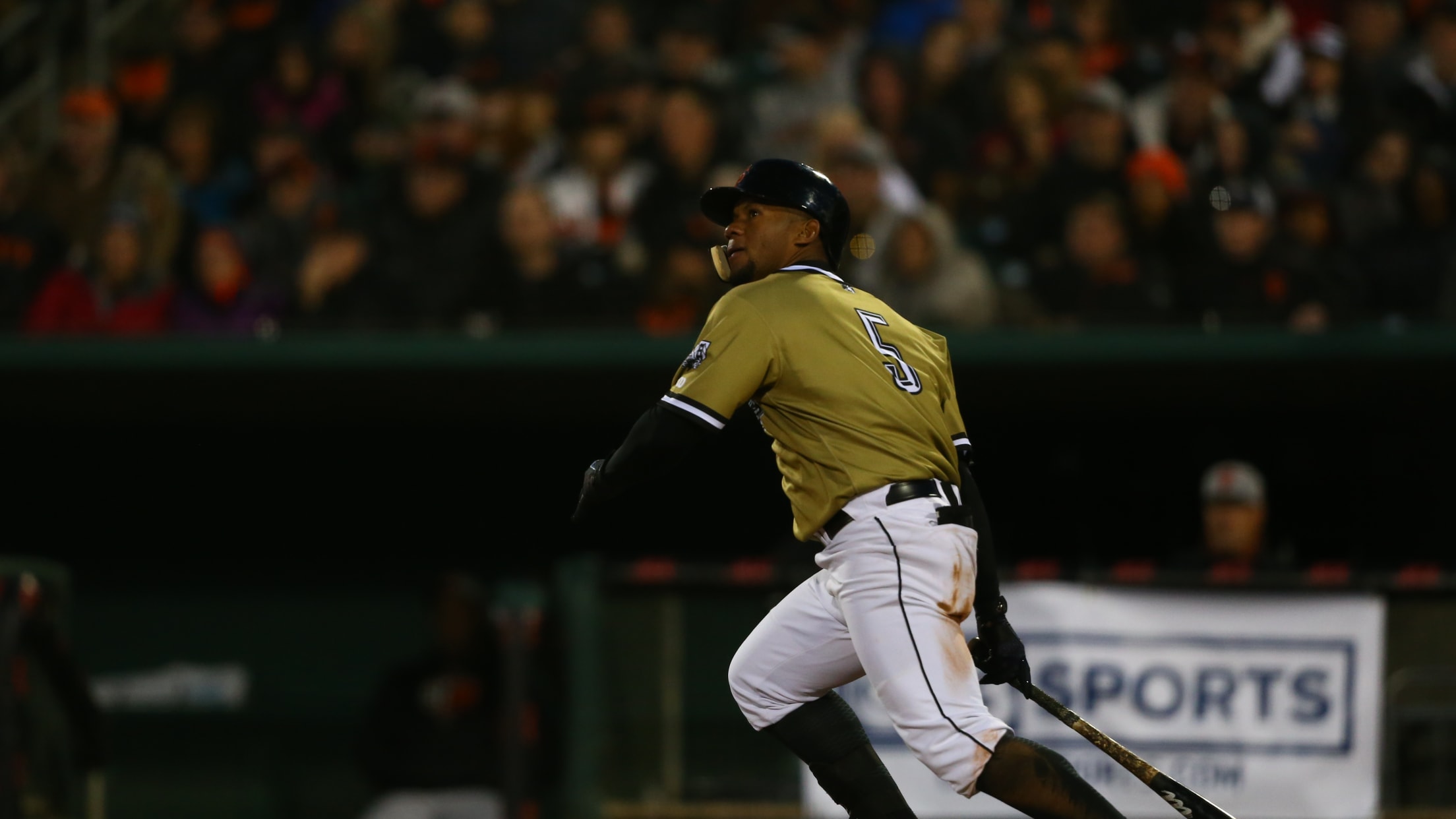 RENO, NV -- The Sacramento River Cats (49-73) picked up their seventh series win of the year, doing so in extra-inning fashion by defeating the Reno Aces (62-60) 8-5 in 11 innings.After trading runs in the 10th, the River Cats loaded the bases before Miguel Gómez's single, with the help
Camarena dazzles in shutout of Chihuahuas
Puello plates game-winning run in eighth inning for 1-0 victory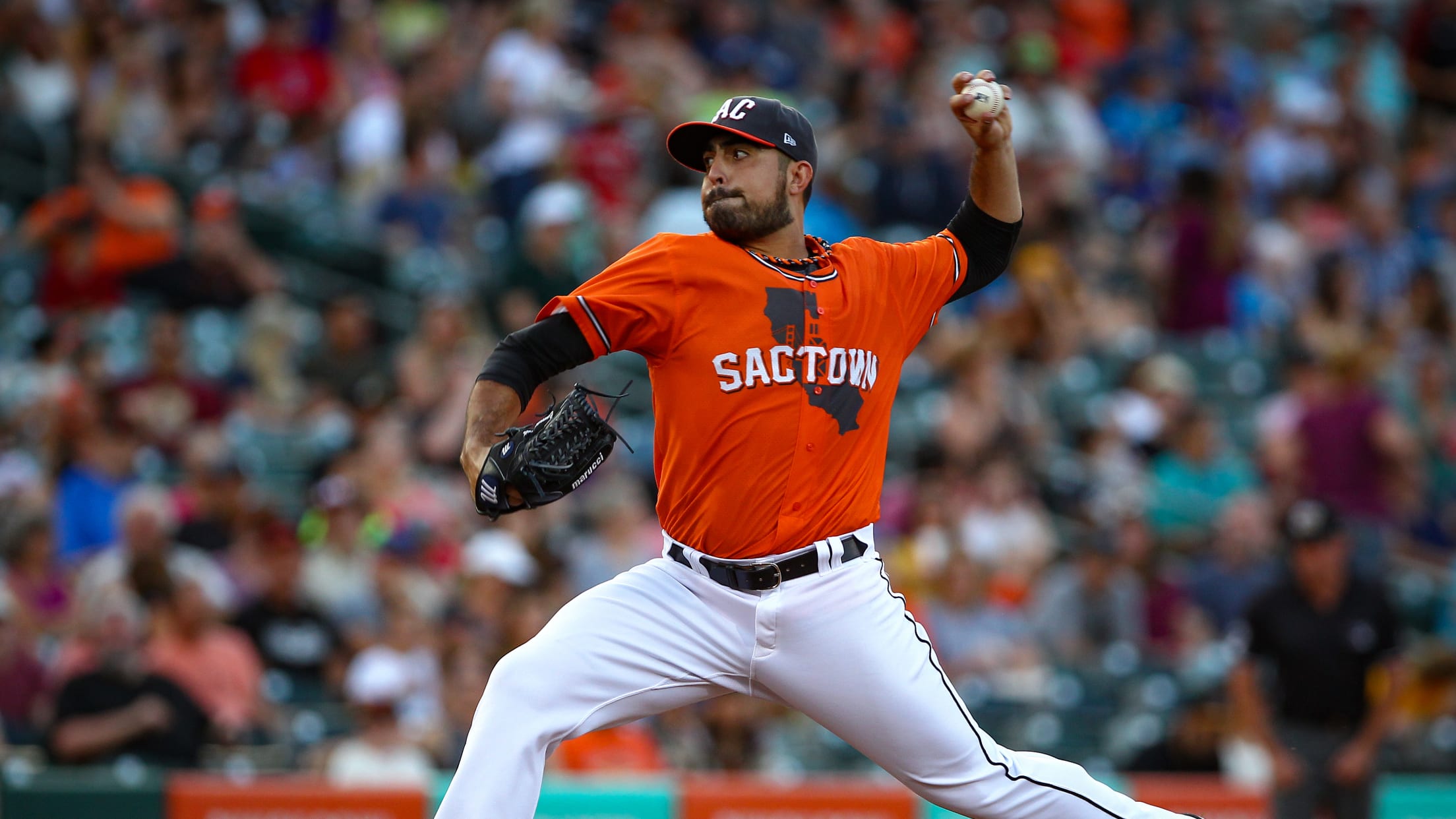 WEST SACRAMENTO, CA -- Left-hander Daniel Camarena tossed seven shutout innings en route to a 1-0 win for the Sacramento River Cats (47-70) over the El Paso Chihuahuas (65-51).In one of the best outings by a River Cats starter this season, Camarena allowed just one hit and no walks while
Comeback falls short for River Cats in Nashville
Gomez plates two with seventh-inning double in rally attempt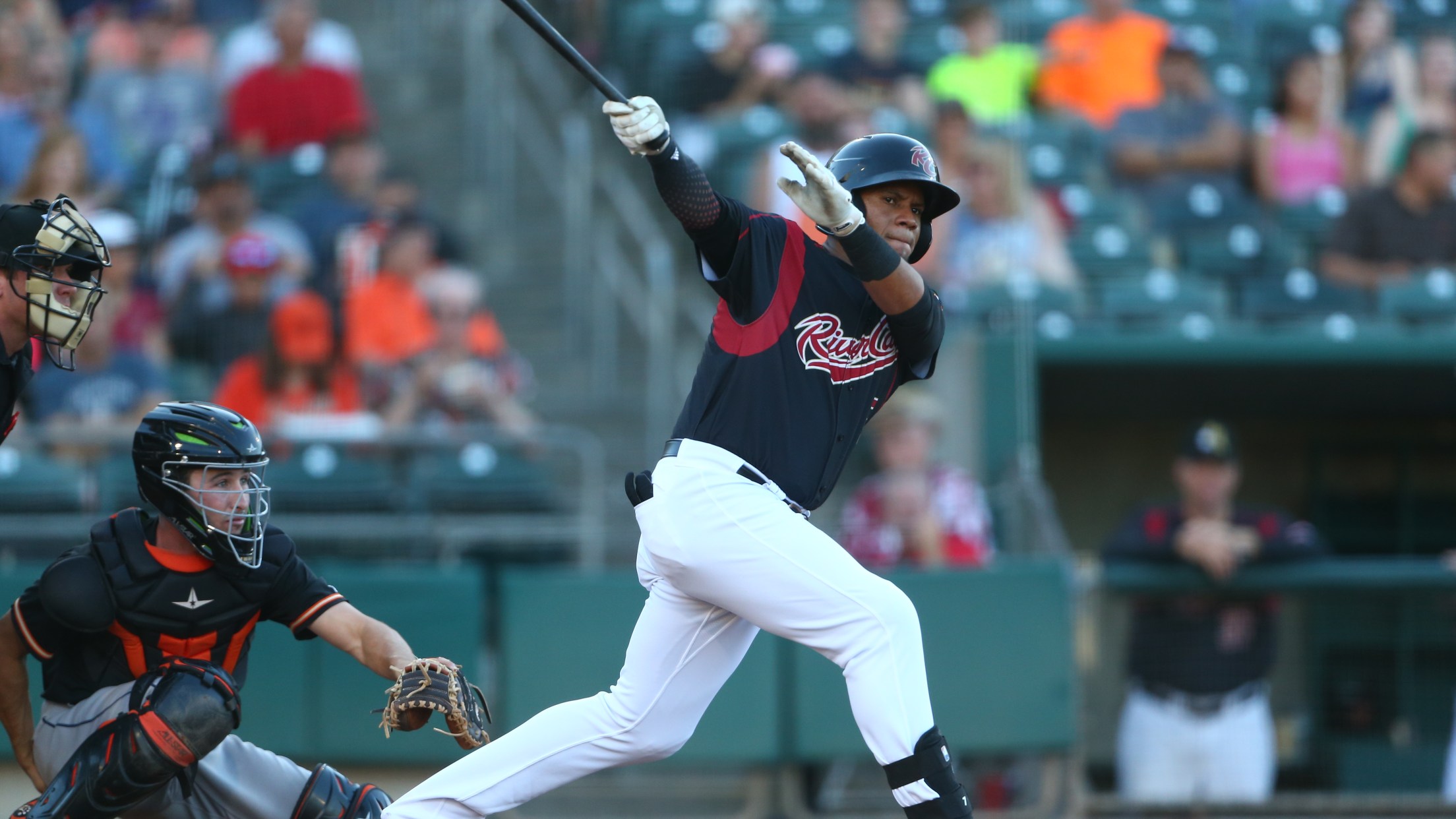 NASHVILLE, TN -- The Sacramento River Cats (45-68) dropped Sunday evening's ballgame to the Nashville Sounds (57-55) by a final score of 6-4.Comeback attempts were made in both the seventh and ninth innings as second baseman Miguel Gómez scored two with his seventh double of the year. Then in the
Jones blasts his 10th homer for Sacramento
Kelly allows two runs in five innings but River Cats fall 3-1 to Sounds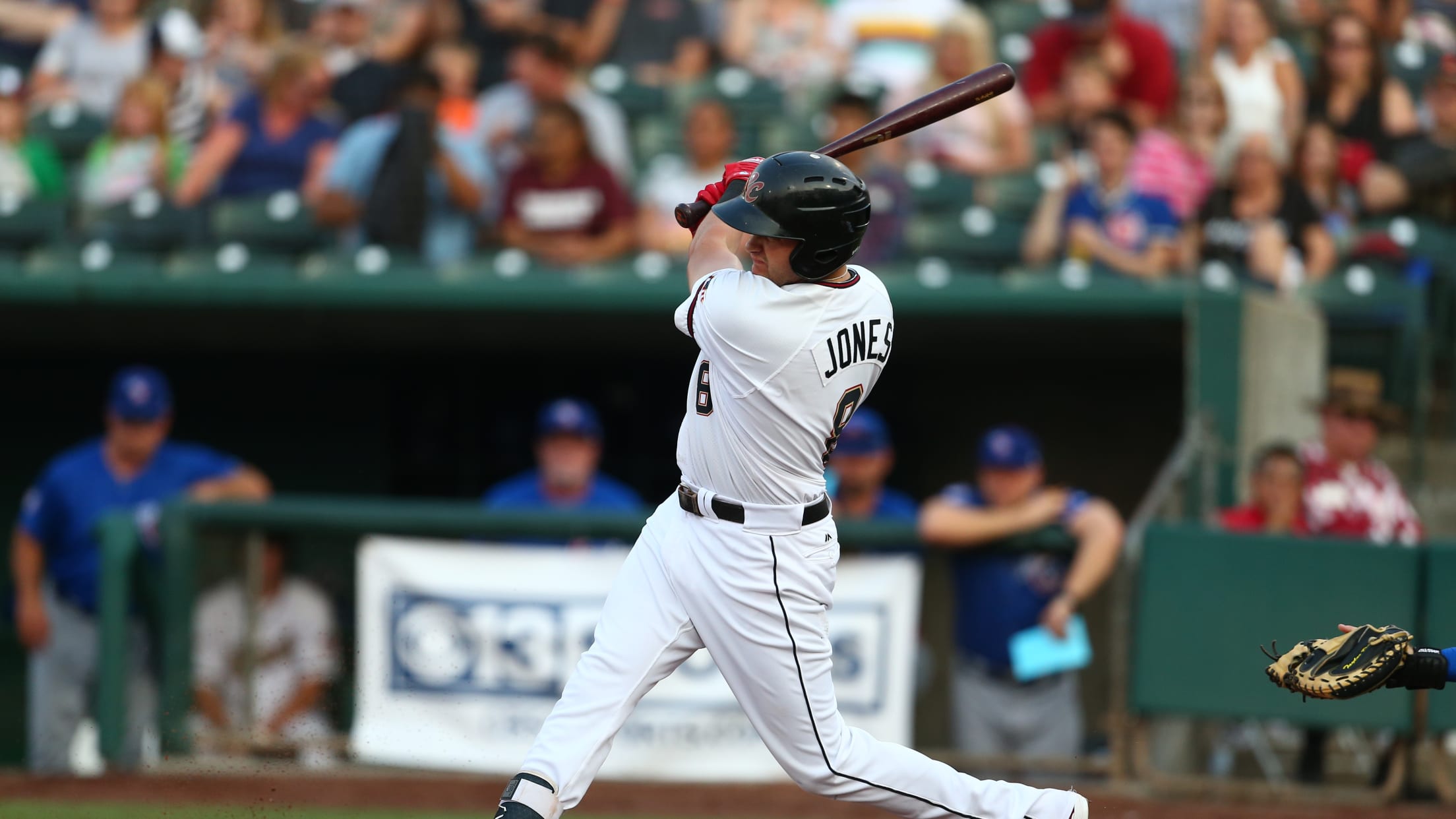 NASHVILLE, TN - The Sacramento River Cats (45-67) took an early lead on a home run from Ryder Jones, but recorded just two hits the rest of the way to drop the series opener with the Nashville Sounds (56-55) 3-1.
Shaw's 22nd home run highlights Monday matinee
Shaw leads Pacific Coast League by hitting a home run every 14.77 at bats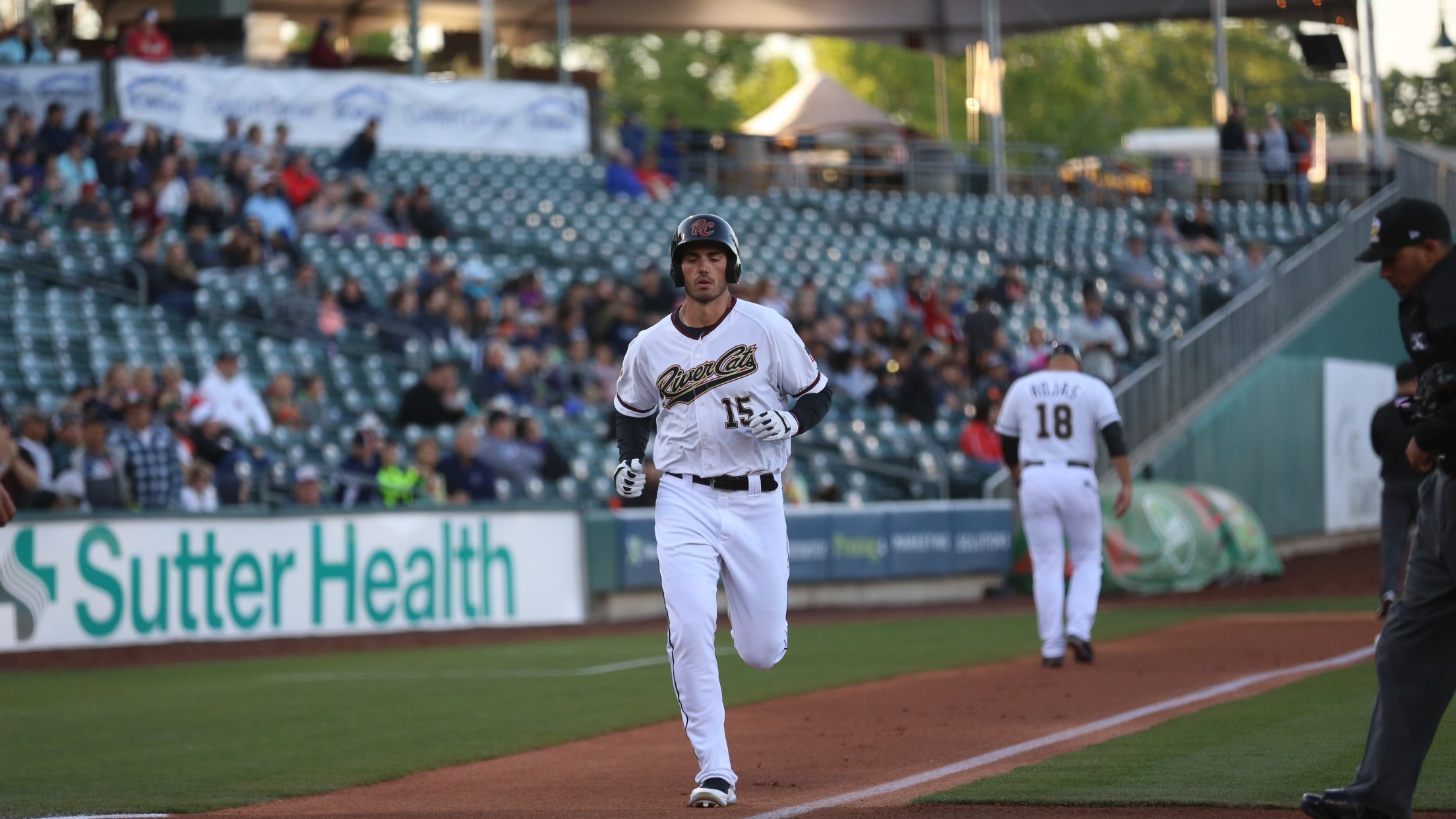 WEST SACRAMENTO, CA - In a Monday matinee series finale, the Sacramento River Cats (44-64) managed just one run on a Chris Shaw laser home run to right field. The Iowa Cubs (40-67) jumped on Daniel Camarena early in his return to the River Cats rotation as the River Cats
Schroder powers River Cats to streak-snapping victory
Early offense helps Kelly earn team-leading 10th victory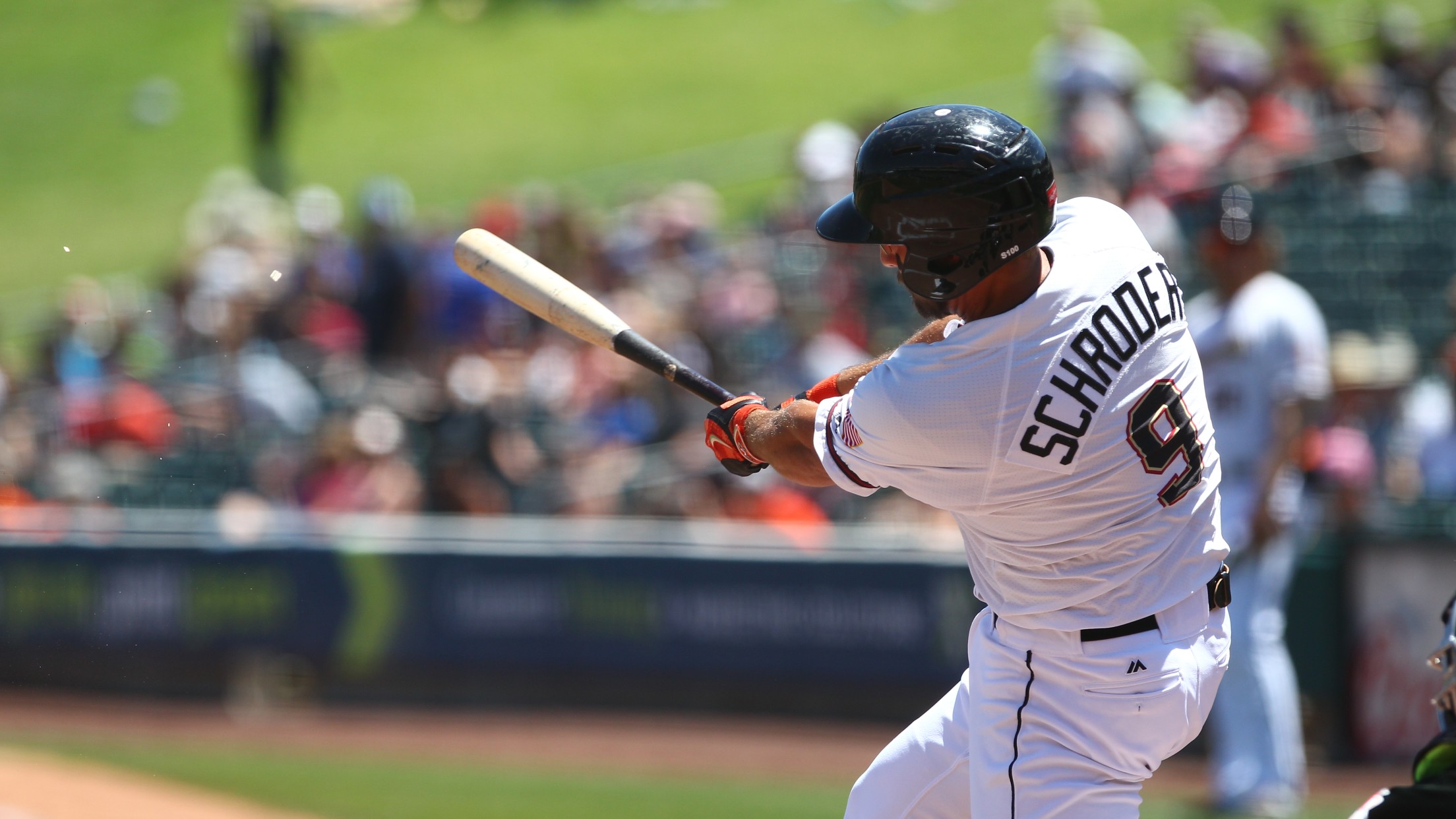 WEST SACRAMENTO, CA - The Sacramento River Cats (44-63) jumped out to an early 7-0 lead, thanks to a pair of solo homers from first baseman Myles Schroder, and hung on to defeat the Iowa Cubs (39-67) 7-4. The win ends a streak of seven straight losses for Sacramento.
River Cats late comeback stopped short
Sands doubles and scores twice in first game with Sacramento
WEST SACRAMENTO, CA - In their first game since the All-Star break, the Sacramento River Cats (39-52) fell behind early Thursday night to the Salt Lake Bees (46-45), and a late comeback stalled resulting in a 9-4 loss.
River Cats settle for series split in Albuquerque
Schroder records multi-hit game in series finale matinee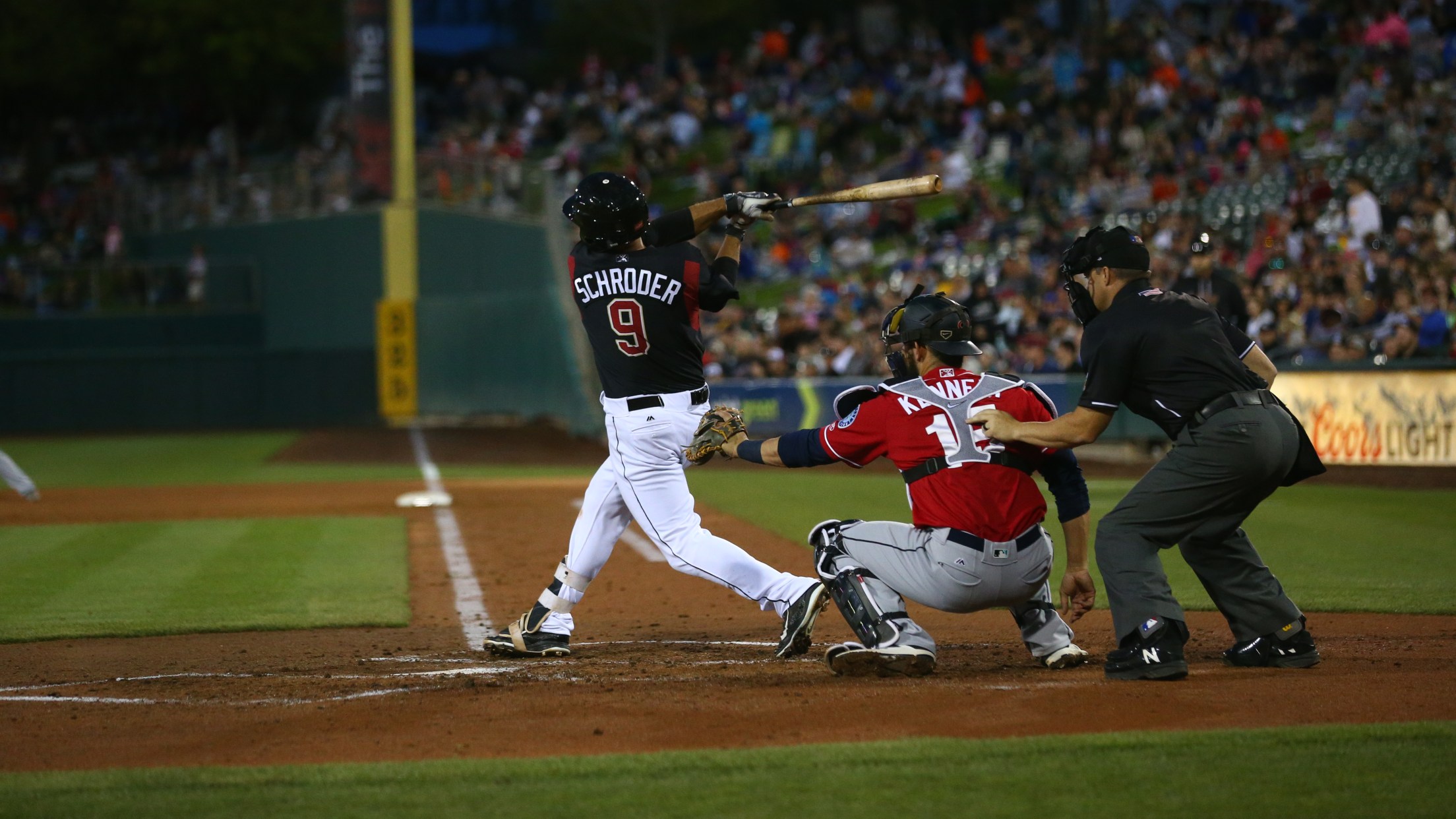 ALBUQUERQUE, NM - The Sacramento River Cats (35-45) got a solid start from Daniel Camarena in Thursday's series finale, but the left-hander took the loss as the Albuquerque Isotopes (40-39) held on to win 3-1. The River Cats offense managed just five hits and did not dent the scoreboard until
Cueto sharp in rehab appearance with River Cats
Giants' right-hander gets through 3.2 innings, strikes out four, and throws 48 pitches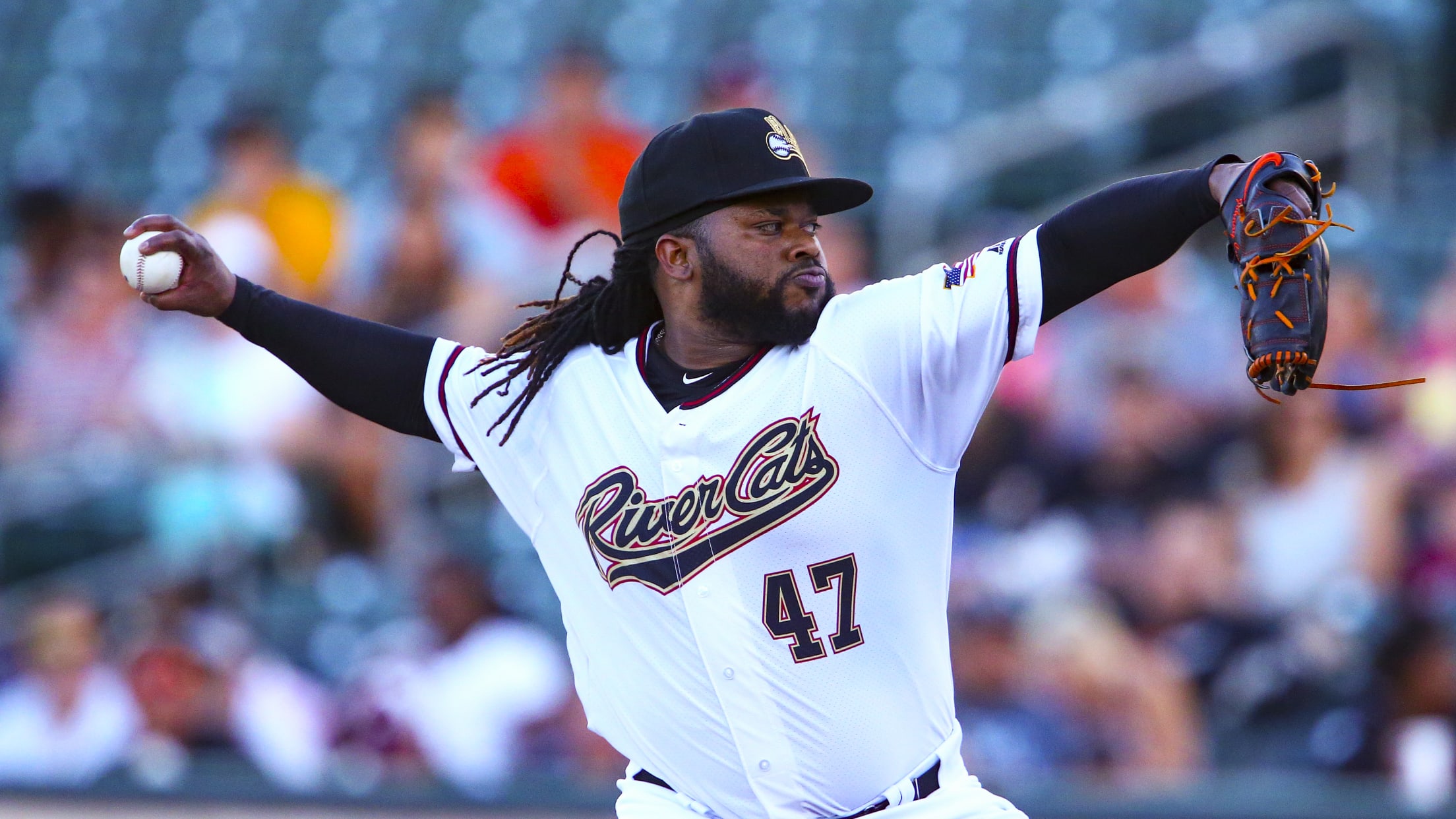 The Sacramento River Cats (33-42) had an energetic crowd on hand Saturday evening to watch a brilliant first rehab start from San Francisco Giants' right-hander Johnny Cueto. The offense, however, was dormant once again as the River Cats fell to the El Paso Chihuahuas (38-37) 3-1. Sacramento has only scored
Calixte hits ninth homer in New Orleans
Camarena's tough start digs a hole for River Cats early in 4-3 loss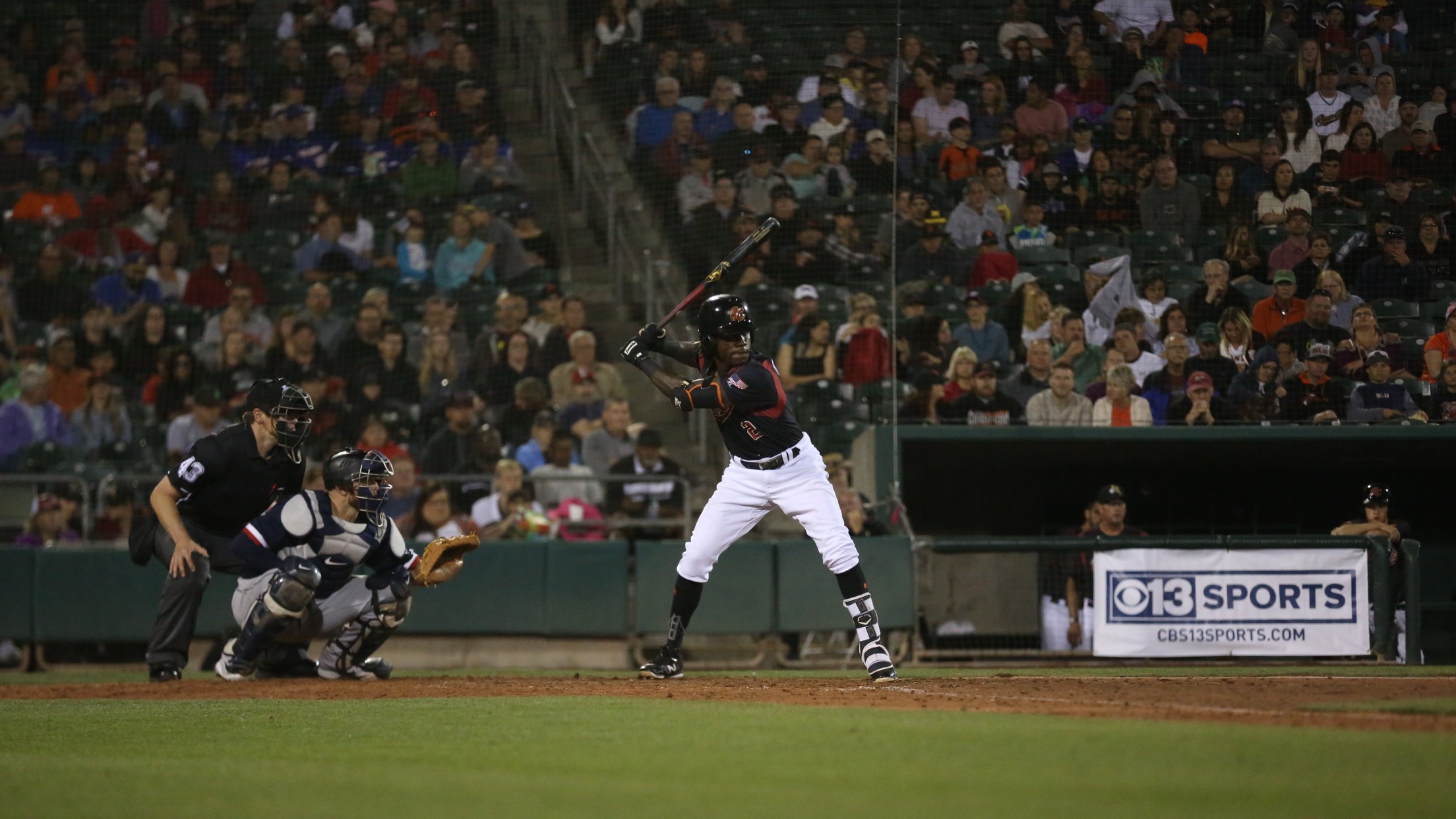 NEW ORLEANS, LA - The Sacramento River Cats (33-36) dropped the series opener against the New Orleans Baby Cakes (32-36) by the final score of 4-3 after a rare off night from left-handed pitcher Daniel Camarena.
Duggar walks off for River Cats in four-hit game
Camarena strikes out seven in 5.1 innings as River Cats win 3-2
WEST SACRAMENTO, CA - The Sacramento River Cats (31-33) won 3-2 in walk-off fashion on Sunday afternoon against the Colorado Springs Sky Sox (32-29). Outfielder Steven Duggar's fourth hit of the game chased home Orlando Calixte in the ninth to back another stellar outing from starter Daniel Camarena.
Dorados down Dodgers with late-inning rally
Camarena excellent again for second scoreless outing of season
WEST SACRAMENTO, CA -- Dorados de Sacramento (29-30) drew seven walks in the final two innings en route to a 7-4 victory over the Oklahoma City Dodgers (33-21) to begin the homestand.Lefty Daniel Camarena pitched 5.2 scoreless innings and struck out four as his ERA continues to fall, now 0.51
River Cats drop series finale, but win series in El Paso
Slater's hit and stolen bases unable to spark River Cats offense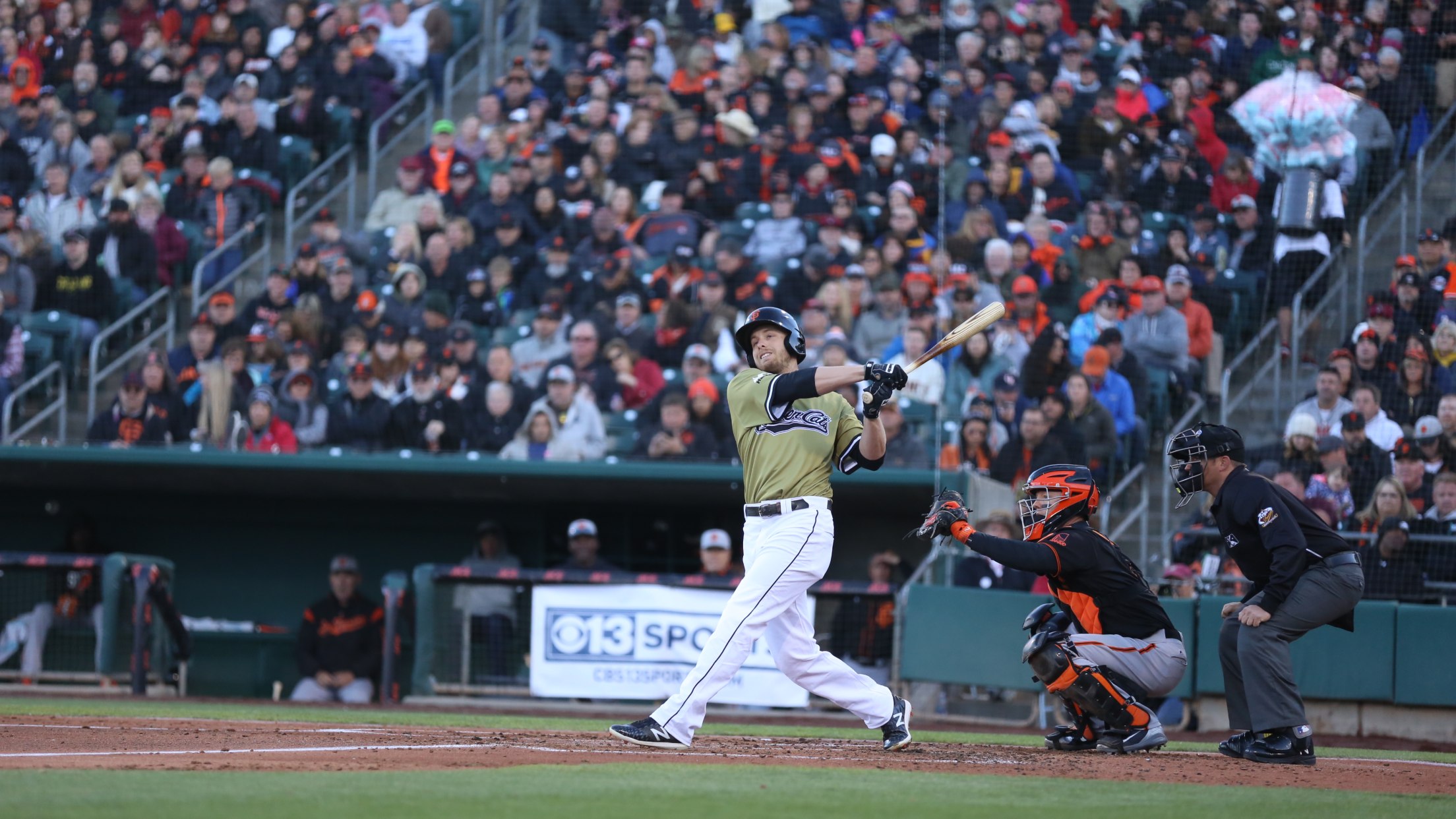 EL PASO, TX - The Sacramento River Cats (28-30) fell to the El Paso Chihuahuas (28-30) by the final score of 5-0 in the series finale on Sunday evening, but head home taking three of five in El Paso.
Slater has big night for River Cats in El Paso
Camarena excellent through six innings, but Chihuahuas walk off against bullpen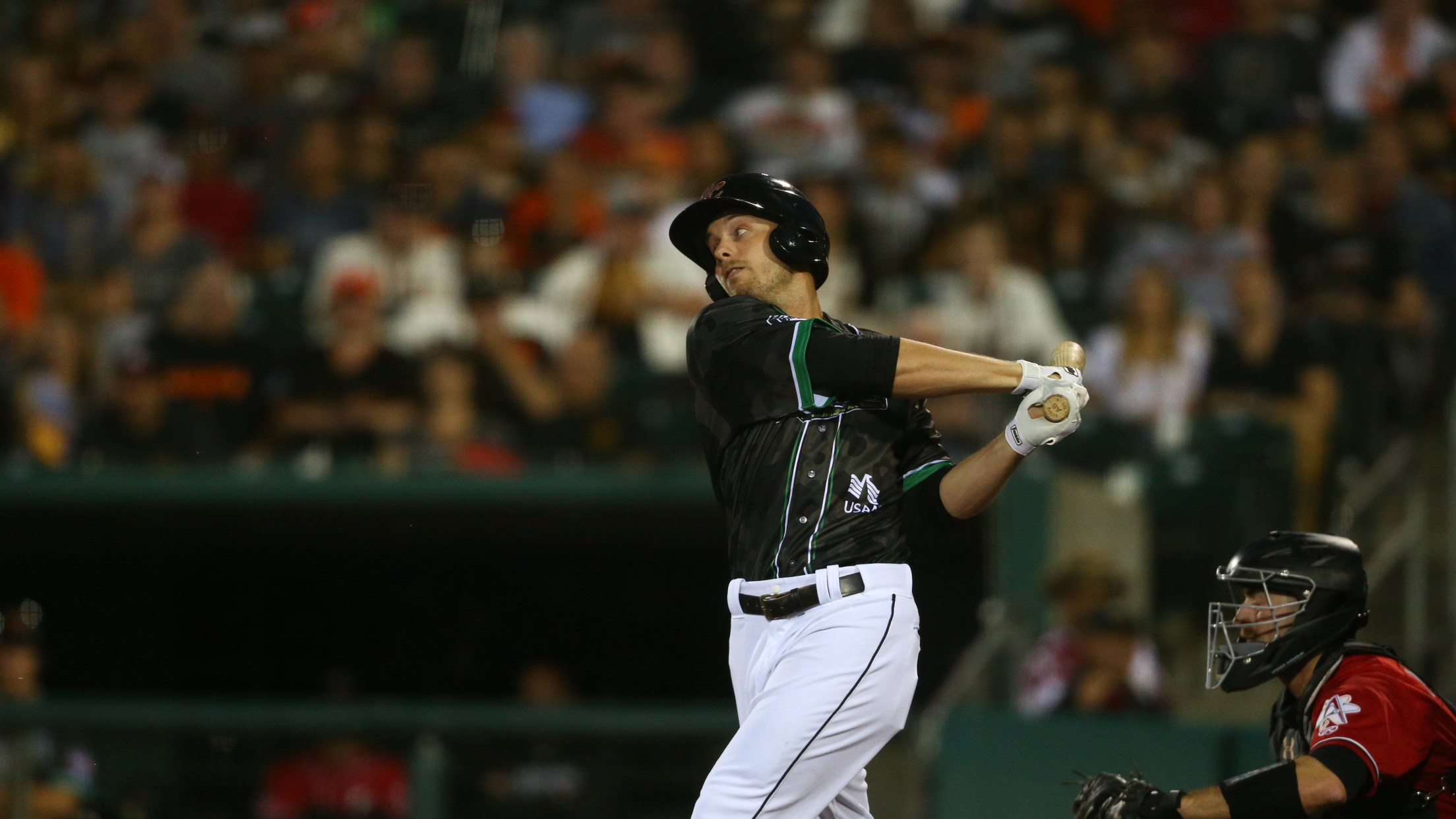 EL PASO, TX - The Sacramento River Cats (25-29) traveled south to take on the El Paso Chihuahuas (27-27) on Wednesday evening, and Austin Slater backed starter Daniel Camarena for an early lead. But El Paso came back against the River Cats bullpen to win 4-3 in walk-off fashion
d'Arnaud homers for River Cats, Isotopes rally in ninth
Pence collects multi-hit game, but Albuquerque scores ten runs late to seal victory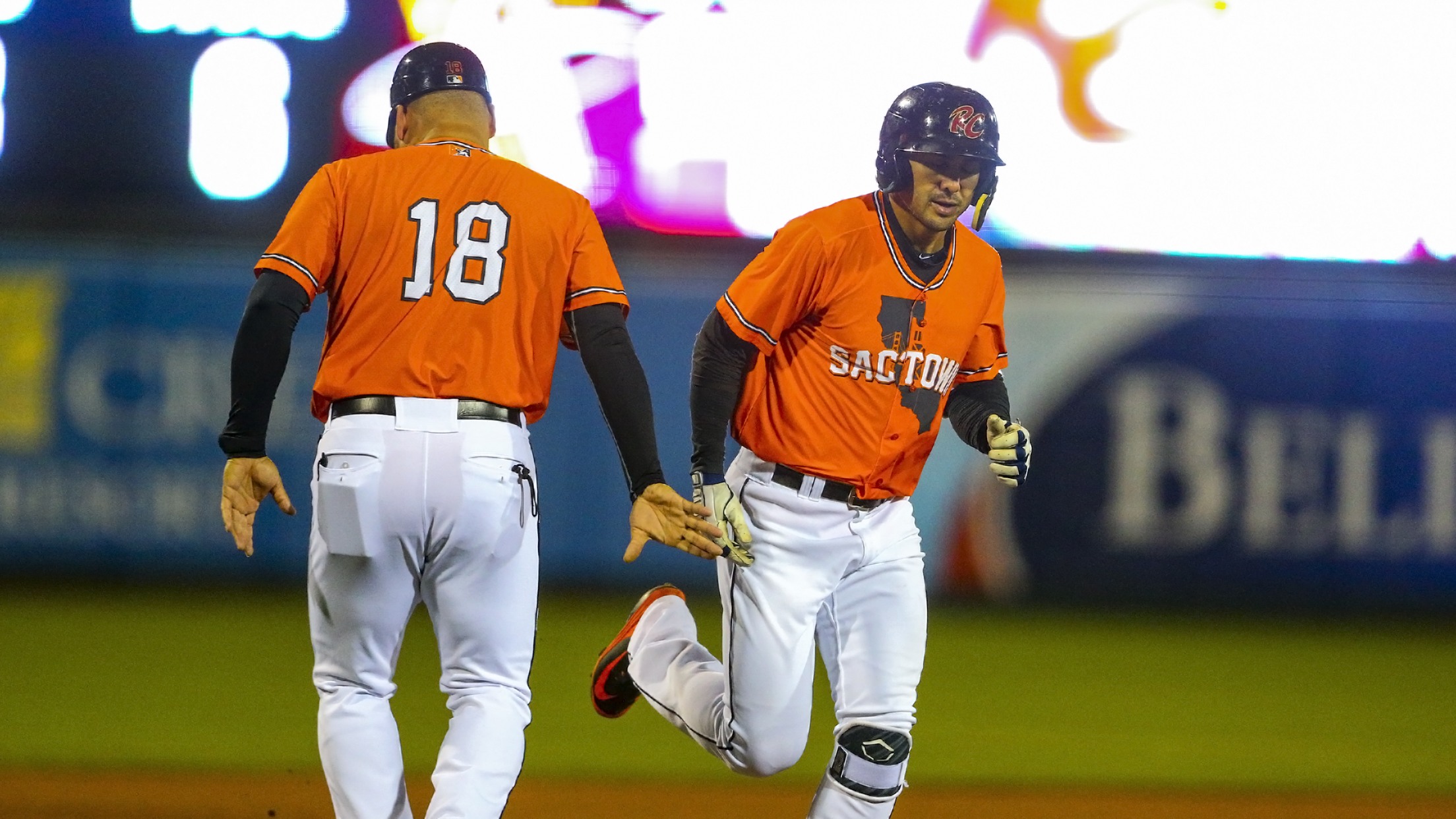 WEST SACRAMENTO - The Sacramento River Cats (23-26) came back to tie the game in the eighth, but fell to the Albuquerque Isotopes (26-23) 12-2 after a 10-run ninth inning by the visitors.
Frazier busts out, goes deep for RailRiders
Yankees No. 2 prospect reaches three times, steals a base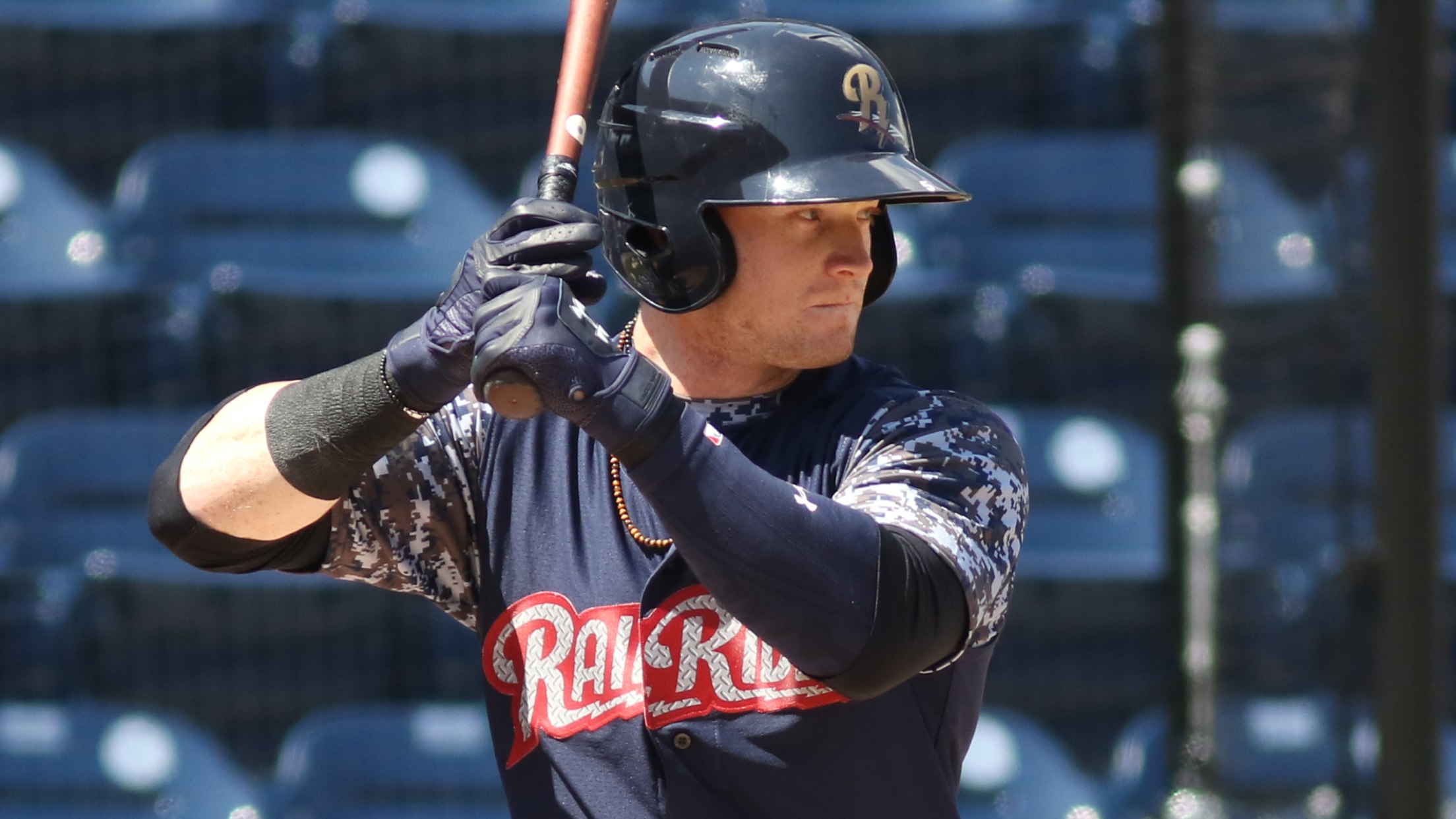 Clint Frazier found the key to reversing his early-season struggles at the plate: get greedy.The Yankees' No. 2 prospect belted his second homer in five games, singled and stole a base on Saturday to provide the difference in Triple-A Scranton/Wilkes-Barre's 1-0 blanking of Indianapolis at Victory Field.