Bart, Ramos emerging as Giant prospects
Up-and-coming system has fans excited in the city by the Bay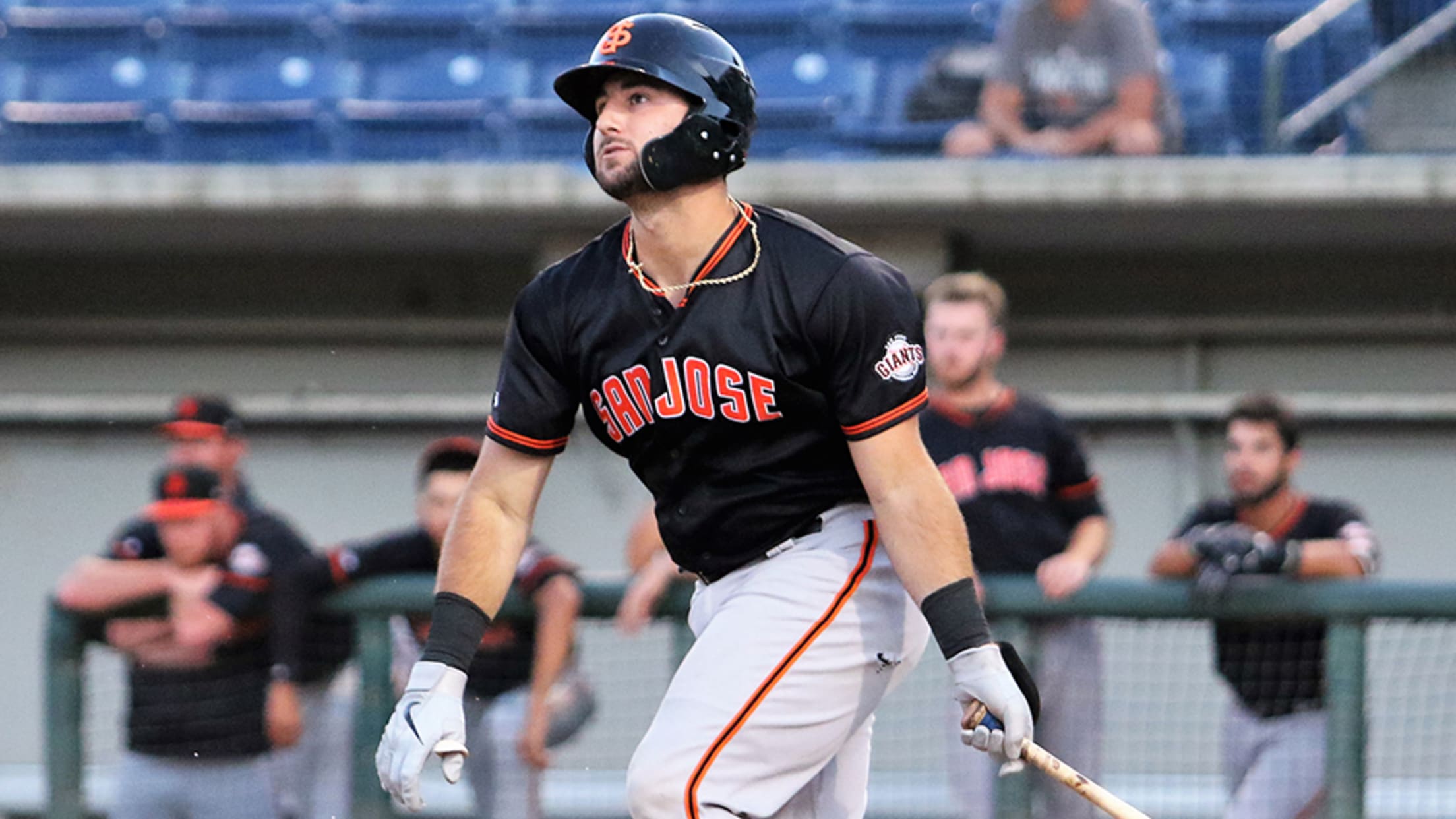 Each offseason, MiLB.com goes position by position across each system and honors the players -- regardless of age or prospect status -- who had the best seasons in their organization. Click here to locate your favorite club.Fresh off a seven-year run that featured three World Series championships and four playoff
Shaw powers River Cats to team's 12th division title
Sacramento set to face either Las Vegas or El Paso in first-round series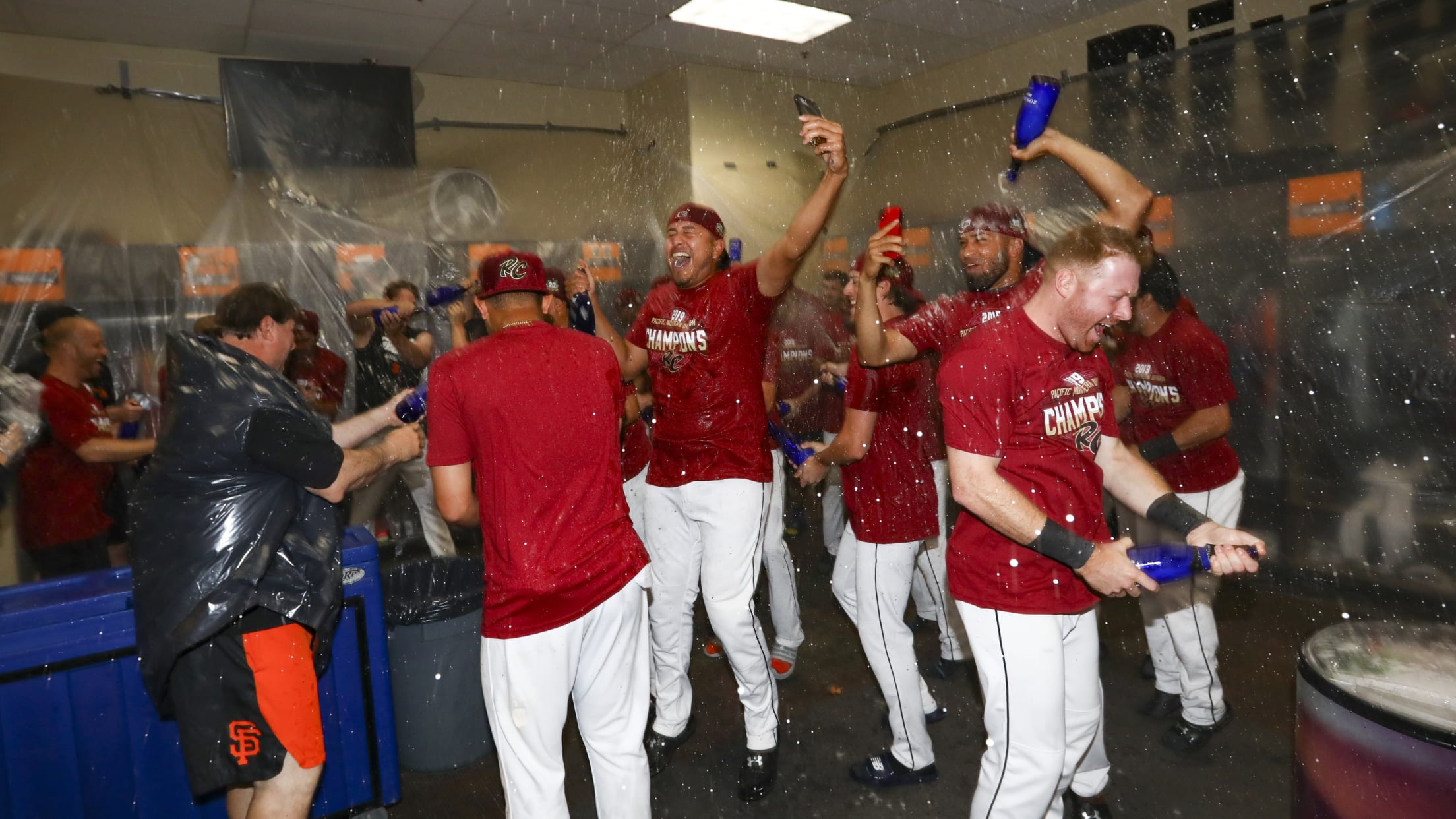 WEST SACRAMENTO, Calif. -- For the first time since 2012, the Sacramento River Cats (70-66) are heading to the Pacific Coast League playoffs. On the back of first baseman Chris Shaw's career night at the plate, the River Cats eliminated the Reno Aces (64-72) with a 10-2 victory and clinched
Cueto makes first of potentially two rehab starts with Sacramento
River Cats miss chance to clinch division in 9-5 loss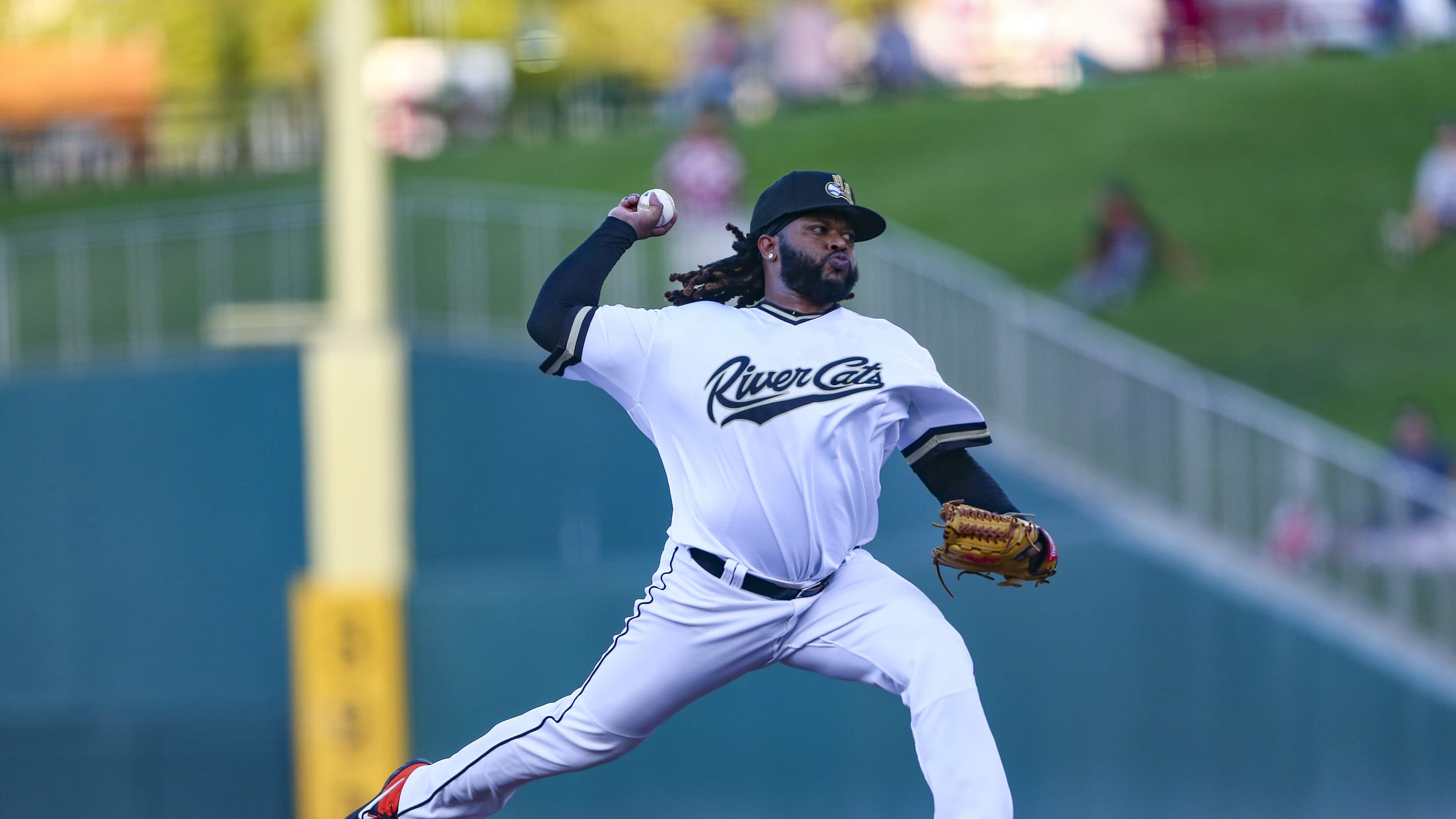 WEST SACRAMENTO, Calif. -- The Sacramento River Cats (69-64) remain one win away from clinching the Pacific Northern division title as they fell 9-5 on Monday night to the Reno Aces (62-71).Fan-favorite Johnny Cueto was in town making his fifth rehab appearance of the season, and first with Sacramento. He
Pair of seven-run innings sink River Cats
Shaw drives in five runs in lopsided loss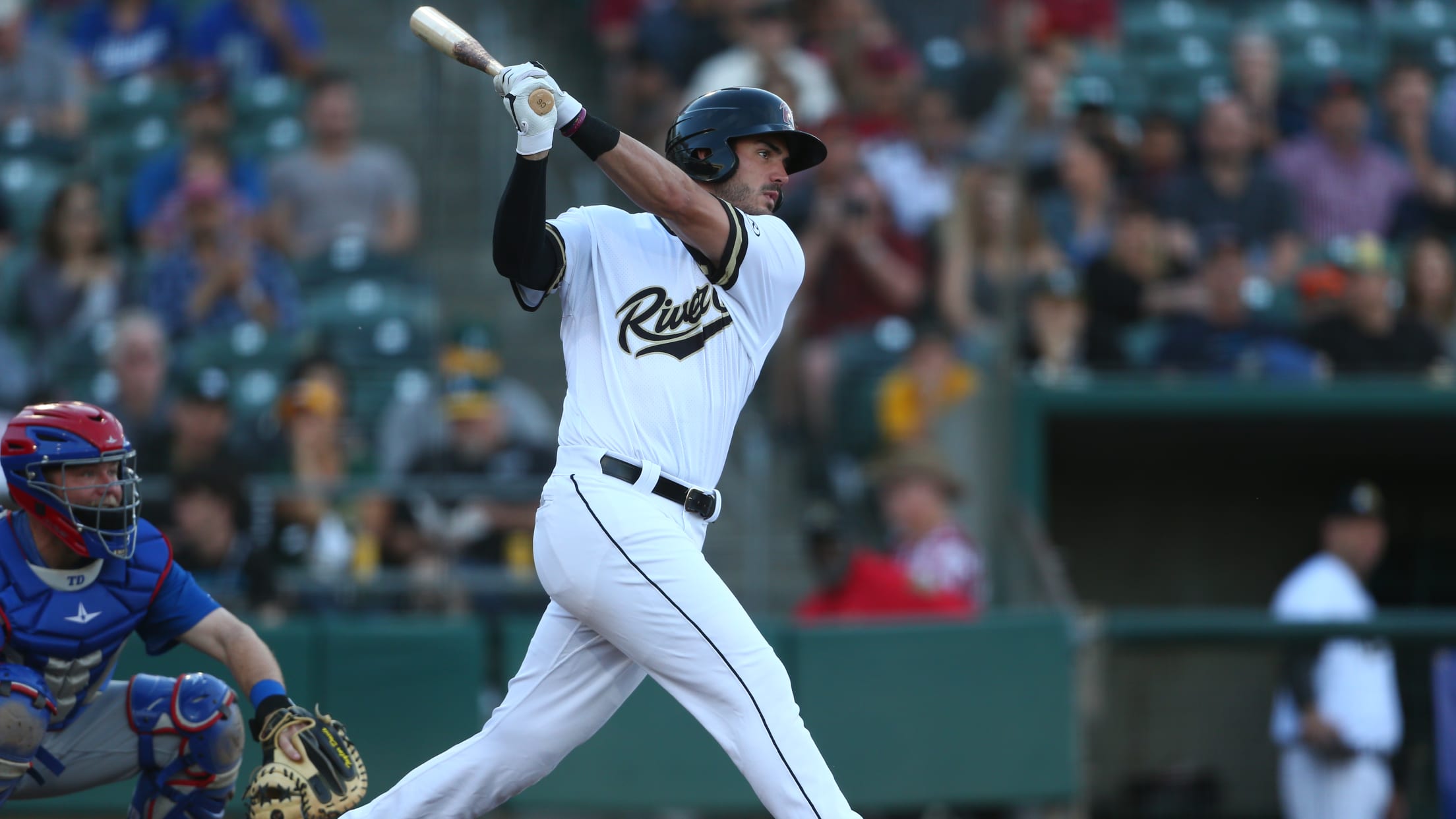 EL PASO, Texas -- The Sacramento River Cats (69-62) allowed seven runs in two separate innings, falling 18-8 on Saturday night to the El Paso Chihuahuas (76-55).After giving up seven runs to the Chihuahuas in the fourth inning, the River Cats made a brief comeback by cutting the deficit to
Rodriguez goes seven strong in River Cats win
Shaw provides crucial two-run single in sixth inning of 4-2 victory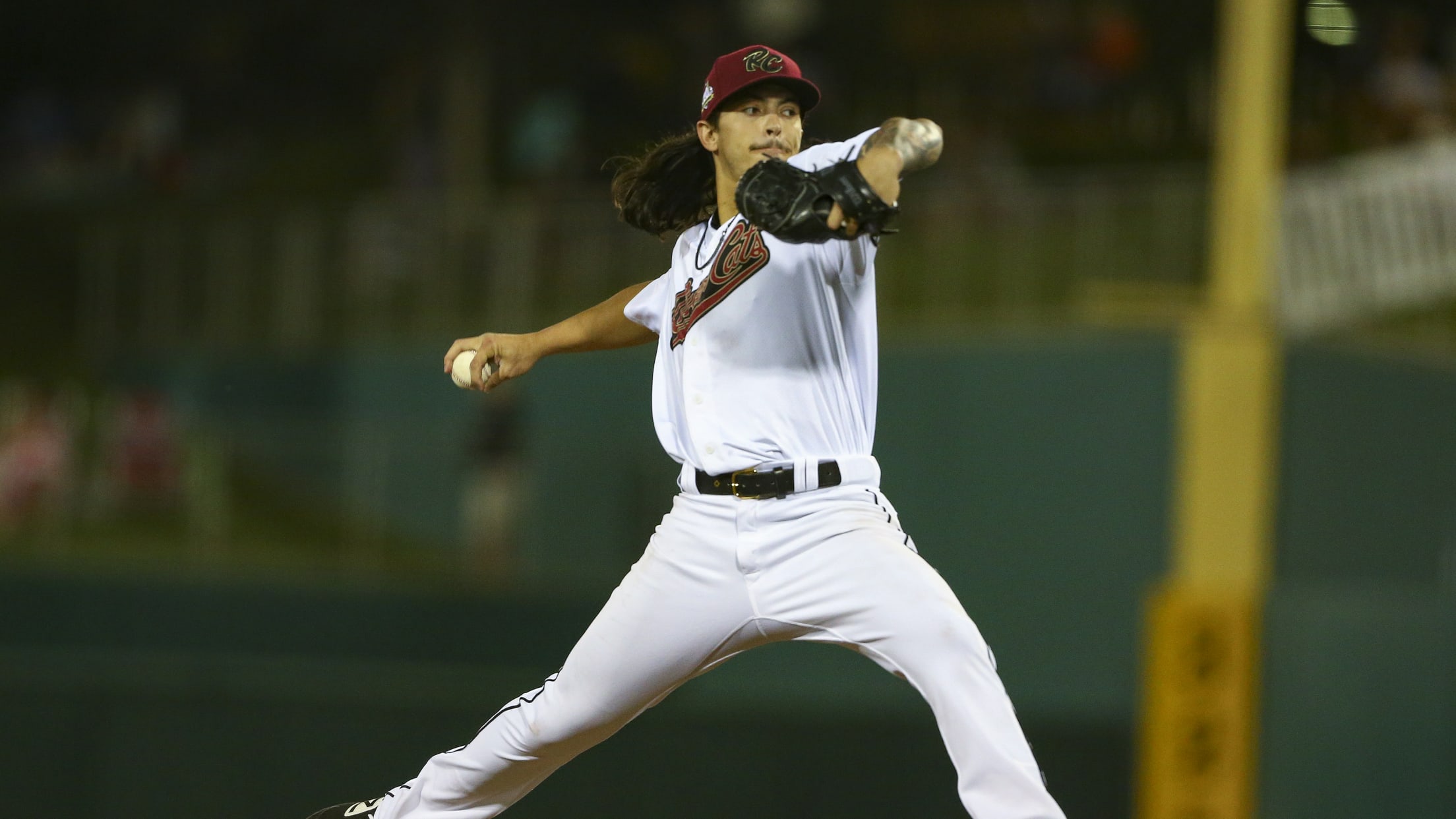 WEST SACRAMENTO, Calif. -- The Sacramento River Cats (62-53) received seven innings of two-run ball from right-hander Dereck Rodríguez in a narrow 4-2 victory over the Memphis Redbirds (51-64).Rodriguez struck out six and walked none in what was his longest outing in his six starts for the River Cats this
Shaw's big night leads River Cats in blowout
Duggar ties Pacific Coast League record with five walks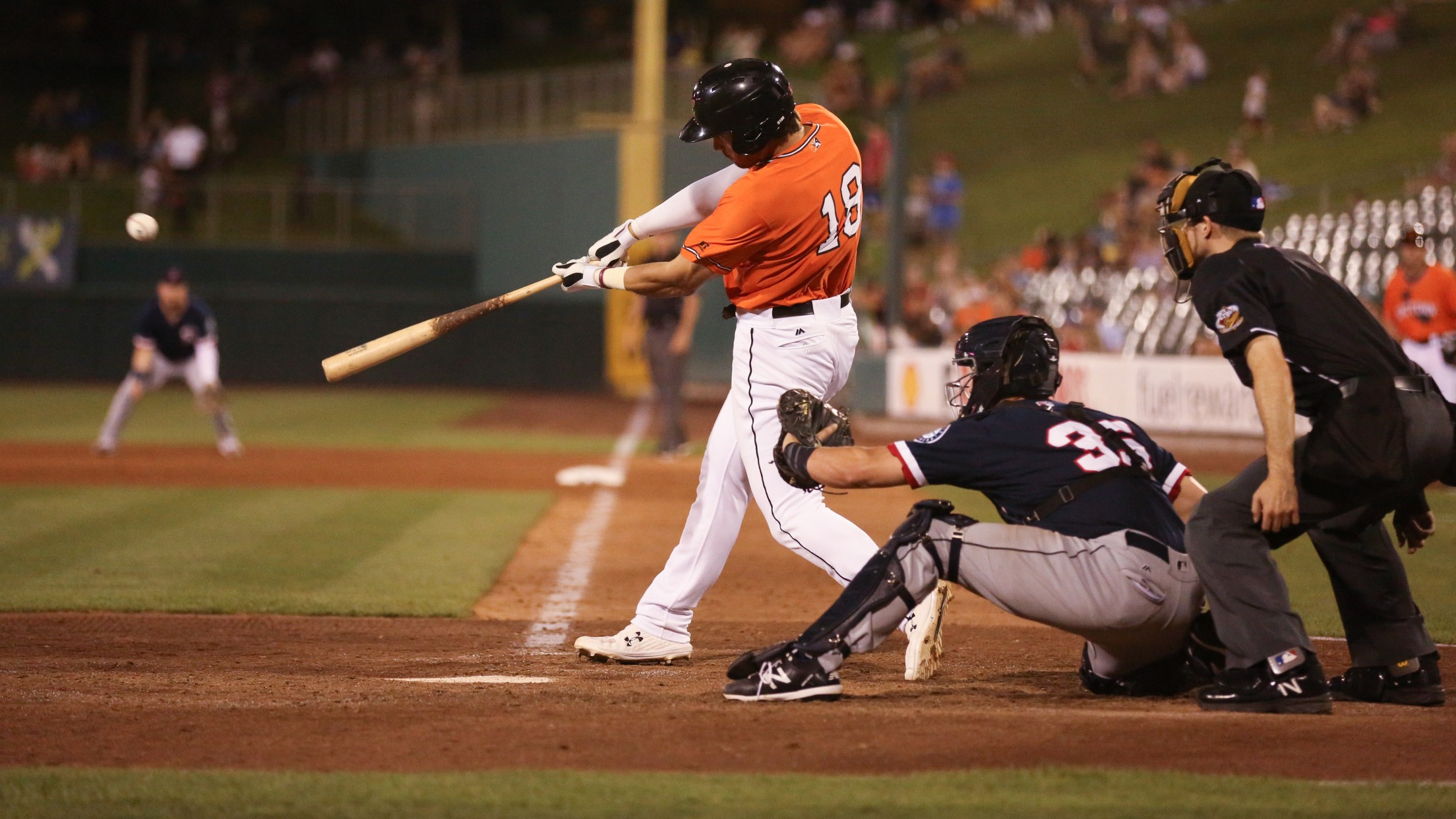 WEST SACRAMENTO, Calif. -- On a record-setting Friday night, the Sacramento River Cats (57-48) crushed the Tacoma Rainiers (48-57) in a 18-3 rout.The offense exploded for 18 runs and were fueled by center fielder and leadoff man Steven Duggar, who drew five walks and singled as the Rainiers failed to
Pair of home runs doom River Cats as streak ends at five
Rodriguez tosses gem but bullpen surrenders lead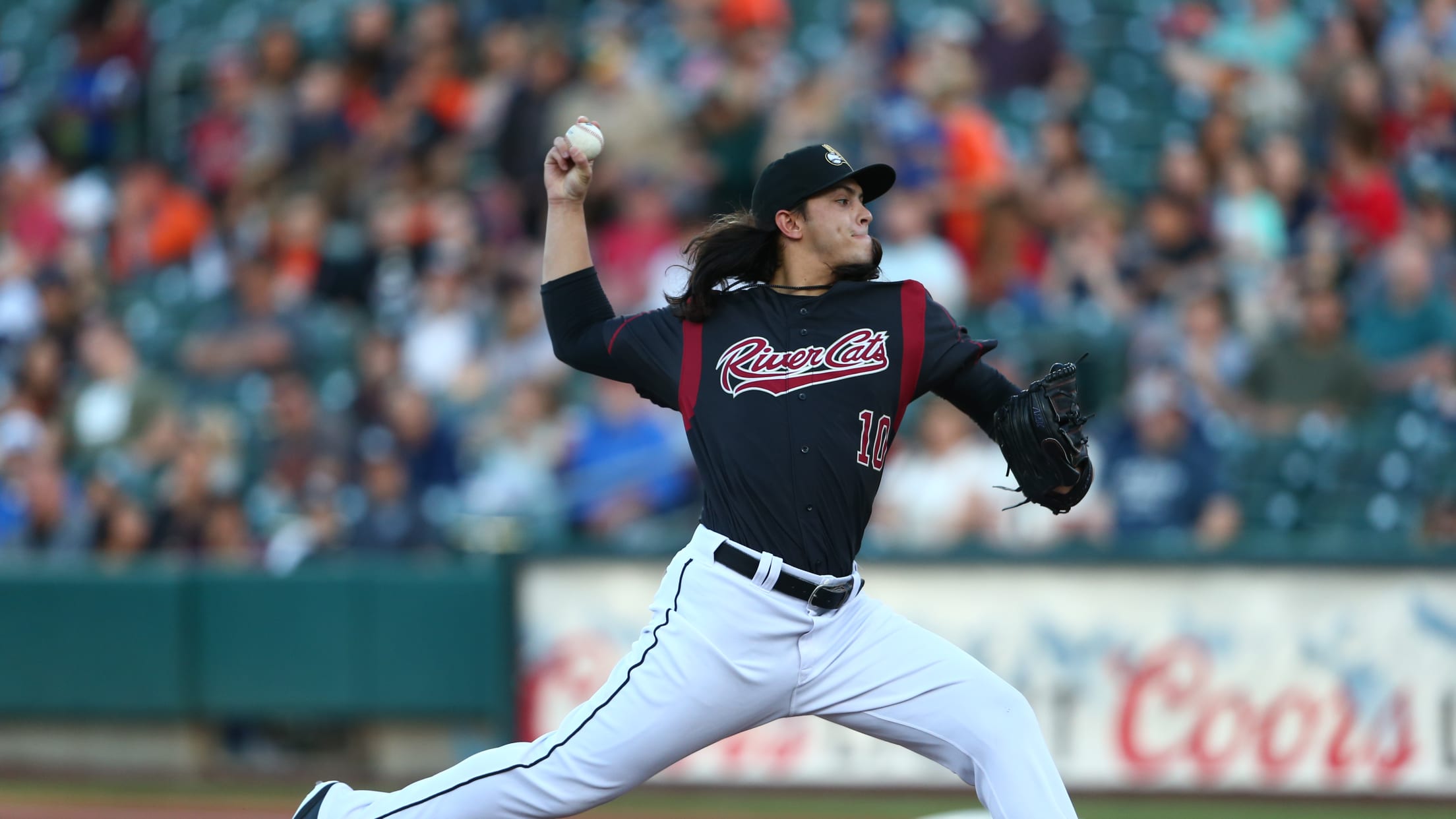 FRESNO, Calif. -- The Sacramento River Cats (56-48) fell 3-1 to the Fresno Grizzlies (53-51) in Thursday's series finale but will head home having moved into first place by three games during their 11-game road trip.Right-hander Dereck Rodríguez struck out seven in six shutout innings while allowing just two hits.
River Cats hang on for wild win in Salt Lake
Shaw collects five hits as Sacramento kicks off road trip with a victory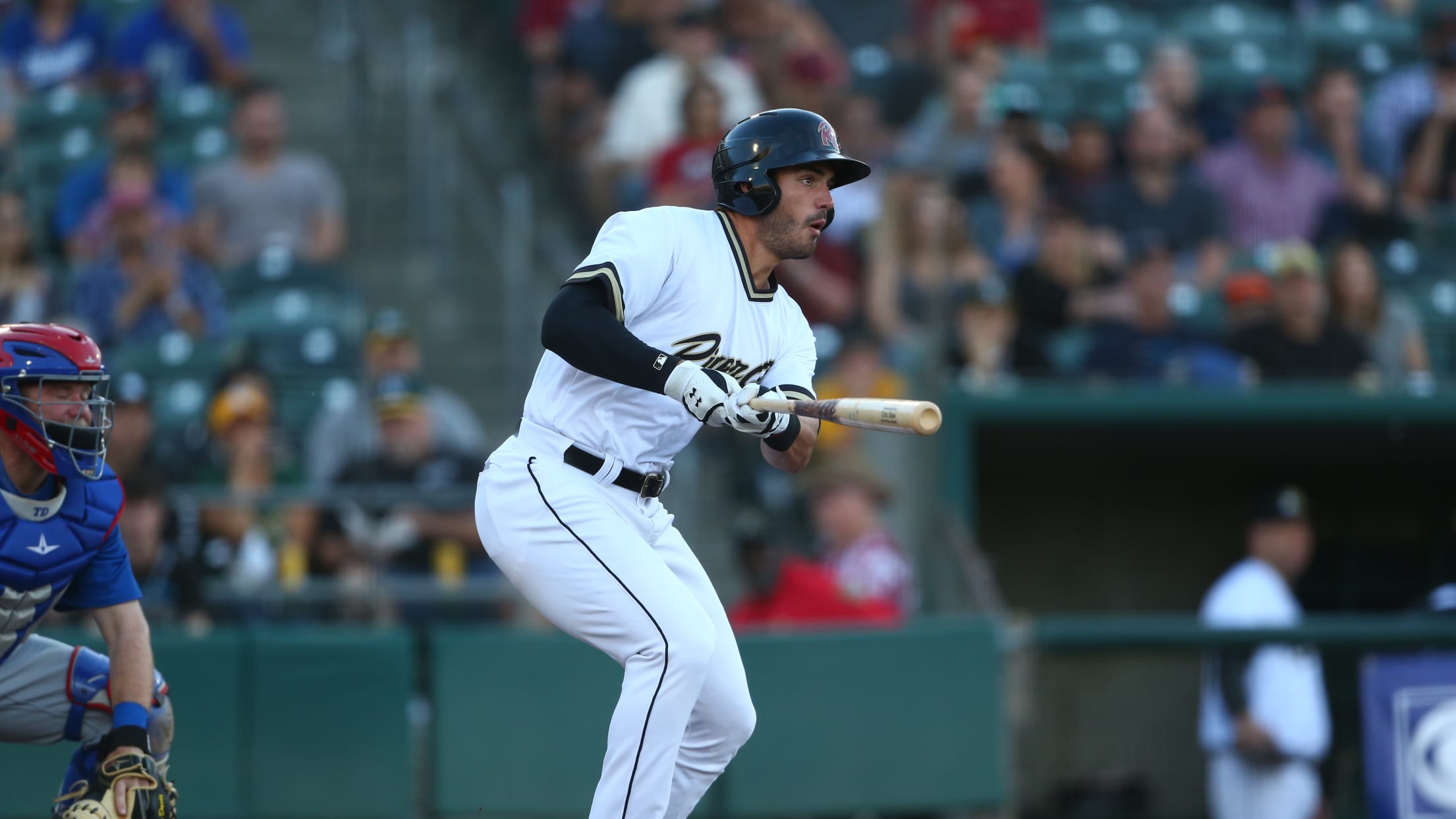 SALT LAKE CITY, Utah -- The Sacramento River Cats (49-45) jumped out to a 10-1 lead after two innings but needed a wild game-ending play to squeeze by the Salt Lake Bees (40-54) by a final score of 12-11.The River Cats were fueled by a huge game at the plate
Menez strong again as River Cats squeak by Grizzlies
Left-hander walks none and strikes out seven in 3-2 win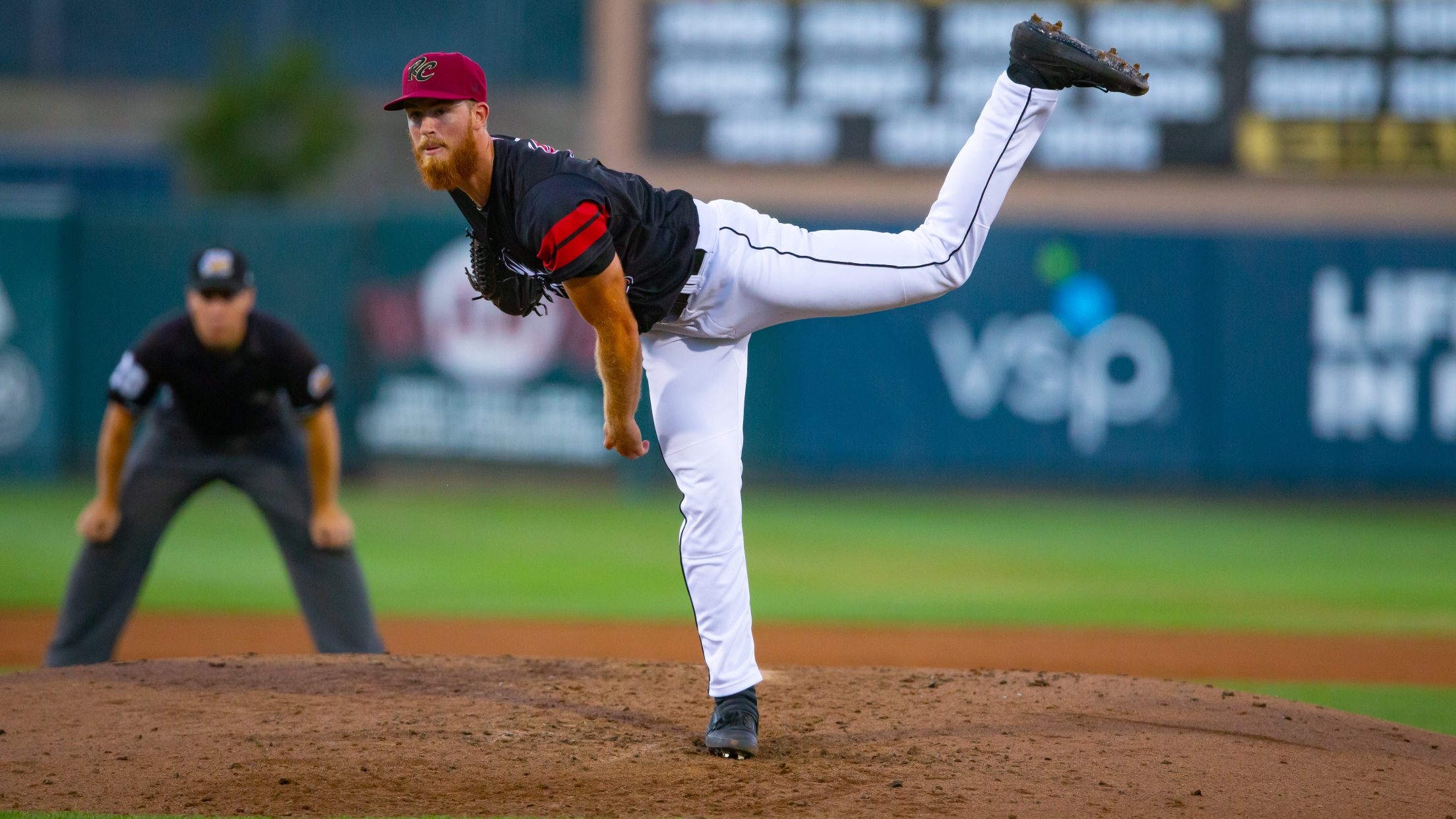 WEST SACRAMENTO, Calif. -- The Sacramento River Cats (48-44) surrendered a run in the ninth but held on for a 3-2 victory over the Fresno Grizzlies (47-46).Left-handed starter Conner Menez was chased in the sixth, but not until striking out seven in 5.2 strong innings. The Hollister, Calif. native walked
River Cats open second half with win over Grizzlies
Three-run seventh gives Sacramento needed cushion to secure victory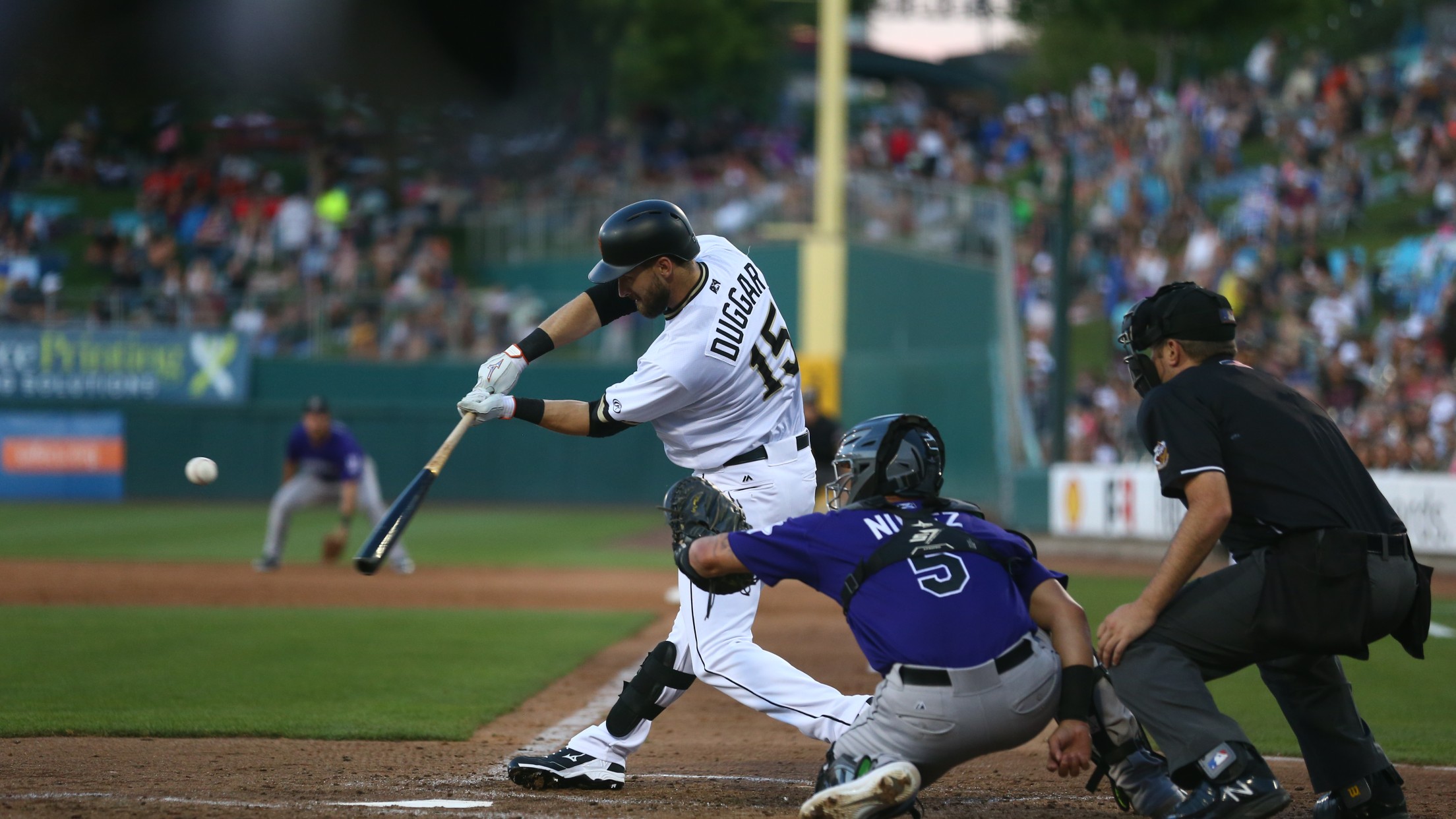 WEST SACRAMENTO, Calif. -- The Sacramento River Cats extended their Pacific Northern division lead to one and a half games with an 8-5 win over the Fresno Grizzlies on Thursday night.Sacramento plated a trio of runs in a crucial seventh-inning rally, as they would prove to be the winning runs
River Cats crush Aces to finish out first half
Green reaches base six times as club shatters franchise record with 27 hits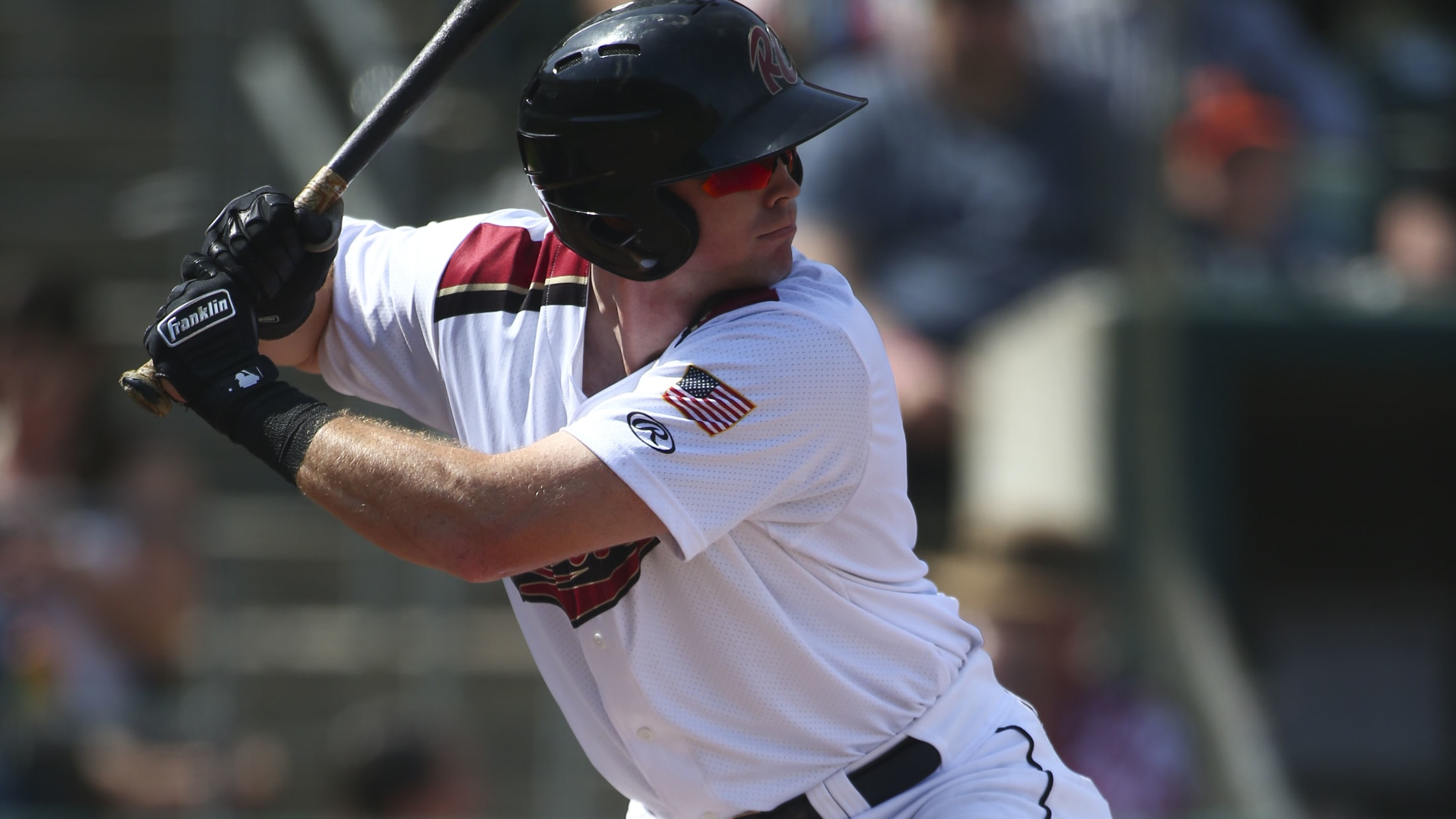 RENO, Nev. -- The Sacramento River Cats (46-43) moved into first place heading into the All-Star break with a record-breaking 21-7 blowout victory over the Reno Aces (39-50) on Sunday afternoon.After trailing 6-2 through two innings, the Sacramento offense would explode for 19 unanswered runs over the course of the
River Cats forge comeback but fall late to Aces
Shaw, Garcia each homer as team crawls back from five-run deficit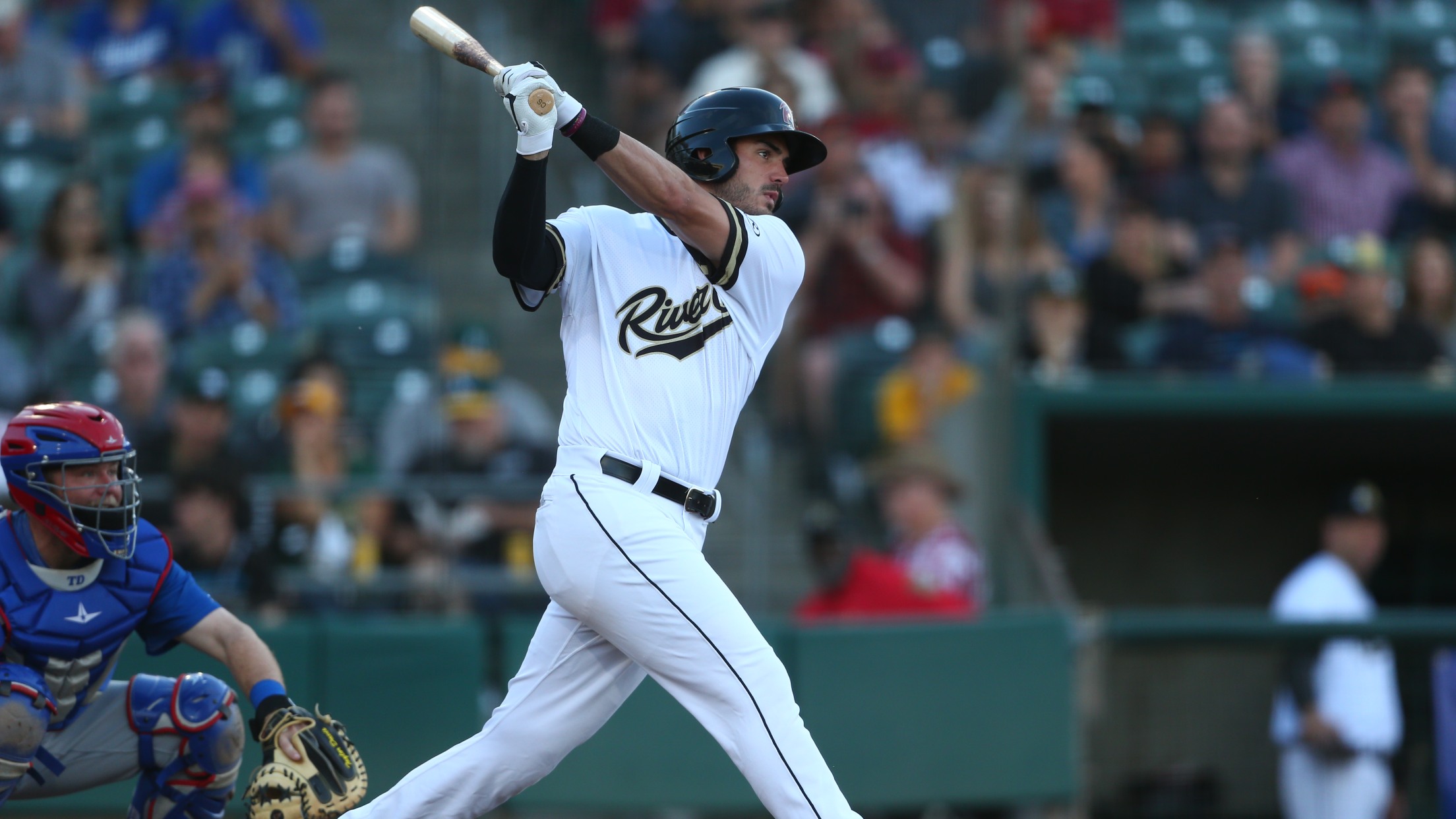 West Sacramento, Calif. -- The Sacramento River Cats (44-42) trailed 5-0 after two innings but made a ballgame out of it on Independence Day, though it was the Reno Aces (38-48) coming out on top 6-5.River Cats starter Yoanys Quiala had a rough first inning, which lasted more than 30
River Cats leave Las Vegas with series victory despite ugly finale
Peña, Green, Rickard, and Shaw all homer in lopsided 15-6 loss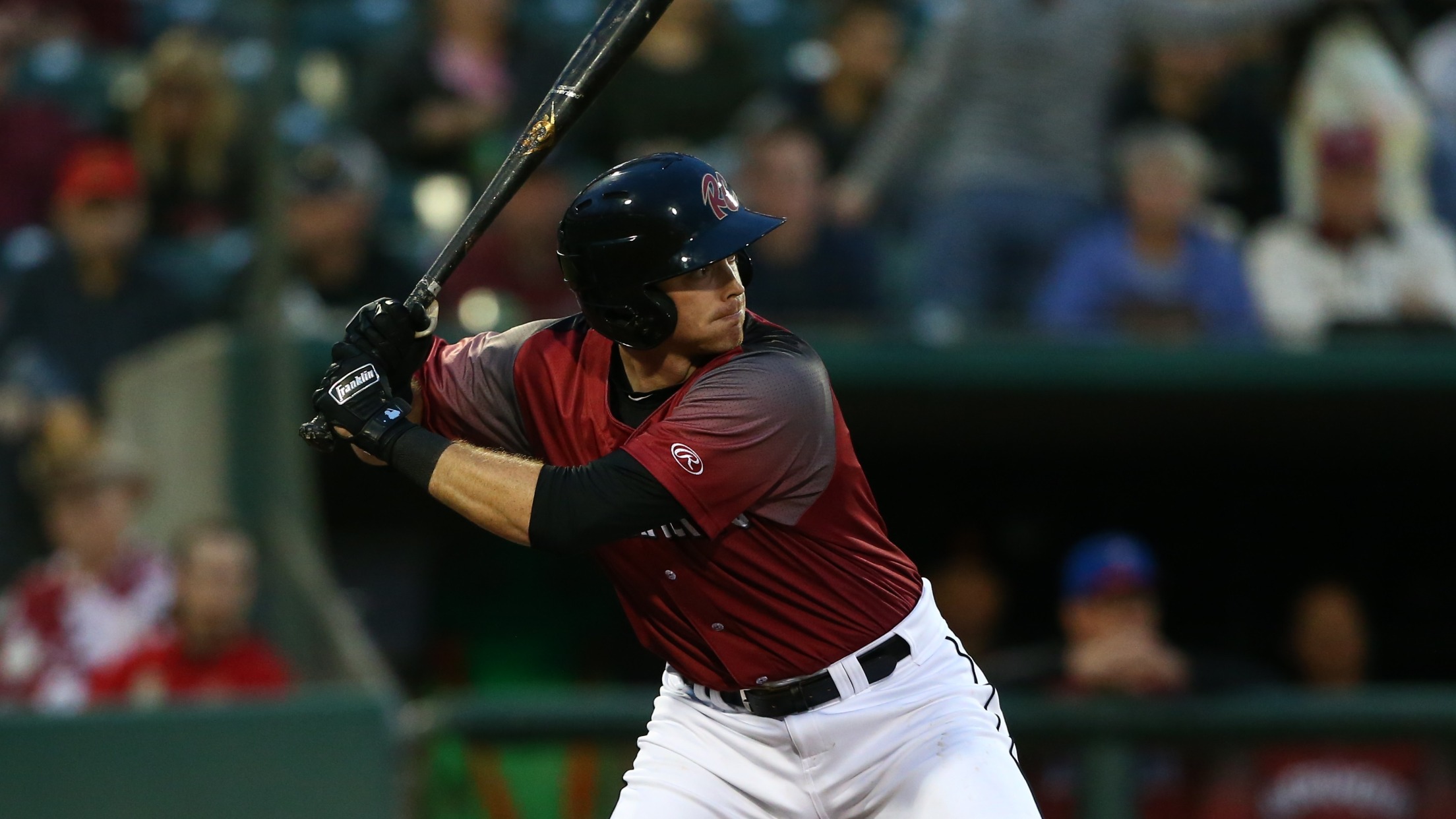 Las Vegas, Nevada - The Sacramento River Cats (39-37) dropped the series finale against the Las Vegas Aviators (42-34) by a score of 15-6, but leave town with their 12th series victory of the season.River Cats starter Yoanys Quiala had a forgettable night, getting through just three innings and allowing
Offense crushes six home runs in loss to Cubs
Shaw clubs two homers while Peña records four hits in 10-8 defeat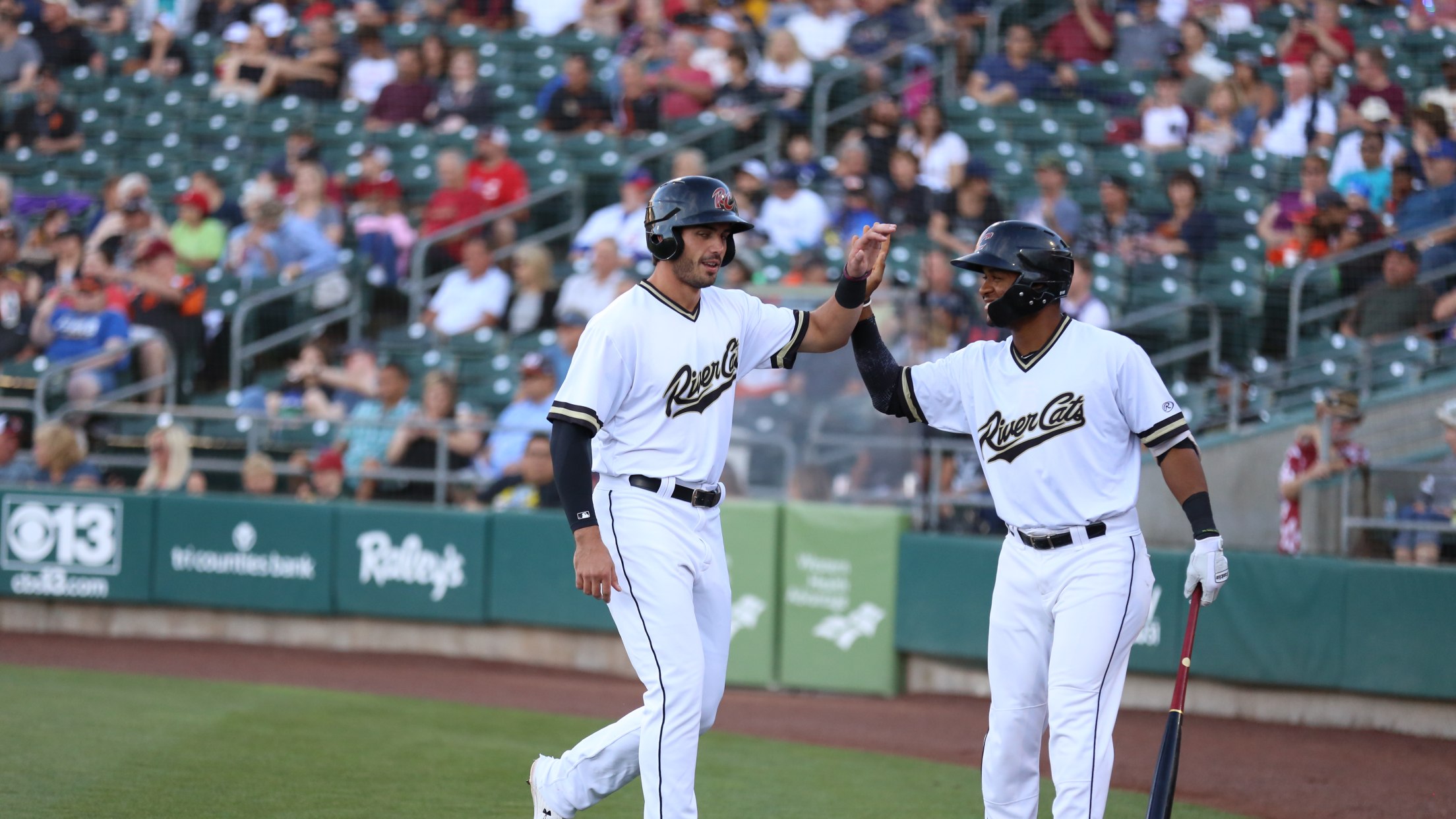 West Sacramento, Calif. -- The Sacramento River Cats (36-34) showed some teeth with three runs in the ninth inning but eventually fell 10-8 to the Iowa Cubs (39-32) on Monday night.The Sacramento offense launched six home runs, including a pair from first baseman Chris Shaw. His two-run shot in the
Peña powers River Cats to another road series win
Suarez goes six allowing just one run in 7-2 victory over New Orleans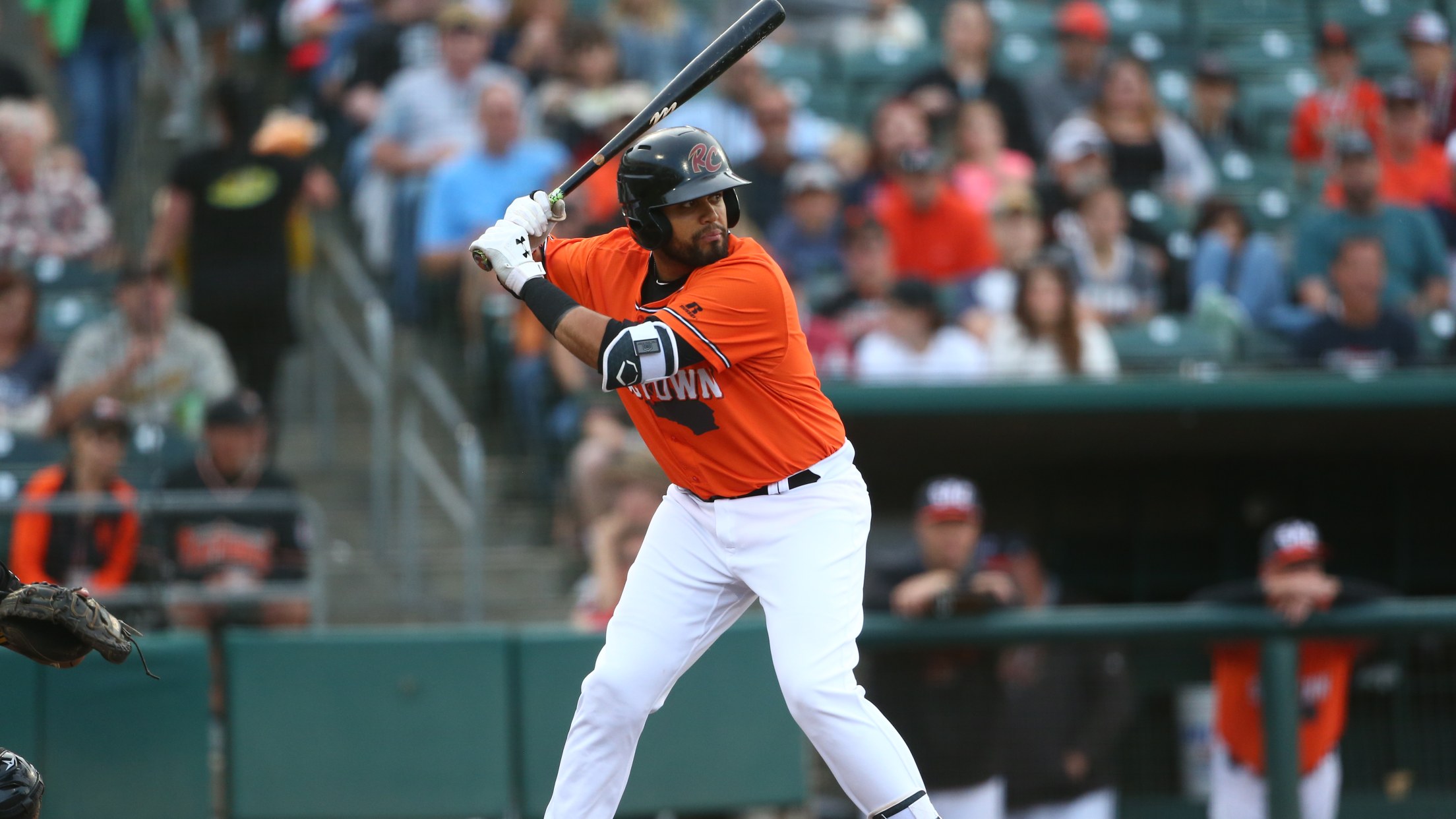 Metairie, La. -- The Sacramento River Cats (33-31) will enjoy a day off after going 5-2 on their seven-game road trip, capped off by a 7-2 win over the New Orleans Baby Cakes (35-30) on Monday night.Catcher Francisco Peña crushed two of the team's four home runs on the night,
Baby Cakes hold off River Cats' comeback attempt
Peña collects three hits in 4-3 loss to New Orleans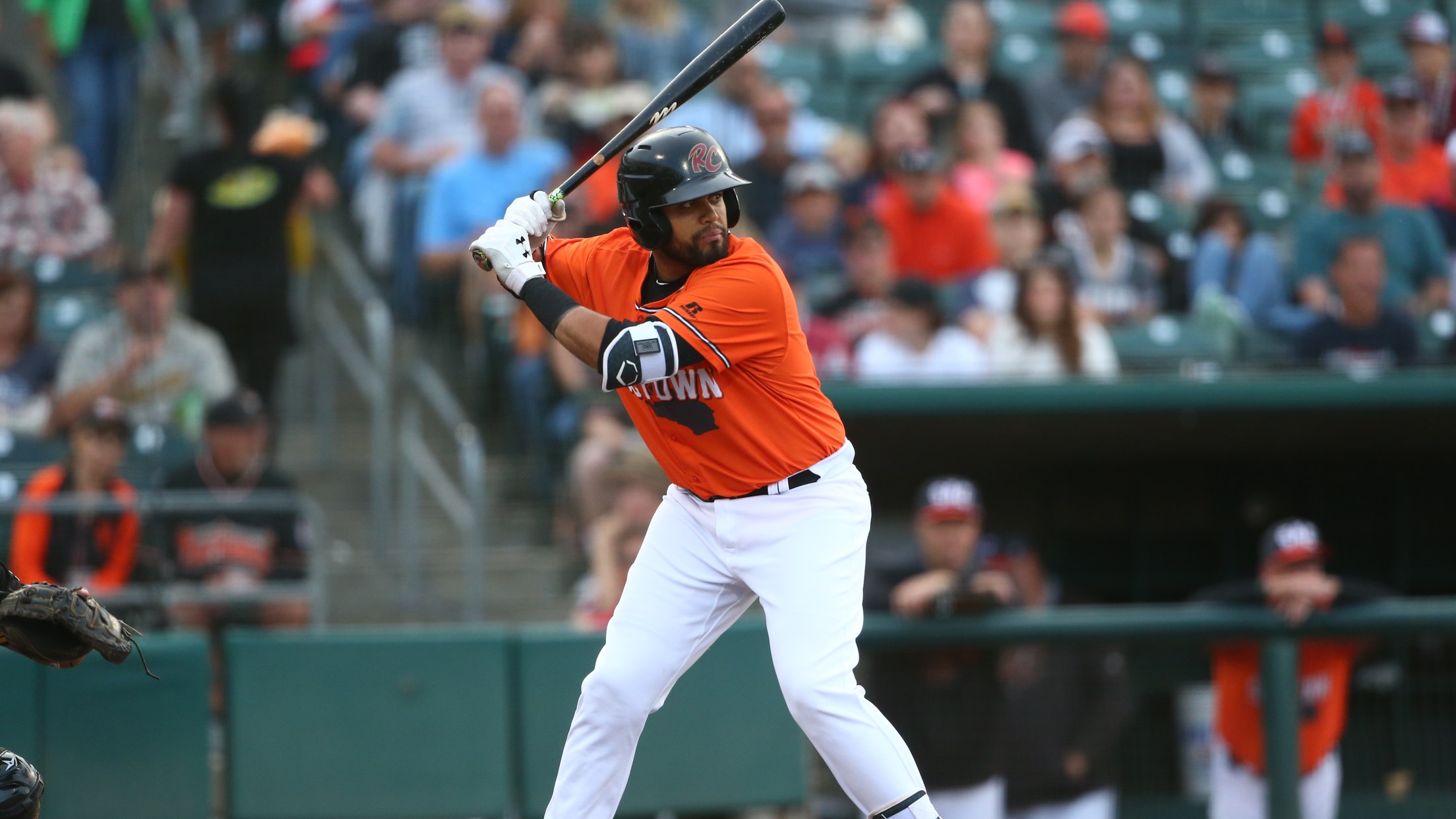 Metairie, La. -- Looking to tie their longest winning streak of the season, the Sacramento River Cats (31-31) came up just short losing 4-3 to the New Orleans Baby Cakes (35-28).The River Cats loaded the bases in the eighth inning and plated two runs to make it a one-run game,
Suarez, bullpen outduel Dodgers in 2-1 win
Avelino, Shaw combine for four hits in narrow victory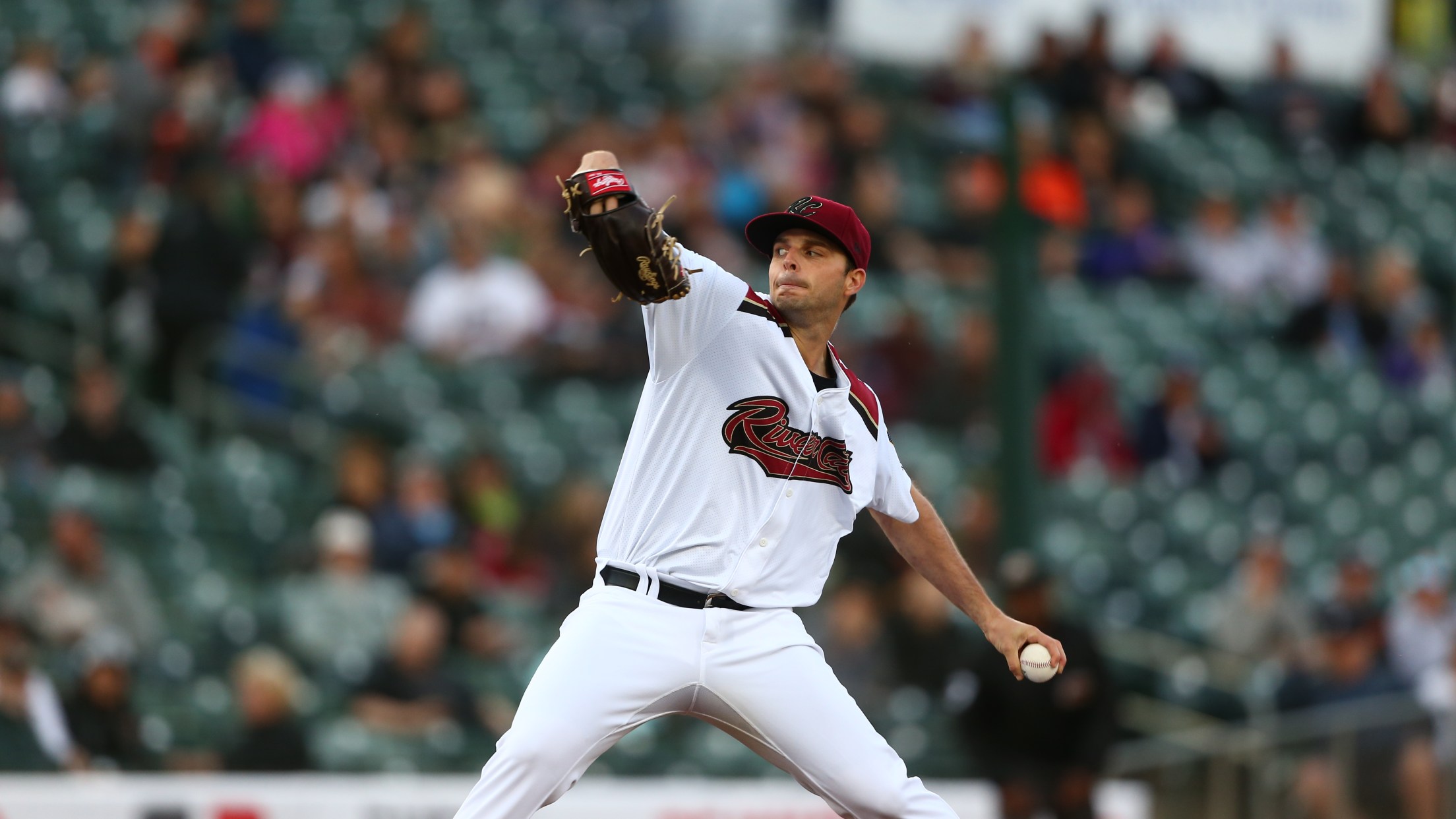 Oklahoma City, Okla. -- The Sacramento River Cats (29-30) bounced back on Wednesday morning to defeat the Oklahoma City Dodgers (23-35) 2-1 to snap their six-game winning streak.Sacramento's pitching staff continued to demonstrate why they're one of the best in the Pacific Coast League by allowing one run on the
Giants Prospect Primer: Bart runs express
Catcher climbs system; Black, Beede, Shaw knock on MLB door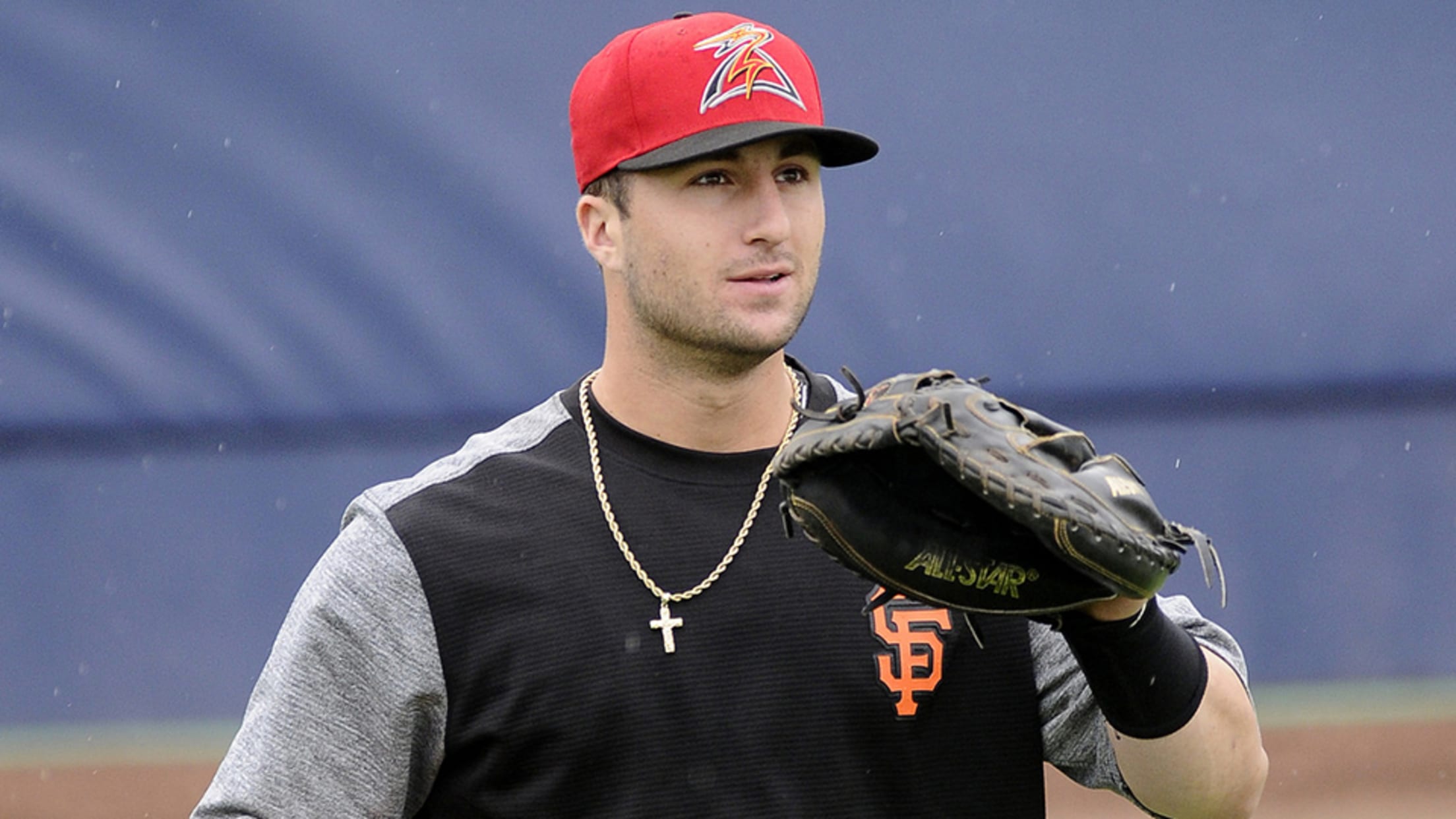 Some players are on the verge of stardom, others are entering a crucial phase of their development and still others are getting their first tastes of full-season ball. With the 2019 season approaching, MiLB.com takes a look at the most intriguing prospects from each MLB organization.Full-season debutant: Joey Bart, CAfter
Shaw's 24th long ball lifts River Cats over 'Topes
Herb shuts down Albuquerque with seven strikeouts in seven innings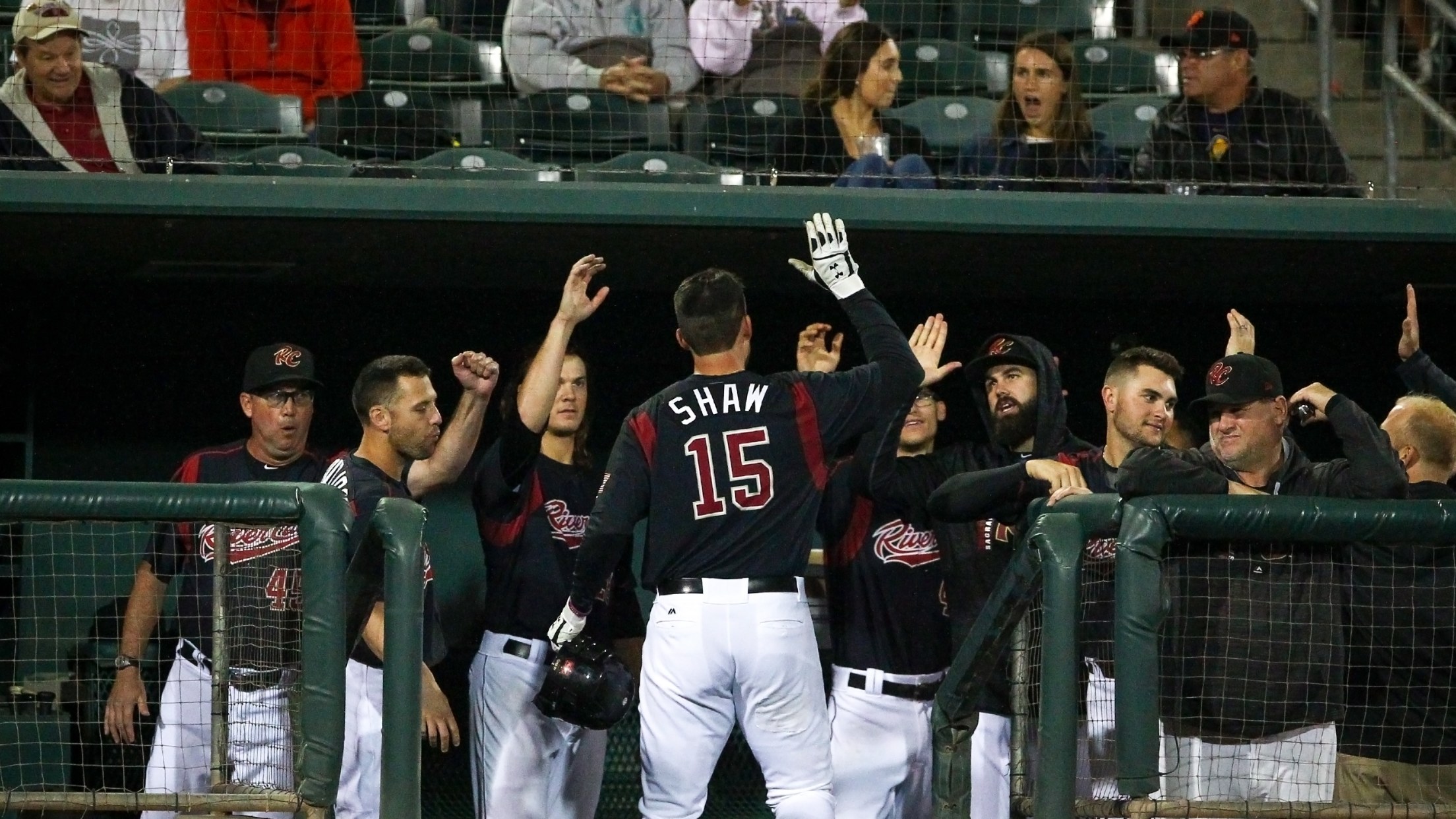 WEST SACRAMENTO, CA - In another one-run game, the Sacramento River Cats (54-81) came out on top, taking down the Albuquerque Isotopes (61-74) 2-1 after a pair of late-inning runs.
River Cats welcome back Kelly but fall in extras
Kelly turns in quality start in his return to River Cats rotation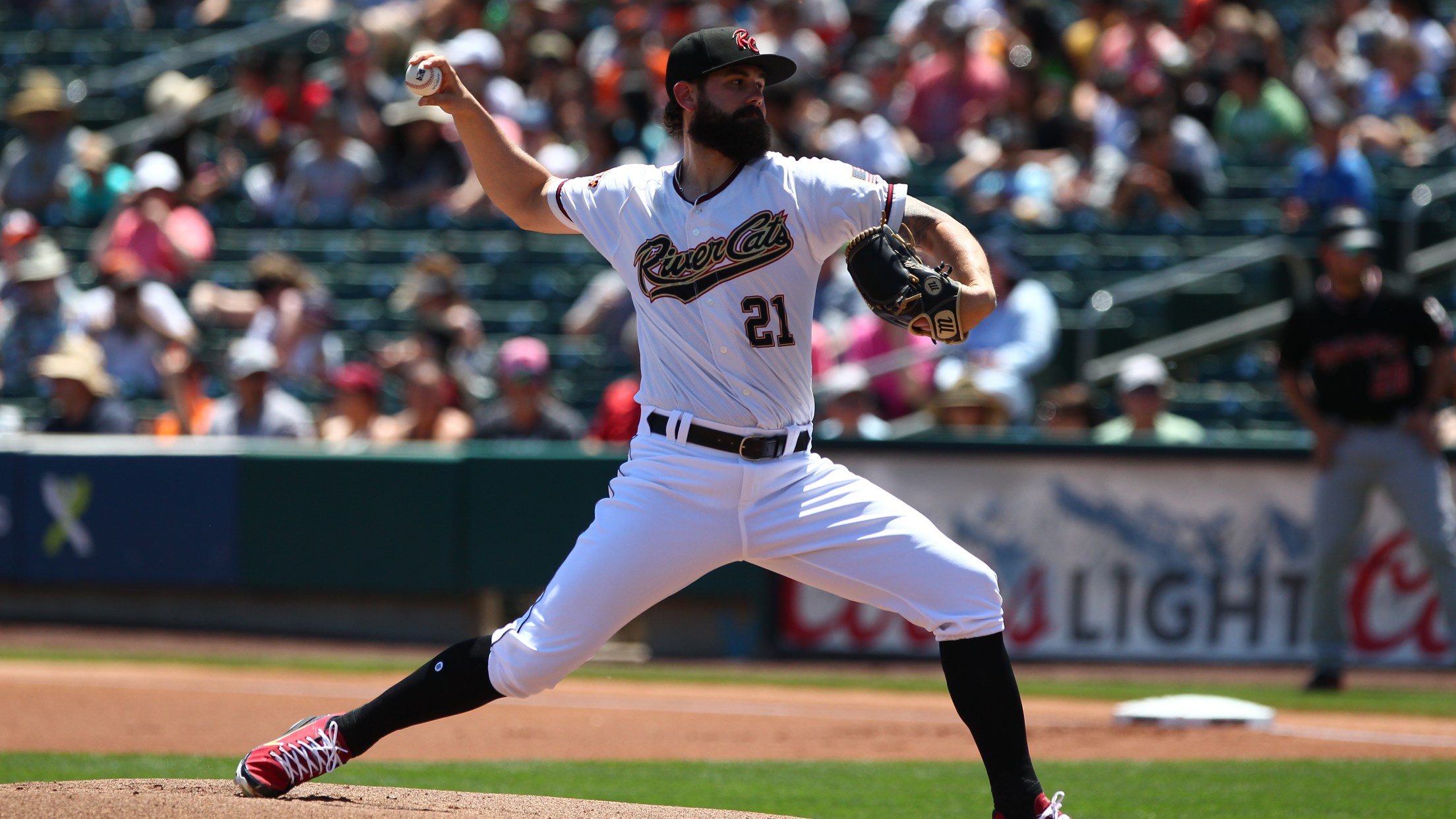 WEST SACRAMENTO, CA - The Sacramento River Cats (52-81) welcomed back their workhorse on Monday, as Casey Kelly returned to Raley Field to toss six solid innings against the Las Vegas 51s (65-68). The offense would rally late to force extra innings before ultimately falling 4-3 in the 10th.Kelly spent
River Cats launch three homers, Grizzlies storm back late
Fresno scores six runs in the ninth inning to complete comeback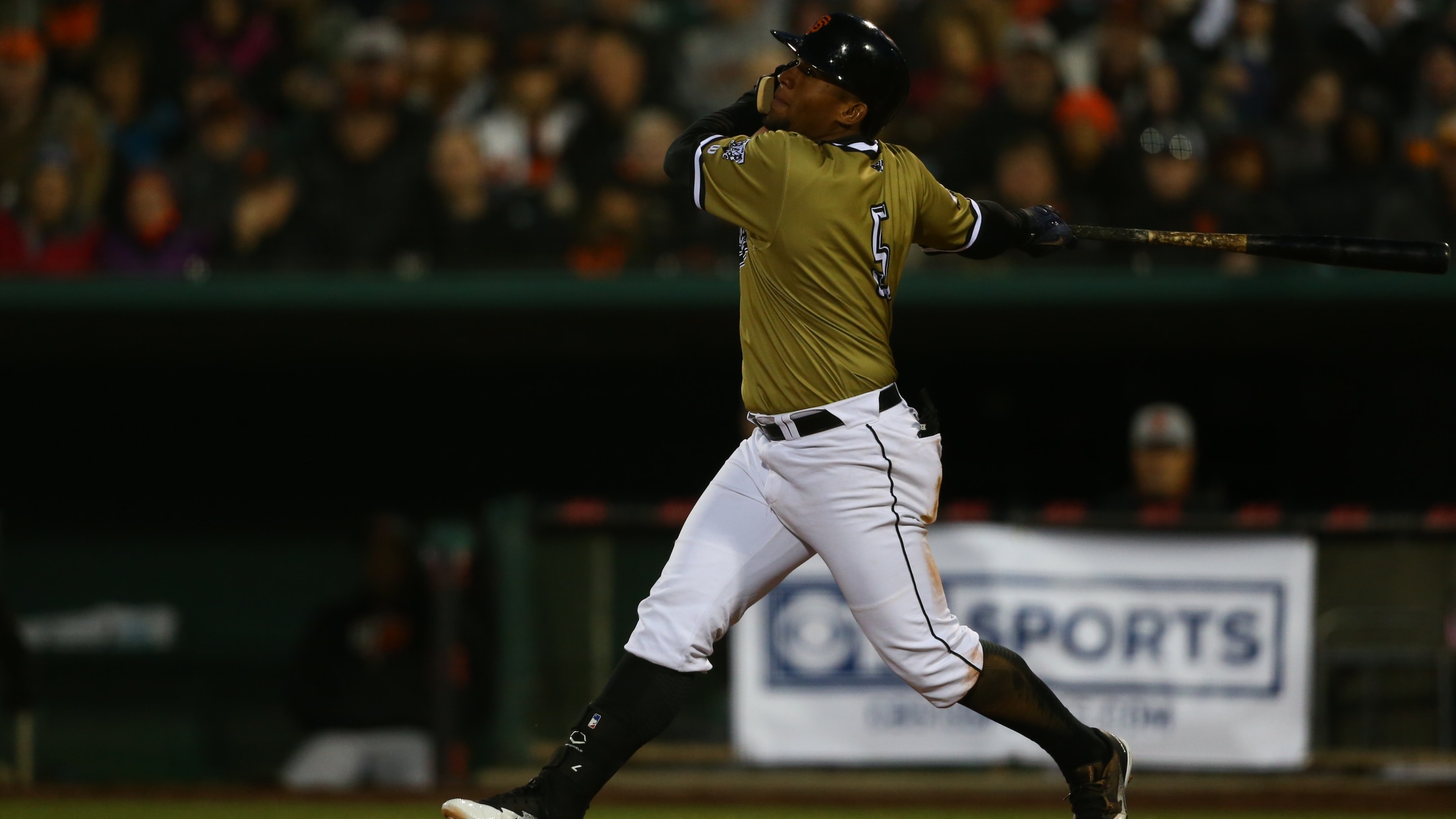 WEST SACRAMENTO, CA - Wednesday's sudden power surge would be all for naught, as the Sacramento River Cats (50-78) allowed six runs in the ninth to the Fresno Grizzlies (74-54), eventually dropping game two 10-8 in stunning fashion.
Singles aplenty but River Cats fall to Sounds
Anderson retires 11 straight and Bourjos records first three-hit game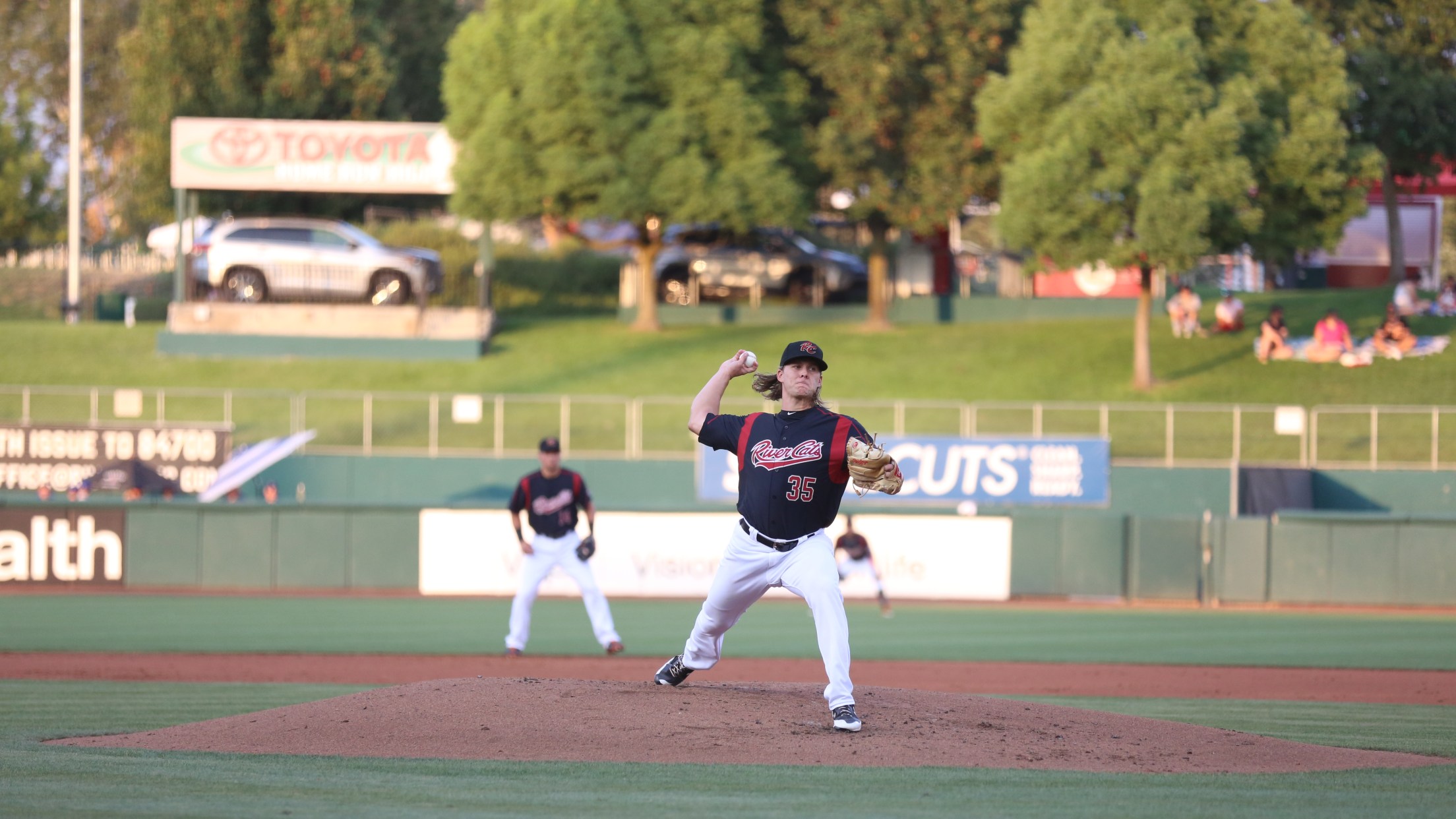 NASHVILLE, TN - The Sacramento River Cats (45-69) managed to match the Nashville Sounds' (58-55) hit total, but were outscored 6-0 while being handed their fifth straight loss.
Comeback falls short for River Cats in Nashville
Gomez plates two with seventh-inning double in rally attempt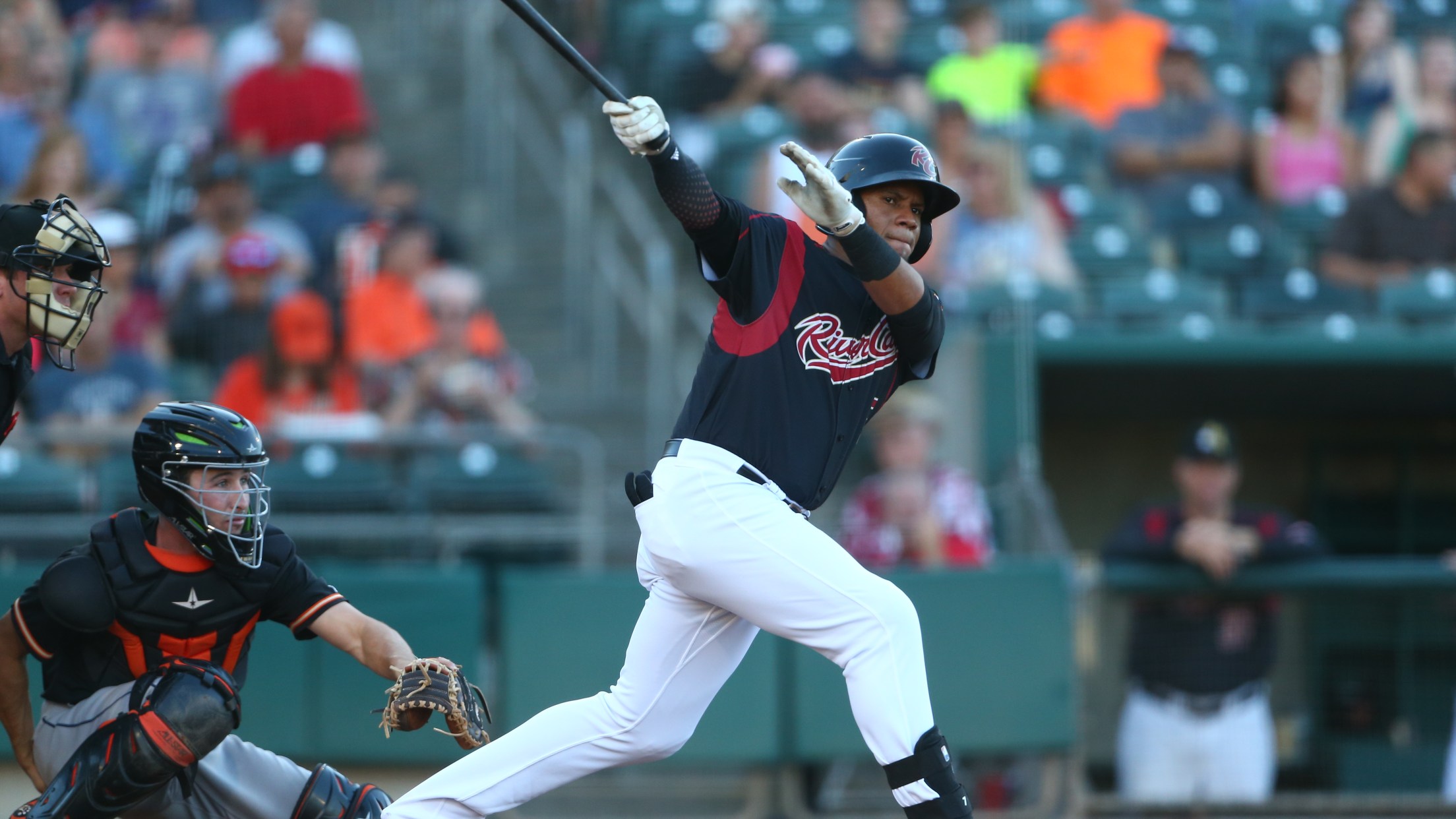 NASHVILLE, TN -- The Sacramento River Cats (45-68) dropped Sunday evening's ballgame to the Nashville Sounds (57-55) by a final score of 6-4.Comeback attempts were made in both the seventh and ninth innings as second baseman Miguel Gómez scored two with his seventh double of the year. Then in the
River Cats' bats silenced as Redbirds even series
Herb allows just two runs in six innings, but is backed by three Sacramento hits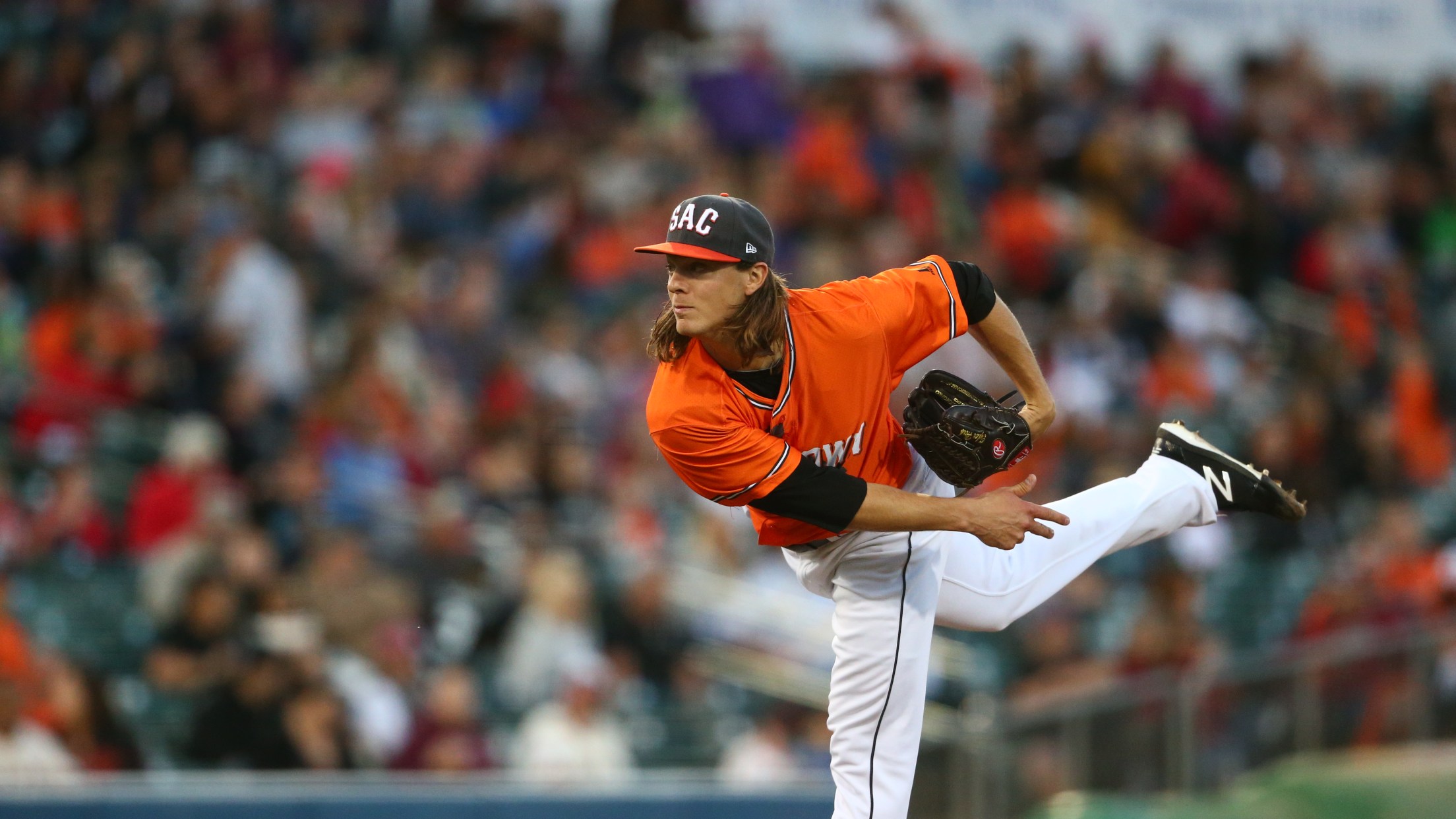 MEMPHIS, TN - One night after racking up 11 hits, the Sacramento River Cats (45-65) mustered just three hits as the Memphis Redbirds (69-41) tied the series at one game apiece by defeating Sacramento 4-0.
Shaw's 22nd home run highlights Monday matinee
Shaw leads Pacific Coast League by hitting a home run every 14.77 at bats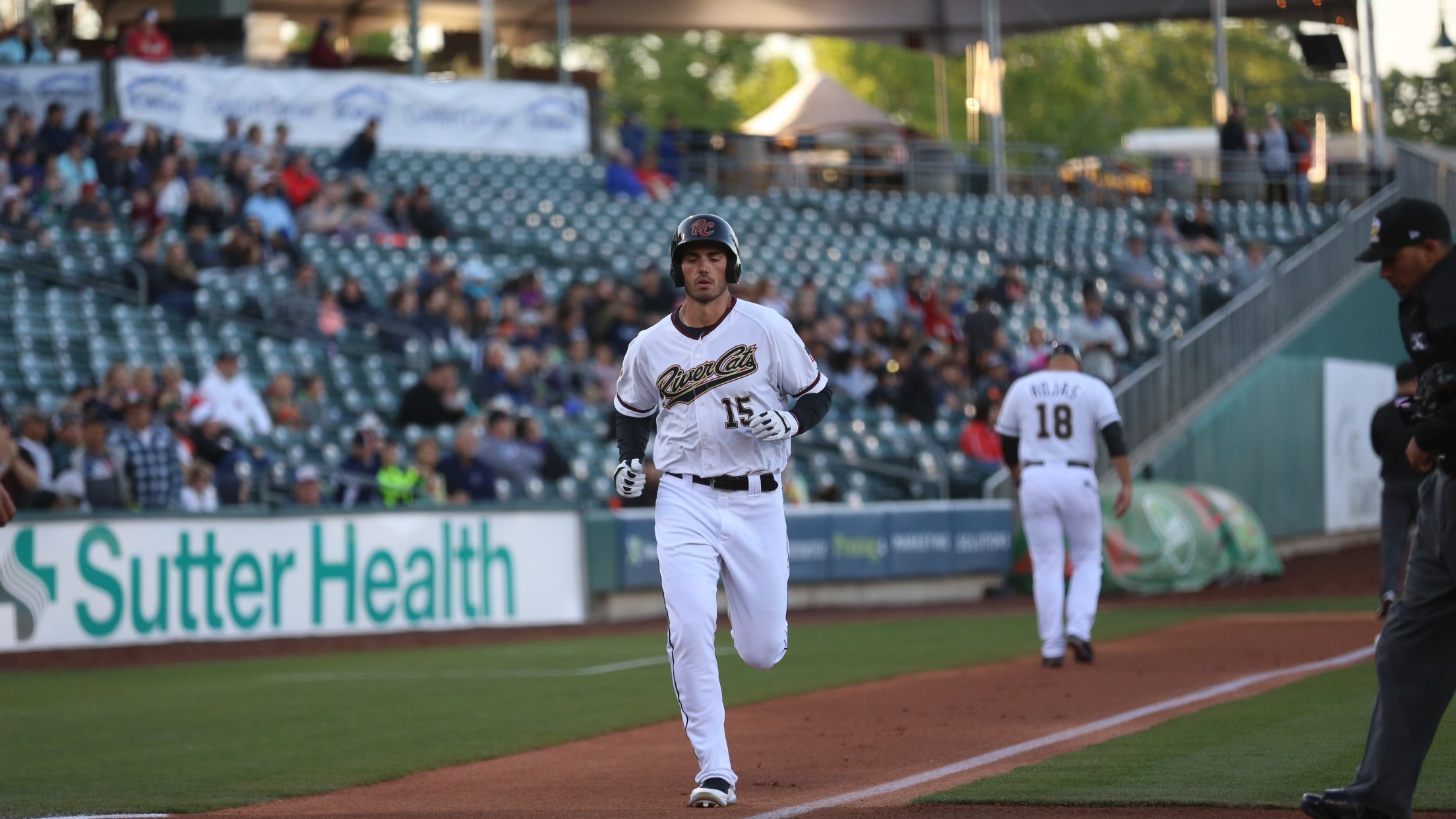 WEST SACRAMENTO, CA - In a Monday matinee series finale, the Sacramento River Cats (44-64) managed just one run on a Chris Shaw laser home run to right field. The Iowa Cubs (40-67) jumped on Daniel Camarena early in his return to the River Cats rotation as the River Cats