State of the System: Seattle Mariners
Kelenic, Gilbert on cusp of pushing rebuild to another level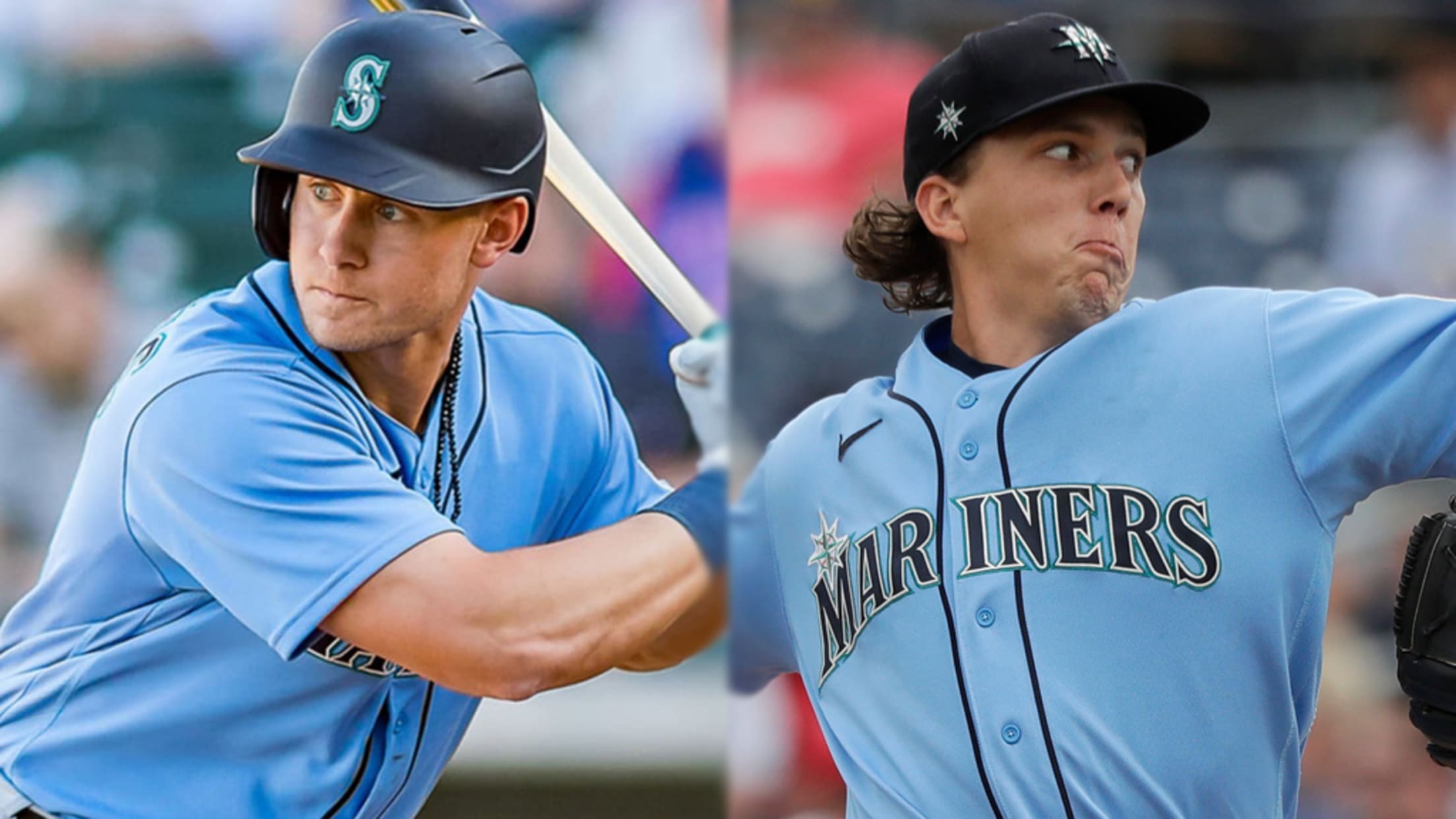 Starting in October and running through the end of the year, MiLB.com's State of the System series will evaluate the strengths and weaknesses of each Major League organization, highlights prospects who've made the biggest strides in 2020 and offers a peek at 2021.
Lewis continues stellar start for Mariners
10th-ranked prospect records sixth straight multi-hit game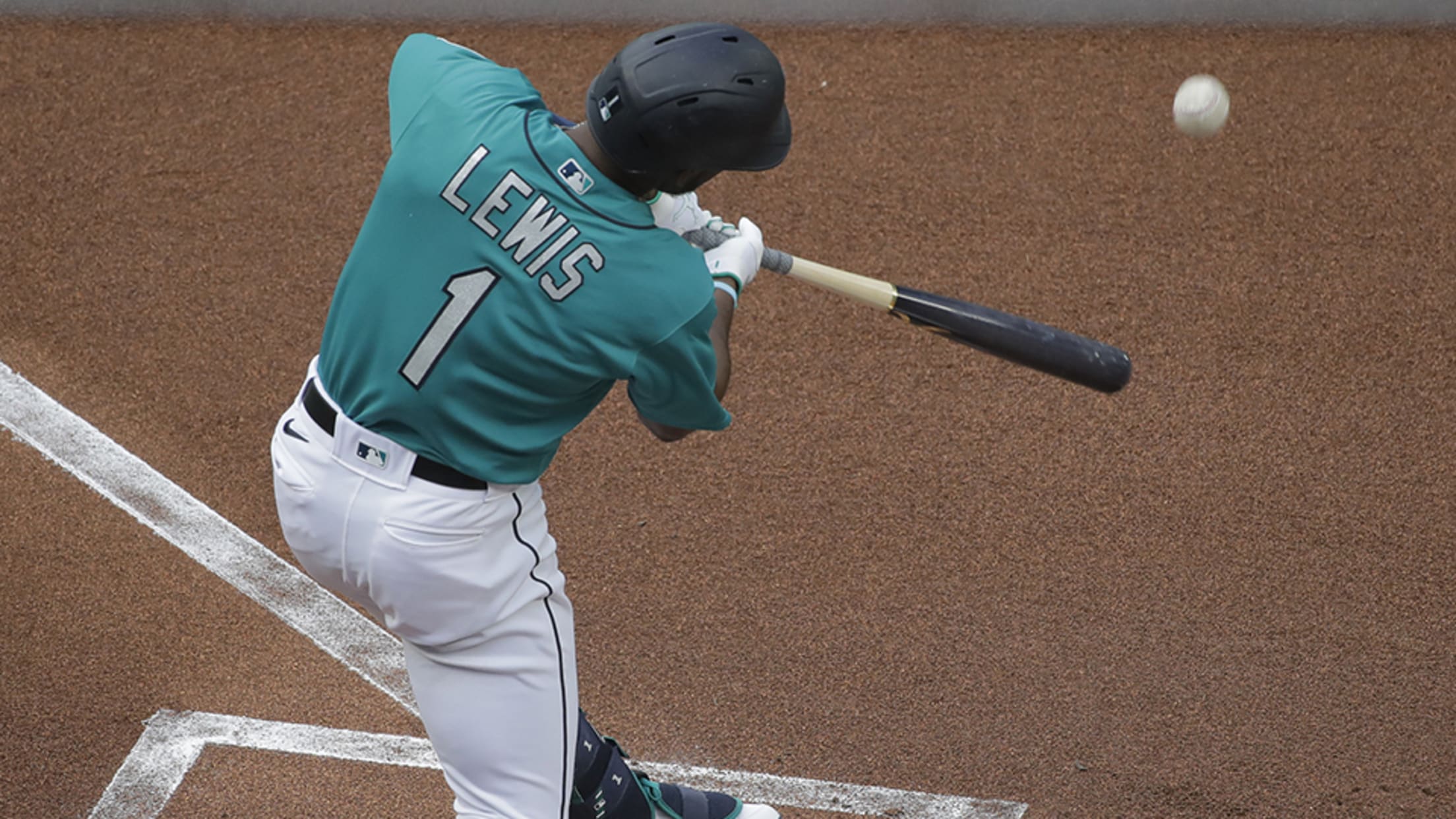 Kyle Lewis made a name for himself with a powerful entrance to the Majors last year. Now he's producing an equally impressive encore. The 10th-ranked Mariners prospect extended his hitting streak to eight games on Friday, going 2-for-4 with an RBI and a run scored as Seattle topped the A's,
White tees off for first time with Mariners
No. 55 overall prospect clubbed 32 dingers in the Minor Leagues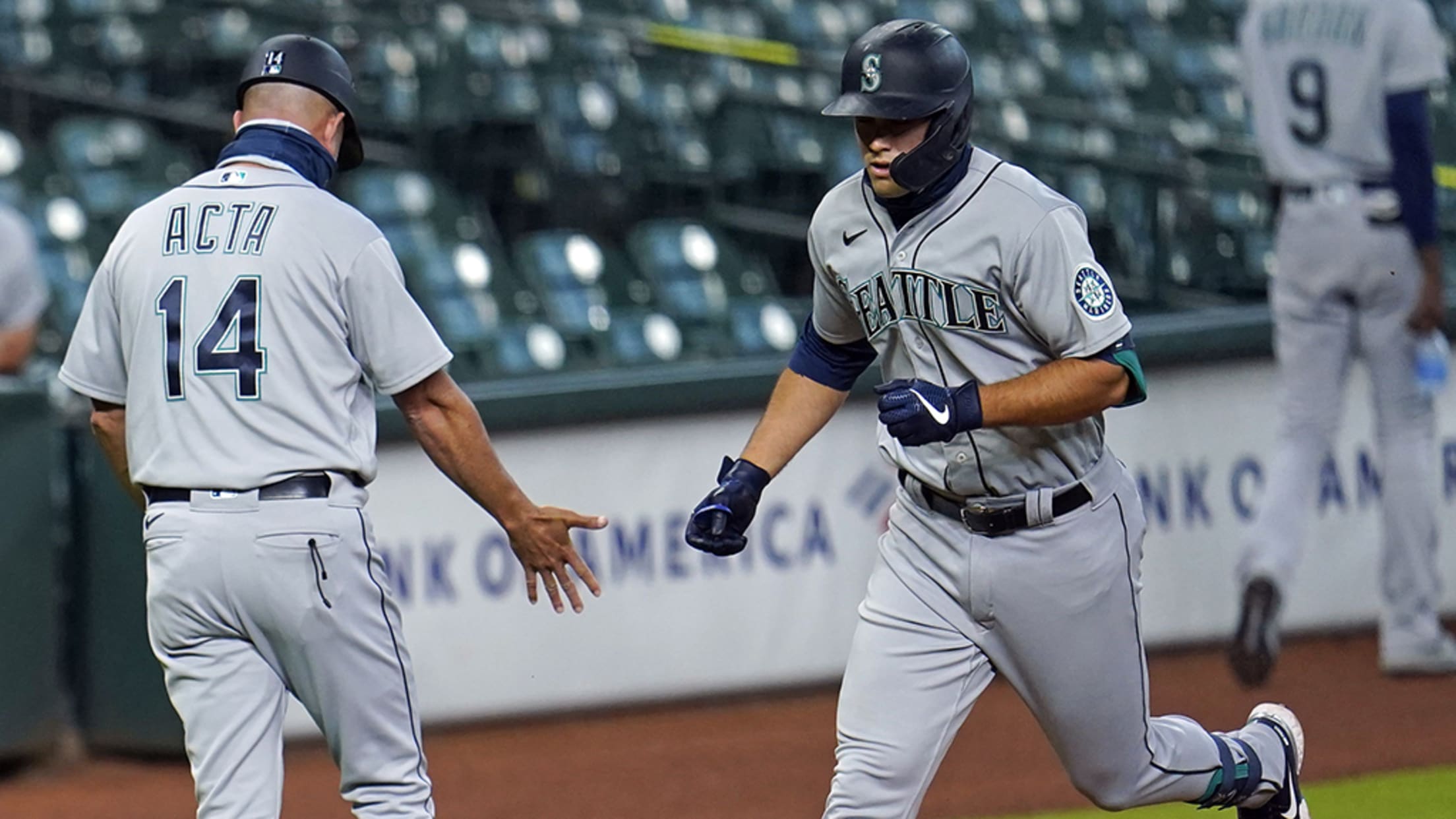 Evan White found his power stroke in the Texas League last season, and the 24-year-old flexed it in the Major Leagues on Monday. The Mariners No. 4 prospect clubbed his first big league dinger -- a two-run blast that traveled an estimated 418 feet off righty Josh James in the
Prospects in the Mariners' 2020 player pool
Reloaded system has Seattle excited, ready for this year and beyond
As part of the new rules for the 2020 Major League season, each of the 30 organizations will maintain a 60-man player pool for the duration of the campaign. Some members of the player pool will feature on the active Major League roster while others will work out at an
Toolshed dream lineup: Ages 24 and up
Murphy, McKay, Kopech bring star power to older prospect group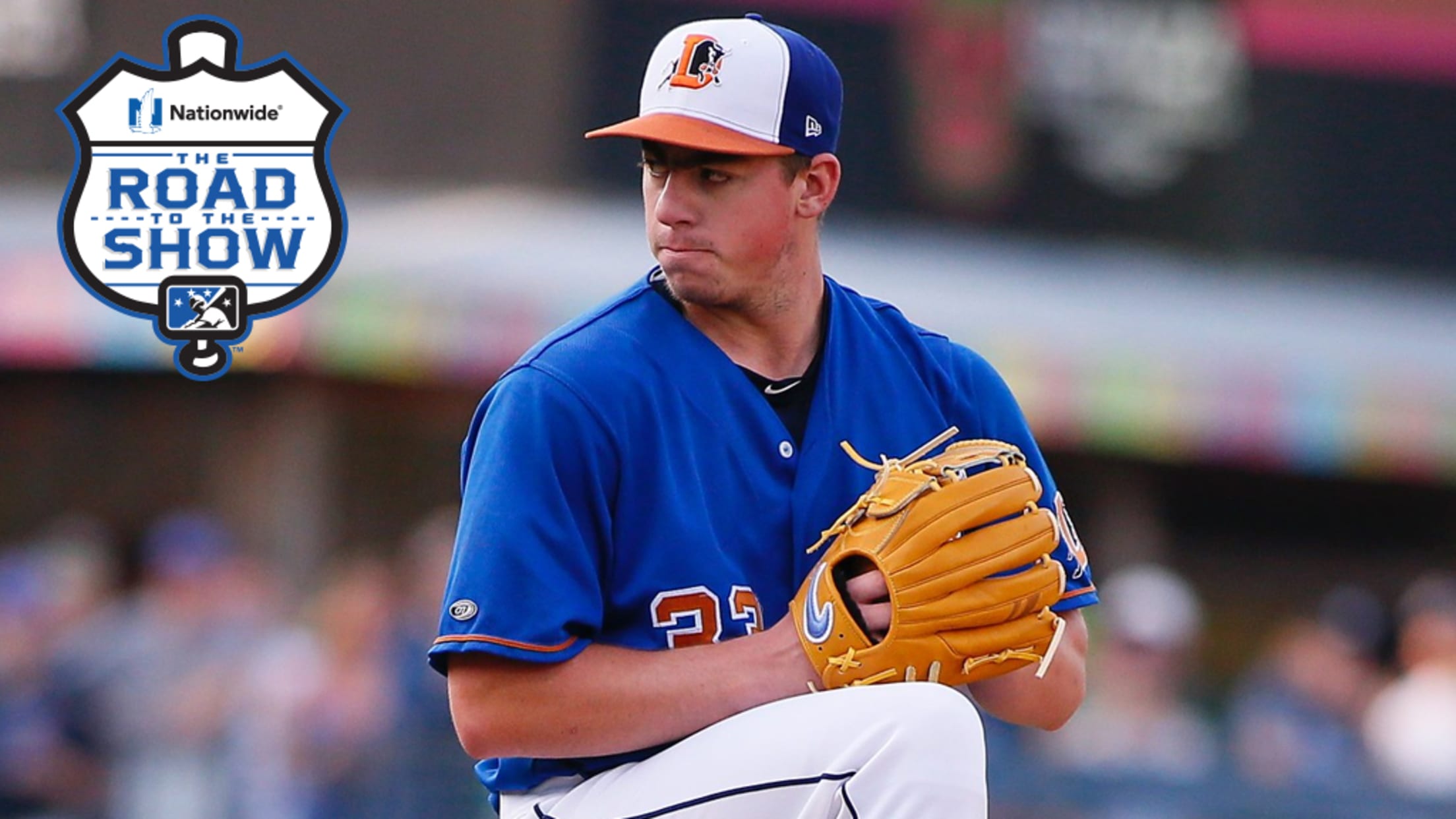 There may be no Minor League Baseball games yet, but that's not going to stop us from dreaming about lineups.Toolshed has crafted the best possible prospect lineups, sorted by age. To date, the series has focused on teenagers, 20-year-olds, 21-year-olds, 22-year-olds and 23-year-olds. This time, we turn our attention to prospects who will be 24
Dunn leads quartet of M's callups
Seattle taps No. 5 prospect, three Arkansas teammates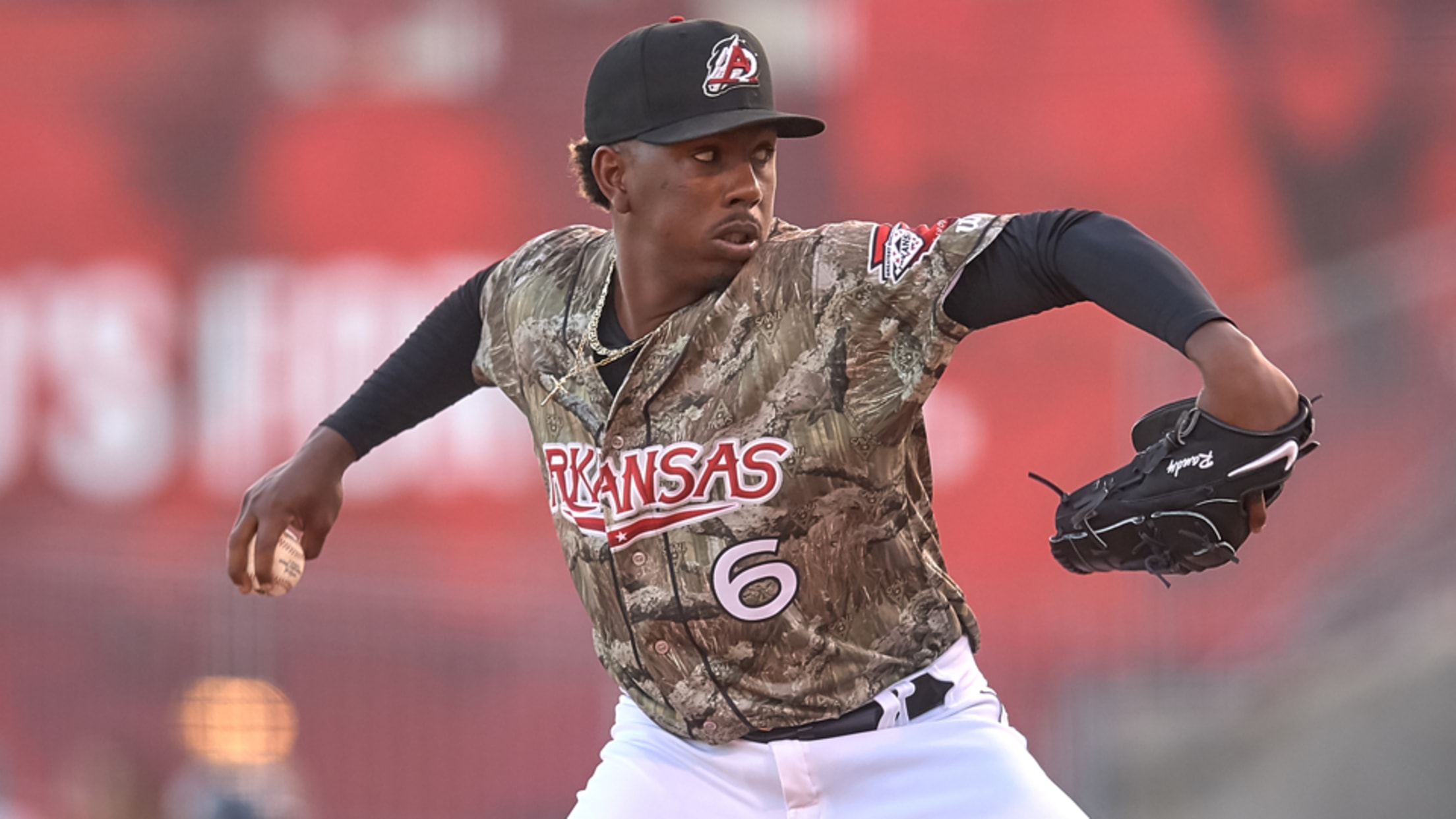 Mariners general manager Jerry Dipoto was not finished making moves this summer. Now, he's Dunn one more.Seattle is calling up No. 5 prospectJustin Dunn to the Majors, along with Kyle Lewis (No. 10), Art Warren (No. 26) and Donnie Walton (No. 28), the club announced on Tuesday.
Travs Blast Three Homers To Force Game 5
Bullpen follows Newsome's stellar start with 3.1 scoreless innings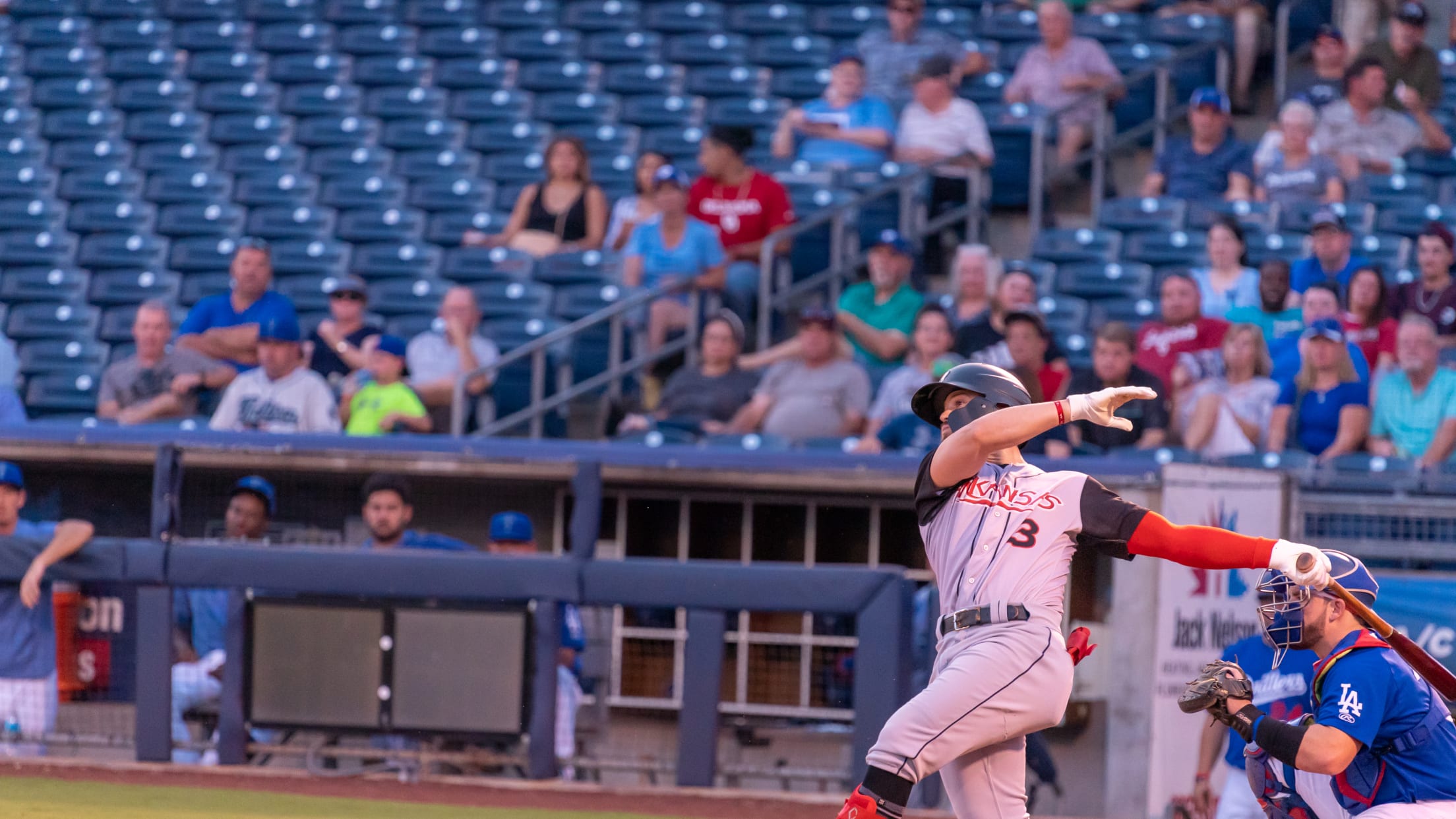 Tulsa, OK-The Arkansas Travelers hit four home runs and forced a decisive fifth game in the North Division series with a 4-1 win over the Tulsa Drillers on Saturday night. Logan Taylor, Kyle Lewis and Evan White all homered in the victory with Lewis shot leading off the seventh giving
Lewis' heroics help keep Travelers alive
Mariners No. 10 prospect hits decisive homer to extend series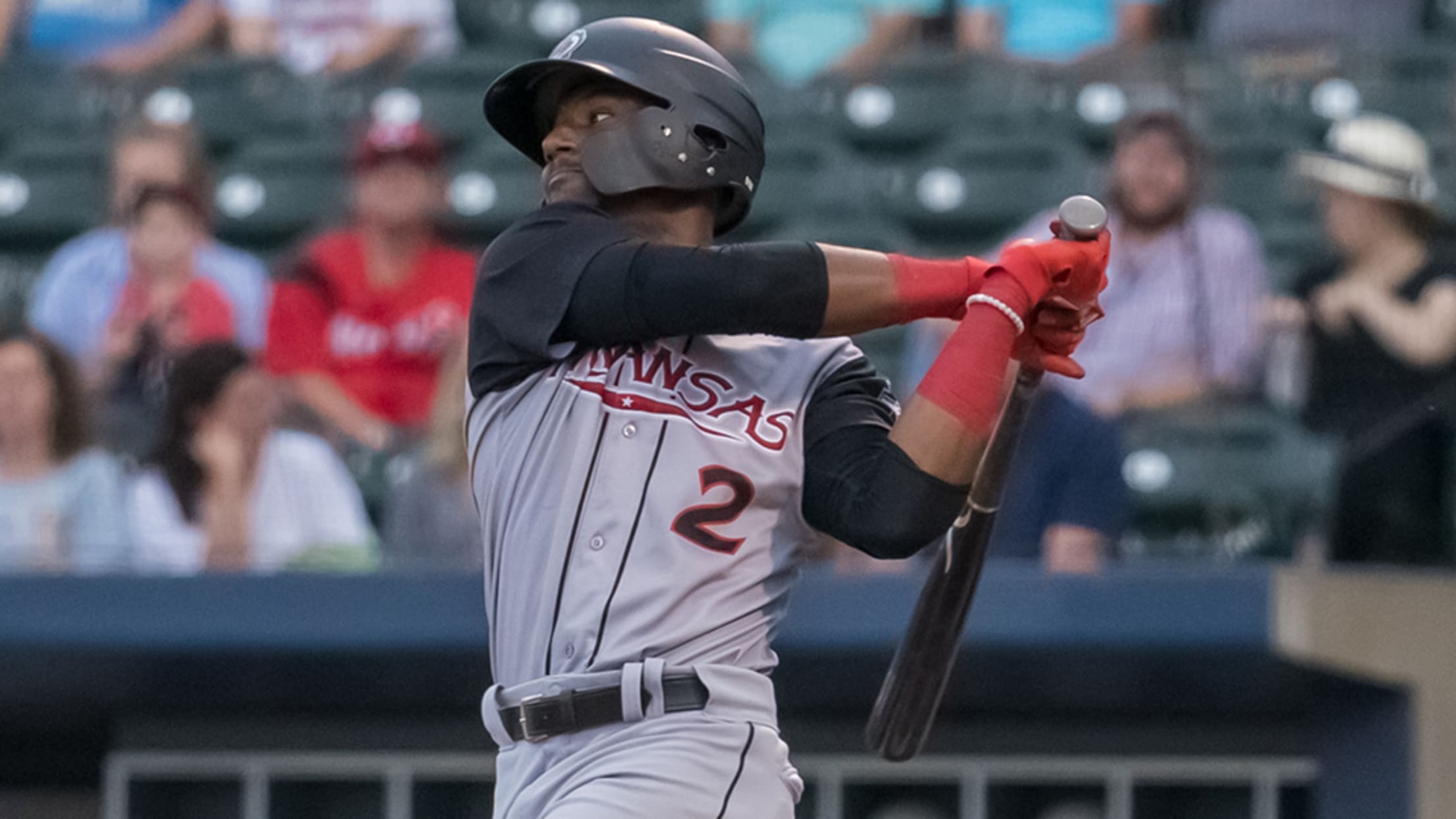 With Arkansas' season hanging in the balance, Kyle Lewis helped extend it with one swing of the bat.The 10th-ranked Mariners prospect hit a go-ahead solo homer and singled as the Travelers forced a decisive fifth game in the Texas League semifinals with a 4-1 triumph over Tulsa on Saturday night at
Gilbert Deals and Travs Hit Three Homers in Win
Arkansas avoids sweep with win at Springfield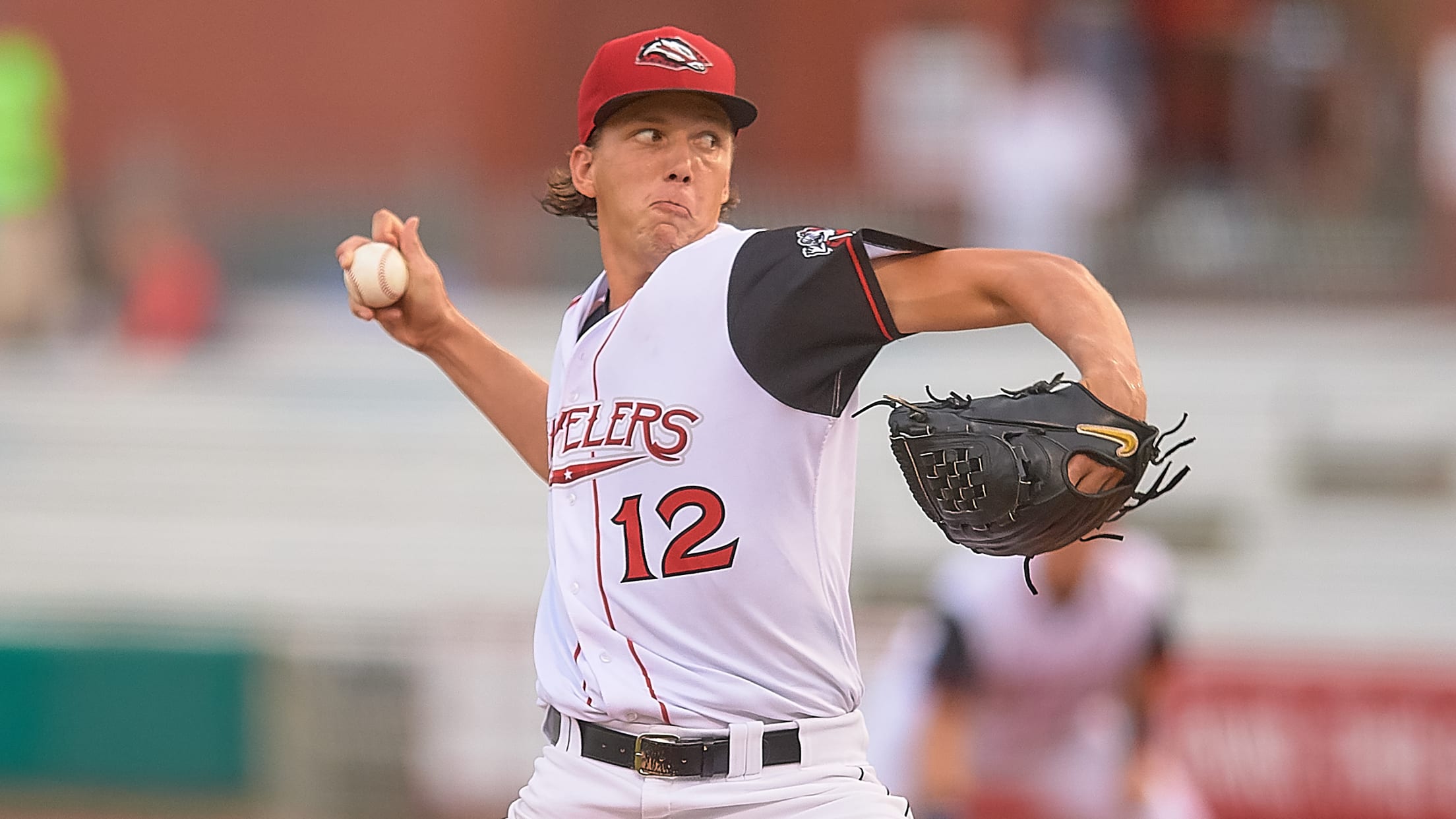 Springfield, MO-The Arkansas Travelers staved off a sweep and defeated the Springfield Cardinals, 7-1, on Sunday. Logan Gilbert dealt five shutout innings with eight strikeouts while allowing only two hits and three walks on his way to win number four with Arkansas. Kyle Lewis, Cal Raleigh and Logan Taylor all
White, Lewis, Sanchez Pulverize Cardinals
Travs win sixth straight behind pair of two-homer games and seven scoreless from lefty starter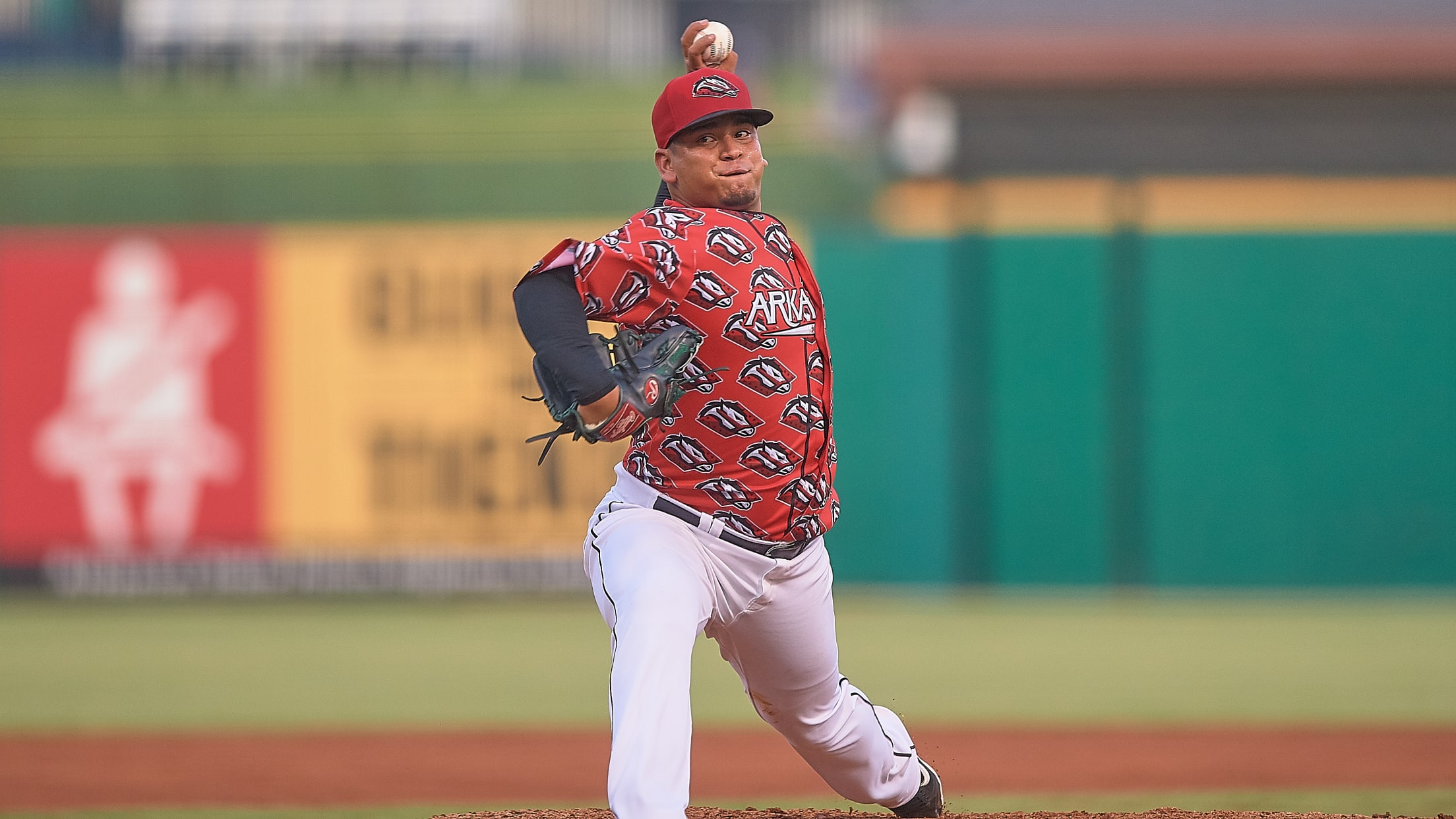 Springfield, MO-The Arkansas Travelers hit four home runs for the second straight night and Ricardo Sánchez dealt seven shutout innings in an 8-1 romp over the Springfield Cardinals. It marks the sixth consecutive victory for the Travs. Evan White and Kyle Lewis each hit a pair of homers, with White
White homers twice in Travs' victory
Mariners No. 4 prospect ties career high with five RBIs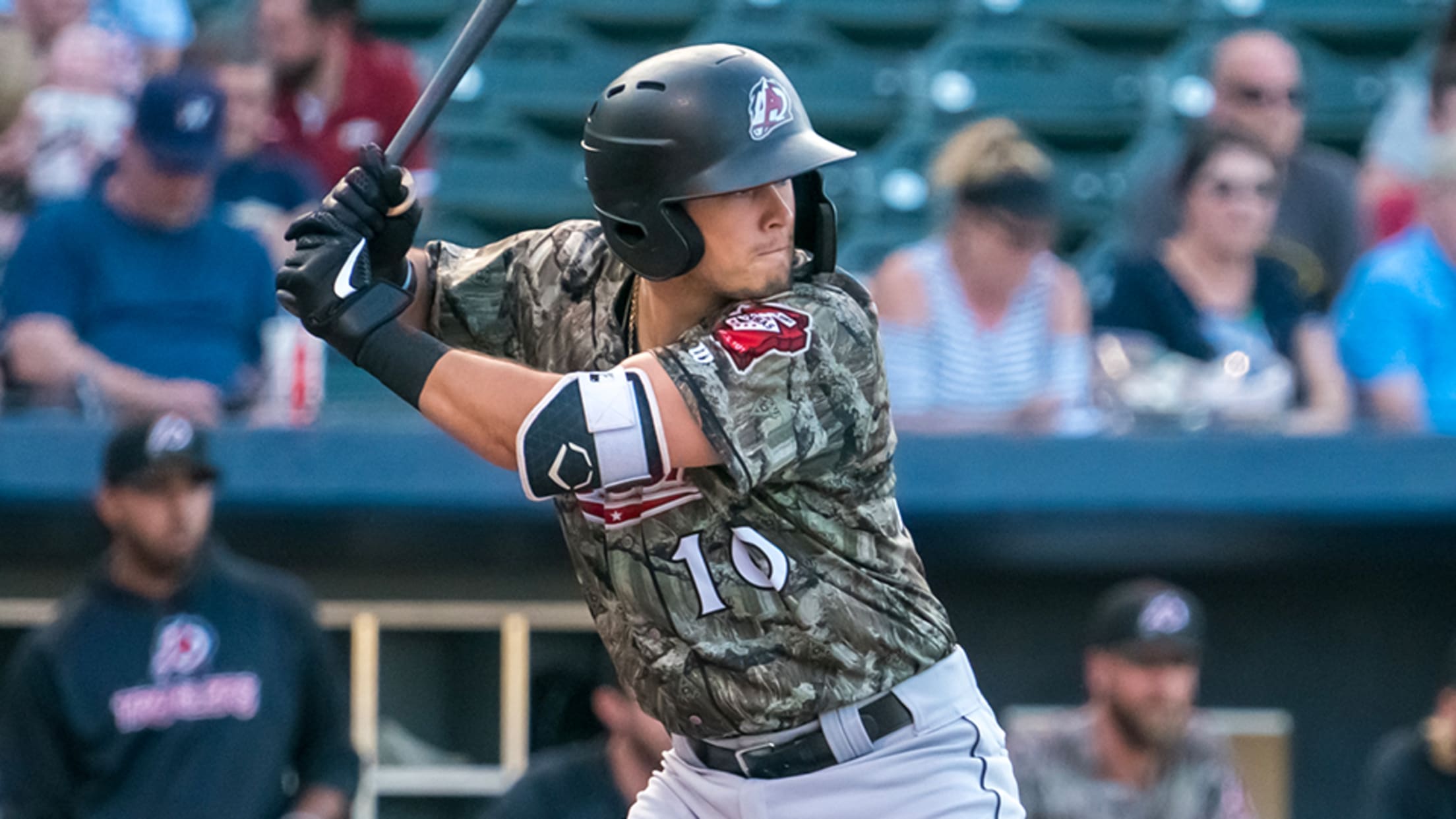 After launching eight long balls in June, Evan White saw his power numbers dip in July. A night after clubbing a tater, he continued his power surge. The fourth-ranked Mariners prospect hit his second and third roundtrippers of the month and tied his career high with five RBIs as Double-A Arkansas
Prospect Roundup: Games of July 27
M's Lewis notches four hits; Royals' Bubic posts seven zeros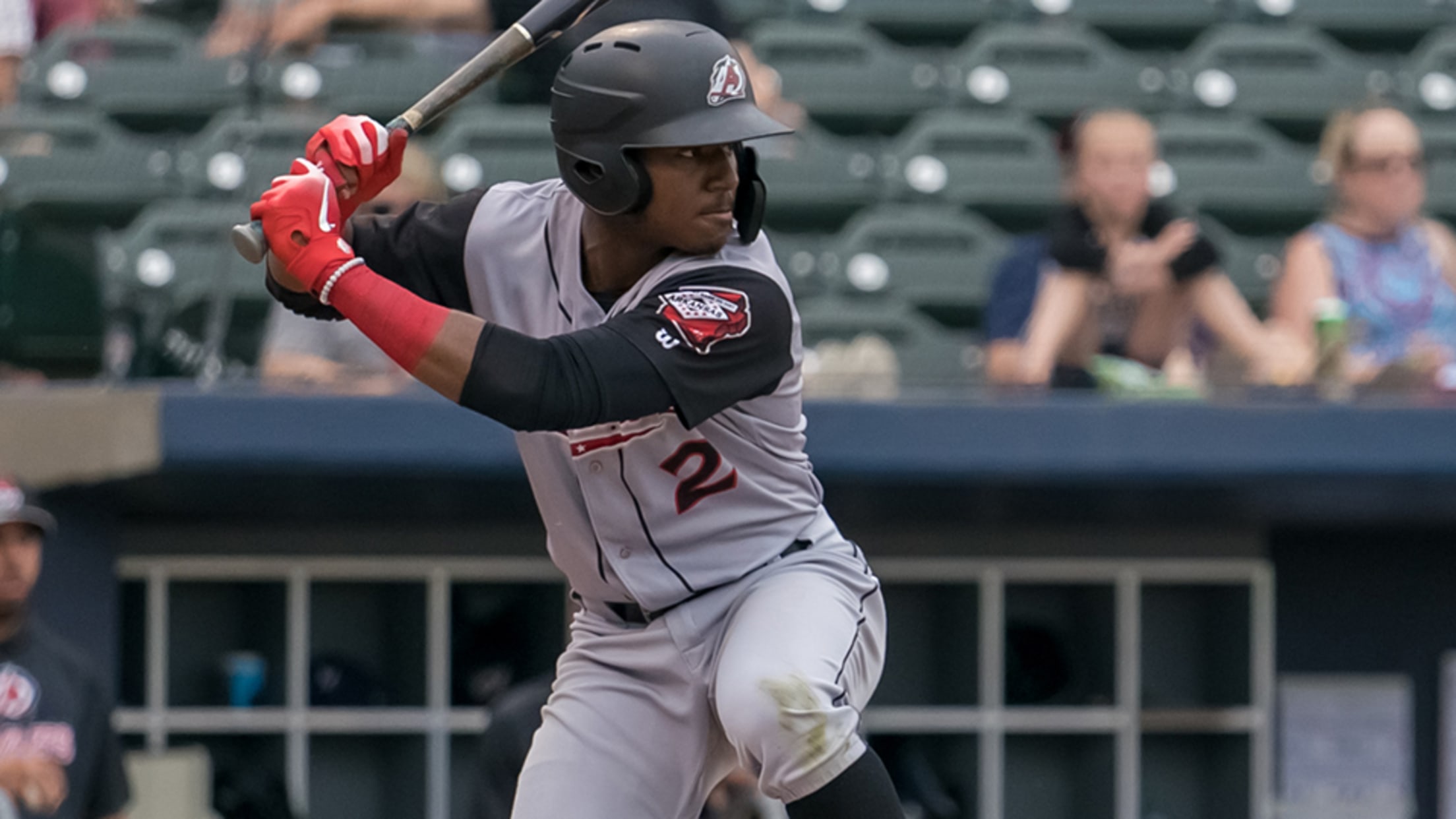 Mariners OF Kyle Lewis, Double-A Arkansas: 4-for-4, 2 2B, R -- The 10th-ranked Mariners prospect recorded his third consecutive multi-hit game and the second four-hit contest of his career. He scored the Travelers' lone run in a 3-1 loss at Frisco, singling in the first inning and coming home on
Frisco Stalls Arkansas, 3-1
Travs leave 10 runners on base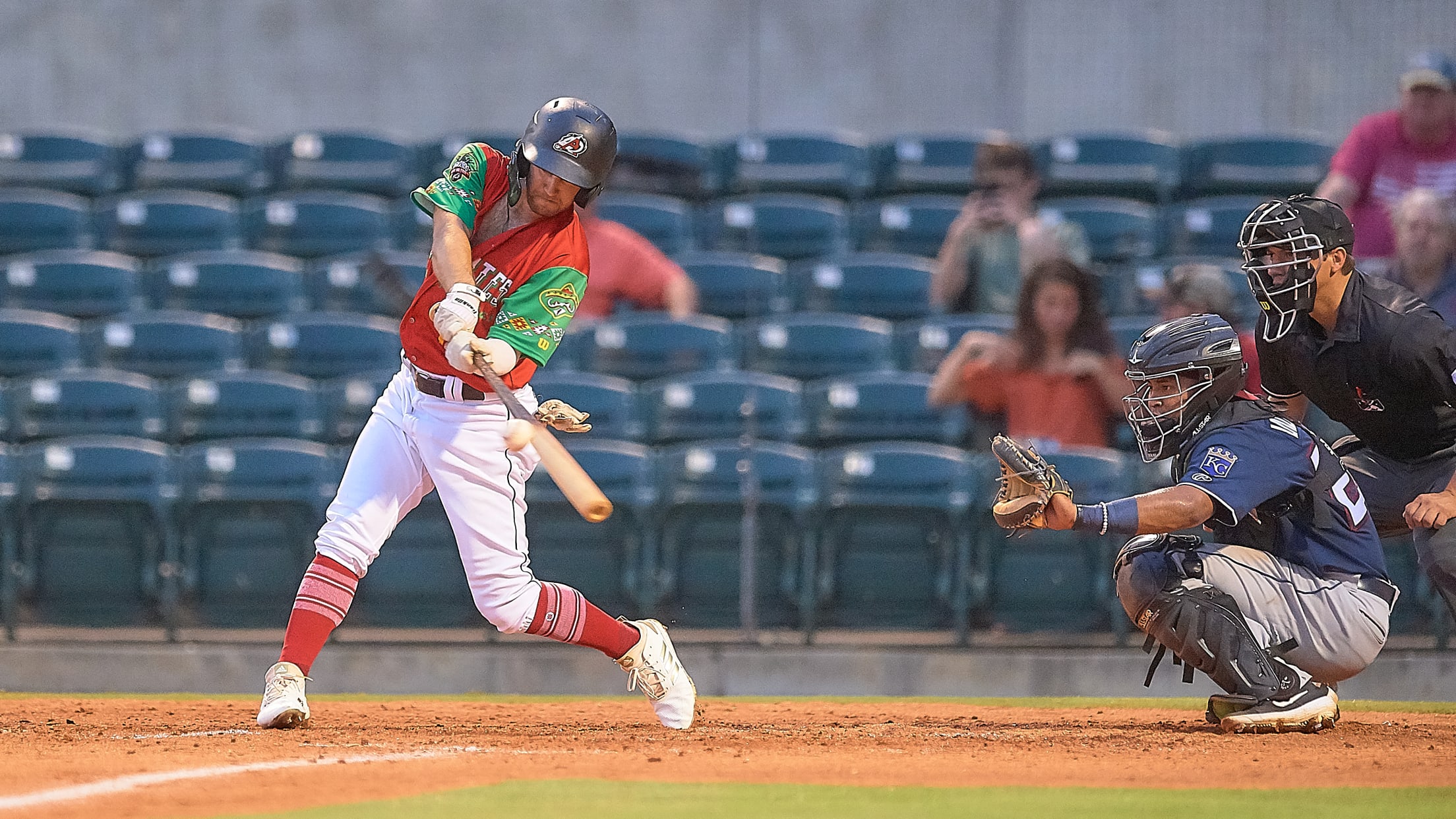 Frisco, TX-Despite numerous baserunners, the Arkansas Travelers dropped a 3-1 decision to the Frisco RoughRiders in the opener of a four game series on Saturday night. The Travs scored in the opening inning but finished the night 0-10 with runners in scoring position, leaving 10 men on base and had
Big Leads Don't Last in 11 Inning Defeat
Travs give up four run lead in the final inning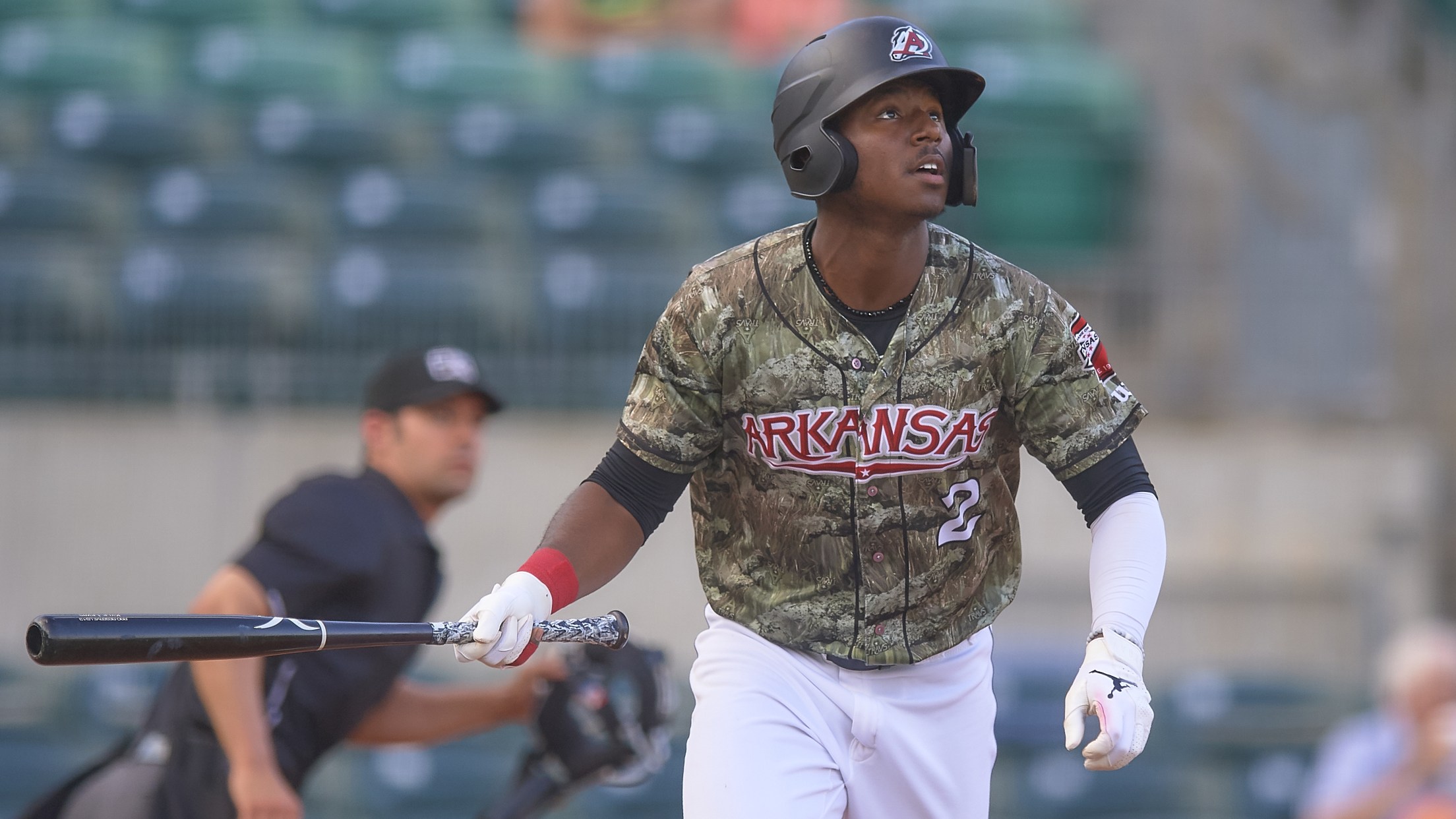 Springfield, MO-The Arkansas Travelers could not hold a pair of multi-run leads including a four-run advantage in extra innings as they fell to the Springfield Cardinals, 9-7 in 11 innings on Friday night. Yariel Gonzalez hit a walk-off three-run homer with two out in the bottom of the 11th. It
Prospect Roundup: Games of July 11
Mariners' Lewis goes yard; Marlins' Guzman posts six zeroes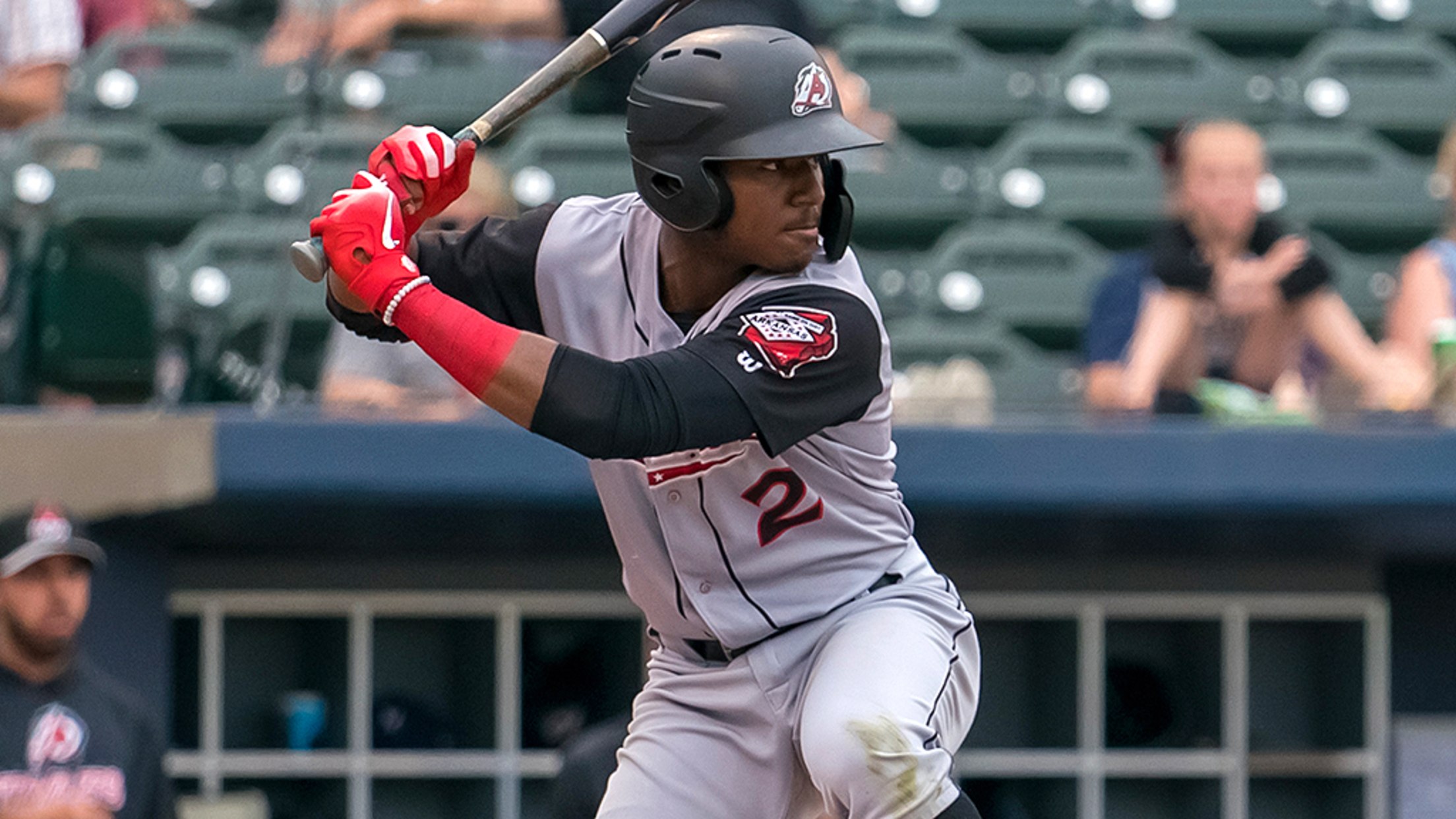 Mariners OF Kyle Lewis, Double-A Arkansas: 3-for-4, HR, 2B, 2 RBI, 3 R -- Seattle's No. 7 prospect has been a different player in the second half of this season. After hitting .238 with a .697 OPS in his first 61 games of the year, Lewis has hit .352 with
Early Lead Doesn't Hold Up In Springfield
Travs go up three early but fall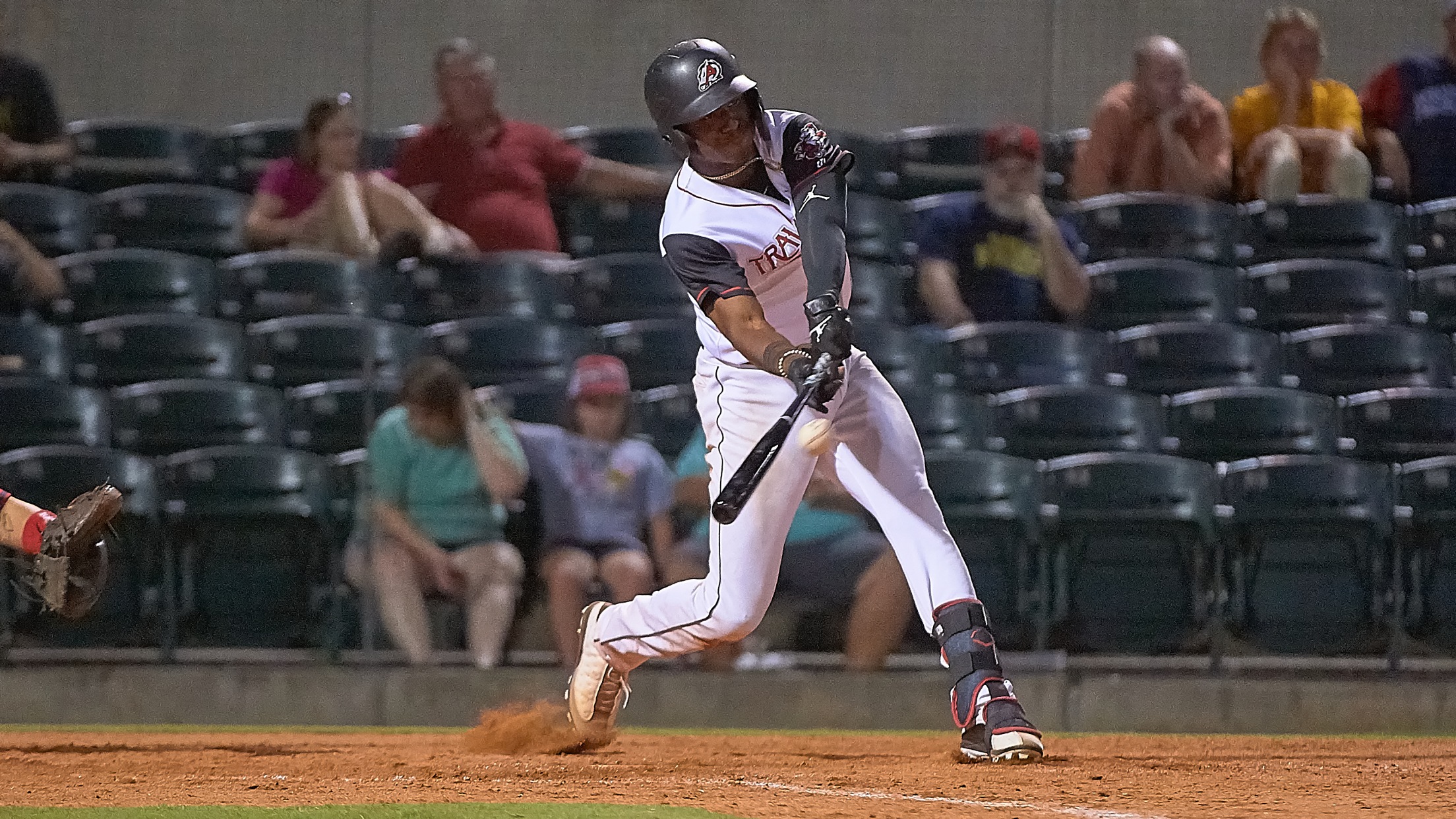 Springfield, MO-An early three-run lead did not stand up for the Arkansas Travelers as the Springfield Cardinals came back for a 6-4 win on Thursday night. Springfield scored four times in the bottom of the fourth inning to take the lead. Travs starter Darren McCaughan had one of his shortest
Prospect Roundup: Games of July 8
Mariners' Lewis makes an extra effort; Phils' Howard sharp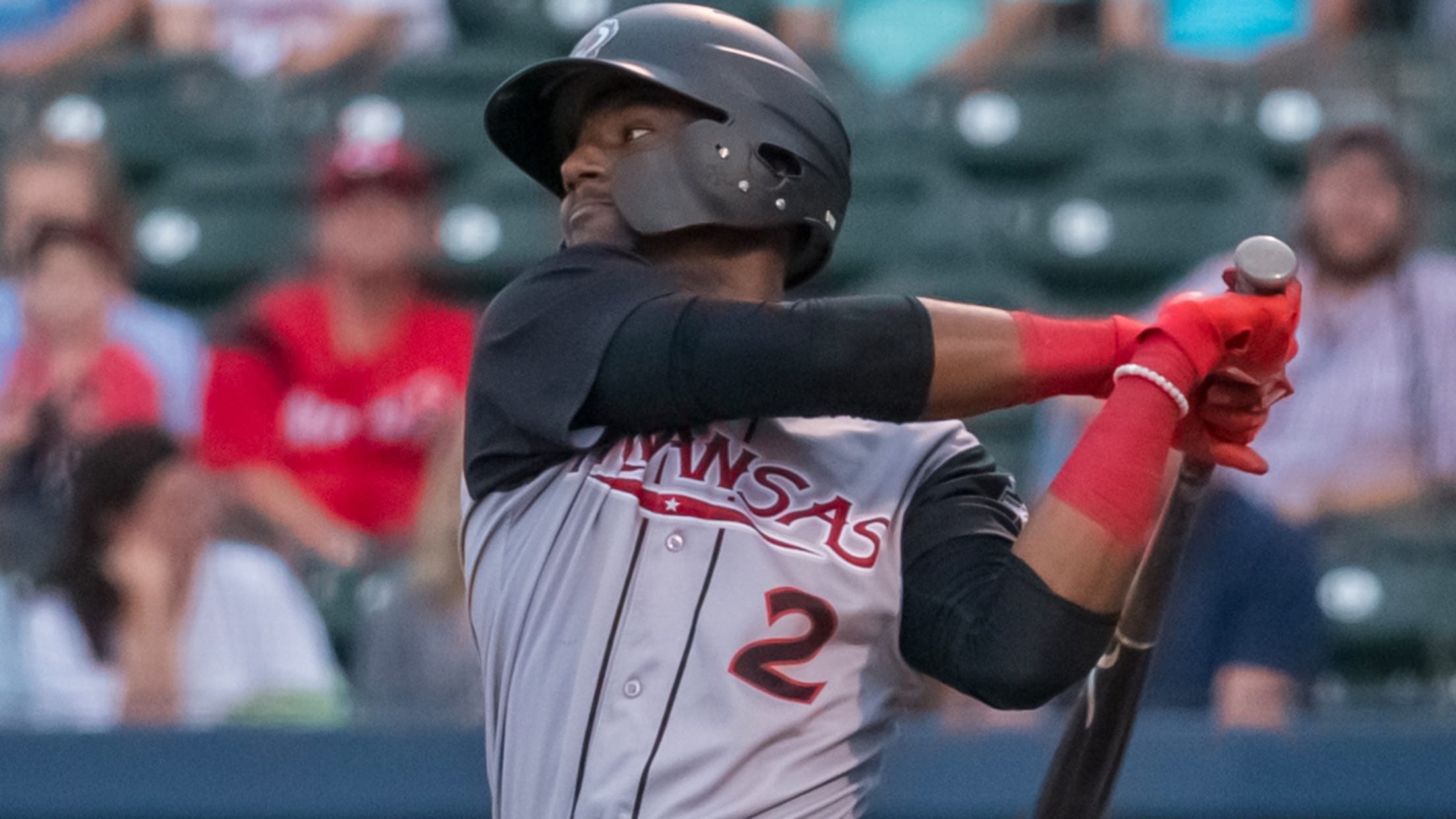 Mariners CF Kyle Lewis, Double-A Arkansas: 2-for-4, HR, 2B, RBI, 2 R -- The No. 7 Mariners prospect turned in his 22nd multi-hit effort of the season. After flying out in the first inning, Lewis led off the fourth with a solo blast to left-center to put the Travelers on
Late Double by Taylor Knocks Off Naturals
Logan Taylor hits a tiebreaking double in the eighth inning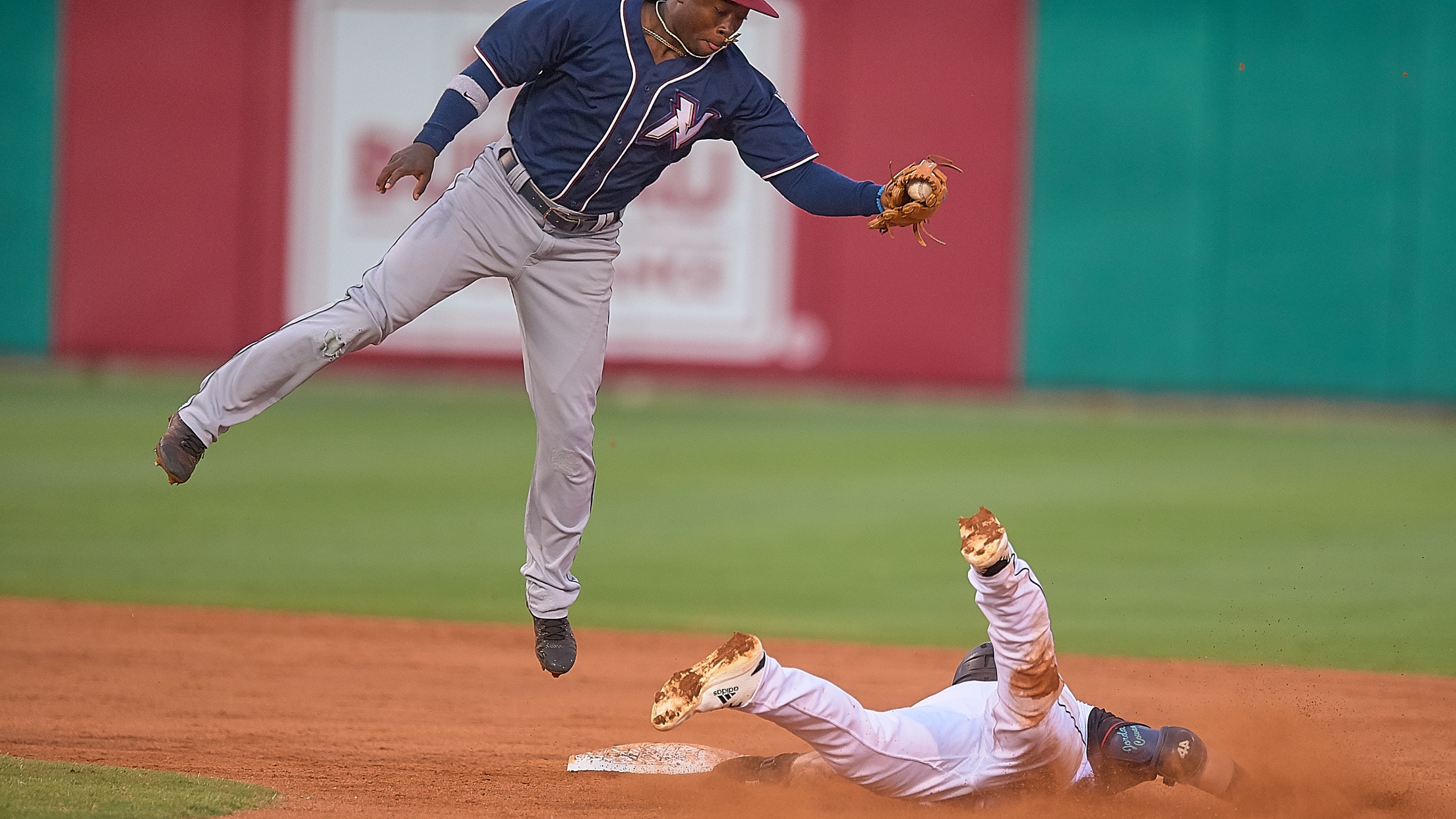 North Little Rock, AR-Logan Taylor provided late offensive heroics as the Arkansas Travelers took down the Northwest Arkansas Naturals, 4-2, on Monday night at Dickey-Stephens Park. Taylor ripped a tiebreaking two-run double past the diving third baseman with two outs in the eighth inning to give the Travs the lead.
Prospect Roundup: Games of July 6
M's Lewis caps perfect night with walk-off; Raleigh plates six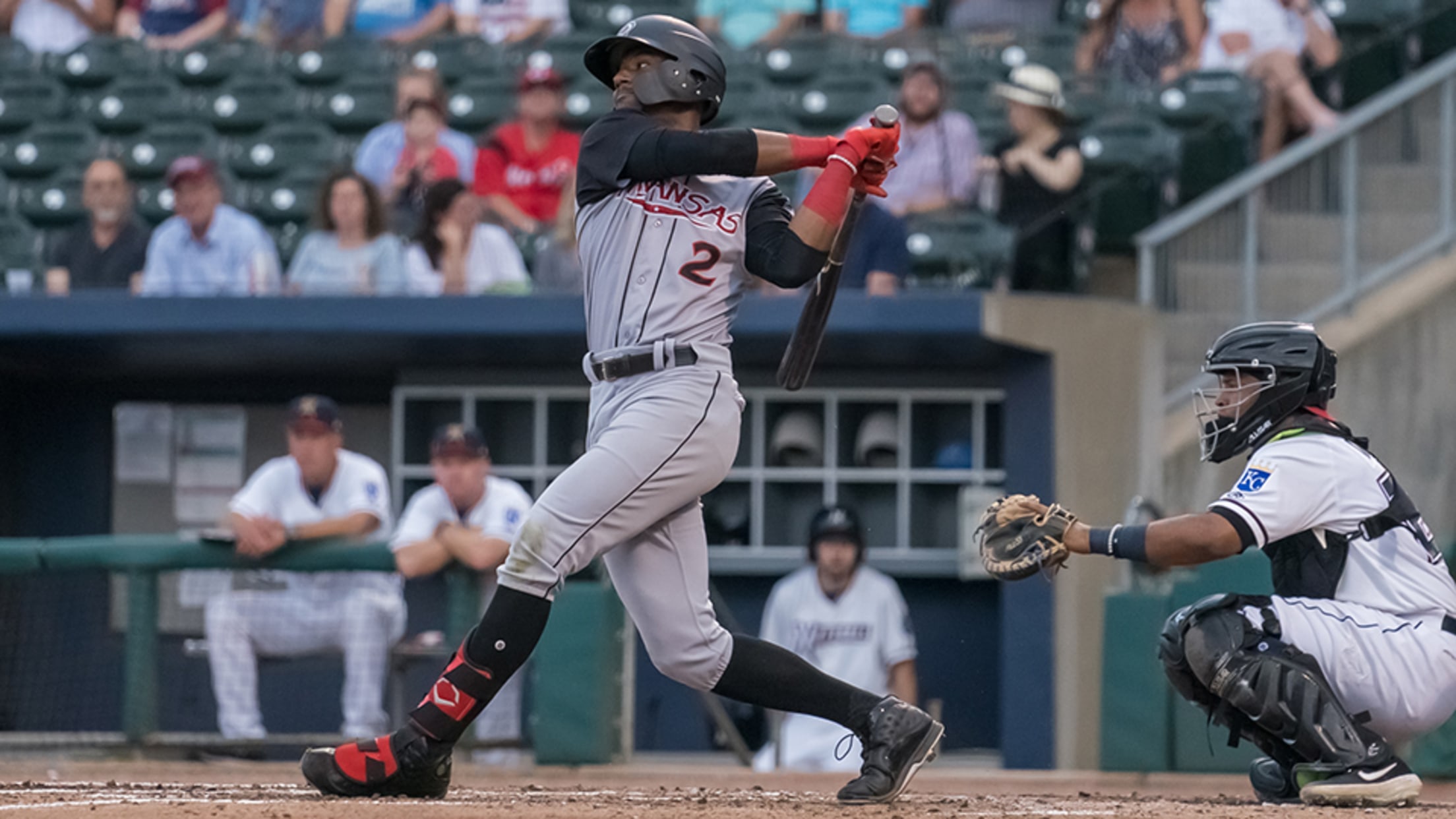 Mariners OF Kyle Lewis, Double-A Arkansas: 3-for-3, 2B, 2 BB, RBI -- A tremendous start to the second half for Seattle's No. 7 prospect continued Saturday as he reached base in all five of his plate appearances and ripped a walk-off, ground-rule double in the 11th inning to give the
Lewis Wins It For Travs In The 11th
Kyle Lewis hits walk-off double, reaches base five times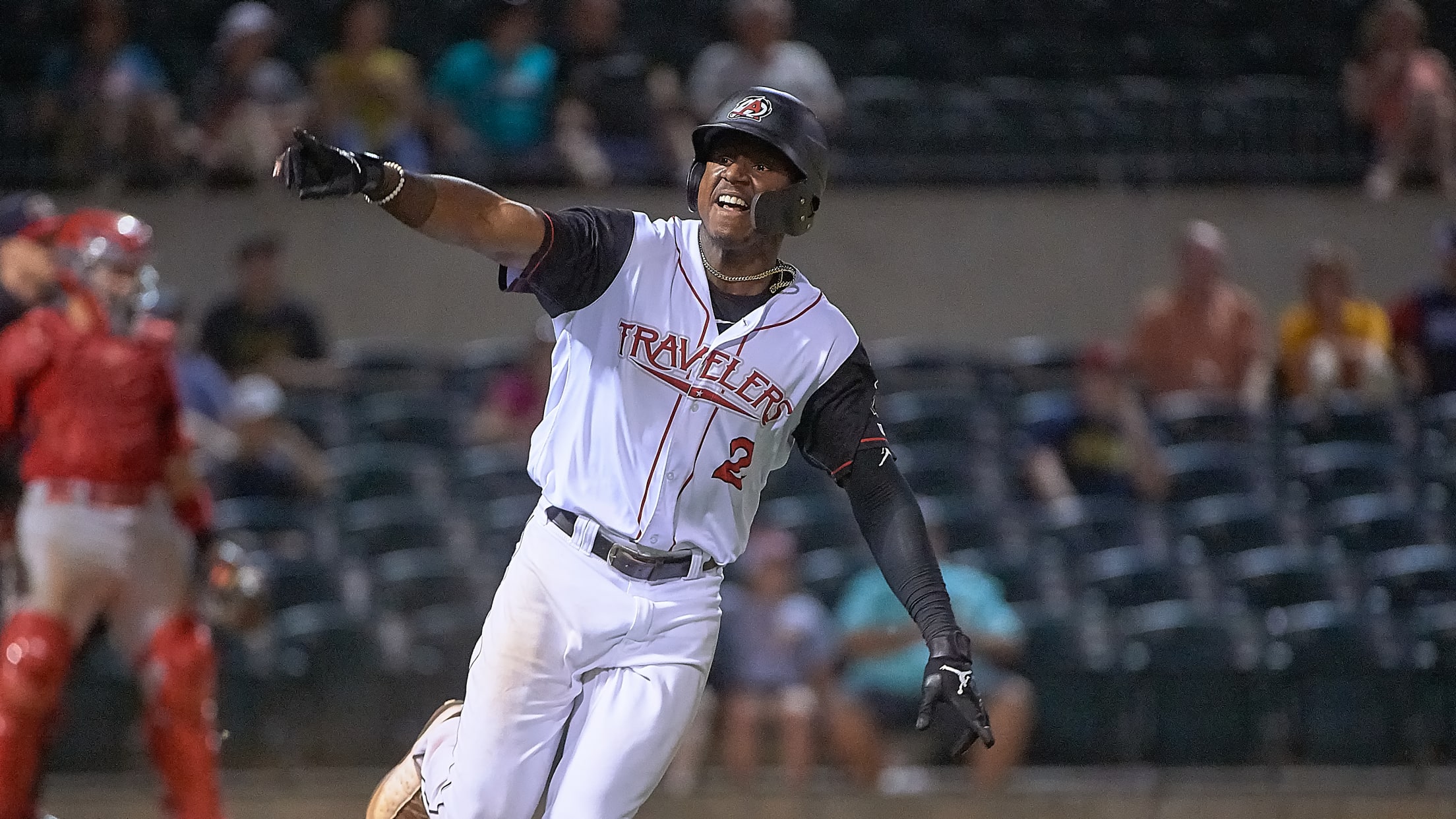 North Little Rock, AR-For the second Saturday in a row Kyle Lewis provided walk-off heroics, doubling home Jordan Cowan in the bottom of the 11th inning to give the Arkansas Travelers a 2-1 win over the Springfield Cardinals. Lewis reached base in all five of his plate appearances on the
Crismatt Sets Tone in Second Straight Shutout
Four Travs pitchers combine on a one-hitter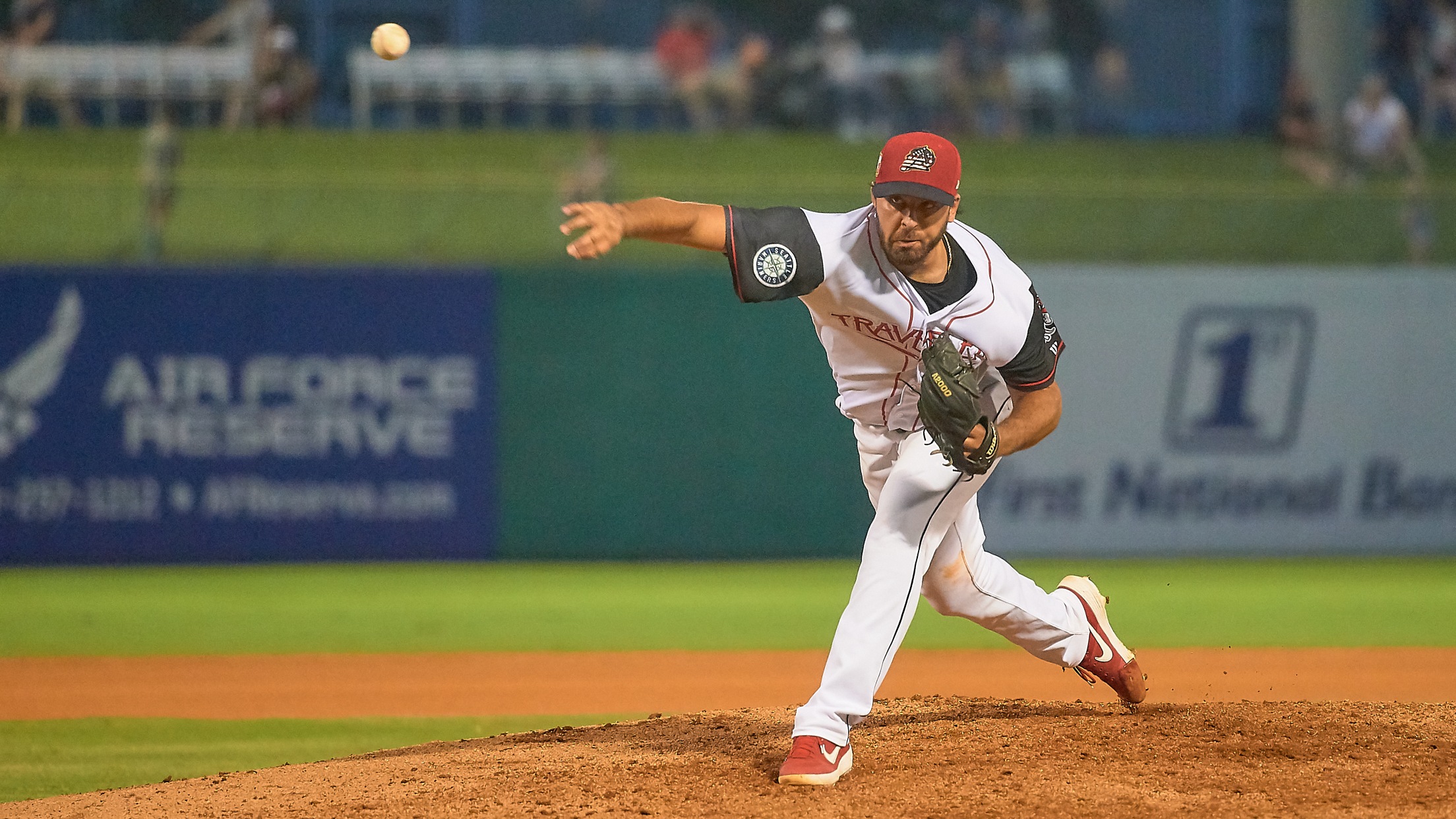 North Little Rock, AR-For the second straight night, the Arkansas Travelers threw a shutout to beat the Springfield Cardinals, this time allowing a season-low one hit in a 3-0 victory at Dickey-Stephens Park. Nabil Crismatt threw six innings on just 80 pitches allowing two walks, hitting a batter and giving
Lewis Nets Texas League Weekly Award
Outfielder reached base in all 6 games and batted over .500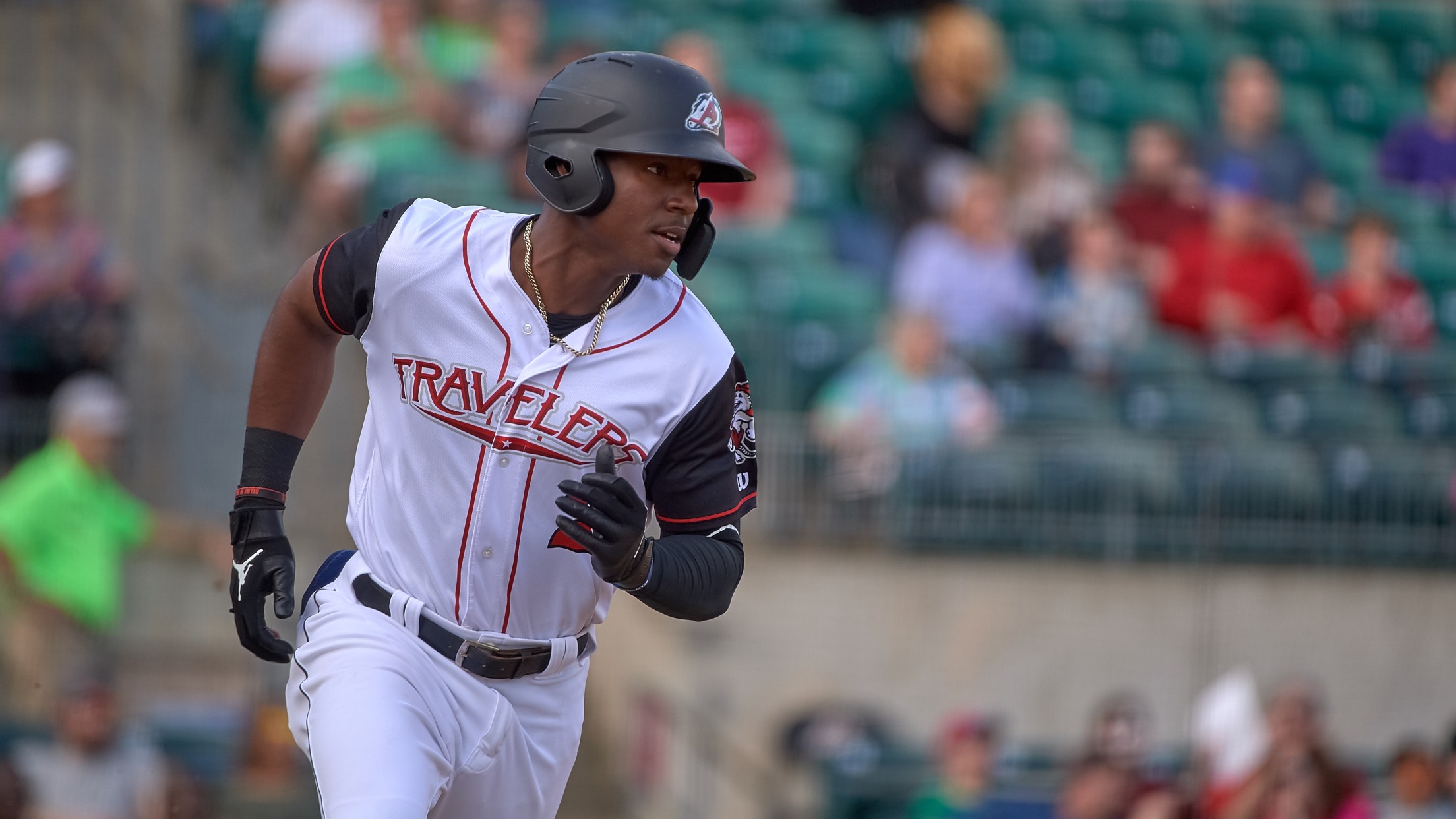 Arkansas Travelers outfielder Kyle Lewis was named Texas League Player of the Week for June 17-23. Lewis reached base in all six of the games he played in with 11 hits and seven walks and at one point reached base in nine consecutive plate appearances. He slashed .524/.643/.619 for the
M's Lewis headlines Players of the Week
No. 7 Seattle prospect went 11-for-21 with Double-A Travelers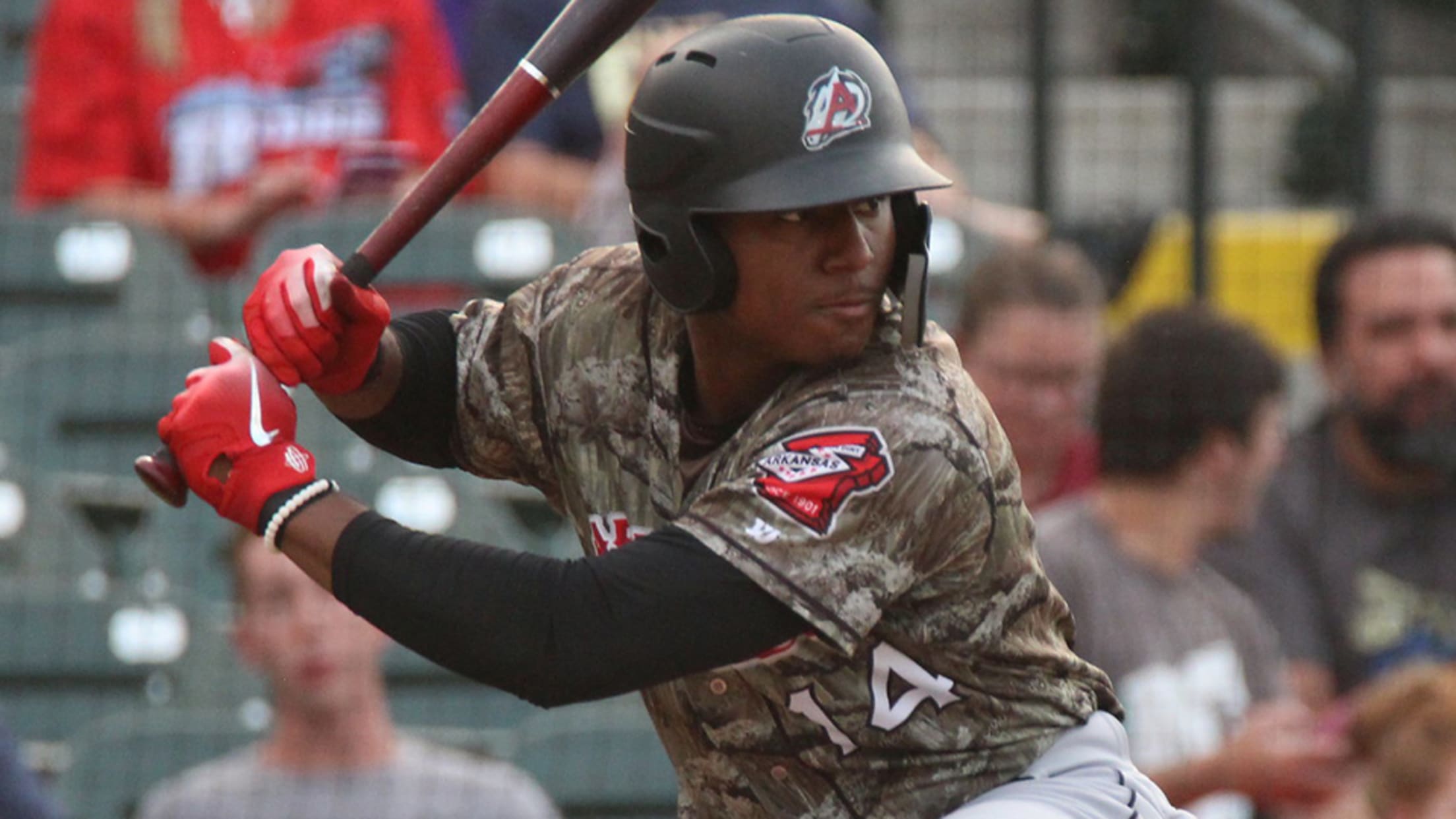 Thanks to his sustained health, Kyle Lewis is getting the most consistent playing time of his career, and lately, he's taking advantage. The Mariners' No. 7 prospect has been named the Texas League Offensive Player of the Week after going 11-for-21 (.524) with two doubles, seven runs scored and seven
White's Clutch Homer Sends Travs Into Break With Win
Justus Sheffield strikes out nine over seven innings for the victory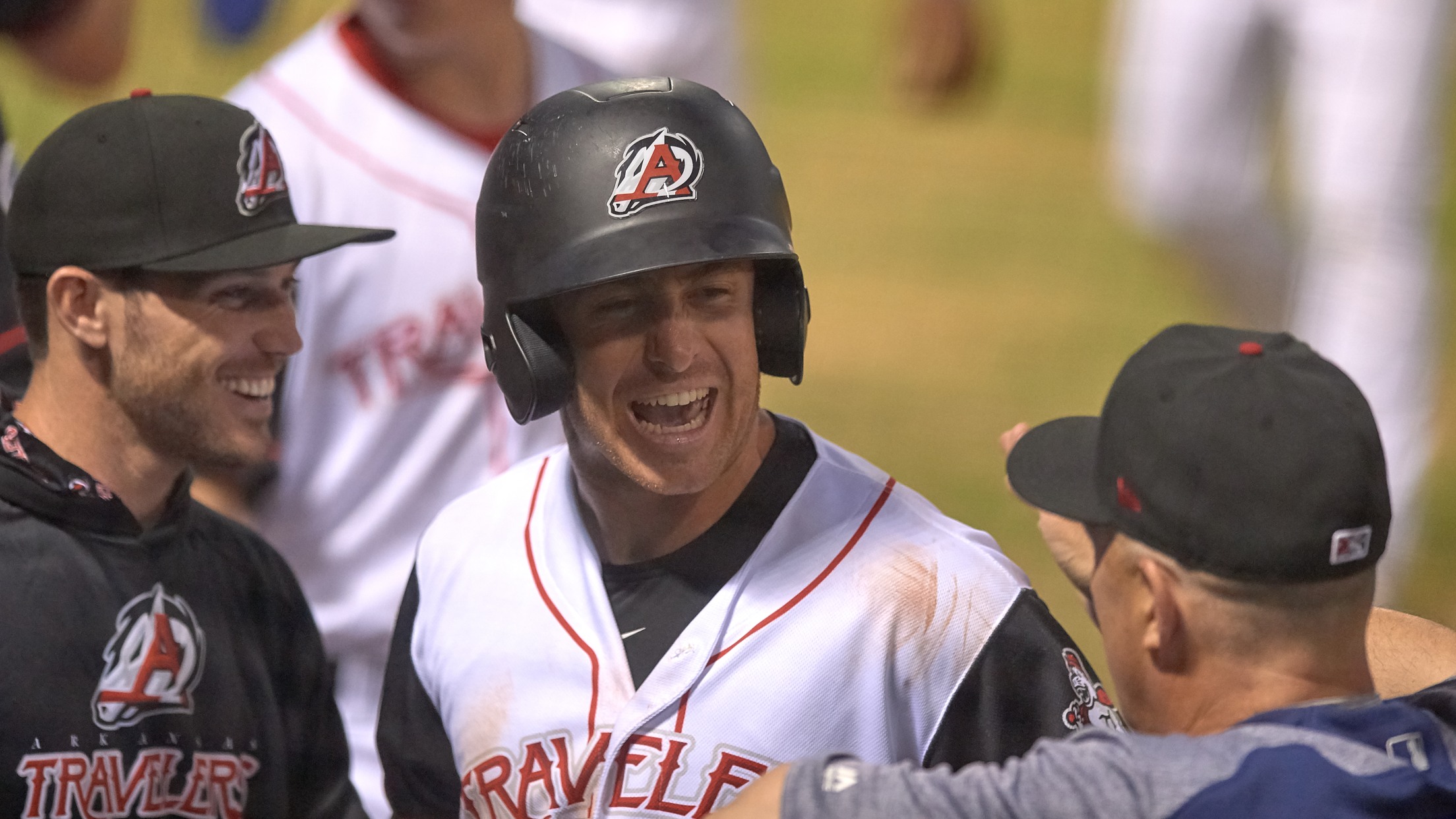 Midland, TX-Evan White broke a tie in the eighth inning with a two-run home run buoying the Arkansas Travelers on their way to a 5-1 win over the Midland RockHounds. The Travs win the series in Midland and finished their roadtrip with a 5-2 record. Justus Sheffield was the winning
Dunn, Late Offense Get Travs Past Hooks
Arkansas wins series and goes to 2-0 in second half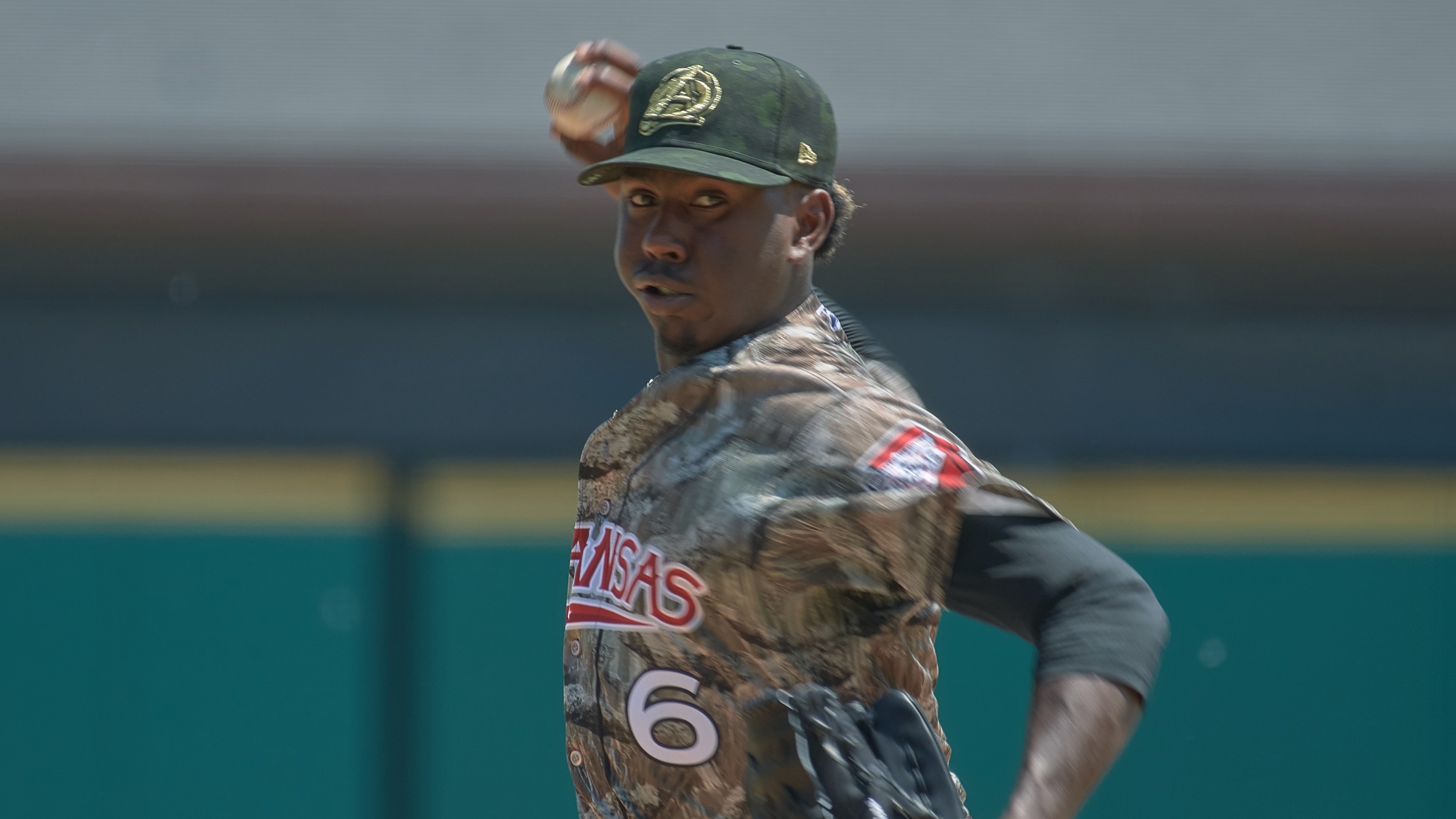 Corpus Christi, TX-A pair of late three-run innings pushed the Arkansas Travelers past the Corpus Christi Hooks, 7-3 on Wednesday night. The victory clinched the series for the Travs, gives them a 2-0 record in the second half of the season and makes them 45-25 overall. Justin Dunn earned his