State of the System: Oakland A's
Puk, Puason help strike balance as club looks to remain contenders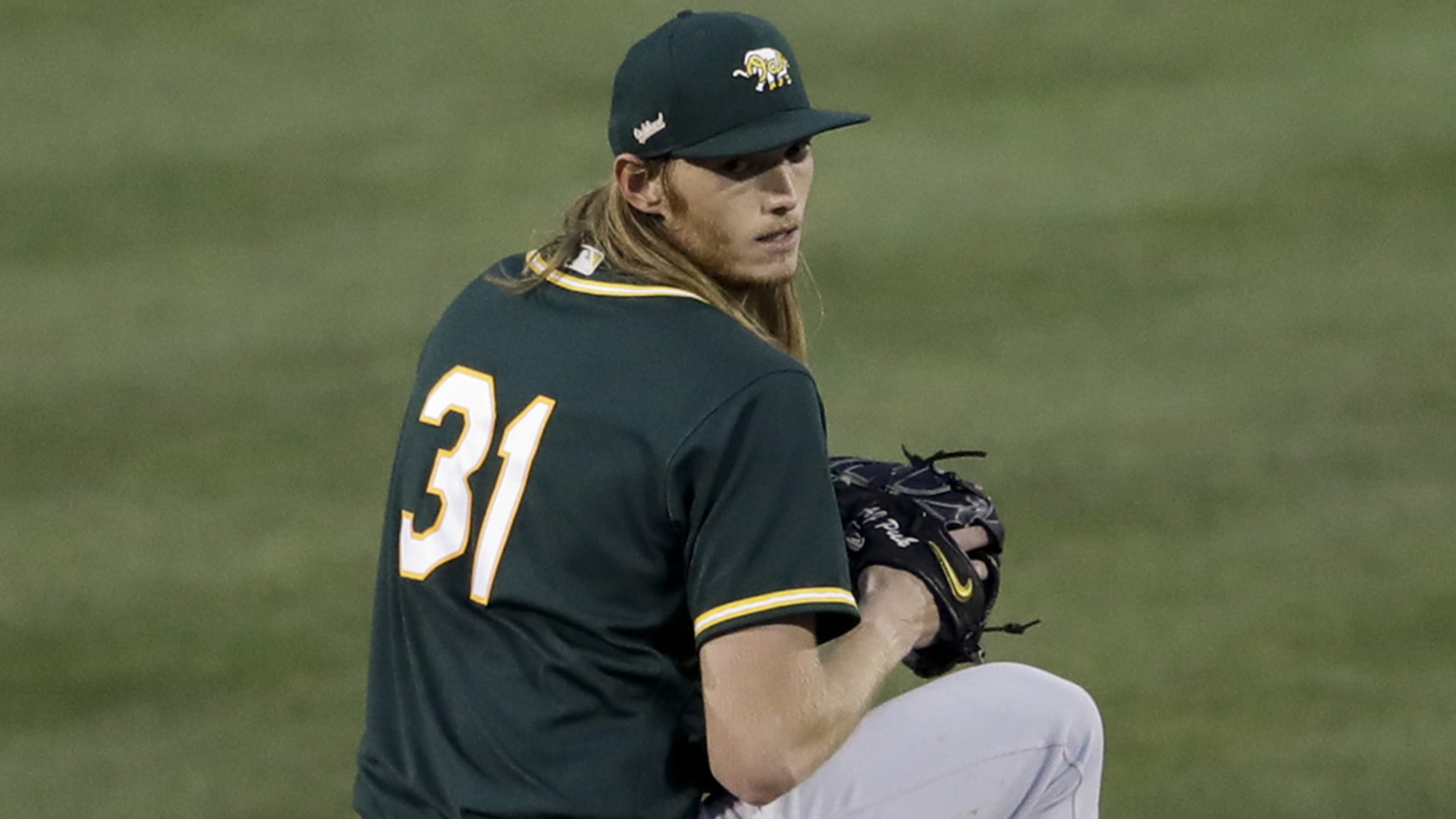 Starting in October and running through the end of the year, MiLB.com's State of the System series will evaluate the strengths and weaknesses of each Major League organization, highlights prospects who've made the biggest strides in 2020 and offers a peek at 2021. So much was different during the 60-game
Murphy rewriting report card for Athletics
Top Oakland prospect goes yard as part of three-RBI performance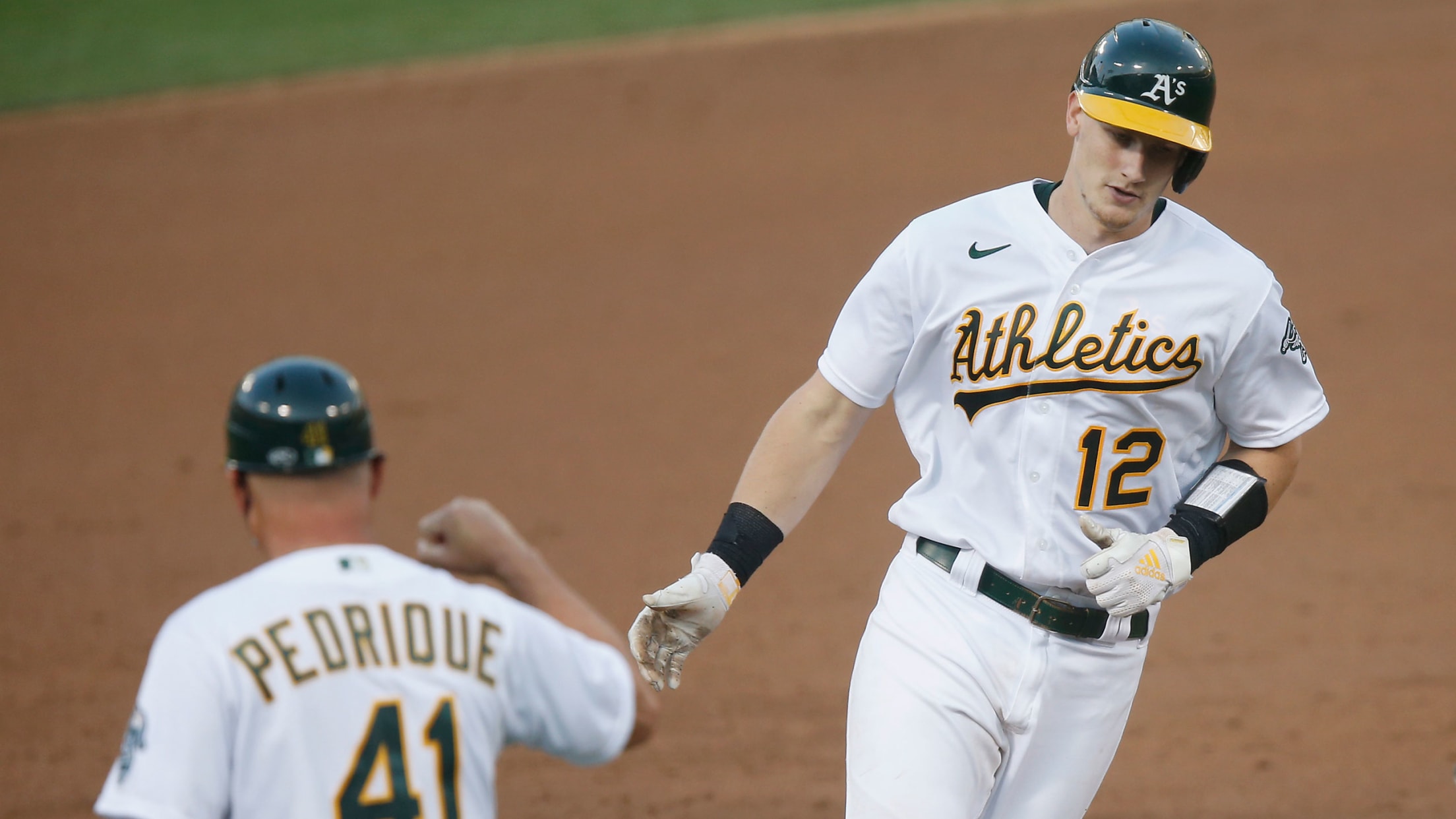 Sean Murphy entered Monday night on the verge of losing his status as a prospect. He made sure to celebrate that graduation in style. The now-former top A's prospect homered for a second straight game, singled and drove in a season-high three runs to help down the Astros, 6-0, at
Toolshed: Statcast standouts among top prospects
Three position players, three pitchers putting up remarkable numbers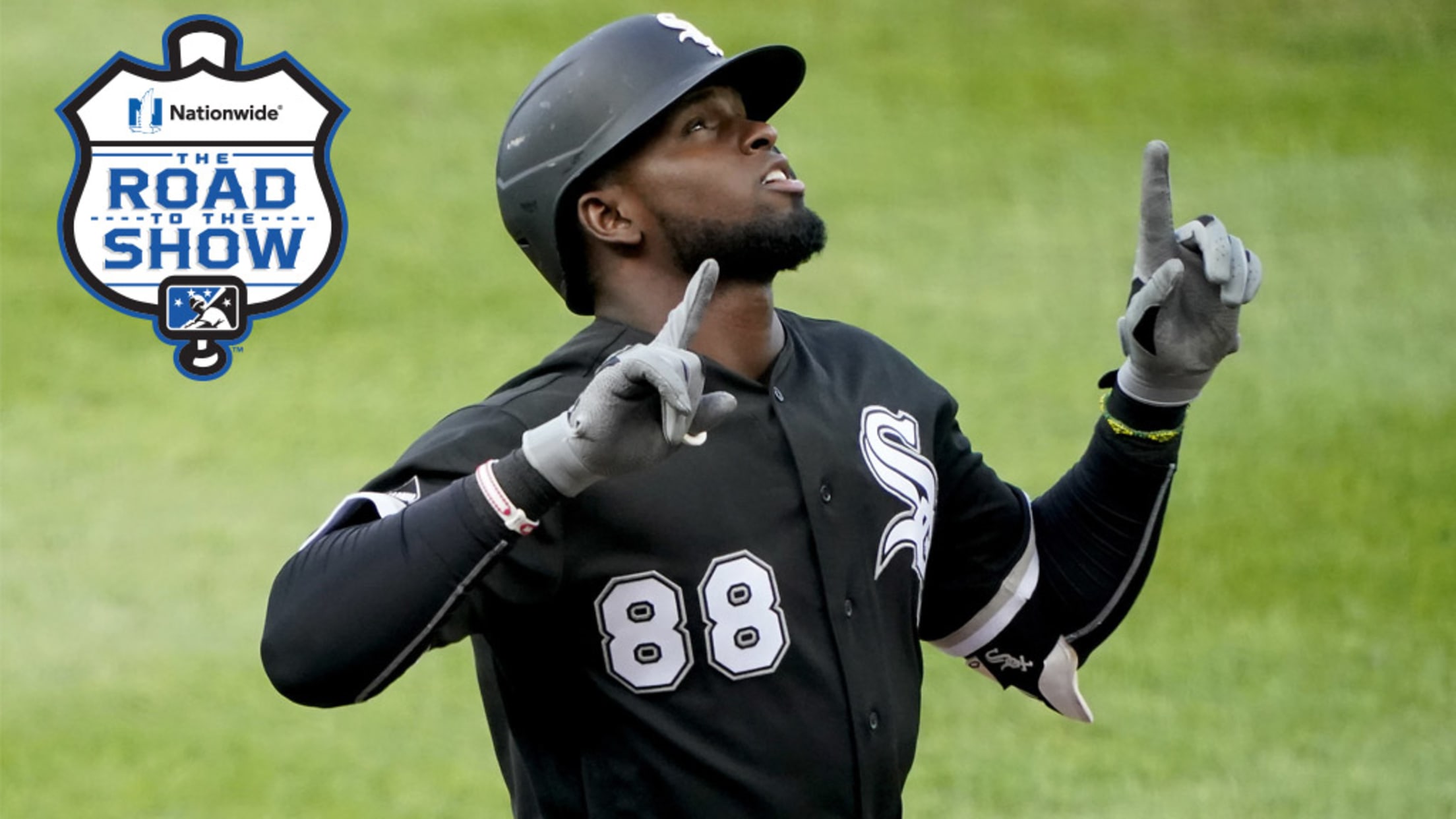 There is no Minor League season, and that means there are no Minor League stats. That's a bummer for those of us who love following the growth of the game's brightest youngest talents through their numbers. The adage goes that you should never scout the stat line, but numbers at
Cream of the crop opening 2020 in the Majors
Best Minors has to offer ready to take their shots in the bigs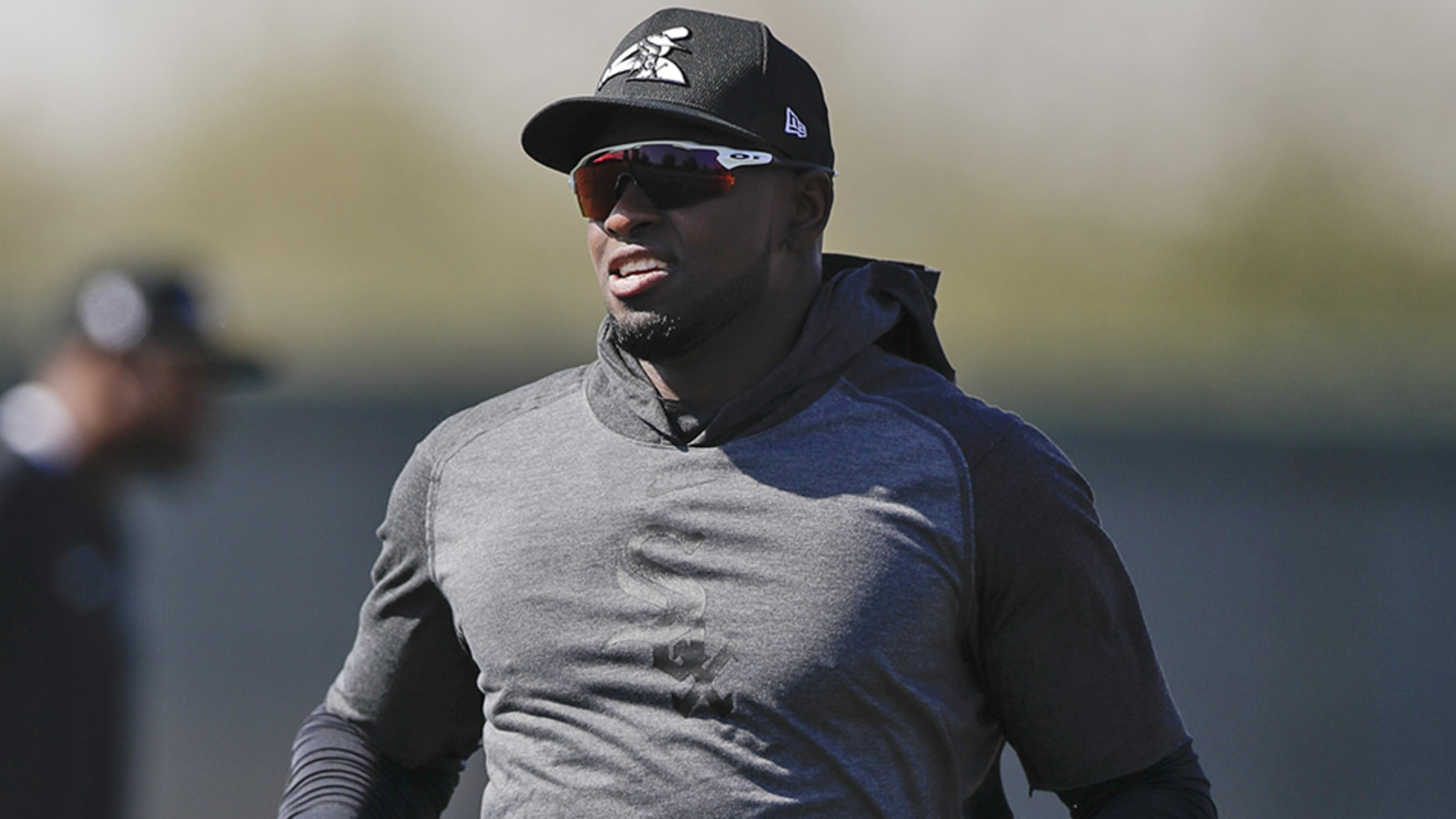 The kids are all grown up. Some of the best and brightest prospects baseball has to offer have found their way onto Major League rosters for the opening of the 2020 season. In a sport in which players are conditioned to pace themselves for a six-month marathon, the 60-game schedule
Prospects in the Athletics' 2020 player pool
Talented Oakland system ready to fill the gaps when needed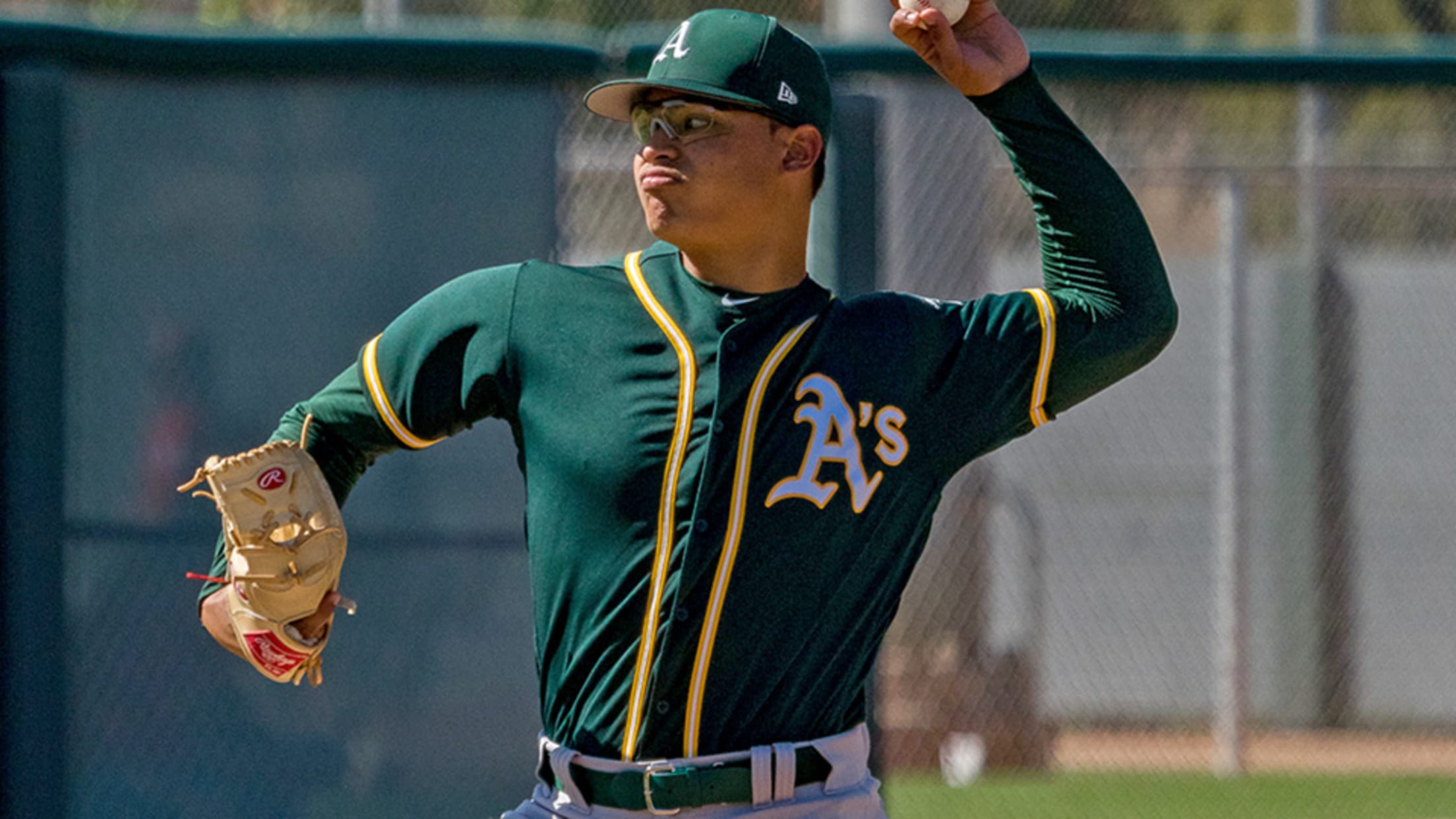 As part of the new rules for the 2020 Major League season, each of the 30 organizations will maintain a 60-man player pool for the duration of the campaign. Some members of the player pool will feature on the active Major League roster while others will work out at an
Best streams of 2019: Top offensive performances
Aces' Tomas homers four times; Isotopes' Cuevas completes cycle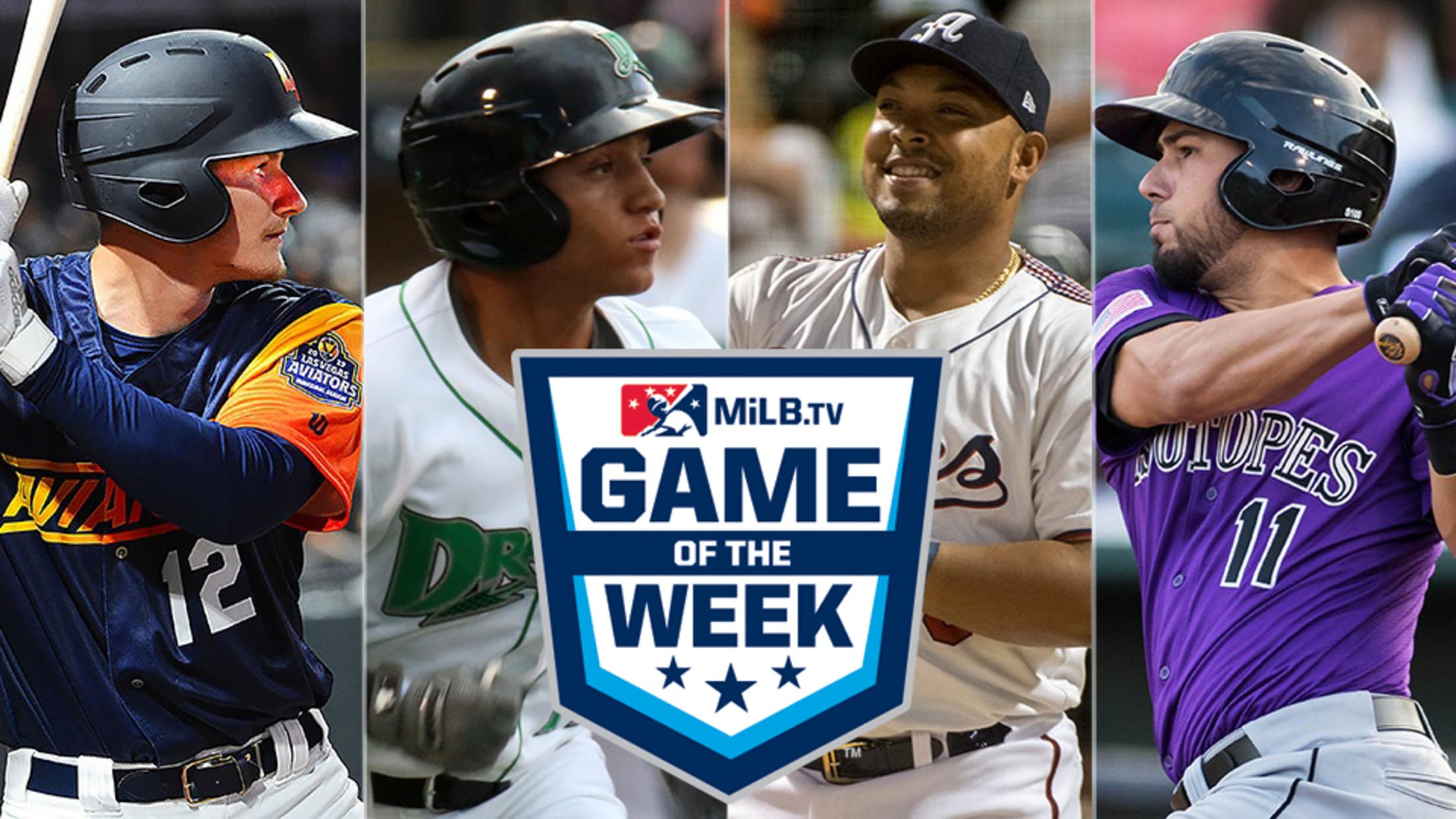 The batter enters the box. The dirt under his cleats feels right and his uniform feels loose. As the pitcher unleashes his pitch, the ball looks like a watermelon, each seam visible and the spin obvious so the hitter knows when and where to swing.That must have been what it
Toolshed dream lineup: Ages 24 and up
Murphy, McKay, Kopech bring star power to older prospect group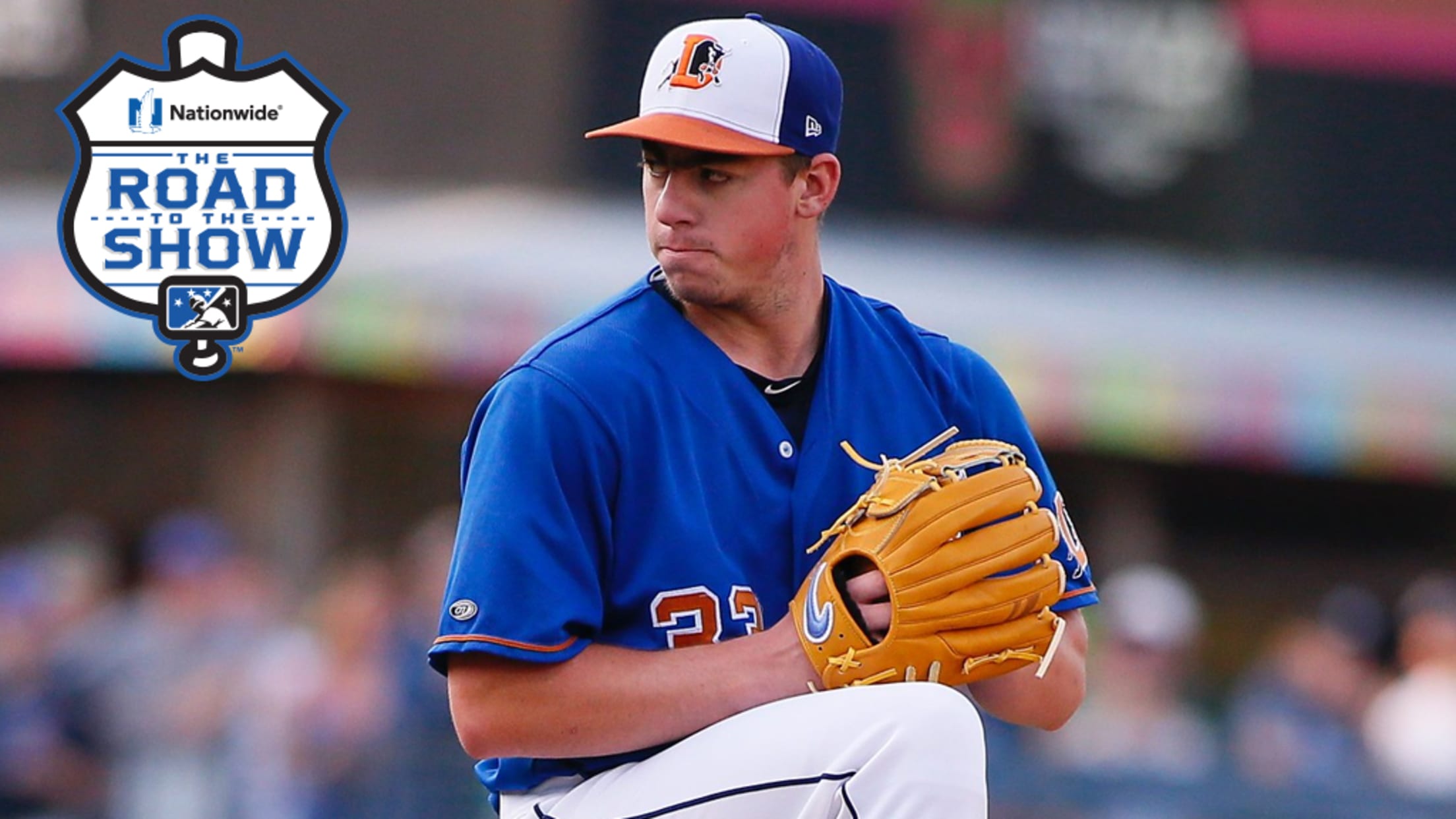 There may be no Minor League Baseball games yet, but that's not going to stop us from dreaming about lineups.Toolshed has crafted the best possible prospect lineups, sorted by age. To date, the series has focused on teenagers, 20-year-olds, 21-year-olds, 22-year-olds and 23-year-olds. This time, we turn our attention to prospects who will be 24
Fans' guide to the best 2019 MiLB.TV games
From Mize to May, 10 standout performances to relive right now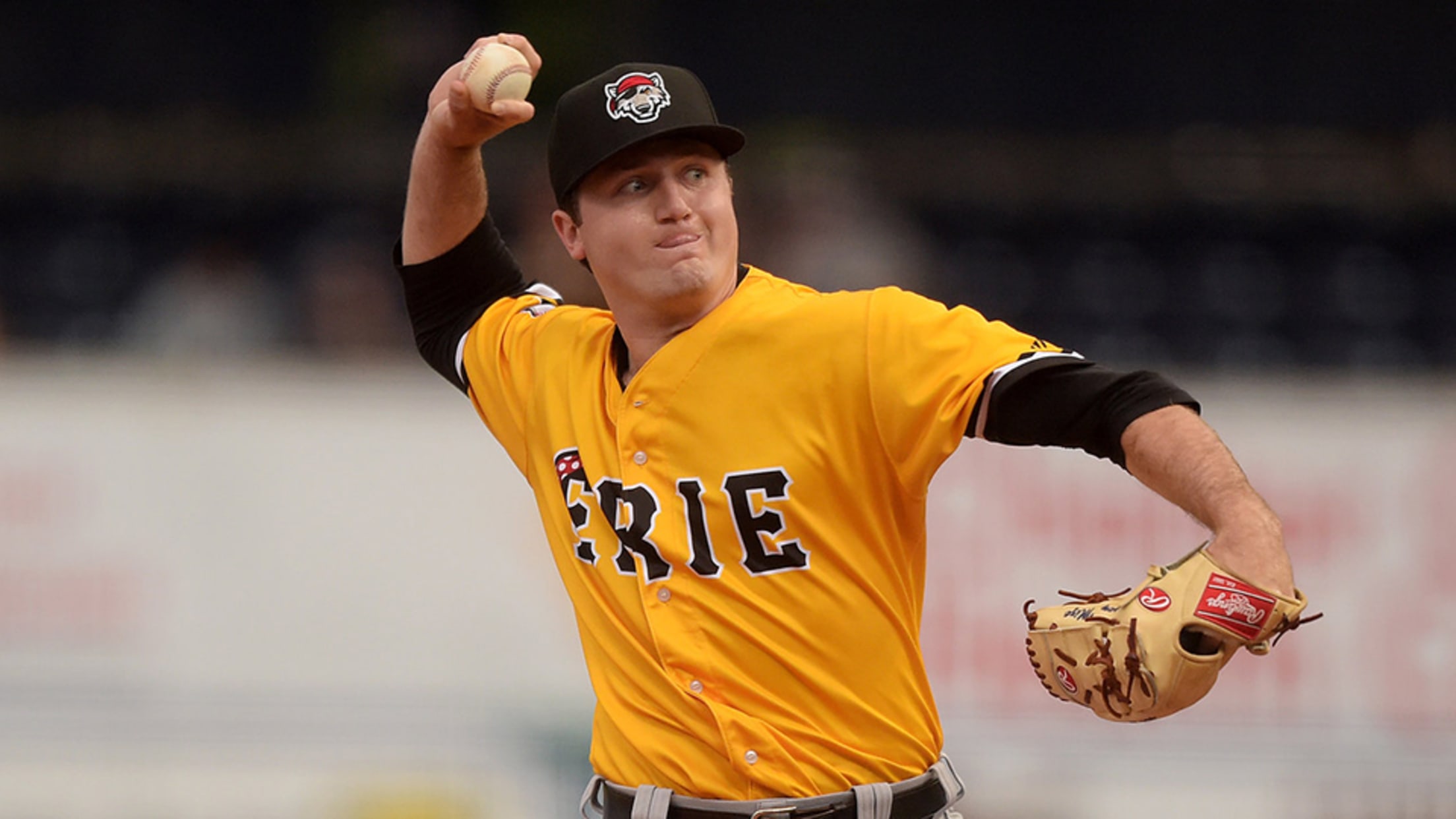 No-hitters. One game, one man, four home runs -- and a cycle. Epic entertainment.The 2019 Minor League Baseball season was full of amazing performances by individuals and teams alike. Now you can rewatch all these feats with a free MiLB.TV preview! (Non-subscribers will only need to create a MiLB.com account
Farm system rankings: Position players, 30-21
Witt leads next-gen Royals; Tigers' Greene striving for more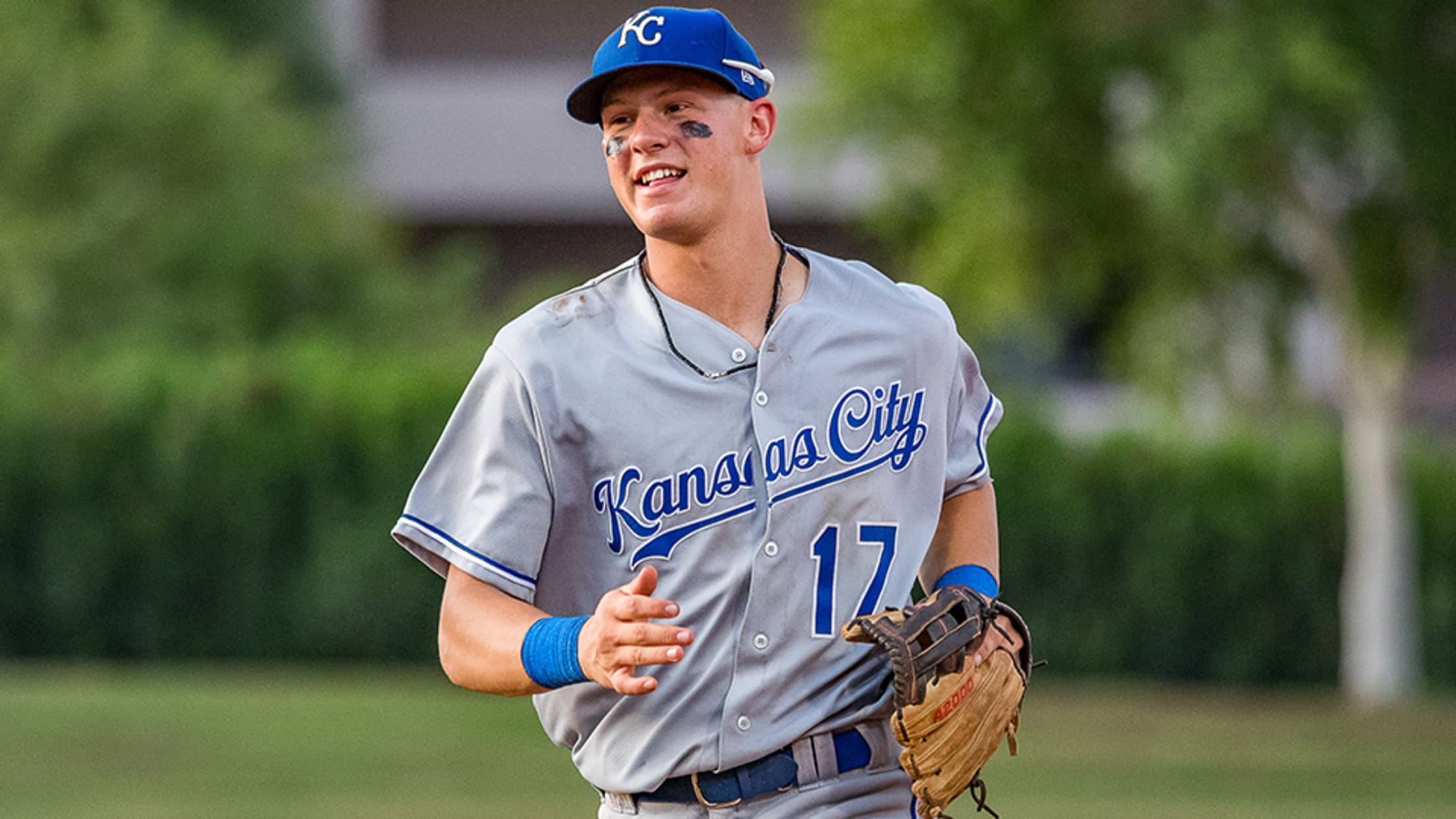 With the 2020 season rapidly approaching, MiLB.com looks at the state of all 30 farm systems and ranks them in several different ways. This first installment, broken into three parts, focuses on position players and considers the quality and quantity of top talent currently in each system. So, without further
Winter Meetings notes: A's, Rays, Angels
Prospect updates on Luzardo, Puk, Murphy, McKay, Adell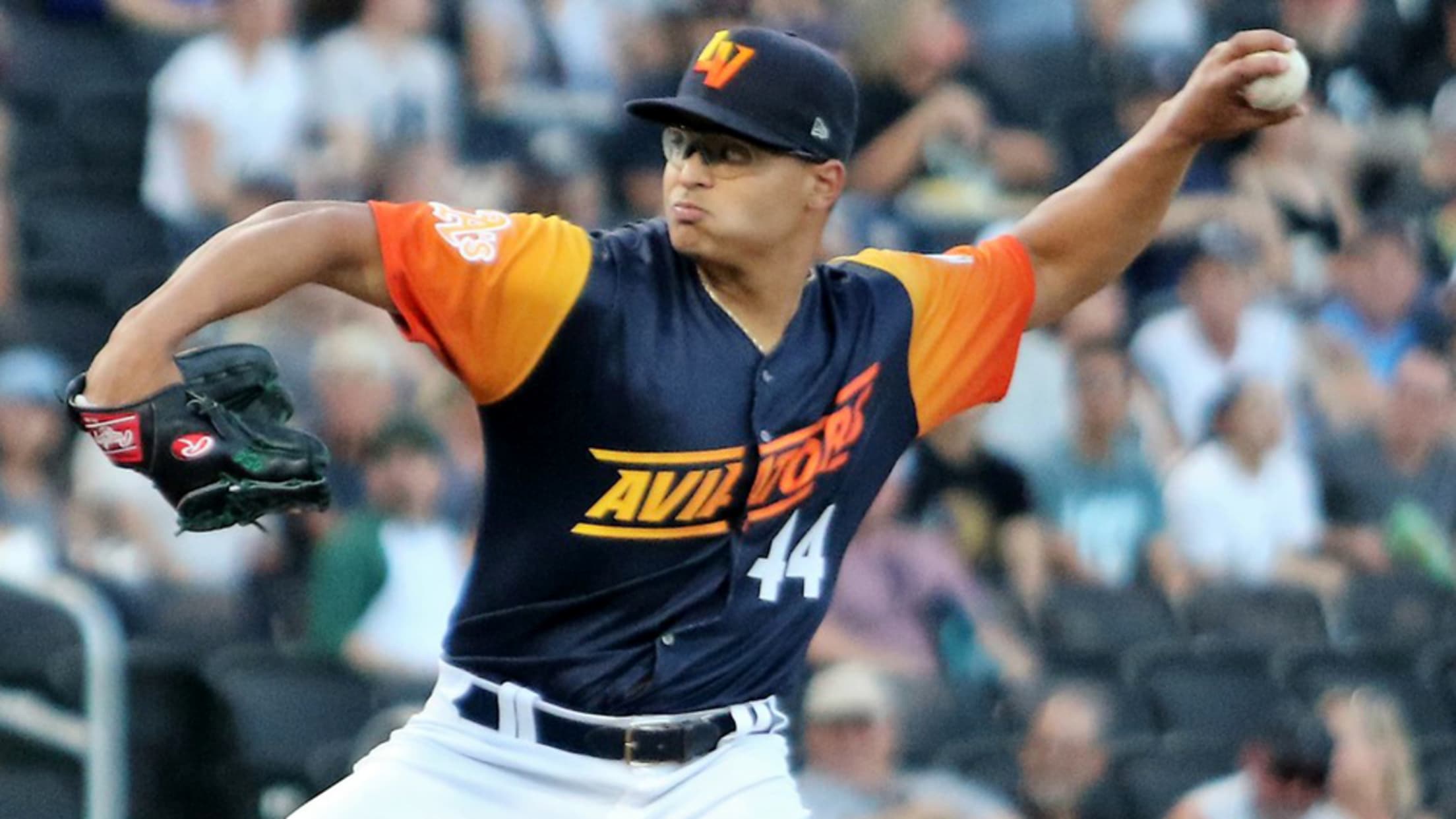 SAN DIEGO -- Bob Melvin has led some pretty good A's teams since becoming Oakland manager in 2011, including back-to-back 97-win clubs in the past two seasons. Yet he's particularly excited about the 2020 campaign for two big prospect-related reasons -- top prospectJesus Luzardo and No. 2 A.J. Puk."We've been
A's Murphy undergoes left knee surgery
Catcher battled injury all year, expects to be back in the spring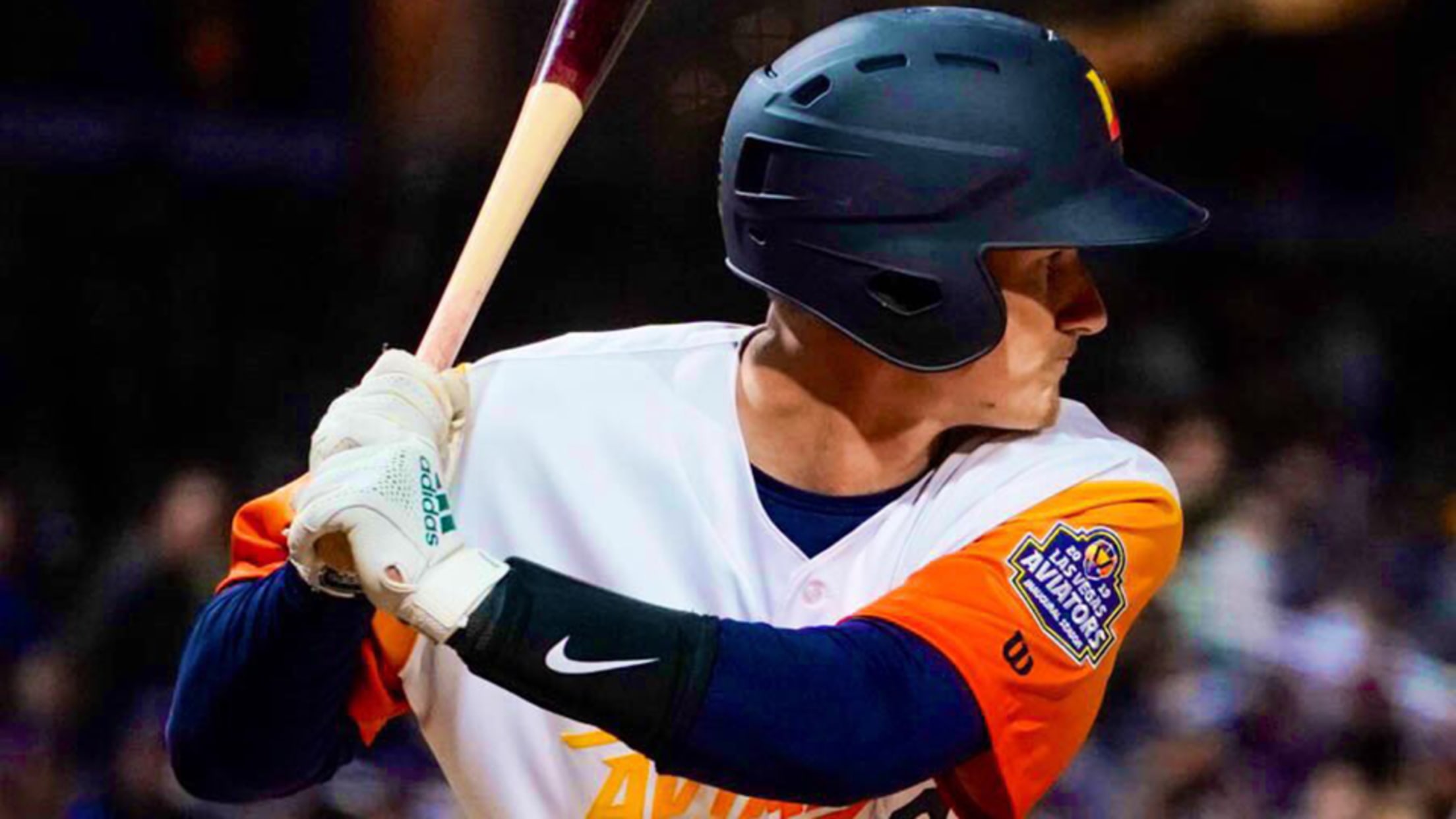 Sean Murphy is no stranger to shaking off injury. And now, he'll have to do it once more.According to the A's, their third-ranked prospect underwent surgery on his left knee Thursday, which also was his 25th birthday. They expect him to be ready by Spring Training.
A's to call up No. 3 prospect Murphy to bigs
MLB.com's No. 44 overall prospect will make debut Sunday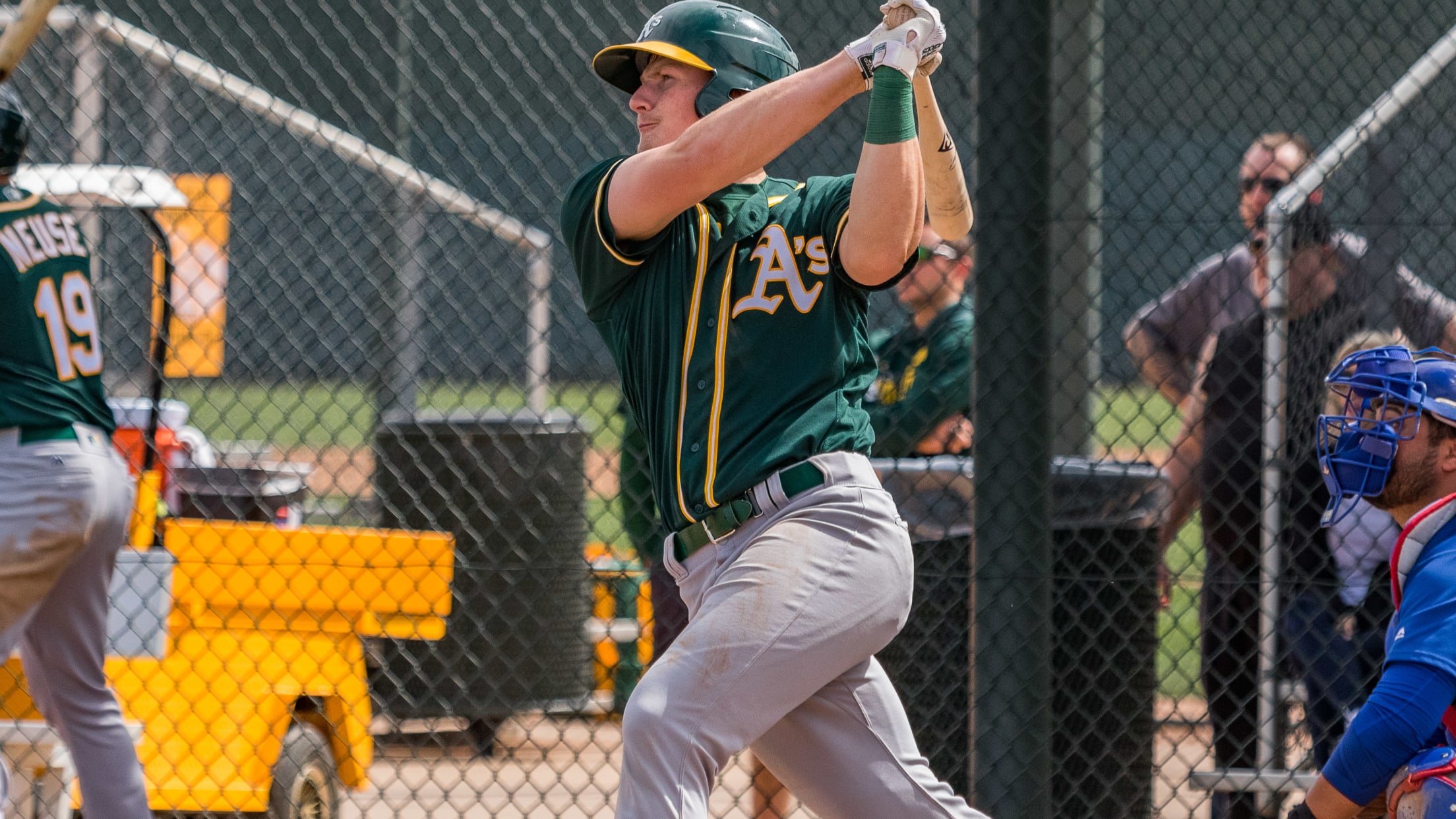 Sean Murphy is headed to The Town to help the playoff push.Oakland's third-ranked prospect will be lifted to the Major Leagues on Sunday when rosters expand to make his big league debut, a source tells MLB.com's Martin Gallegos.
Murphy flies high in return to Las Vegas
Athletics No. 3 prospect goes yard twice, drives in six runs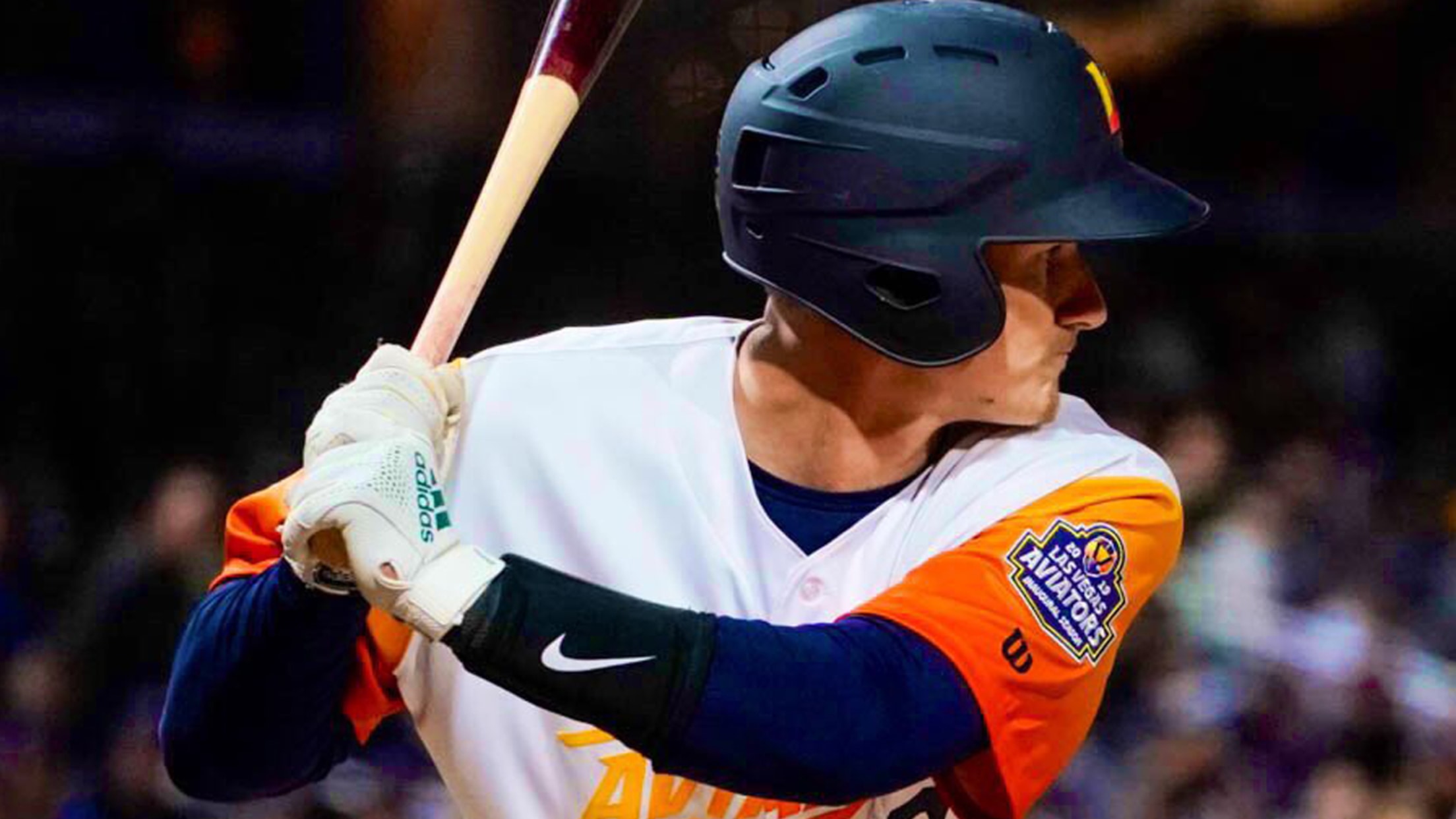 Sean Murphy was back at Las Vegas Ballpark on Wednesday night and made it feel like he'd never left.Baseball's No. 44 overall prospect hammered two homers, drove in six runs and added a walk in his first game back at the Triple-A level to help lead Las Vegas to an
Murphy helps Aviators break PCL record
A's No. 3 prospect smacks three of Las Vegas' 11 dingers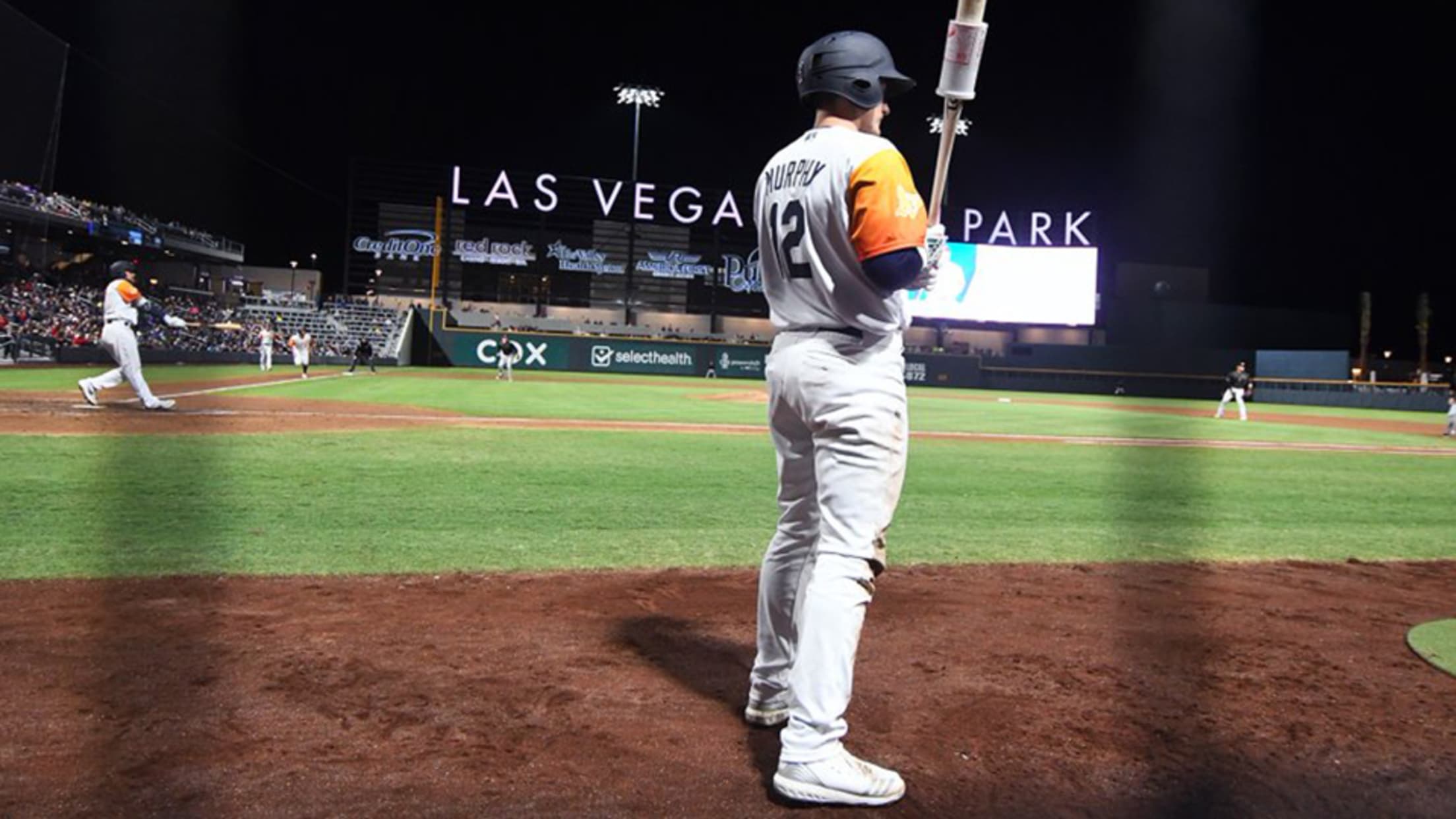 Surgery on a torn left meniscus put Sean Murphy on the injured list for all of May and June, and he spent a lot of that time at the Athletics' complex in Mesa, Arizona. There was only so much rehab work to do while his knee was on the mend,
Prospect Roundup: Games of April 11
A's Murphy collects four hits and drives in four for Vegas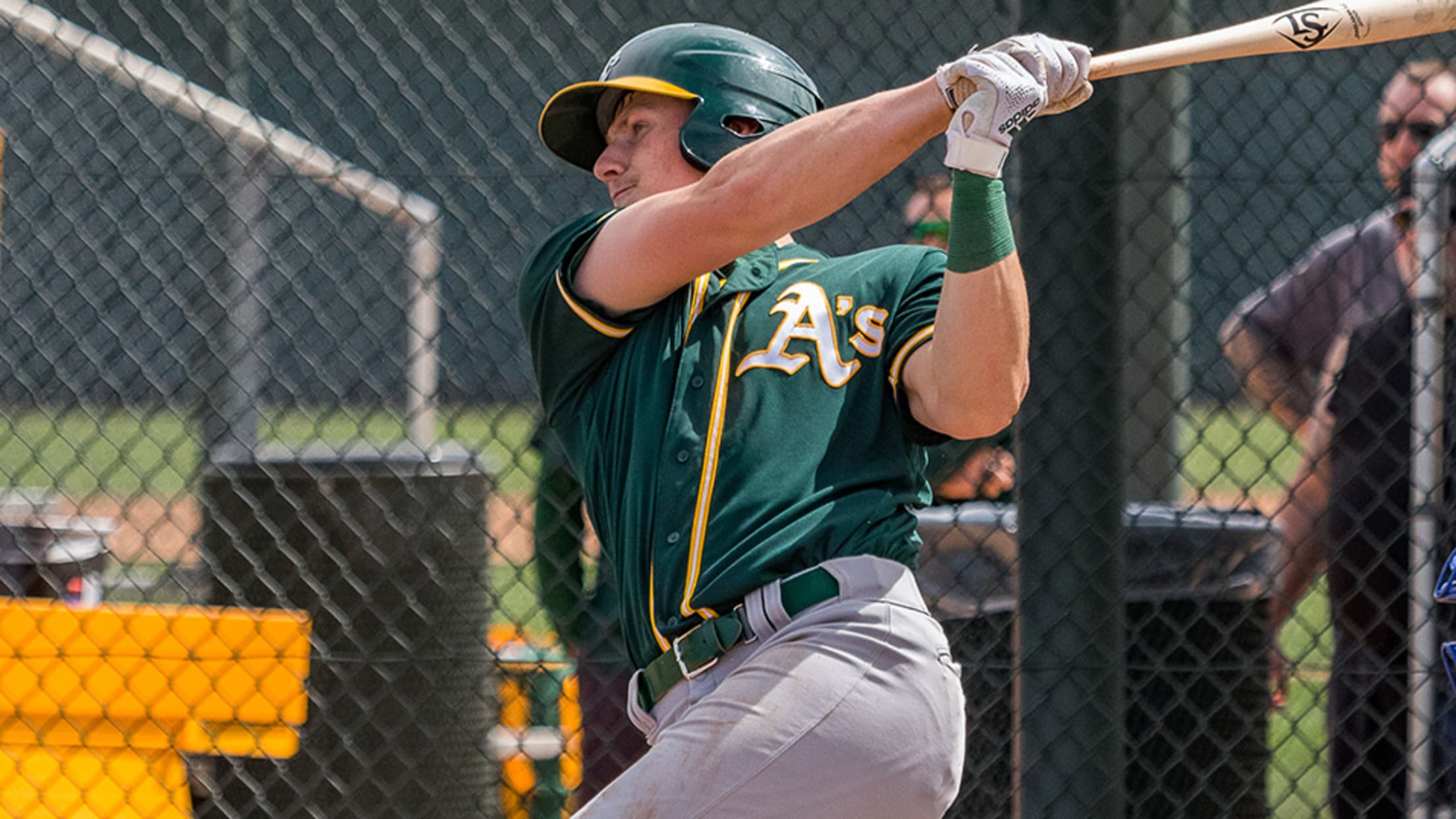 Athletics C Sean Murphy, Triple-A Las Vegas: 4-for-5, HR, 3B, 4 RBIs, 2 R -- Coming off of his first hitless game of the season on Wednesday, Murphy rebounded in a major way Thursday. The third-ranked A's prospect legged out an infield hit to get his night started in the
Athletics Prospect Primer: Arms rising
Luzardo, Puk getting closer to taking Oakland center stage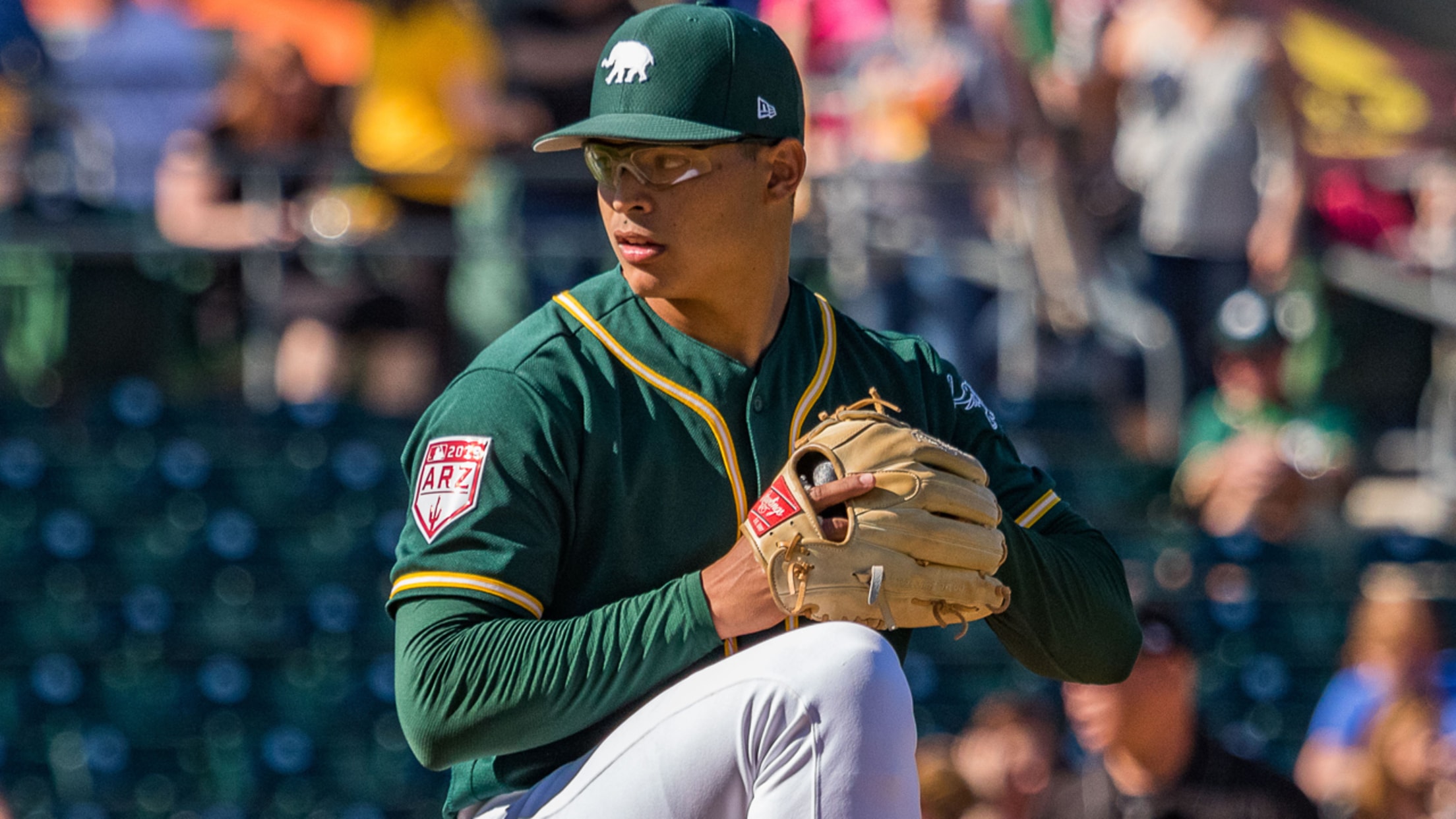 Some players are on the verge of stardom, others are entering a crucial phase of their development and still others are getting their first tastes of full-season ball. With the 2019 season approaching, MiLB.com takes a look at the most intriguing prospects from each MLB organization.Shining star: Jesus Luzardo, LHPIt
Overlooked amateur Murphy thriving as pro
Undrafted out of high school, backstop now on Athletics doorstep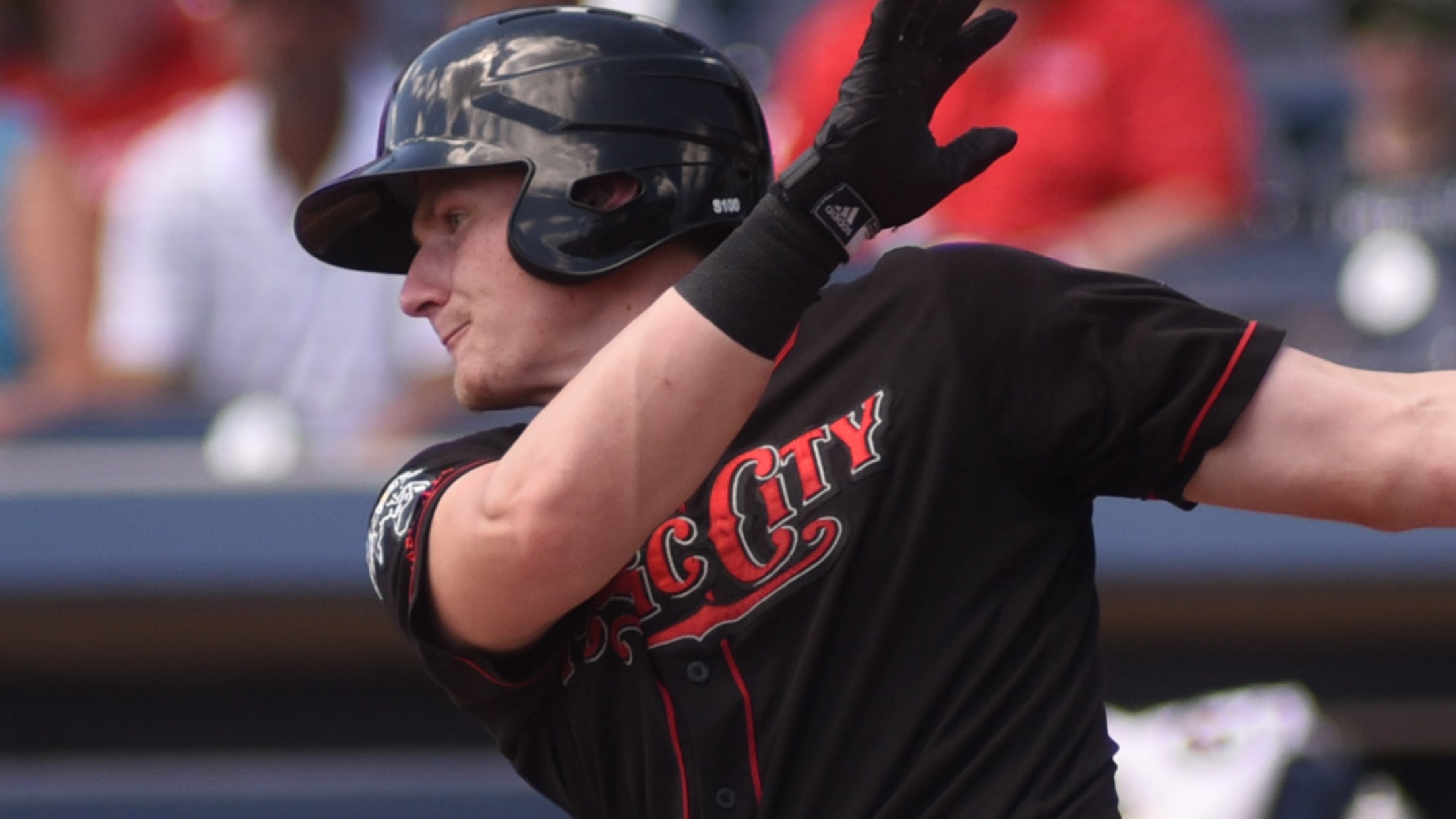 TEMPE, Arizona -- As an undersized prep player in Centerville, Ohio (population roughly 24,000), Sean Murphy didn't turn a lot of heads. Lightly recruited by colleges and undrafted by big league clubs, the catcher had limited options. He settled for a walk-on spot just up the road from his hometown
Redbirds Rout Sounds to Even Series
Adam Wainwright Tosses Five Shutout Innings in Rehab Start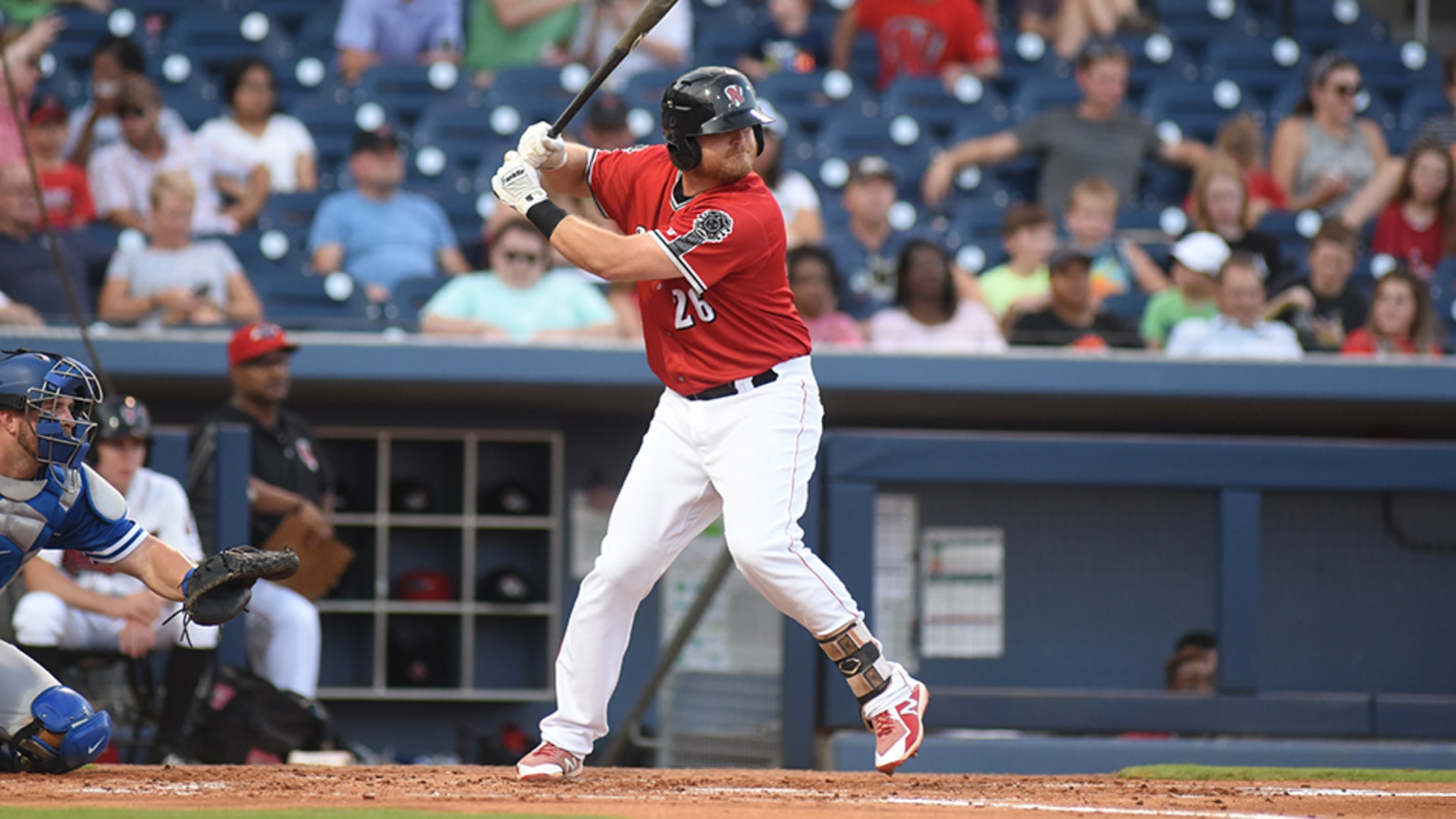 Adam Wainwright tossed five shutout innings to lead the Memphis Redbirds to an 8-1 win over the Nashville Sounds in front of 9,956 fans at First Tennessee Park Saturday night.In his second Major League rehab start against the Sounds in less than a week, Wainwright scattered five hits, walked two
A's promote catcher Murphy to Triple-A
No. 51 overall prospect returned from wrist injury this week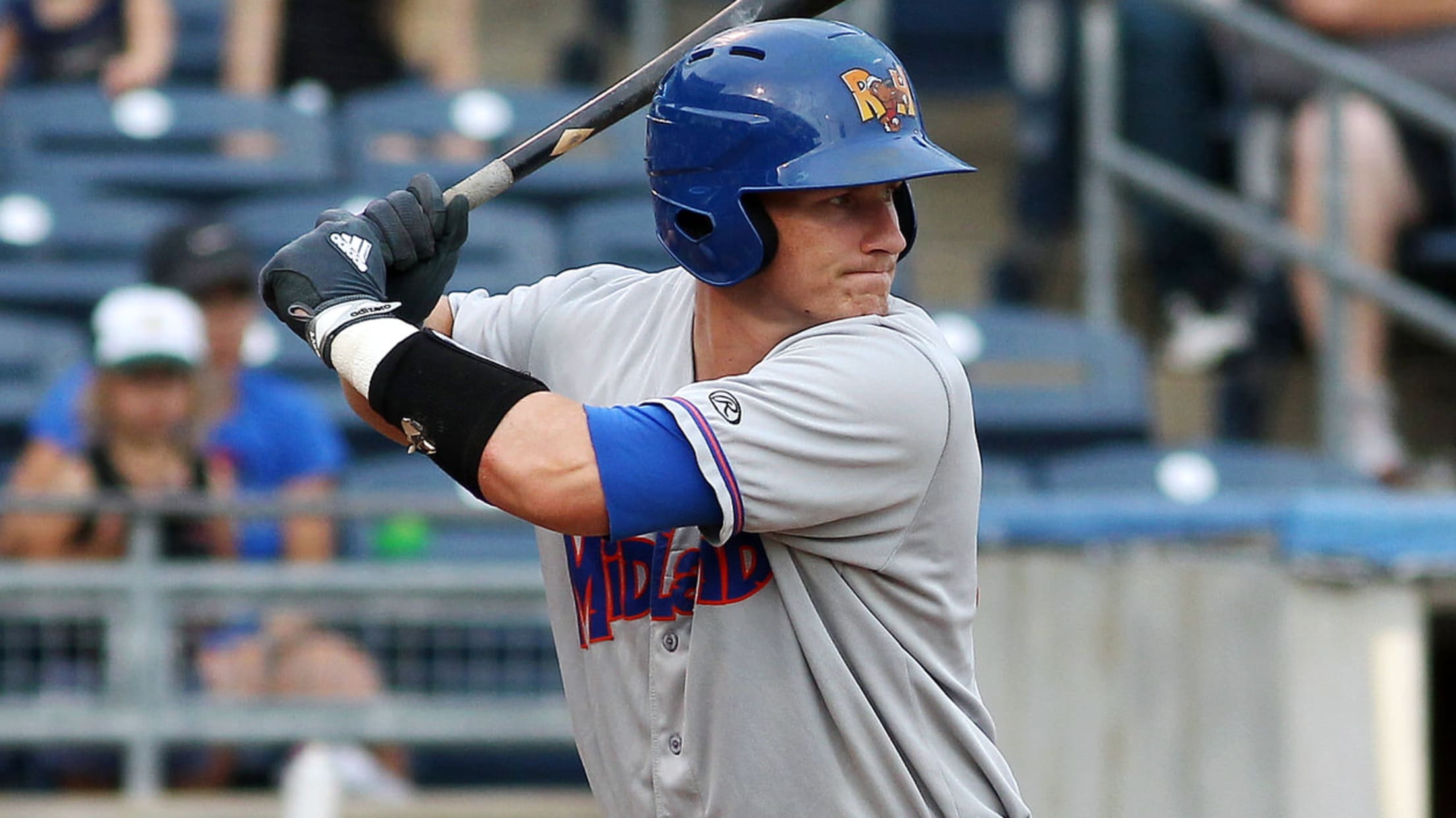 Sean Murphy just rejoined Double-A Midland on Monday, but he won't be finishing the season with the RockHounds.The A's third-ranked prospect was promoted to Triple-A Nashville on Friday and will close the regular season with the Sounds after batting .288/.358/.498 in 68 Texas League games, a line that would rank among
Prospect Roundup: Games of June 24
Matias tees off with 24th homer; Cameron stays hot with Erie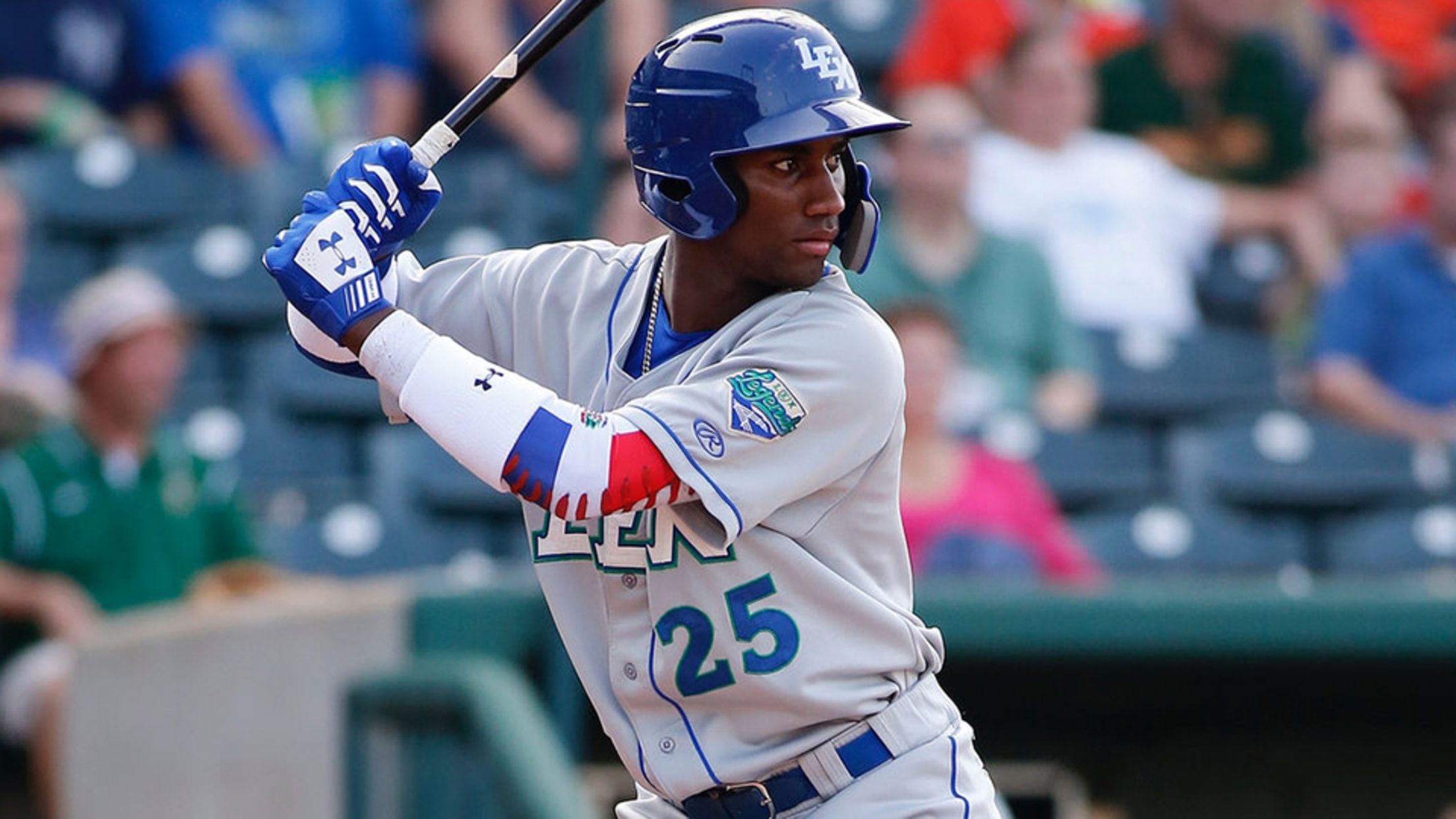 Theme of the dayA day of firsts:Oddy Nunez tossed the first no-hitter in Class A Advanced Bradenton history in a rain-shortened, eight-inning affair. No. 4 overall prospectEloy Jiménez hit his first home run with Triple-A Charlotte. No. 67 prospect Beau Burrowsstruck out 11 batters for the first time in a
Prospect Roundup: Games of June 20
Keller turns in another quality start; Jackson tees off twice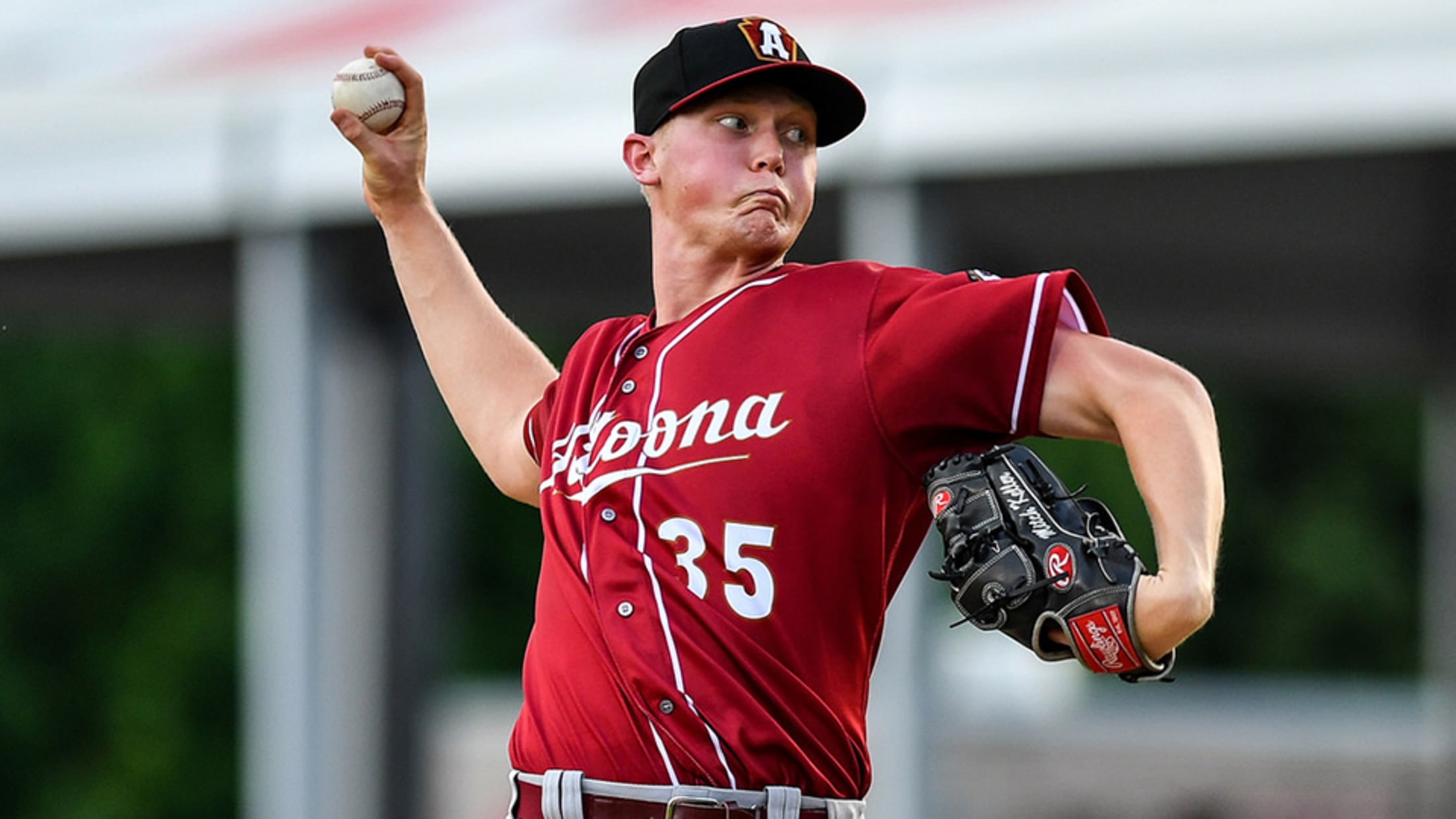 Theme of the dayWelcome back: Wednesday's theme was multi-faceted. First, it applies to the biggest story of the night: Randy César returning to the Double-A Corpus Christi lineup after missing six games with a sore thumb and extending his hitting streak to 37 games, tying the Texas League record in
Murphy goes deep twice for Stockton
A's No. 14 prospect homers in second consecutive game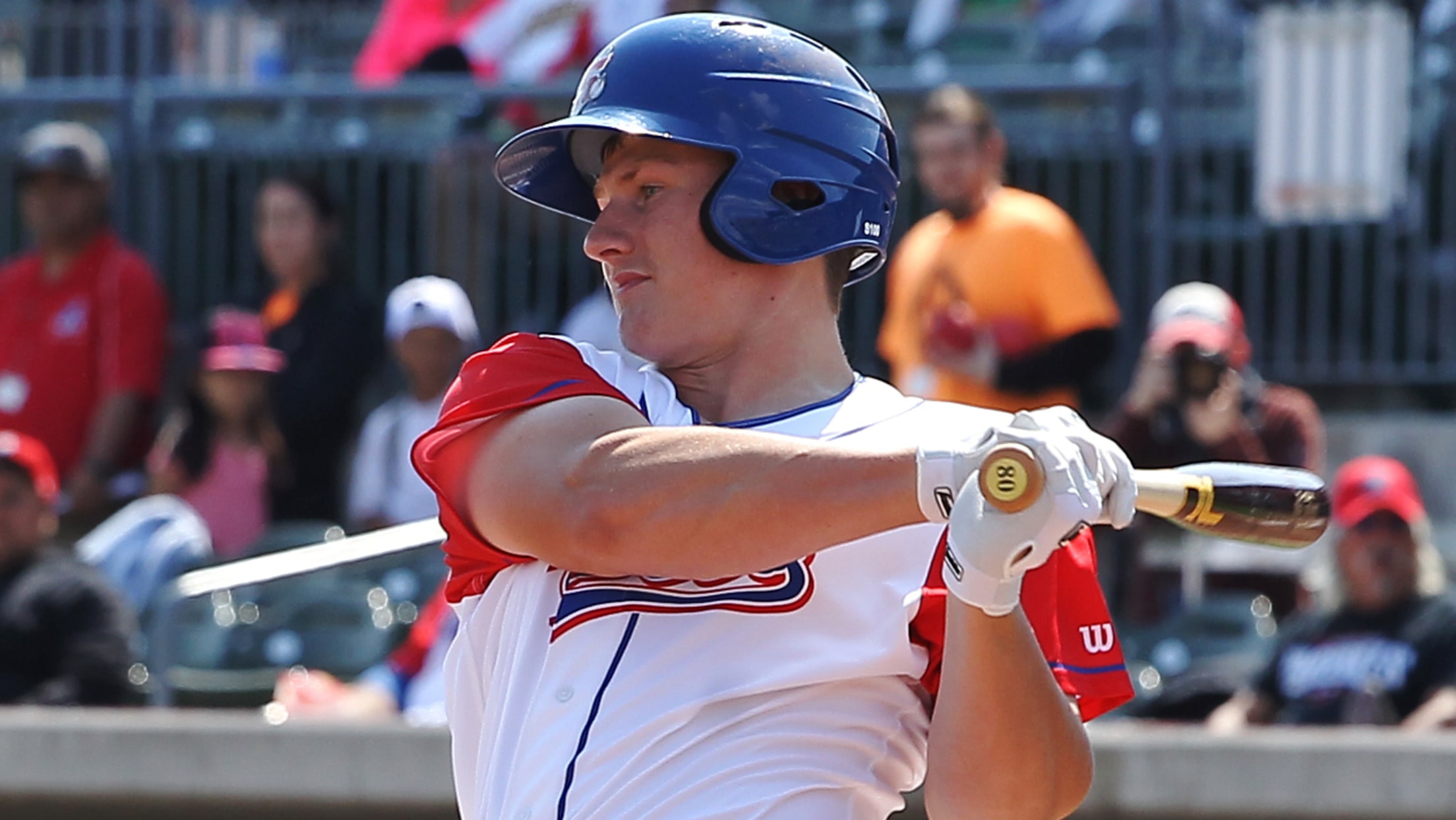 Sean Murphy has been hot at the plate, a stretch he attributes that to a cool and confident mentality.The A's 14th-ranked prospect homered for the second straight game, going deep twice on Sunday to power Class A Advanced Stockton to a 3-2 win over Lake Elsinore at Banner Island Park.
Prospect Roundup: Games of April 17
Mariners' Moore tosses another gem; Reds' Senzel gets three hits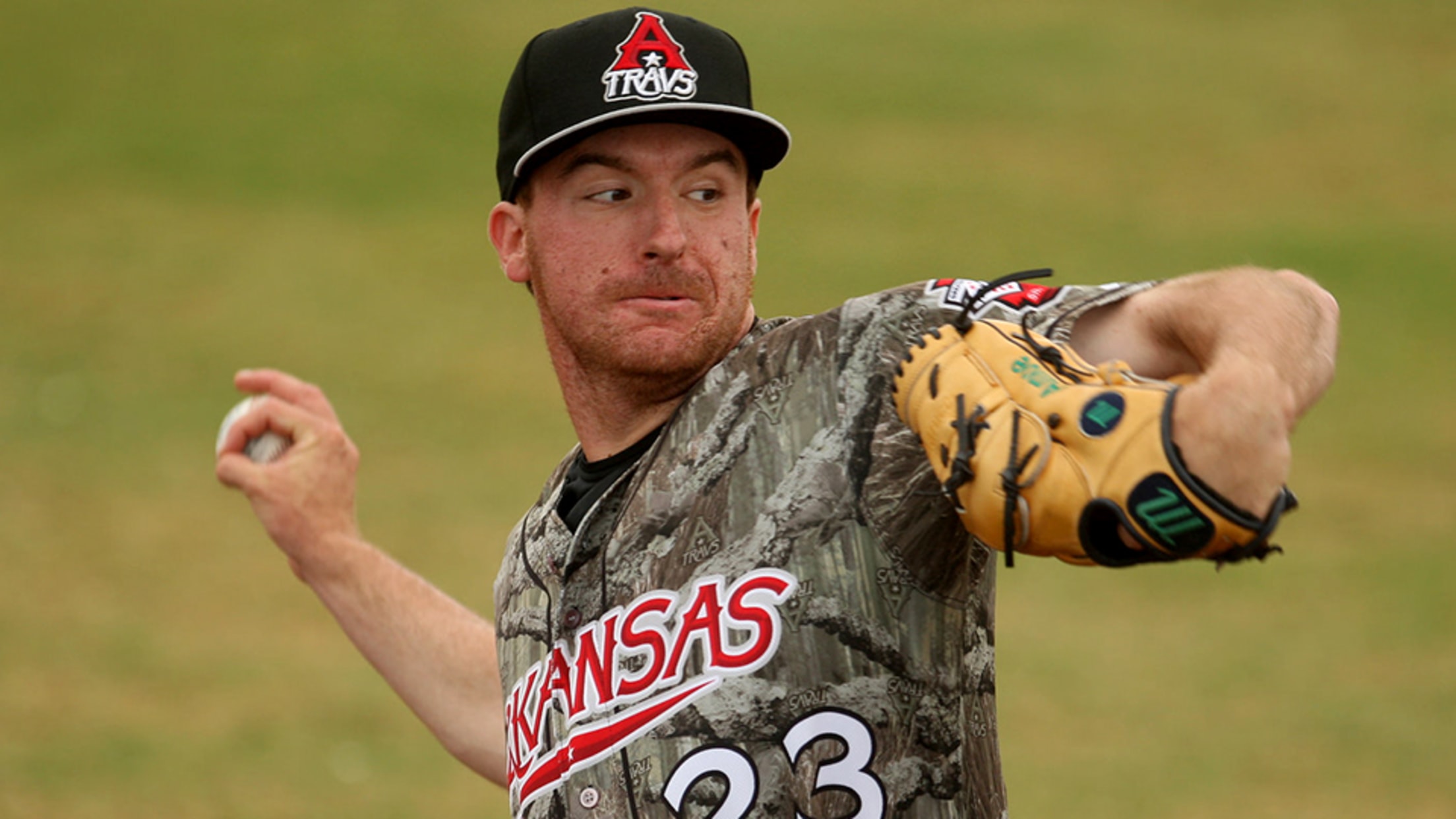 Rangers 1B Ronald Guzmán, Triple-A Round Rock: 3-for-5, HR, 4 RBI -- The Rangers' No. 4 prospect has been giving the big club something to think about in his first season on the 40-man roster. By going deep Monday for the second time, Guzman has already eclipsed his Triple-A homer total
Puk delivers short but sweet first start
A's No. 2 prospect allows two hits in four shutout frames for Ports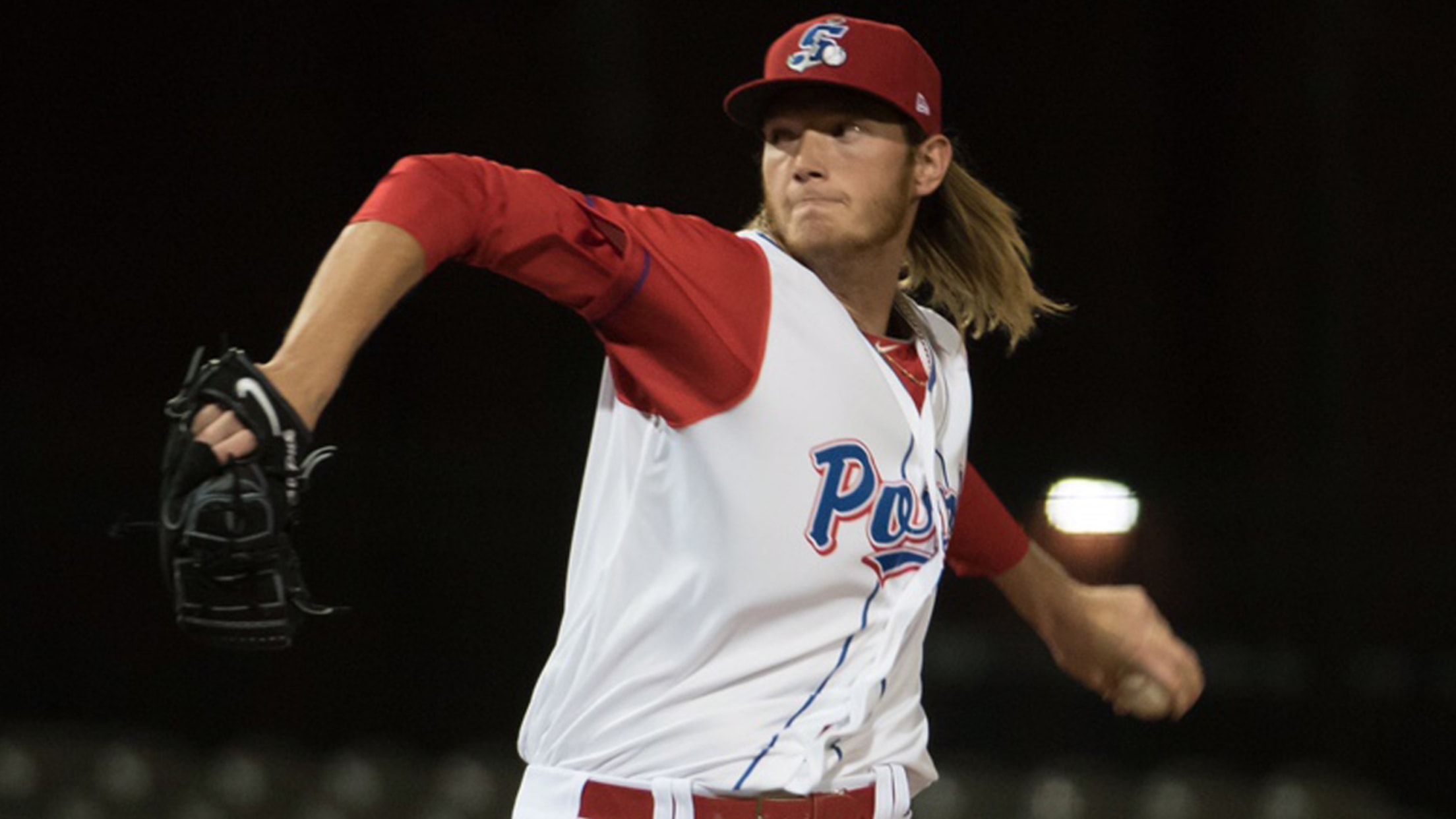 A.J. Puk knew he wasn't going to have a lot of innings on the mound Monday night, so he made the most of them.In his first start of 2017, Oakland's No. 2 prospect allowed just two hits and a walk while fanning six over four shutout innings as Class A