Toolshed: Statcast standouts among top prospects
Three position players, three pitchers putting up remarkable numbers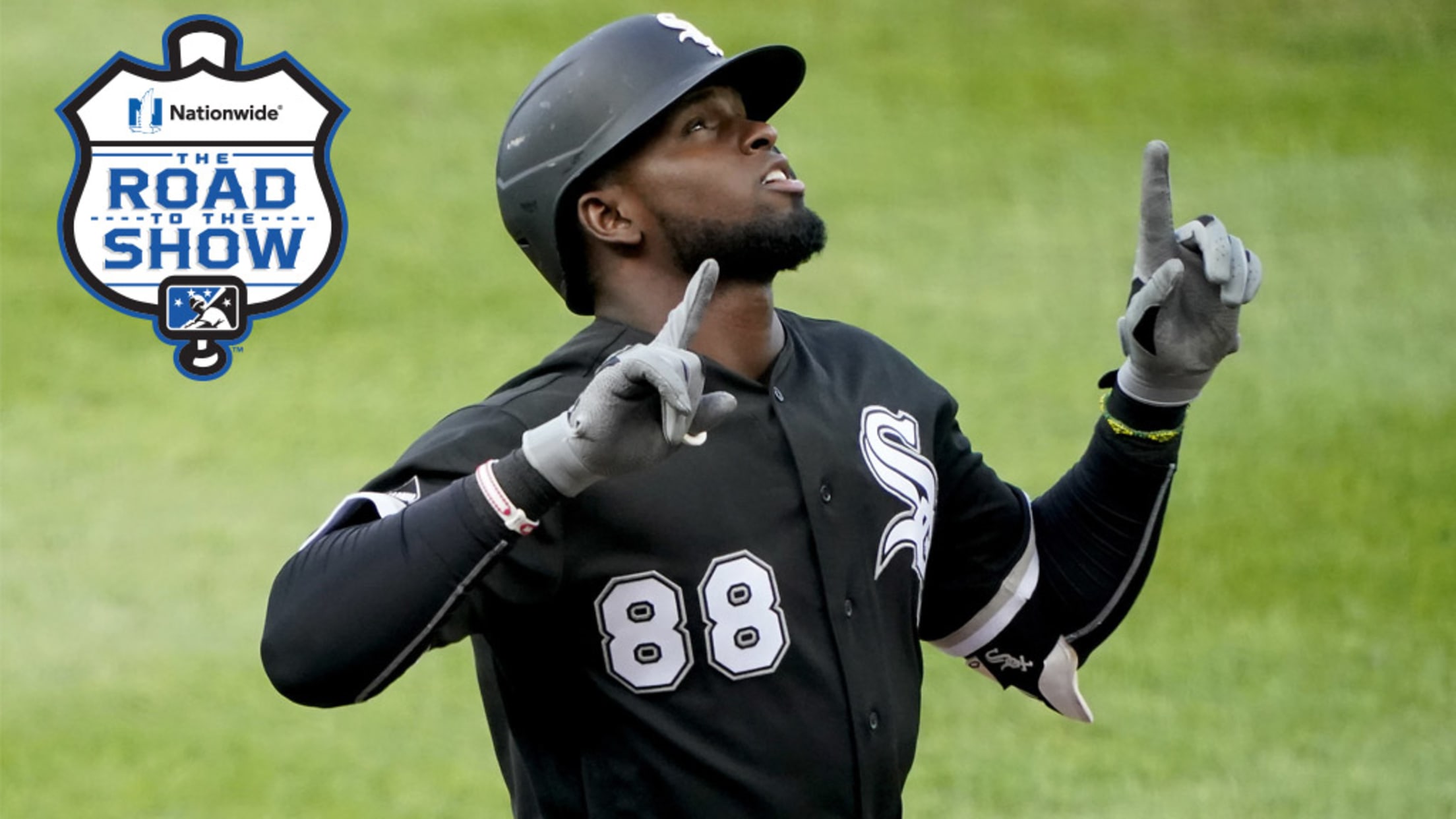 Luis Robert's Major League dominance goes beyond his five homers in 24 games so far for the White Sox. (Charlie Riedel/AP)
There is no Minor League season, and that means there are no Minor League stats. That's a bummer for those of us who love following the growth of the game's brightest youngest talents through their numbers. The adage goes that you should never scout the stat line, but numbers at
There is no Minor League season, and that means there are no Minor League stats. That's a bummer for those of us who love following the growth of the game's brightest youngest talents through their numbers. The adage goes that you should never scout the stat line, but numbers at least can stoke the fires of our interest. Who didn't love watching Wander Franco grow his average and keep his strikeout rate low at just 18 years old last season? Who didn't love Tarik Skubal piling on the K's as he broke out one year after being picked in the ninth round?
Without the Minor League season to produce numbers on numbers on numbers, we do have the Major Leagues, where prospects are arriving by the handful seemingly each day. In the last week alone Skubal, Casey Mize, Keibert Ruiz, Dylan Carlson, Joey Bart and Luis Garcia made their debuts, and those are just the Top-100 prospects. Their arrivals in the bigs also brings about a new set of digits for us to dive into -- Statcast numbers. The analytical boom of stats that include exit velocity, spin rate and sprint speed are measured for most Minor Leaguers internally by their organizations, but Statcast and Baseball Savant makes it easier than ever for those on the outside to see just what makes some of these prospects so good at the Major League level.
This Toolshed dives in to see what Statcast data and other notable advanced stats can teach us about the performances of some of the game's best prospects and rookies during the first 25-or-so games of the 60-game Major League season. (Note: all stats are through Wednesday's games.)
Jo Adell, OF, Angels, exit velocity: Listeners of this week's episode of "The Show Before the Show" know this was this week's Nationwide Prospect Fun Fact, but it's worth repeating. Adell's early offensive struggles in the bigs have been well documented. He's gone just 7-for-35 (.200) without an extra-base hit and 17 strikeouts in 10 games. But here's what he has done -- hit the ball hard. The No. 6 overall prospect has the hardest hit ball of any Angels player this season -- a 115.5-mph single on Aug. 16. It's not particularly close either. The next hardest hit was by Shohei Ohtani at 111.9 mph. Adell's 111.5 mph (off fellow rookieDustin May) places third on the list. In total, Adell accounts for three of the 11 fastest balls off Angels players' bats this season. That's on a team claiming some heavy hitters in Ohtani, Anthony Rendon and a guy named Mike Trout. Part of Adell's problem is that he's struggled to get the ball off the ground. All three of his hardest-hit balls were singles, and he's averaged a -6.7 degree launch angle. That's the second-lowest in the Majors among the 380 players with at least 15 in play this season. That's a lot of wormburners. If the right-handed slugger can find a way to elevate the ball more against Major League pitching, he should enjoy a lot more celebrating in the near future. The strength is there, as shown by his exit velo. The other pieces should fall into place with experience.
Luis Robert, OF, White Sox, well ... everything: The favorite to win this season's American League Rookie of the Year award basically has come as advertised. His electric bat sports a 91.4-mph average exit velocity that ranks at the 84th percentile in the game. His max exit velo at 115.8 mph illustrates further what he's capable of when he really gets behind a ball, which he does with some frequency as indicated by his 16.4 percent rate of barrels (balls in play with a 50 percent chance of better of falling for a hit based on launch angle and velocity). That latter stat sits at the 92nd percentile in the Majors. Sure, the contact rates are still alarming; Robert has whiffed on 46 percent of the swings he's taken when the Major League average is 24.4. But the power behind those swings is more telling of his offensive potential. What's more, Robert's other tools are Statcast standouts as well. With an sprint speed of 29.1 feet per second, he ranks 10th among all Major Leaguers in average quickness, tied with fellow center fielders Trout and Kevin Kiermaier. It's still early for defensive statistics, but he's also tied with Kiermaier with 4 Outs Above Average, making him an early contender for a Gold Glove award as well. The hit tool will have to come around for Robert to fill out his true five-tool potential, but as Statcast can attest, everything else is there.
Sean Murphy, C, Athletics, loud contact: Coming up through the Minors, Murphy's best grades were reserved for the defensive end. Indeed, his use of the tools of ignorance have made him Oakland's backstop of the present and future at a time when the A's own the best record in the American League. But what he's shown from a power perspective serves as a good reminder that it's the bat that will make him an everyday player, so long as he stays healthy. Only Fernando Tatis Jr. (65.3) and Willson Contreras (61.8) have a higher hard-hit rate (percentage of balls hit at 95+ mph) than Murphy's 61.8 percent this season out of the 267 qualified Major Leaguers. His 455-foot homer on July 26 was the 16th-furthest in the Majors this season and the longest hit by an A's slugger. Reminder, this is a team with Matt Chapman and Matt Olson. Like Adell and Robert, Murphy has struggled to make a ton of contact with a 26.2-percent K rate over 21 games, so he might want to trade some of the power swings for contact. But even as things stand, he's an above-average hitter right now, and mixed in with his defense, he's already comfortably a top-10 catcher in baseball.
James Karinchak, RHP, Indians, expected stats: Think the right-handed Indians reliever has been good? Sure, a 0.71 ERA and 24 strikeouts over 12 2/3 innings certainly tell incredible stories. But it's early, you might say. Those numbers could normalize in time. Here's the thing: Statcast makes an even stronger case that Karinchak could be one of the game's most dominant relievers right now. His 1.05 expected ERA (xERA) -- which takes quality of contact and figures it into an ERA scale -- is in the 100th percentile. Seriously, no qualifier's stat is lower. The same goes for his .160 xwOBA, .115 expected slugging percentage (xSLG) and .086 expected batting average (xBA). A lot of that has to do with the quality of Karinchak's stuff, and by that we mean his fastball and curveball only because that's all he throws. But he tunnels the two pitches so well that it's tough for hitters to differentiate between his 96-mph average heater and a 83-mph average curve before it's too late. The result is a severe lack of contact, and when there is contact, it's weak, leading to lower expected stats. In other words, Karinchak's hot start for Cleveland is very real.
Casey Mize, RHP, Tigers, splitter movement: The 2018 No. 1 overall pick has only made one Major League start, in which he allowed three earned runs and struck out seven White Sox over 4 1/3 innings Wednesday, but that one outing already has made him a bit of a Statcast darling. The Detroit right-hander threw a four-seamer, curveball and slider in his debut, but we'll focus on his split-finger, which MLB.com categorized as a 70-grade pitch coming into 2020. That report was backed up pretty nicely by Wednesday's data. Mize threw 19 splitters against the White Sox. He got swings on 14 of those and six went for swings-and-misses. That's a whiff rate of 42.9 percent. Major League average for any pitch is 24.4 percent. That's already incredibly promising. There's evidence for why the pitch was so good as well in the Statcast weeds. Mize's splitter drops 5.7 inches more than the average splitter at his velocity. That's about a 17 percent difference in vertical movement between his and the average Major League splitter. That's already the highest percentage drop as compared to splitter average in the Majors. It also breaks horizontally 25 percent more than the average splitter, the fourth-biggest break difference compared to the average. Mize's splitter is better at moving away from hitters' bats on two separate planes. It should have been in the scouting report going into his outing against Chicago, but now future Major League opponents will have the video too. It should be interesting to watch whether other clubs can adjust to Mize's split and hold off on swinging. Statcast indicates even if they know it's a weapon, checking those swings might be easier said than done.
Tejay Antone, RHP, Reds, hard-hit rate: The term "breakout prospect" might not be thrown around much in 2020, but if anyone fits the moniker this season, it might be Antone, who currently sits as Cincinnati's No. 24 prospect. The right-hander has been a solid, if less than standout Minor League hurler coming off a 2019 season in which he put up a 4.00 ERA and a 1.43 WHIP over 146 1/3 innings between Double-A and Triple-A. That was good enough to earn him a 40-man spot last offseason, and that roster spot has gotten him a few looks in this unique season. He's run away with the opportunity by generating a ton of weak contact. Of the 26 batted balls in play against Antone, only five have been hard hit (i.e., with an exit velocity of 95+ mph). That's a hard-hit rate that ranks 11th among 386 Major League qualifiers. Part of the reason is that Antone, who threw in the low-90s last season, now averages 95 mph with his sinker. Another part is that his slider has been pretty devastating. He's thrown that pitch 92 times and has allowed only one hit off it on six balls in play. When batters swing at the slider, they're whiffing 58.3 percent of the time, compared to 21.9 and 22.2 percent whiff rates on his sinker and curve respectively. All of this translates to solid traditional stats as well: 2.03 ERA, 1.08 WHIP, 18 strikeouts in 13 1/3 innings. Cincinnati has used Antone as a long man out of the bullpen with only one start on his resume to this point, but if this trend of soft contact continues, he should get even more looks in what was an otherwise crowded Reds rotation.
Sam Dykstra is a reporter for MiLB.com. Follow and interact with him on Twitter, @SamDykstraMiLB.