Flying Squirrels announce 2021 team awards
Villar named MVP, Williams Pitcher of the Year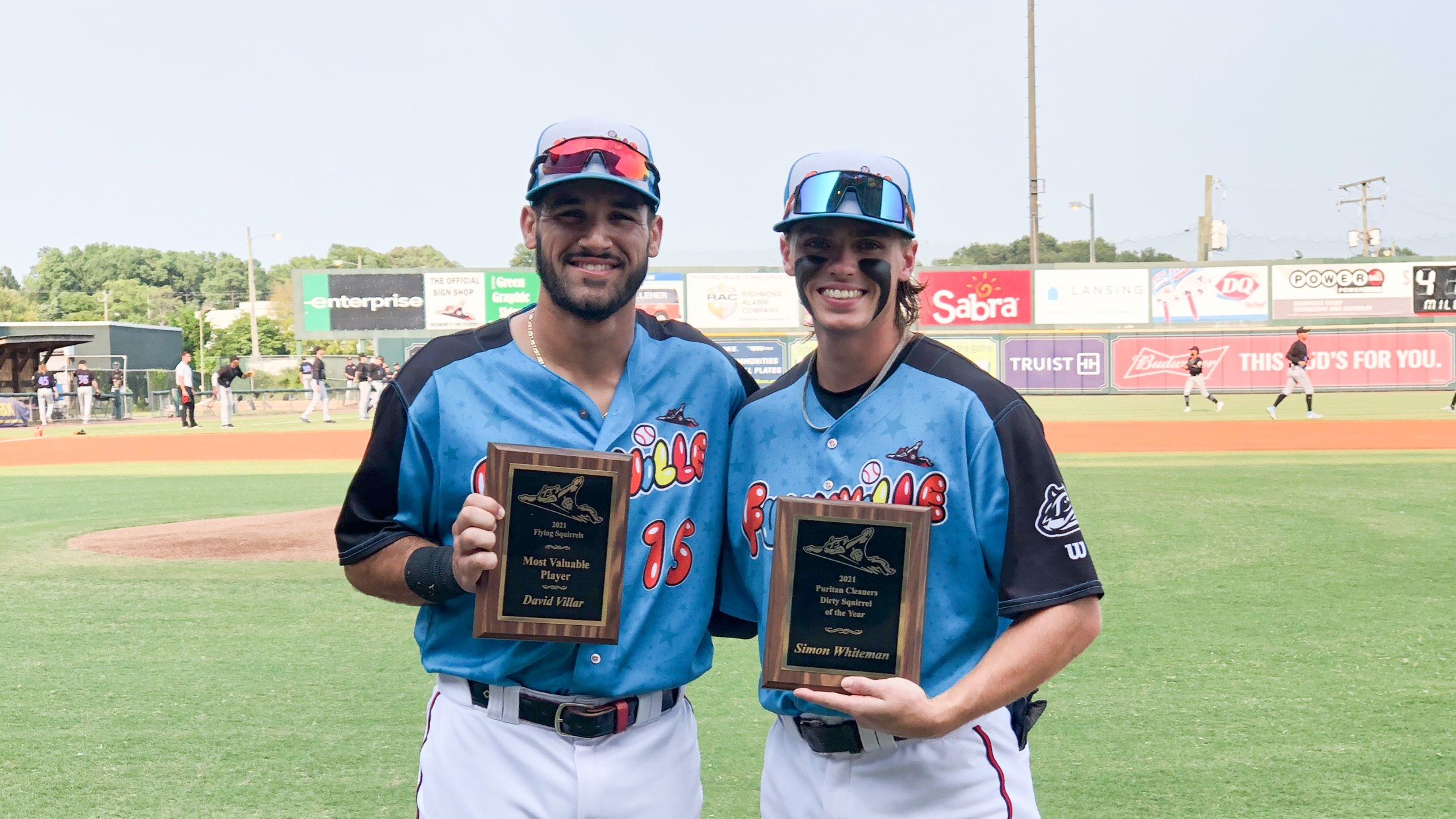 RICHMOND, Va. – The Richmond Flying Squirrels announced the 2021 team awards on Sunday evening at The Diamond. Third baseman David Villar was named Most Valuable Player and right-hander Ronnie Williams was picked as the Pitcher of the Year.
July 18th: Volcanoes walk off against Boise
The Salem-Keizer Volcanoes have won their fourth straight game and third straight against the Boise Hawks after they faced many deficits against the Hawks but pull away in the bottom of the ninth on a single from Yorlis Rodriguez to move one step closer in the hunt for the NWL
July 18th: Volcanoes squeeze one by Boise 2-1
The Volcanoes get their 22nd win of the year as they win their fifth straight game at home against the Boise Hawks 2-1.
WP: Deiyerbert Bolivar (2-0)LP: Luke Chevalier (0-1)SV: Clay Helvey (3)
July 17th: Bishop homers in 7-2 win over Boise
The Salem-Keizer Volcanoes move one step closer to the NWL first half division title after they beat the Boise Hawks 7-2 in the first game of the three game home series.
In the bottom of the first inning, Logan Wyatt hits an RBI single that scores Hunter Bishop to start it off at 1-0.
July 15th: Volcanoes lose first place spot in 4-3 loss
The Salem-Keizer Volcanoes lose their third straight game to lose a spot at first place to the Hillsboro Hops, who beat them 4-3. The Volcanoes left 10 runners on base, including 6 in the final three innings, in the loss compared to Hillsboro's 2 runners left on base. The Volcanoes
July 11th: Comeback falls short in 5-4 loss to Eugene
After Eugene takes a 5-0 lead, in the bottom of the seventh, Franklin Labour hits a two-run single into the hole in left field, scoring Yorlis Rodriguez and Simon Whiteman to make it a 5-2.
July 8th: Canario shines in Volcanoes win
The Salem-Keizer Volcanoes get one game closer to clinching the Northwest League first-half division title as they beat the Eugene Emeralds 9-7 for their 6th straight road win and 8 of the last 9 overall games this season, led by center fielder Alex Canario, who hot his first home run
July 7th: 5-run 8th fuels win over Eugene
The comeback kids are alive and well as the Volcanoes come back from a 6-3 deficit in the top of the eighth inning by scoring 5 runs to win the game 8-6 over the Eugene Emeralds at PK Park in Eugene. Tyler Flores went 3-4 with a homer, 2 runs
July 5th: Salem- Keizer retakes first place in NWL South with huge win over Vancouver
The Salem-Keizer Volcanoes have won their sixth straight game to take back sole possession of the first place in the Northwest League South division with a 13-3 win over the Vancouver Canadians at Volcanoes Stadium.