SAN ANTONIO ANNOUNCES 2020 TCL SCHEDULE
Flying Chanclas de San Antonio to Debut at The Wolff July 3rd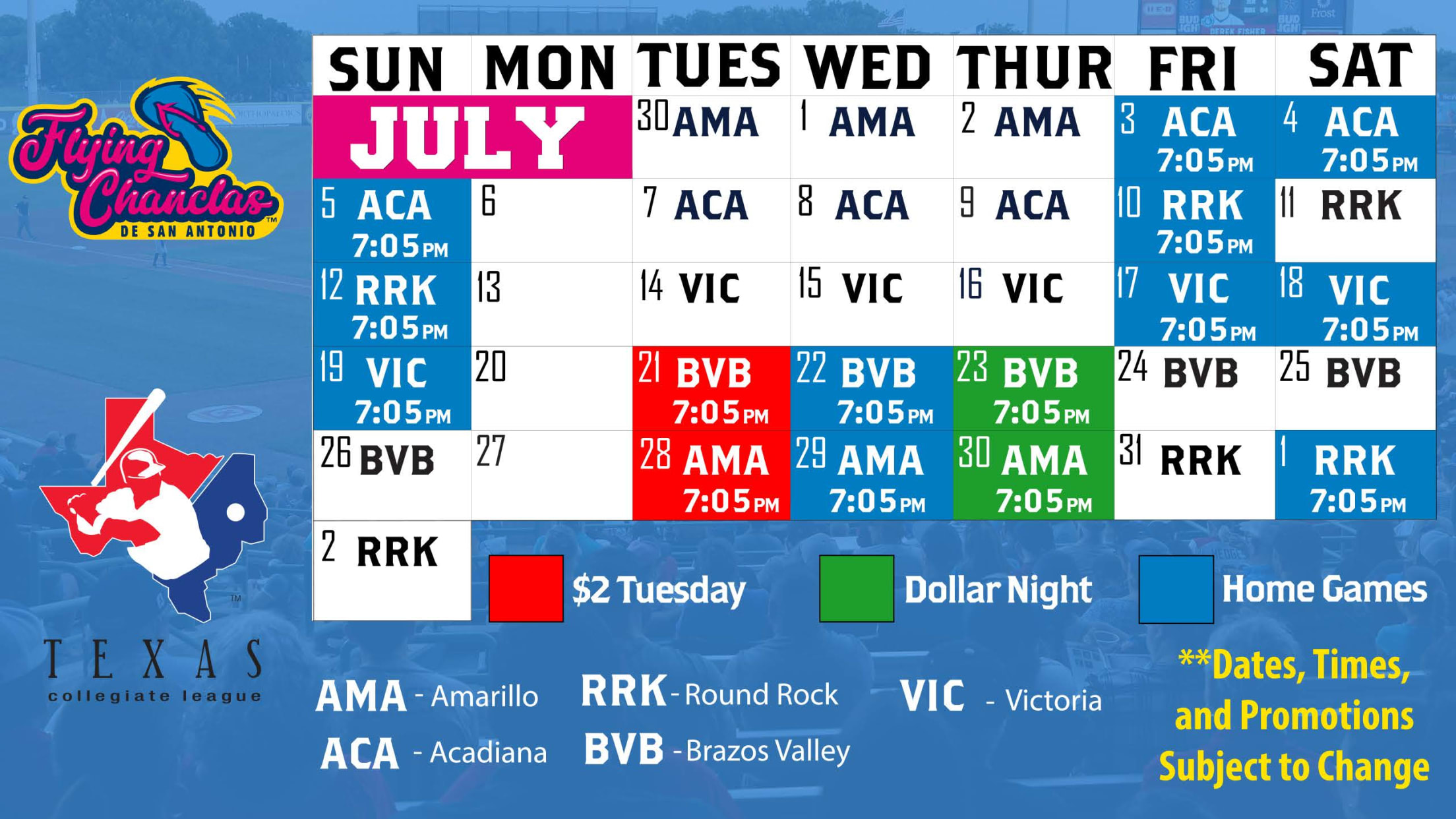 San Antonio, TX – The Flying Chanclas de San Antonio are excited to announce today its schedule for the upcoming 2020 Texas Collegiate League season. Baseball will be welcomed back to the Alamo City in grand fashion with Fireworks Extravaganzas following both of the Chanclas first two games at The
San Antonio, TX – The Flying Chanclas de San Antonio are excited to announce today its schedule for the upcoming 2020 Texas Collegiate League season.
Baseball will be welcomed back to the Alamo City in grand fashion with Fireworks Extravaganzas following both of the Chanclas first two games at The Wolff on July 3 and July 4. The Chanclas will have a 15-game home slate overall in the TCL, loaded with many of the promotional themes that have become Wolff Stadium staples.
In addition to opening weekend, Chanclas fans will be treated to two additional post-game fireworks shows on Saturdays July 18 and August 1.
Friday Giveaway Nights return to The Wolff during the TCL, beginning on July 10 with Missions Manager Rick Sweet's Replica Home Jersey to the first 2,000 fans courtesy of McCombs Ford West. On July 17, the first 1,500 fans to enter The Wolff will go home with a Missions Trucker Hat courtesy of TSAOG.
Every Thursday home game is Chevy Dollar Night with Dollar hot dogs, soda and draft beer, while AARP brings fans $2 Tuesdays with Bleacher tickets, parking, sausage wraps and draft beer all for just $2.
The Chanclas will also host two Bark in the Park nights, scheduled for Sunday, July 5 and Sunday, July 19.
Every Chanclas home game during the 2020 Texas Collegiate League season will have a 7:05 PM start time.
San Antonio will open the 2020 TCL season in Amarillo with a three-game set from June 30-July 2.
Click the Link for a Printable Copy https://img.mlbstatic.com/milb-images/image/upload/milb/da9uxsxhuqcxc3b8a3to.pdf
Social distancing protocols will be in effect during all games at The Wolff. For more information on Wolff Stadium's COVID-19 Readiness Plan and protocols, click https://bit.ly/2BRnd40.
Fans can purchase tickets on Thursday, June 18 beginning at 11:00 a.m. at www.samissions.com. For TCL questions or more information, please call 210-675-7275.
ABOUT THE TEXAS COLLEGIATE LEAGUE
*The TCL is currently represented by 250-plus players from 91 different colleges and universities. Some of the more nationally-recognized schools sending their standouts to the TCL include Alabama, Arkansas, Baylor, Cal State Fullerton, Dallas Baptist, Houston, Long Beach State, Oklahoma, Oklahoma State, Oral Roberts, Pacific, Rice, Texas, Texas A&M, Texas-Arlington, Texas State, Texas Tech, and Wichita State, among others. *
The formation of the Texas Collegiate League was announced on September 24, 2003. The league is owned and operated by the Haddock Foundation, a section 501(c)3 organization. Gerald Haddock, a minority owner and General Counsel of the Texas Rangers from 1989-98 and a passionate baseball fan, became the league's Chair and CEO. Since the league was established, 88 alumni with ties to the Texas Collegiate League have been drafted by Major League teams or signed by professional independent baseball squads. Notable alumni include Paul Goldschmidt, Hunter Pence, Jake Arrieta, Matt Carpenter, Chris Davis and Brandon Belt.
The Texas Collegiate League exists to provide the best summer league experience for the best professional prospects from colleges throughout the country. The league will allow those players with eligibility remaining to showcase and improve their skills in a wholesome, minor league-type atmosphere using wooden bats. The league is committed to providing quality, inexpensive entertainment in a small-town, intimate atmosphere that is distinctively Texan, while helping promote the game of baseball in the communities involved. For more information, visit www.texascollegiateleague.com.
The league comprises 10 total teams made up of active college players (rising sophomores to seniors) from different colleges and universities across the nation. Four teams already affiliated with the TCL include the Acadiana Cane Cutters (Lafayette, LA), Brazos Valley Bombers (Bryan-College Station, TX), Texarkana (TX) Twins and Victoria (TX) Generals. Joining the league in 2020 are five MiLB organizations, including Double-A Amarillo (two teams), Frisco and Tulsa, and Triple-A Round Rock and San Antonio.
The teams will be divided into two divisions (North and South). The North Division will include Amarillo's two teams, Frisco, Tulsa and Texarkana. San Antonio, Round Rock, Acadiana, Brazos Valley and Victoria will make up the South.
Each team will have a roster of about 30 players and play a total of 30 regular season games (15/15 home/road split) from June 30 to August 2 followed by a postseason. The postseason format will begin with a best-of-three divisional series played by the top two seeds from each division. The winner of each division will then face off in a winner-take-all championship game for the Gerald Haddock Trophy.