Tendler provides fireworks in 'Dogs 7-5 win
Weems earns his second win of the year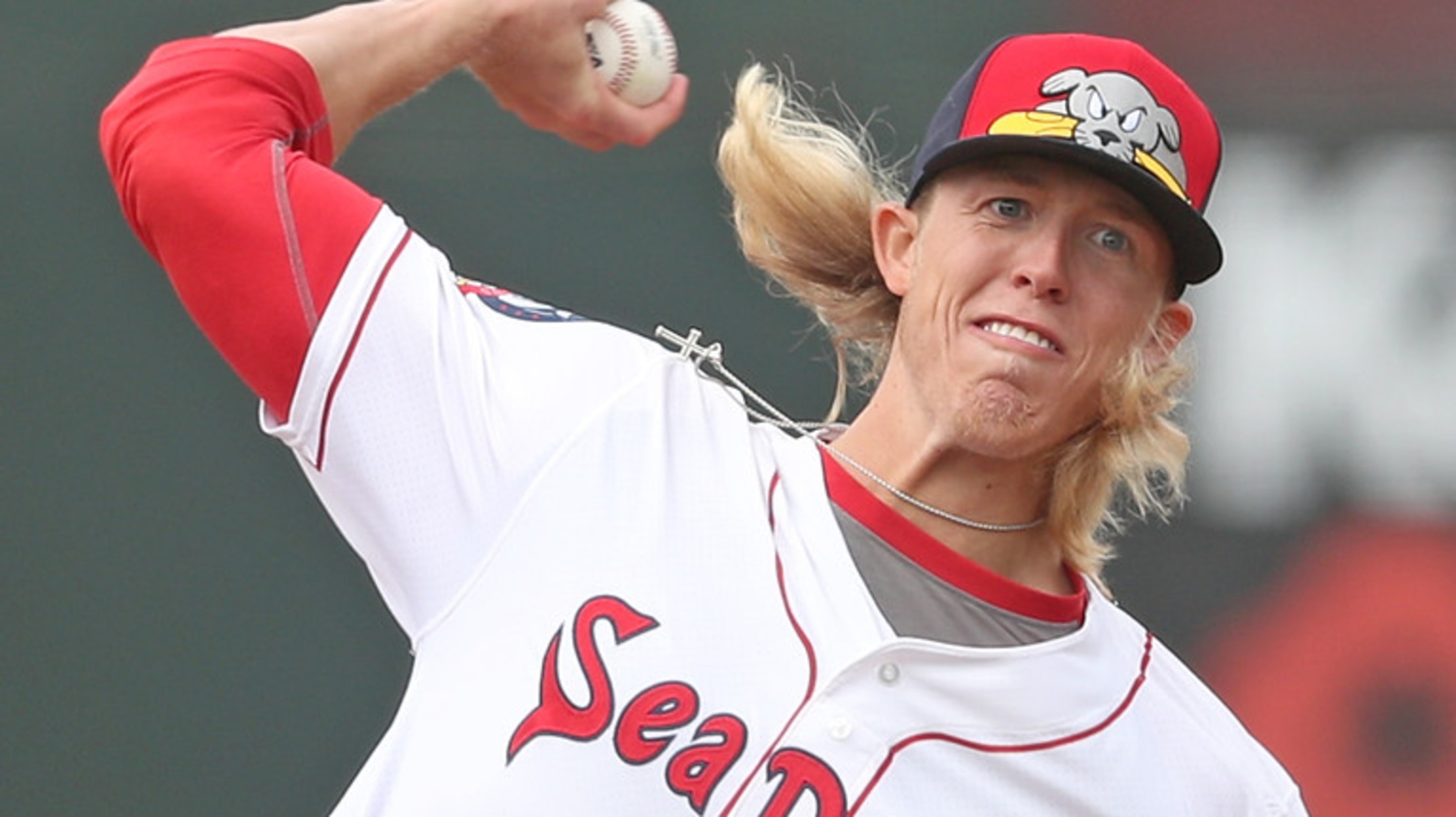 (Kelly O'Connor)
Hartford, Conn. - Luke Tendler hit a pinch-hit two-run homer on a 3-2 count with two outs in the top of the ninth inning, giving the Portland Sea Dogs (32-51) a 7-5 win over the Hartford Yard Goats (41-42) on Independence Day at Dunkin' Donuts Park. 
Hartford, Conn. - Luke Tendler hit a pinch-hit two-run homer on a 3-2 count with two outs in the top of the ninth inning, giving the Portland Sea Dogs (32-51) a 7-5 win over the Hartford Yard Goats (41-42) on Independence Day at Dunkin' Donuts Park.

Portland's rally in the ninth started on a one-out walk by Jantzen Witte against losing pitcher Logan Cozart (6-3). Tendler's homer landed in the upper deck in right field, the first Sea Dogs pinch-hit homer since Reid Engel on July 26, 2009, at New Hampshire.

Jordan Weems (2-2) pitched out of a two-out jam in the ninth inning, getting a called third strike on Dom Nuñez with runners at first and third to end the game.

The Sea Dogs took a 3-0 lead in the first inning, knocking the starter Jack Wynkoop out of the game after 2/3 of an inning. Tony Renda, who returned from the disabled list before the game delivered a two-run single and Austin Rei followed with an RBI hit.

Hartford scored the next four runs off starter Teddy Stankiewicz, including a three-run third inning to take a 4-3 lead. Stankiewicz threw a team-high 111 pitches over 5.2 innings on six hits, four runs, one walk and four strikeouts.

The Sea Dogs rebounded in the sixth inning, taking a 5-4 lead with two runs off Mitch Horacek. Renda scored on a wild pitch, Austin Rei doubled and scored on a single by Danny Mars.

Hartford tied the game in the eighth inning when Sam Hilliard led off with a solo homer off Adam Lau. The Yard Goats put the go-ahead run at third base with nobody out, but Lau and Weems worked out of the jam.

The Sea Dogs and Hartford Yard Goats (Rockies affiliate) meet on Friday night beginning at 7:05 PM from Dunkin' Donuts Park. Lefty Dedgar Jimenez (3-6, 5.96) makes his 15th start of the year. The Yard Goats send lefty Evan Grills (2-1, 2.45) to the hill.
Radio coverage begins at 6:50 PM on the WPEI U.S. Cellular Sea Dogs Radio Network. MiLB.TV starts at 7:00 PM.
Tickets for remaining games at Hadlock Field can be purchased at seadogs.com or 207-879-9500.