Snider, Robinson power Express romp
Outfielder goes 5-for-6, Rangers No. 23 prospect homers again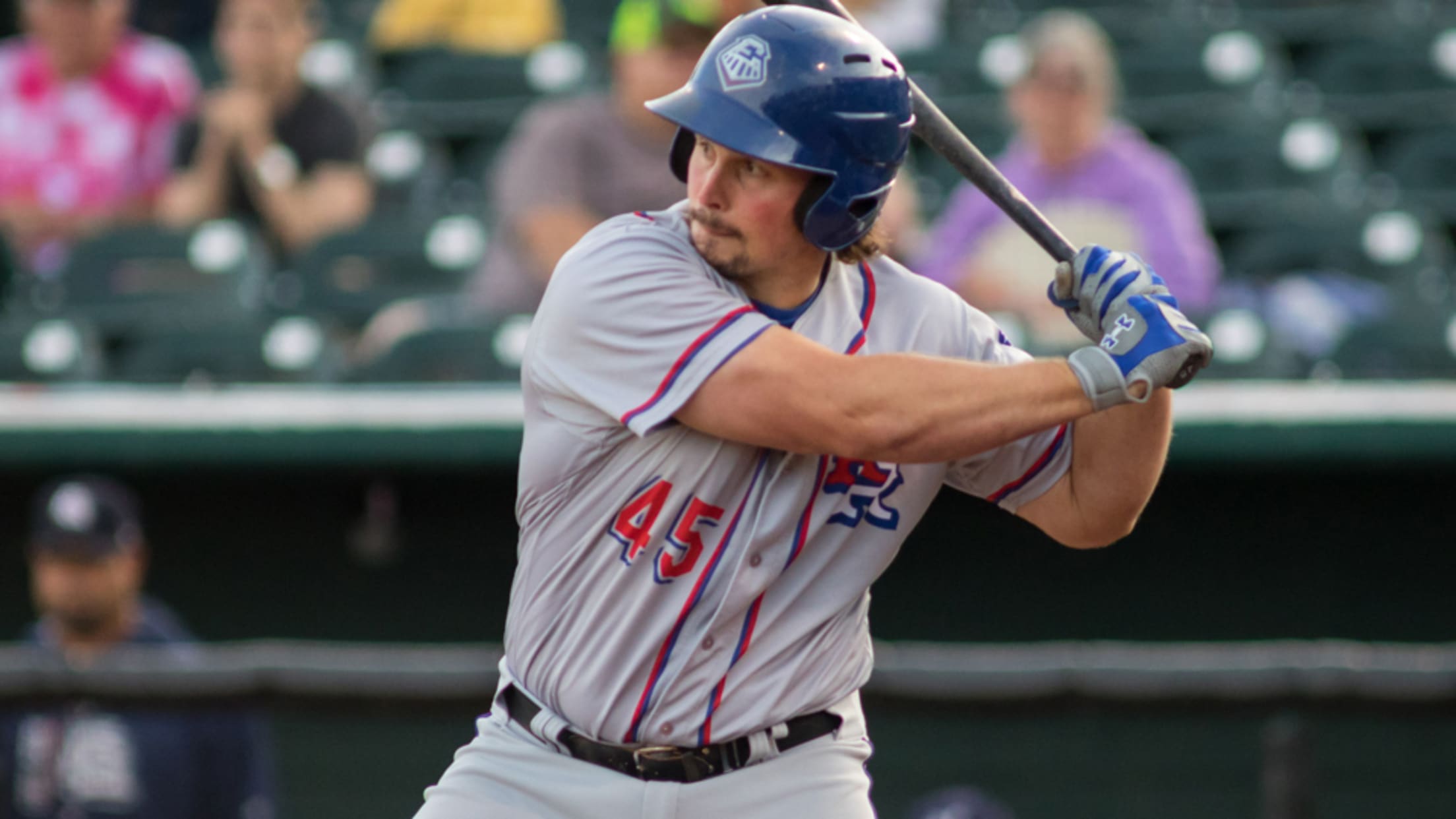 Travis Snider was selected 14th overall by the Blue Jays in the 2006 First-Year Player Draft. (Bobby Stevens/MiLB.com)
Travis Snider has put up five-hit games before, but he was happy to produce another."I think it's been a decade, so I'll take one any time I can," said the veteran outfielder, who went 5-for-5 while hitting for the cycle for Class A Lansing on July 7, 2007 and collected
Travis Snider has put up five-hit games before, but he was happy to produce another.
"I think it's been a decade, so I'll take one any time I can," said the veteran outfielder, who went 5-for-5 while hitting for the cycle for Class A Lansing on July 7, 2007 and collected five more hits 10 games later.
On Wednesday, Snider went 5-for-6 with a pair of doubles, two RBIs and two runs scored, while Rangers No. 23 prospectDrew Robinson belted a grand slam as Triple-A Round Rock rolled to a 9-3 win over Colorado Springs at Security Service Field.
Gameday box score
In homering for the third straight game, Robinson was 2-for-4 with two walks and two runs scored. He's batting .282/.392/.525 since returning from a one-game stint in the Majors and has seven long balls in his last 10 games.
"I think the grand slam was pretty selfish," Snider joked. "I was hitting right behind him and I was hoping to pick up a couple RBIs in that situation.
"He's been a good player since he's come down and he's been a good player most of his career. He's a young guy finding his stride in the middle part of the season and I'm excited to see him continue to grow and to see what he does in the big leagues."
As for Snider, he's 8-for-10 with three doubles and three runs scored in his last three games, to boost his average to .293.
"I'm trying keep it simple," he said. "I'm not reading too much into it, just trusting the process and sticking with my routine as best I can."
The native of Kirkland, Washington, cracked a double to center field in the first inning and another to the opposite field in the third.
"The first one, I got lucky. The wind knocked it down and made it a tough play for the outfielder," he said. "The second one, I got a good pitch to hit and put a good swing on it."
Snider added a pair of singles over the next two innings, both to right field, helping the Express turn a 1-0 deficit into a 7-1 lead by the middle of the fifth.
"I think with the team we've got, we have fun regardless of the situation. We understand, too, especially in Colorado Springs, you've got to keep your foot on the gas pedal," Snider said. "We've struggled on the road, and that's something we've been aware of and wanted to correct this road trip."
The 2006 first-round pick said he knew he was headed toward a big night after piling up four hits over five innings. He held steady and poked another single to left in the eighth.
"You're conscious of it, but it's something where you have to take it one at-bat at time," he said. "You can't rely on your last at-bat to get you your fourth or fifth hit."
In the ninth, he had a chance at knock No. 6. Facing southpaw Wei-Chung Wang, he drilled a 1-2 pitch to first baseman Garrett Cooper.
"It's one of those things. You know you're locked in and you just try to get a good pitch to hit," Snider said. "I put a good swing on it, but unfortunately, it was right at the first baseman. That's baseball."
Fourth-ranked Rangers prospect Ronald Guzmán also had a productive night, going 3-for-5 with a double and two RBIs.
Brewers top prospect Lewis Brinson doubled, walked and scored a run for the Sky Sox. He's 7-for-14 in his last three games to bump his average up to .317.
Josh Jackson is a contributor to MiLB.com. Follow and interact with him on Twitter, @JoshJacksonMiLB.