The Road to The Show™: Julio Rodriguez
No. 18 overall prospect has been sailing right through Minors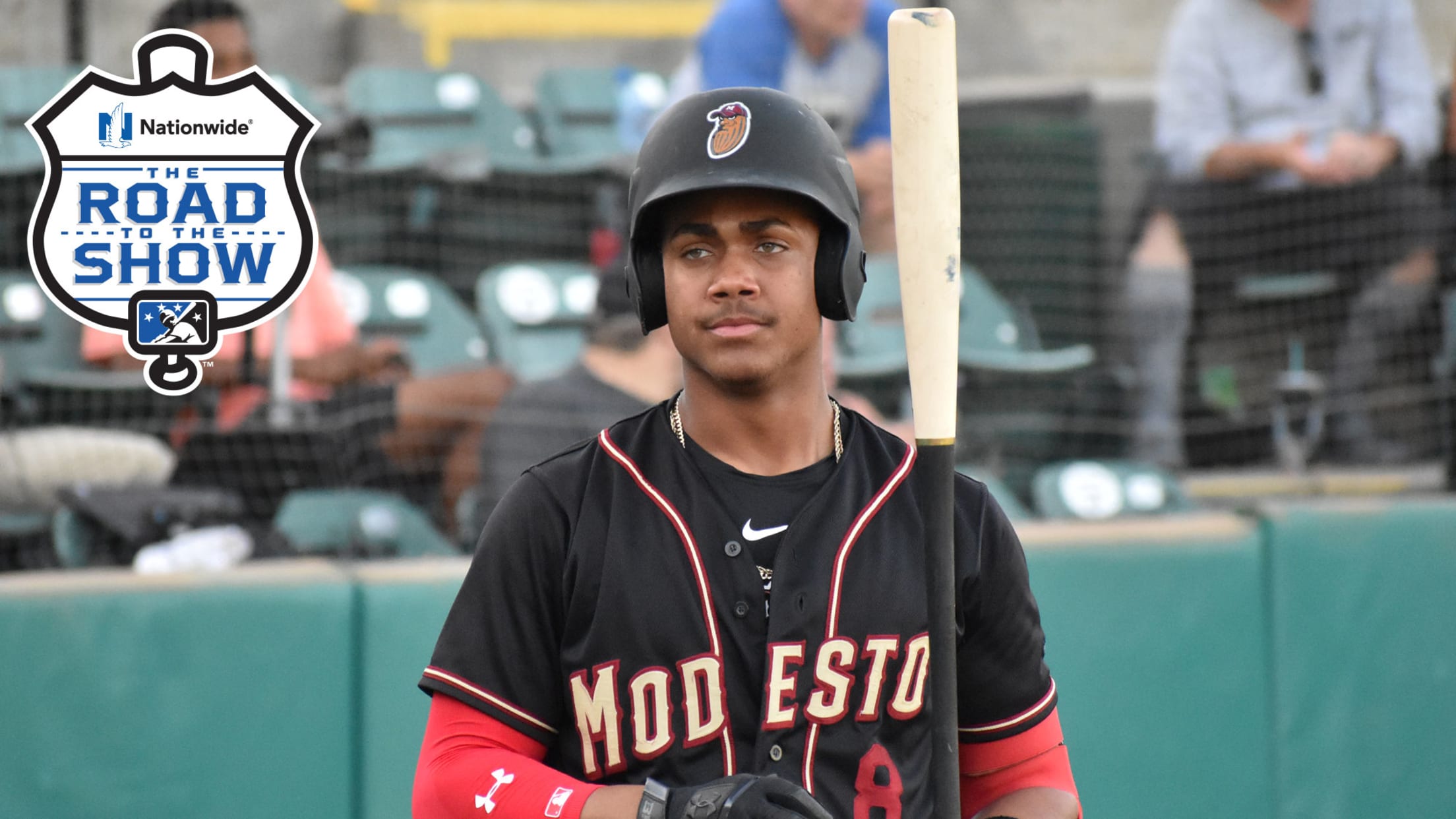 At 18 years old, Julio Rodriguez batted .462 in 17 games with Class A Advanced Modesto in the California League. (Luis Pardo/MiLB.com)
Each week, MiLB.com profiles an elite prospect by chronicling the steps he's taken to reach the brink of realizing his Major League dream. Here's a look at Seattle Mariners outfielder Julio Rodriguez.
Each week, MiLB.com profiles an elite prospect by chronicling the steps he's taken to reach the brink of realizing his Major League dream. Here's a look at Seattle Mariners outfielder Julio Rodriguez.
Rapid development of cornerstone prospects like Julio Rodriguez transformed the Mariners, one of the game's weaker farm systems, into an enviable group of future Major Leaguers.
The 19-year-old and fellow outfielder Jarred Kelenic quickly became one of the best prospect duos in baseball as well as the keys to Seattle's advancing rebuild. Kelenic joined the system after a blockbuster trade with the Mets in December 2018 while Rodriguez's connection to the club began much sooner.
The Mariners discovered their second-ranked prospect at a showcase in Santiago, Dominican Republic -- about 85 miles away from his hometown of Loma de Cabrera -- when he was 14 years old. Rodriguez remained high on international prospect lists by the time he was eligible to sign two years later in 2017.
The No. 18 overall prospect told Baseball America he was too excited to sleep the night before he became a professional ballplayer. His work with Quico Pena at the MB Academy netted him a $1.75-million bonus to join the Mariners on July 2. Rodriguez, listed at 6-foot-1 and 170 pounds at the time, ranked ninth in an international class that included Rays infielder Wander Franco , the game's top prospect.
Initial scouting reports described an above-average hitter to all fields with eye-catching raw power – the loudest tool in his class. Even at 16, his middle-of-the-order potential was evident. Rodriguez had quick hands and excellent bat speed within a fluid right-handed swing. He possessed an ability to make necessary adjustments within an at-bat, but had some swing-and-miss tendencies and needed to develop a better feel for handling off-speed pitches.
Defensively, his athleticism provided an ability to play all three outfield positions, but his incredible arm strength and powerful build projected he'd eventually settle into right field.
2018 (Rookie-level Dominican Summer League)
Rodriguez stayed in the Dominican Republic for all of his first professional bow. When the DSL season ended in August, there were hopes he might finish out the summer with Class A Short Season Everett. Such a shift is quite uncommon for a Mariners prospect, but the idea warranted consideration after Rodriguez's performance in the DSL.
The young outfielder was named MVP of the circuit after producing a .315/.404/.525 slash line with 69 hits, including 27 for extra bases, in 59 games. Rodriguez went deep five times with nine triples and 13 doubles. He scored 50 times, drove in 39 runs and was 10-for-10 in stolen bases.
It's tough to imagine a better start for a 17-year-old prospect, but his strikeout totals made for a valid concern. Rodriguez fanned 40 times in 219 at-bats (18.26 percent), a figure that eventually shot up in the South Atlantic League (25.09 percent), though he whiffed in just 15.38 percent of his at-bats in his short time in the California League.
Even with those lingering concerns, Rodriguez proved to be one of the better prospects in the Seattle system. Rather than heading to Everett, the club sent him to its "high-performance camp" at the team facility in Peoria, Arizona.
Living with teammates in a hotel near the team's facility, Rodriguez took part in a program designed to build athleticism, strength and flexibility while educating players on mental skills and the cultural differences they'd soon face stateside. Much like his on-field performance, Rodriguez was ahead of the curve, having studied English in the Dominican Republic. His charismatic personality shined through over this time.
"He's got an infectious personality," Modesto manager Denny Hocking told MiLB.com in August 2019. "And to have the ability to just walk into a pretty close-knit clubhouse at the next level and just fit right in and enjoy it really says it all."
Rodriguez has said one of the more valuable lessons gleaned from his time in Arizona was about developing a useful mental approach to overcoming injuries. The process unfortunately has been put to the test a few times in his short career. Rodriguez missed some time in the DSL with a foot injury, the first in a string of unlucky mishaps.
2019 (Class A West Virginia, Class A Advanced Modesto)
Rodriguez made the most of his short stint in big league Spring Training last season. As an 18-year-old, he went 4-for-7 (.571) with a double in his first Cactus League action. The performance earned him the aggressive assignment to West Virginia, where he opened the season as the fourth youngest player on the circuit.
The outfielder got off to a hot start with the Power, batting .355 with three doubles in his first 31 at-bats. But his season was halted on April 12 after just nine games when he was hit by a pitch on the left hand. He wasn't placed on the injured list right away, but it eventually was discovered to be a hairline fracture that kept him sidelined until June 10.
Rodriguez found his stroke quickly in June but struggled through July, batting .227 with 31 strikeouts in 110 at-bats. He did crank five homers during the difficult month, but an August surge pushed him to the next level. He hit .389 with a 1.061 OPS in 13 games before earning a promotion to Modesto on Aug. 15. He left the Sally League with a .293/.359/.490 slash line, 50 RBIs and 50 runs scored.
"He's very good at self-correction," Power hitting coach Eric Farris told MiLB.com on Aug. 11. "He's very aware of his body and how it works when it comes to his swing. Adjustments come easy for him and he's able to take the information given by myself or the opposing pitcher and adjust accordingly. ... There's plenty of 'wow' moments, but I've come to expect them more often these days. As he continues to mature, he will only get better. He has an insane combination of power, speed, size, competitiveness and makeup, which makes him so fun to watch and be around."
Rodriguez ended on a high note in West Virginia, having clubbed his 10th homer during a six-RBI effort in his second-to-last game.
"That was an amazing moment, to be honest," Rodriguez told MiLB.com after that contest. "There was no better moment to hit that No. 10. ... I know my swing's pretty good and everything. When I struggle a little bit as a hitter is when I swing at bad pitches. So I try to stay ready and swing at better pitches."
He wasted no time, delivering a grand slam and a double during a four-hit performance in his Nuts debut. Unfortunately, he had another scary moment in his second game when he was hit on the left forearm with a pitch and was limited to two at-bats over the next two contests. But it was all smooth sailing once he was back on the field.
Rodriguez finished the season batting .462/.514/.738 with two homers, three triples and six doubles in 17 games. He drove in 19 runs and scored 13 times. It was the type of performance that might justify another aggressive assignment that continues his fast track to the Majors.
"He comes to the field ready to play, he prepares to get quality at-bats, he controls the zone and puts himself in hitters' counts to do damage," Hocking told MiLB.com last August. "And that's just what he's done since the day that he stepped into the California League."
After being the youngest person to appear in a California League game, Rodriguez was also the youngest All-Star in the Arizona Fall League. Playing for Peoria alongside Kelenic, he batted .288 with a .762 OPS and four doubles in the AFL. Once again, he was bitten by the injury bug, this time being shut down with a lower back strain on Oct. 19, nine days after Kelenic was sidelined with a similar injury.
Rodriguez played in the Cactus League again this spring and collecting two singles in 13 at-bats before being reassigned on March 10.
Thanks to his hitting acumen, Rodriguez should be one of the most exciting prospects to watch upon the resumption of baseball. He soon should be found -- perhaps before his 21st birthday – next to Kelenic in the middle of the order and roaming the outfield at T-Mobile Park.
"Obviously, Julio and Jarred have created a friendship that I think is very mutually beneficial to both of them because they're both really good kids and really good players, but they go at it very differently," Mariners director of player development Andy McKay told MiLB.com in December. "I've seen the best parts of Julio rub off on Jarred and I've seen the best parts of Jarred rub off on Julio, and it's been a wonderful friendship for two kids who obviously didn't know each other and then because of the acquisition of Jarred from the Mets, their paths are now intertwined. They really do build off of each other."
Gerard Gilberto is a contributor to MiLB.com. Follow him on Twitter @Gerard_Gilberto.