The Road to The Show™: Luis Patiño
No. 8 right-handed pitching prospect emerging for Padres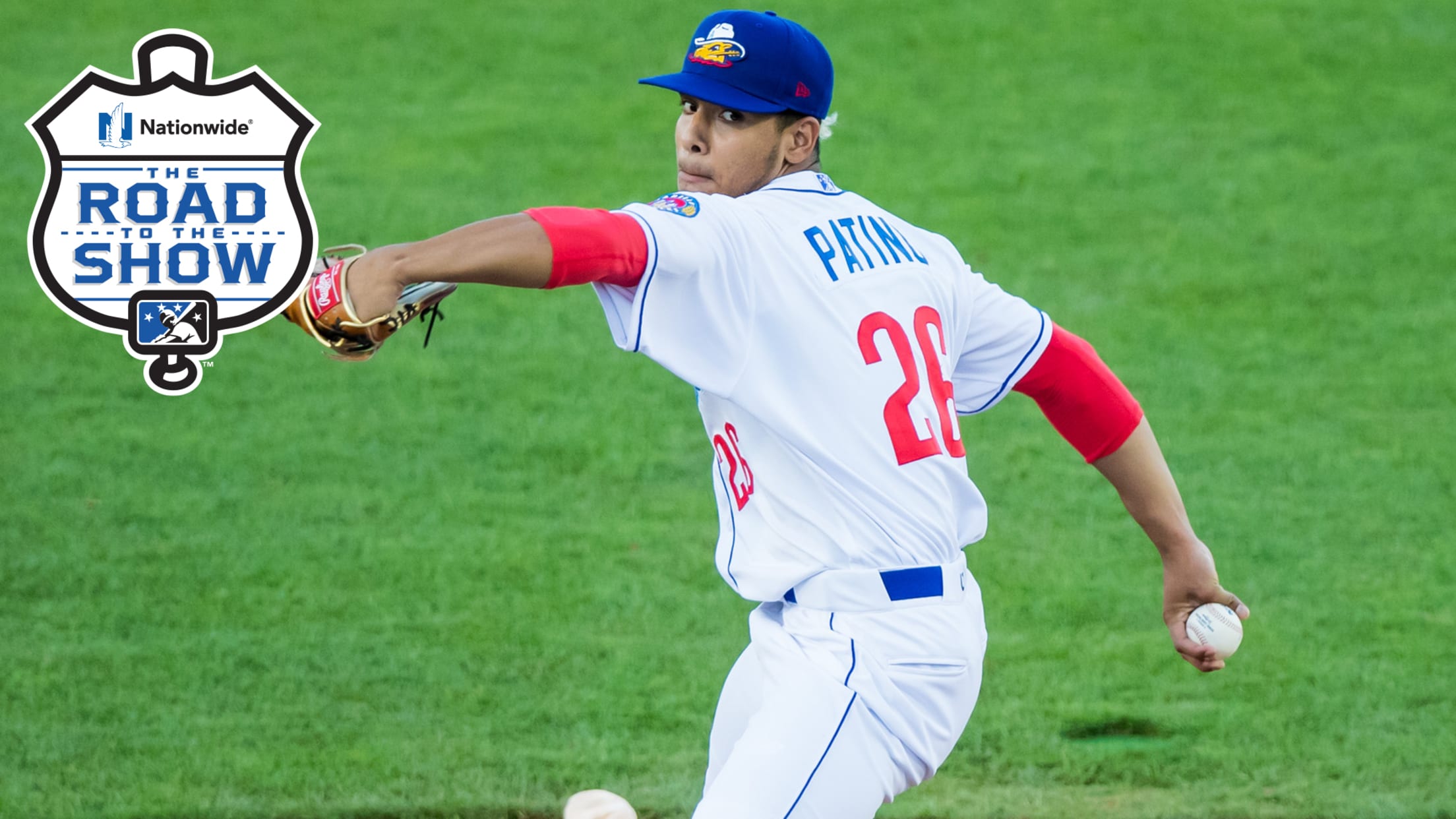 Luis Patiño earned an August 2019 promotion to Double-A after recording 113 strikeouts over 87 California League innings. (John Moore/Amarillo Sod Poodles)
Each week, MiLB.com profiles an elite prospect by chronicling the steps he's taken to reach the brink of realizing his Major League dream. Here's a look at San Diego Padres right-hander Luis Patiño. For more player journeys on The Road to The Show, click here. The Padres spent big in
Each week, MiLB.com profiles an elite prospect by chronicling the steps he's taken to reach the brink of realizing his Major League dream. Here's a look at San Diego Padres right-hander Luis Patiño. For more player journeys on The Road to The Show, click here.
The Padres spent big in the 2016 international free agent market. They signed seven of MLB Pipeline's top 30 international prospects and awarded all of them bonuses of at least $1 million. Cuban southpaw Adrian Morejon agreed to terms for $11 million. Luis Patiño was part of the same signing class but far from the highlight of San Diego's heralded crop. The 16-year-old Colombian signed for $130,000.
Now, Patiño is MLB Pipeline's No. 27 overall prospect and ranked third in the Padres' loaded farm system. He's part of the organization's 60-man player pool and could factor in its pitching plans later in this shortened Major League season.
2017 (Rookie-level DSL Padres, Rookie-level Arizona League Padres)
Patiño debuted in the Dominican Summer League in June 2017. He made four starts, three of which he left without allowing a run or issuing a walk. Then the 6-foot-1 right-hander headed stateside with a 1.69 ERA and 15 strikeouts over 16 innings as a professional.
Over the next two months, Patiño made nine appearances in the AZL. His first start was rocky, with the Reds tagging him for six runs -- five earned -- on nine hits over 4 2/3 innings. He rebounded to throw scoreless outings in four of his remaining seven starts. He never went beyond five innings but reached that threshold four times. At the end of his age-17 season, Patiño had accumulated 40 innings in Arizona, posting a 2.48 ERA with 43 strikeouts and 15 walks. Opponents hit .213 against him.
2018 (Class A Fort Wayne)
The season that pushed Patiño up the rankings and made him one of the more tantalizing prospects in the game was spent entirely in the Midwest League. The Padres were cautious with the 18-year-old's workload -- he didn't make his first start until May 16 and threw more than five innings only four times in 17 outings. When he was on the mound, however, the results were impressive.
Patiño allowed more than one earned run only three times and did not yield a hit just as many times. He gave up just one home run and posted a sub-2.00 ERA in each of the season's final three months. On Aug. 18 against Lansing, he limited the Lugnuts to a pair of hits and three walks over 5 2/3 shutout frames, striking out five.
"Last year, I threw 92, 93, 94," Patiño said. "In the offseason, I got a chance to go to Arizona and work on the weight program with San Diego. The team gave me an opportunity to work on my body and my command and everything. I was lifting, running, I kept working and I can throw 95 and 98, and I can throw 100, but I don't pay attention to that.
"The pitching coaches tell me, 'Pitching is not just throwing hard, it's throwing inside, outside and working every single day on my command."
In all, Patiño finished his first full campaign with a 2.16 ERA, 2.33 FIP, 98 strikeouts and 24 walks over 83 1/3 innings.
2019 (Class A Advanced Lake Elsinore, Double-A Amarillo)
At the start of last season, Patiño was the youngest pitcher in the Class A Advanced California League. And it showed.
He issued 12 walks in his first three starts and his ERA reached 4.50 through five outings. It wasn't until May 28, Patiño's ninth outing of the year, that he didn't allow a run. That night, Storm pitching coach Pete Zamora didn't see the panic in his pupil that had been present in his earliest Cal League appearances.
"The stuff has always been electric, but now when you move up to the upper levels, you have to start commanding it a little better," Zamora said. "You get a little less chase out of the zone. It's just a little bit of learning he's kind of accepted. He's a competitor and I believe a lot of competitors are stubborn sometimes. He was a little stubborn early. He's really put the work in the last four or five starts."
That scoreless appearance in late May didn't entirely predict Patiño's June. That month, he compiled a 3.50 ERA and failed to register a win. But on the same day the 19-year-old struck out nine over five innings against Inland Empire, Patiño was named to his first All-Star Futures Game roster. A little more than a week later, he closed out the National League's extra-innings tie with 1 2/3 perfect frames. He struck out Rays No. 11 prospect Ronaldo Hernandez, top Twins prospect Royce Lewis and top Angels prospect Jo Adell, the last of whom whiffed on a 98 mph fastball up and away to end the game.
Patiño returned from the exhibition to log his three best starts for Lake Elsinore. And they turned out to be his last. After consecutive scoreless outings of 6 1/3 and a career-best 8 1/3 innings, during which he racked up 16 strikeouts, he earned a mid-August promotion to Double-A Amarillo. He departed the Cal League with a 2.69 ERA, 2.87 FIP, 113 strikeouts and 34 walks over 87 innings.
The sample size in the Texas League was smaller, but the numbers were just as strong. Patiño made two starts totaling 7 2/3 innings. He yielded just one earned run while fanning 10 and walking four. A blister on his right hand put him on the injured list and he did not pitch during the Sod Poodles' run to the Texas League championship.
Patiño weighed 150 pounds when he signed, according to MLB Pipeline; he's now listed at 192 pounds. The added weight, paired with tremendous arm speed, gives the right-hander a 65-grade fastball that touched 99 mph last year. He's also got a plus slider, and the growth of his changeup was part of what allowed Patiño to improve during his second full season. Its continued development will be crucial in his ability to get lefties out.
Given the brevity of his time with the Sod Poodles, starting 2020 back in Amarillo would have been the logical move for Patiño and the Padres. He earned an invitation to Major League camp and pitched in two Cactus League games this spring -- all before the COVID-19 pandemic changed everything.
Now, with the Minor League season canceled and Patiño part of the Padres' 60-man player pool, San Diego's third-ranked prospect will train at the club's alternate facility at the University of San Diego and wait for a possible big league call up with fewer than 10 innings of experience above the Class A level.
Joe Bloss is a contributor for MiLB.com. Follow him on Twitter @jtbloss.