The Road to The Show™: Shane Baz
Right-hander thriving since being acquired by Rays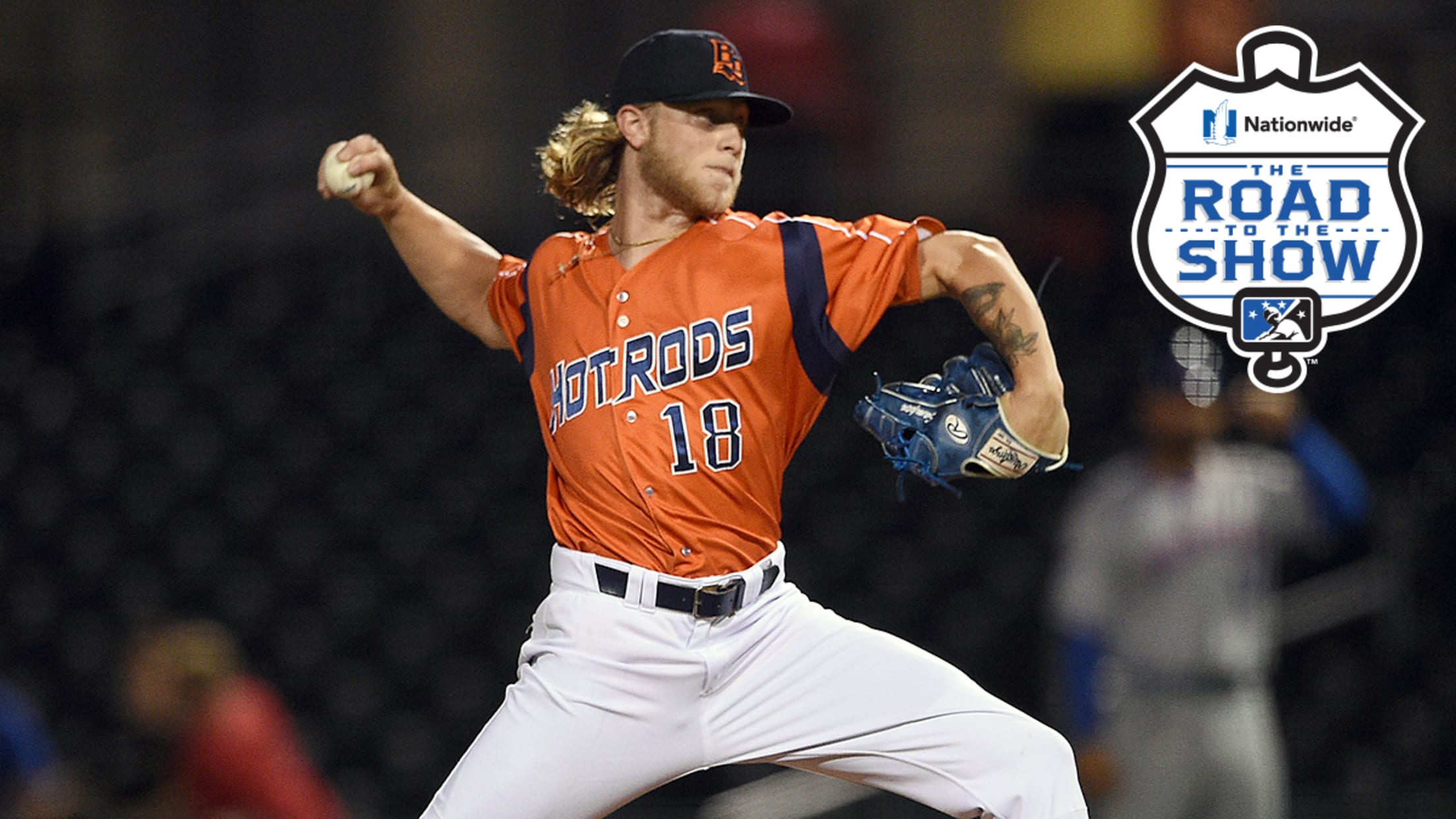 Fifth-ranked Tampa Bay prospect Shane Baz has struck out 165 batters over 157 1/3 innings in the Minor Leagues. (Steve Roberts/Bowling Green Hot Rods)
Each week, MiLB.com profiles an elite prospect by chronicling the steps he's taken to reach the brink of realizing his Major League dream. Here's a look at Tampa Bay Rays right-hander Shane Baz. For more player journeys on The Road to The Show, click here.
Each week, MiLB.com profiles an elite prospect by chronicling the steps he's taken to reach the brink of realizing his Major League dream. Here's a look at Tampa Bay Rays right-hander Shane Baz. For more player journeys on The Road to The Show, click here.
The canniness of Tampa Bay's front office has become something of a cliché over the years, prompting writer Sam Miller to post this tweet in 2014:
LOVE this trade for the Rays. Who'd they give up? And who'd they get?

— Sam Miller (@SamMillerBB) January 22, 2014
The deal in which the Rays acquired No. 86 overall prospect Shane Baz from the Pirates stands as a particular highlight and ultimately may go down as one of the most lopsided trades in recent baseball history.
Coming out of high school in 2017, Baz fit the top pitching prospect stereotype almost perfectly -- a lanky Texan who throws the ball extremely hard but doesn't always know where it's going. The Pirates snagged him with the 12th overall pick in that year's Draft and signed him for a slightly over slot $4.1-million bonus.
Debuting in the Rookie-level Gulf Coast League in July 2017 just a few weeks after turning 18, the right-hander struck out a pair of batters in his first professional inning – but one of them reached on a wild pitch. Baz was solid that summer, striking out 19 and walking 14 while posting a 3.80 ERA over 23 2/3 innings on the circuit.
Pittsburgh sent Baz to Bristol in the Appalachian League in 2018. He stepped things up a notch, fanning 26.1 percent of batters he faced in his first 10 starts before his pro career changed dramatically.
The Pirates' organizational plan had for years been to hoard prospects. Even during their three-year playoff run earlier in the decade, they refused to mortgage the future by making splashy upgrades at the Trade Deadline. But on July 31, 2018, with the club at 55-52 and seven games out of first place, Pittsburgh pulled the trigger on a big one, sending 2013 first-round pick Austin Meadows, longtime top pitching prospect Tyler Glasnow and a player to be named later to Tampa Bay for stalwart starter Chris Archer.
Two weeks later, Baz learned he was the player named later.
"It definitely was not what I was expecting," Baz told MiLB.com's Sam Dykstra. "I didn't even know what a player to be named later was. It was kinda weird. It was definitely a shock. The Pirates made a few deals last year, so our team [in Bristol] knew that a guy or two in that clubhouse would go, but I definitely didn't expect it to be me. I saw the trade for Meadows and Glasnow and thought they'd be elite, as they have been this year. So you're not expecting a high-up prospect to be that player named later. I kind of left the day in shock, but the Rays welcomed me with open arms."
Moving down the road to Tampa Bay's Appy League affiliate in Princeton, Baz had time to make two more starts that summer before fully grasping that his new organization did things differently.
"Almost immediately, the Rays were more -- I don't want to talk bad about the Pirates -- just completely different, honestly," Baz said. "It was a whole new perspective, a new approach to pitching."
Spin rate has become a big thing in pitching and the Rays told Baz he had lots of it. FanGraphs listed Baz's average fastball spin rate at 2,600 rpm in 2019, fourth-highest among the 446 pitchers in its system. Only seven Major League pitchers had a higher average spin rate in 2019. Tampa Bay told him not to worry about being too fine with his pitches and to rely on his stuff.
Baz made his full-season debut with Class A Bowling Green in the Midwest League in 2019, and the improvements were apparent. He posted career marks in ERA (2.99), average-against (.213) and walk rate (10.8 percent) while maintaining a strikeout rate over 25 percent.
That autumn, as one of the youngest pitchers in the elite (and very offense-friendly) Arizona Fall League, Baz held his own with the Salt River Rafters, fanning 14 over 11 innings and being named one of the circuit's Rising Stars.
In addition to the high-spin fastball – since joining the Rays he's concentrated on a four-seam version that routinely reaches triple-digits – Baz has a hard, biting slider and a changeup with the potential to become at least average. He occasionally throws a curve, but less so than with the Pirates. Mastering his control and developing a reliable third pitch will probably be the difference between Baz becoming a starter or moving to the bullpen.
It would have been exciting to see Baz refine his technique in game action in 2020, but by no means was the year wasted. With more time to absorb the Rays' approach to pitching, 2021 will be a big year for Baz. He'll turn 22 next June.
While it's jarring to be traded one year into one's career, Baz learned a truism of Minor League Baseball -- when a prospect is dealt, it's because the new team really wanted him.
"If you're part of a major deal, then you're fine. Definitely don't panic or change anything huge," he said in 2019. "Ultimately, you're going to a team that loves what you're doing and who you are. It's just a change in the uniform. It's not as big a deal as it will seem at the time. Grind every day, and be the player they hoped they were getting."
John Parker is an editor for MiLB.com.