The Road to The Show™: Vidal Bruján
Infielder readies to be part of Rays' next exciting prospect core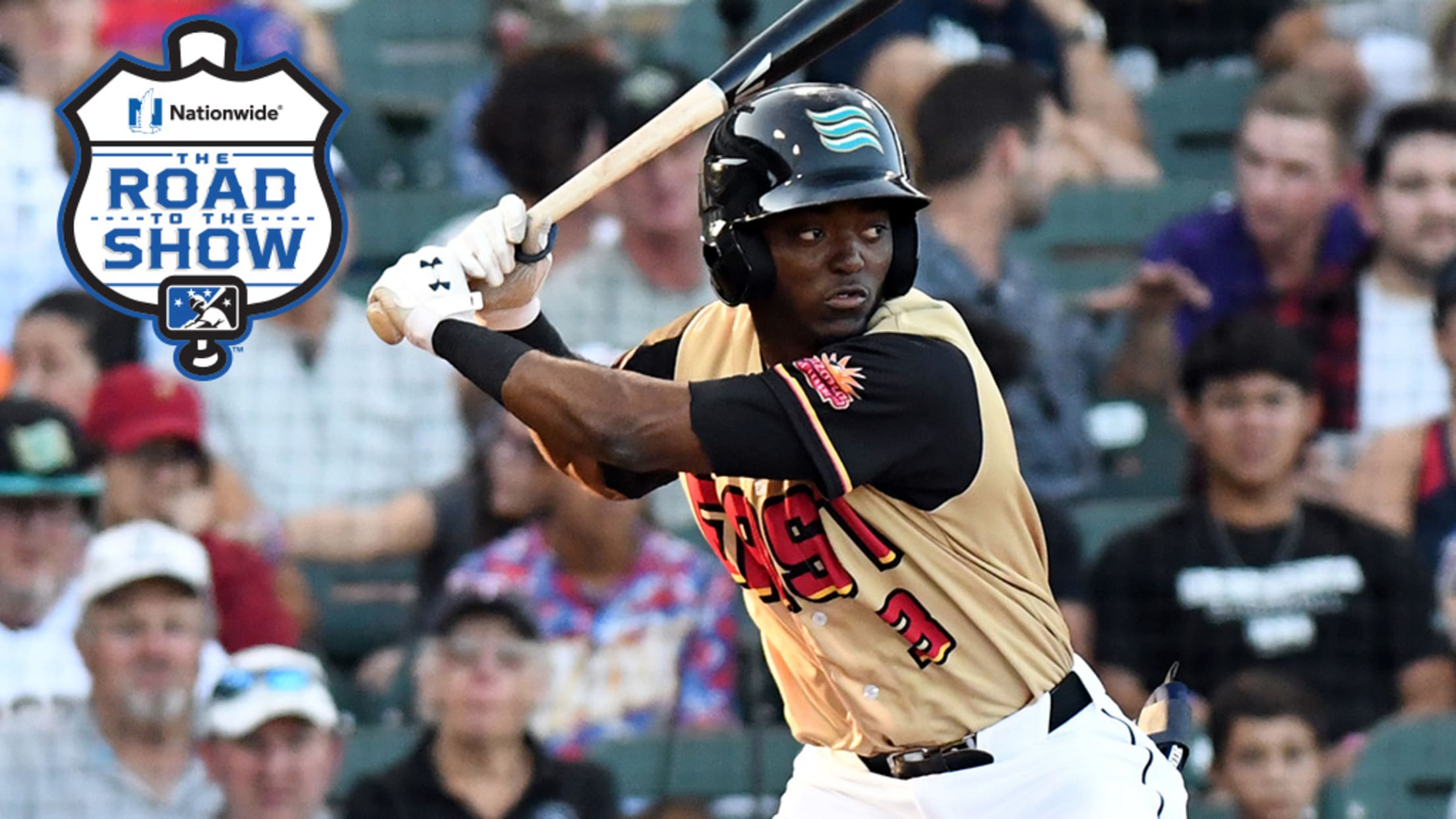 Vidal Bruján forms half of a tantalizing potential middle infield combination for Tampa Bay with the game's top overall prospect Wander Franco. (Joshua Tjiong/MiLB.com)
Not many prospects go from an unremarkable $15,000 signing bonus on the international market to being a Top 50 prospect in the game. Vidal Bruján has. Tampa Bay's No. 4 prospect -- and baseball's No. 49 overall -- is a key cog in the latest wave of talent making its
Not many prospects go from an unremarkable $15,000 signing bonus on the international market to being a Top 50 prospect in the game.
Vidal Bruján has.
Tampa Bay's No. 4 prospect -- and baseball's No. 49 overall -- is a key cog in the latest wave of talent making its way up the ranks in an organization that develops young cores like no other.
Perhaps unsurprisingly given his relative unknown status coming out of his native Dominican Republic, Bruján's climb took a while. The middle infielder didn't debut in the Rays' Top 30 until 2018, nearly four years after he initially signed in October 2014. Bruján spent his first three seasons climbing up the organizational ladder through campaigns in short-season ball. Between the Dominican Summer League, Gulf Coast League and New York-Penn League, Bruján put himself on the prospect map.
Alongside shortstop Wander Franco, the game's top overall prospect, Bruján forms half of a tantalizing potential future middle infield combination in Tampa Bay. Bruján also got work in the outfield during Spring Training this year, giving him multiple routes to reach the Major Leagues as the reigning American League champions look to reload in a tough East Division race.
Through his five Minor League seasons, Bruján has posted a .294/.377/.417 slash line for a .794 OPS while being young for virtually every level he's reached on his ascension. The 23-year-old's top-graded tool is his speed, which checks in as a 70 on MLB Pipeline's 20-to-80 scouting scale, and enabled Bruján to lead the Minors with 112 runs scored and a second-place finish with 55 stolen bases in 2018.
Following the 2019 season, Bruján was added to the Rays' 40-man roster, and he spent 2020 at the club's alternate training site in Port Charlotte, Florida before being placed on the club's postseason taxi squad.
2015 (Rookie DSL Rays)
After signing with Tampa Bay on Oct. 17, 2014, Bruján didn't make his professional debut until the following summer and got to do so close to home with the Dominican Summer League Rays. Over 60 games played at just 17 years old, Bruján impressed. The switch-hitting infielder started on a tear at the plate, batting .346 with an .863 OPS in 21 June contests before slumping in 22 July games (.207 and .655). His final month was a revelation. In 17 August matchups, Bruján hit .377/.493/.475 with a pair of doubles, two triples and 12 walks while striking out only three times. He finished the year at .301/.411/.403 slash line with 48 runs scored and 22 stolen bases.
2016 (Rookie GCL Rays, Class A Short Season Hudson Valley)
Bruján made the move to the States in 2016, playing 51 total games between two short-season levels, all but two of them in the Gulf Coast League. Getting all of his defensive work at second base, Bruján adjusted quickly to the complex-level game. After tallying just seven hits in his first 10 games, Bruján had multi-hit performances in 10 of his next 17 contests, finishing July with a .317/.395/.436 slash line in 23 games. By the end of August, he received his first in-season promotion, joining Hudson Valley for a pair of games before the conclusion of the campaign. Though he went hitless in eight New York-Penn League at-bats, Bruján stole two bases, walked and scored a run in his debut at the level.
2017 (Class A Short Season Hudson Valley)
Returning to the NYPL after the brief taste the previous year, Bruján handled his first true assignment away from a complex club impressively. At just 19 years old, the second baseman put up a .285/.378/.415 slash line over 67 games with the Renegades. His 74 hits, 51 runs scored and 108 total bases led the league that year, while his 16 steals and on-base percentage ranked fifth. Bruján also continued showing off his advanced plate discipline, walking 34 times with just 36 strikeouts.
2018 (Class A Bowling Green, Class A Advanced Charlotte)
In his first full professional season, Bruján truly arrived.
"Vidal grew up, both mentally and physically this year," said Mitch Lukevics, then Tampa Bay's director of Minor League operations. "It carried over into his ability to play the game, which he plays with a high intensity. He's got a high motor and it's fun to watch him out there. I think he, out of all of our Latin players, made the most progress in his maturity and it showed with the numbers he put up."
Bruján played the first 95 games of the season in the Class A Midwest League and batted .313/.395/.427, earning midseason and end-of-season All-Star accolades on the circuit. After jumping to the Class A Advanced Florida State League, he was even better. In 27 games to finish the year, Bruján hit .347/.434/.582. Between the two levels, he successfully swiped 55 bases in 74 attempts, scored 112 times in 122 games and was named an MiLB.com Organization All-Star.
2019 (Class A Advanced Charlotte, Double-A Montgomery)
Heading into Bruján's second full season, his calling card had become public knowledge.
"One of his most exciting tools is his foot speed," Tampa Bay's current director of Minor League operations Jeff McLerran said prior to the 2019 season. "A lot of his game is based around that. The foot speed plays into his defense, plays into his baserunning, plays into the pressure he's able to put on the defense as well."
Bruján did not disappoint. The fleet-footed young star swiped 24 bags in 29 attempts at Charlotte to start the year, putting up a slash line of .290/.357/.386 in 44 games before making the jump to Double-A Montgomery. Facing Southern League pitching at just 21 years old, Bruján more than held his own, hitting .266/.336/.391. Though his on-base numbers dipped that year with 37 walks against 61 strikeouts, he was still rewarded with a spot on the FSL's midseason All-Star Team, an MiLB.com Organization All-Star selection, an assignment to the Arizona Fall League (and subsequent selection to the Rising Stars Game) and his addition to Tampa Bay's 40-man roster.
"Nobody works harder than Vidal," McLerran said after the season. "And he came to us 150 pounds soaking wet, if even that. And he just continues to get stronger every year, continues to work on his game. He's kind of a perfectionist, he holds himself to a really high standard and is not happy if he doesn't meet those standards. He's also got a really exciting tool set, still refining a few of his skills, but has the making of being an impact player for us."
To kick off 2020, Bruján got action in nine Grapefruit League games for the Rays in February and March. Over 13 at-bats, he registered a .308 average with a .438 on-base percentage and a .385 slugging percentage.
Tyler Maun is a reporter for MiLB.com and co-host of "The Show Before The Show" podcast. You can find him on Twitter @tylermaun.