The Road to The Show™: Mets catcher Álvarez
No. 7 overall prospect pushing toward Majors with prolific power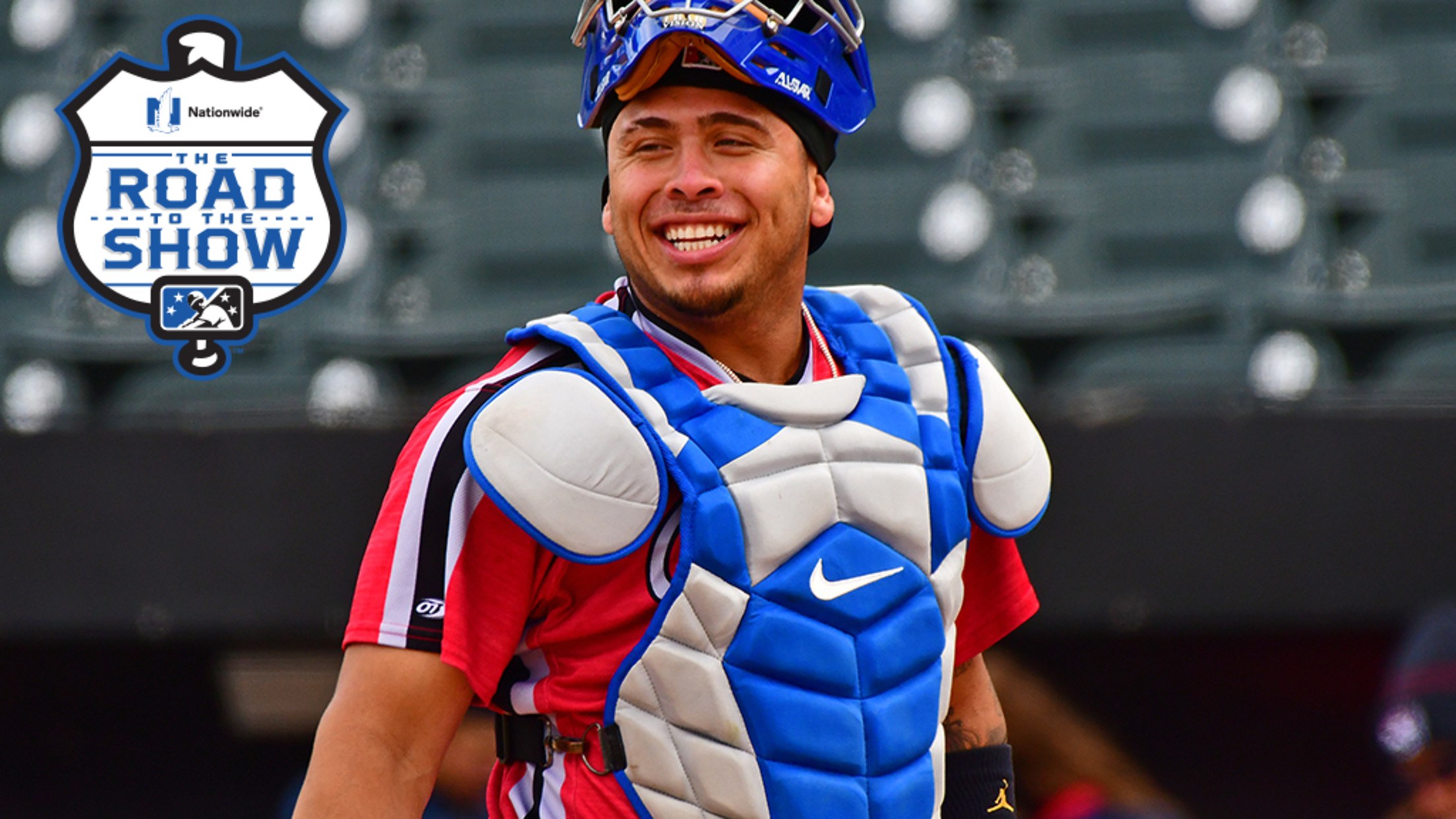 Francisco Álvarez slugged 24 homers in his first full season between Single-A St. Lucie and High-A Brooklyn in 2021. (Rick Nelson/MiLB.com)
Each week, MiLB.com profiles an elite prospect by chronicling the steps he's taken toward achieving his Major League dream. Here's a look at top Mets prospect Francisco Álvarez. For more stories about players on The Road to The Show, click here. There has been a wealth of catching talent at
Each week, MiLB.com profiles an elite prospect by chronicling the steps he's taken toward achieving his Major League dream. Here's a look at top Mets prospect Francisco Álvarez. For more stories about players on The Road to The Show, click here.
There has been a wealth of catching talent at the prospect level in recent years. And by the end of 2022, Francisco Álvarez could be ranked the highest of the bunch.
The top Mets prospect is part of a special class of backstops in MLB Pipeline's Top 10. He's held in similar acclaim to the top overall prospect -- the Orioles' Adley Rutschman -- and the Blue Jays' Gabriel Moreno, who ranks fourth overall. Rutschman and Moreno are seeing their first Major League action, while Álvarez has hit another gear with Double-A Binghamton.
Álvarez, the No. 7 overall prospect, has been on a recent tear in which he's hit safely in 19 of his past 21 games. Most impressively, Álvarez has shown off his best tool -- punishing power -- with 11 homers, seven doubles, 22 RBIs and an .852 slugging percentage over that span.
"I know I can hit home runs," Álvarez told MLB.com through interpreter Adrian Texidor after he snapped a 29-game homerless streak on May 25. "Every day is the same. I just want to attack at the plate and play hard."
This recent hot streak has fed into curiosity about Álvarez's own MLB debut. The 20-year-old was the youngest player in the Eastern League on Opening Day. He also came into the season with fewer than 600 Minor League plate appearances, all of which came at the High-A level or lower. But the past couple weeks have made his preseason aspirations seemingly more attainable.
"Make it to the bigs. Make it to the bigs. That's the goal," he said in February.
The Mets landed Álvarez on a $2.7 million bonus during the 2018 international signing period, the club's largest payout to an international prospect. Álvarez was ranked as the No. 17 international prospect in his class, according to MLB Pipeline. His success in three Minor League seasons has not come from a transformation from his initial profile.
At 5-foot-10, 233 pounds, he still has a stocky build, but he is a lot stronger after three years with professional training. Like his original reports, Álvarez still has below-average speed but an above-average arm. Scouts like his bat more than his glove and his power more than his bat-to-ball skills.
Álvarez, Dodgers prospect Diego Cartaya and Yankees prospect Antonio Gomez were considered in a class to themselves among Venezuelan catchers in the 2018 international talent pool. But Álvarez was the only one in that group to come stateside right away for his Minor League debut.
The Guatire native showed off his compact swing and all-fields approach right away with Rookie-level Kingsport and the Gulf Coast League Mets in 2019. At 17 years old, he finished with a .312/.407/.510 slash line, seven homers and 10 doubles in 42 games in his first professional season.
Unable to capitalize on his impressive debut due to the pandemic, Álvarez was limited to the alternate site training in 2020.
"We were thrilled to get him in there," former Mets farm director Jared Banner told MLB.com in October 2020. "A catcher his age getting a chance to work with some older pitchers and pick their brains on things like how to call a game and prepare. ... I think it was a very valuable time for him."
That winter was an interesting one for Álvarez. He was initially one of four Mets prospects to sign with Sydney in the Australian Baseball League. But he was also one of the many Venezuelans who could not return home. As the holidays drew near, Álvarez decided not to travel to Australia, but instead took his opportunity when the borders opened again to see his family for the first time in more than a year.
There's obviously no way to empirically measure what that trip did for Álvarez, but he followed it up with a season that solidified his place as one of the game's top prospects.
FRANCISCO ÁLVAREZ BLASTS ONE INTO THE NIGHT 🚀 pic.twitter.com/D8WtfCiNz3

— SNY (@SNYtv) March 25, 2022
Álvarez's 2021 season was among the best in the Minors. He quickly forced a promotion from Single-A St. Lucie to High-A Brooklyn after just 15 games. While the organization admitted there was some desire to get the developing backstop away from the automated ball strike system that was being used in his league, Álvarez proved he was ready for a greater challenge at the plate. He batted .417 with a 1.213 OPS, two homers and 12 RBIs in St. Lucie before leaping to Brooklyn.
"We want to have a little brother syndrome here in the organization, making sure that we're challenging people as opposed to just letting them sit and dominate a level," Mets director of player development initiatives Jeremy Barnes told MiLB.com in December. "It was time for him to move up and focus on catching. Getting exposed to that higher level was really important for him. ... I think he really showed this year that he's going to be an elite hitter. Obviously, there's room to develop there as well, but I'm really excited to see how he comes back as a pure catcher next season."
Álvarez moved to a pitcher-friendly environment in Coney Island and still made just about every ballpark he played in look small. He clubbed 22 more homers and drove in 58 runs over the rest of the season with the Cyclones, finishing with a .272 average and .942 OPS.
His 2021 season included a spot in the Futures Game at Coors Field in Denver, where he homered in his only plate appearance during the National League's 8-3 victory. He previewed his prolific power before the nationally televised contest, belting nine homers during a highly anticipated batting practice session.
Álvarez garnered a lot more attention in his second trip to Major League camp this spring. He went hitless in five at-bats his first time around in 2021, but raised some eyebrows with a no-doubter of a homer for his only hit in the most recent Grapefruit League season.
"He's coming," manager Buck Showalter told MLB.com at the start of camp. "That young of age, to be at the development he's at, that's exciting for all of us. … He's got a unique skill set. The separator with catchers a lot of times is what kind of offensive impact they can have."
Defensively, Álvarez's blocking and receiving have greatly improved under professional tutelage. He's said that a lot of his work emphasized his stance behind the plate, putting himself in the most comfortable position for blocking. He's thrown out 41 of 173 runners (23.7 percent) throughout his Minor League career and should have a future behind the plate in the big leagues.
Álvarez recently wore "EL TROLL" on the back of a Players Weekend nickname jersey in Binghamton, which was a moniker he picked up in Venezuela while working with his father's construction company. Showalter made note that Álvarez doesn't use the PitchCom wristband because he physically can't get it around his bulging forearms.
In the unlikely event that he'll need to spend more time as a designated hitter than a catcher, there is plenty of offensive talent available to make for a successful Major Leaguer. His current streak is keeping the door open for a potential MLB debut sometime this season. But it's just as likely that Álvarez challenges for the top overall spot on the MLB Pipeline list by year's end.