Three former Dash players make MLB debuts
Fry, Jaye, Marjama earn first promotions to Major Leagues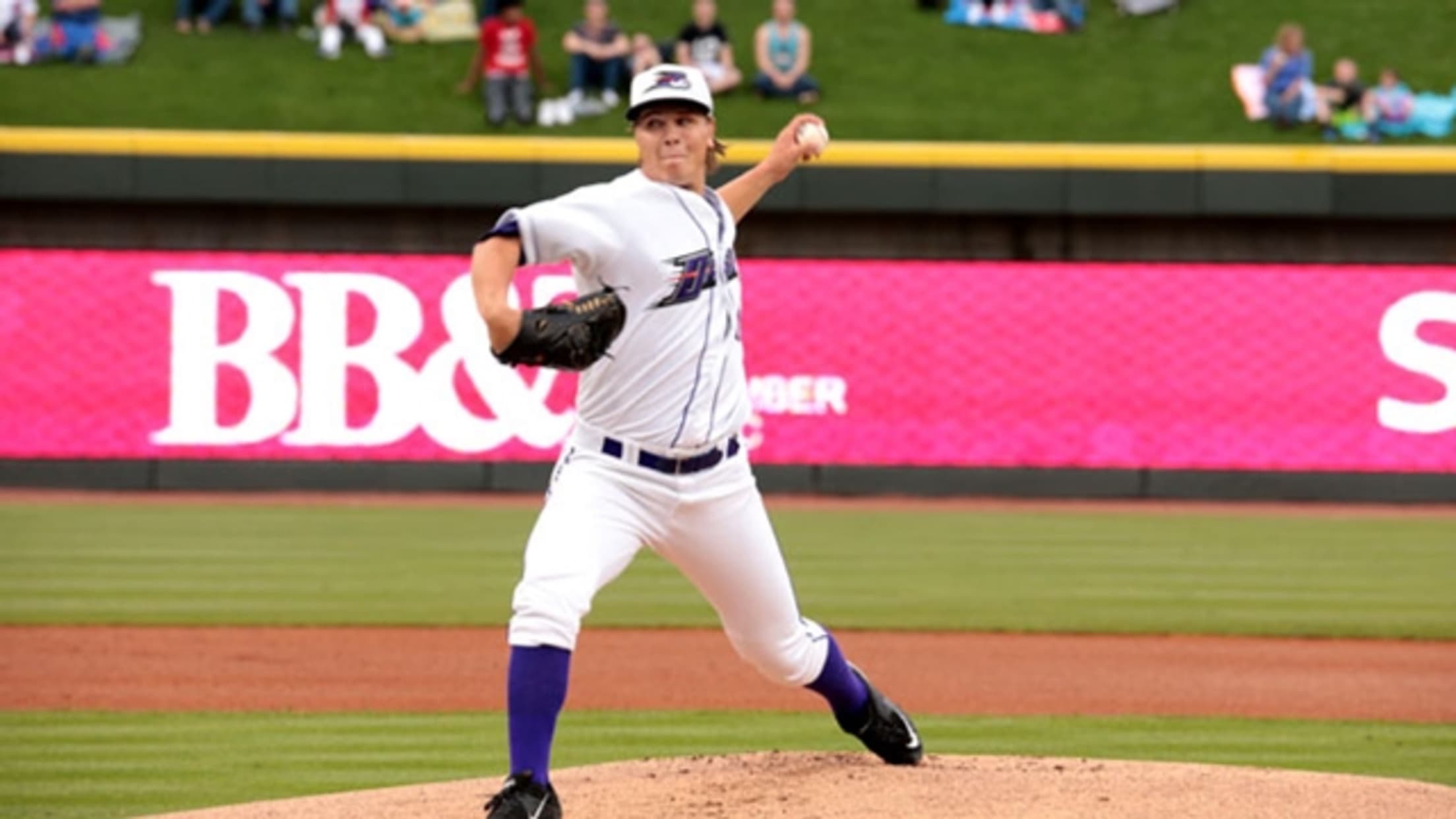 Jace Fry made his big league debut for the White Sox on Tuesday. (Jody Stewart/Winston-Salem Dash)
WINSTON-SALEM, N.C. (Sept. 6, 2017) - Three former Winston-Salem Dash players--left-hander Jace Fry, right-hander Myles Jaye and catcher Mike Marjama--have made their Major League debuts over the last week. As a result, Winston-Salem has now graduated 355 players to the big leagues, with 47 of them playing for the franchise
WINSTON-SALEM, N.C. (Sept. 6, 2017) - Three former Winston-Salem Dash players--left-hander Jace Fry, right-hander Myles Jaye and catcher Mike Marjama--have made their Major League debuts over the last week. As a result, Winston-Salem has now graduated 355 players to the big leagues, with 47 of them playing for the franchise during the Dash era (2009-present).
On Tuesday, Fry earned his first Major League promotion and made his debut for the White Sox in their loss to Cleveland. The former Oregon State product pitched for Winston-Salem in 2015 and posted a 3.63 earned run average over 10 starts. Fry's second career Tommy John Surgery cut that season short, and he returned to action this year in Double-A Birmingham. With the Barons, Fry logged a 2.78 ERA in 33 relief appearances, during which he fanned 52 in 45.1 innings. Fry was the White Sox third-round pick in 2014.
Jaye spent time with four different organizations before earning his first big league call to the Detroit Tigers, for whom he made his debut on Saturday. Originally a 17th-round pick by Toronto in 2010, Jaye came to the White Sox organization in a trade in advance of the 2012 season, and he was in Winston-Salem during parts of the 2013 and 2014 seasons. In his Dash career, Jaye went 12-6 with a 3.60 ERA in 24 starts. The White Sox traded the Georgia native to Texas in December of 2015, and the Rangers shipped him to Detroit in March of 2016. Over the last two seasons, Jaye pitched for Double-A Erie and Triple-A Toledo in the Tigers organization.
Marjama's journey to The Show also involved several organizations. The White Sox drafted Marjama in the 23rd round of the 2011 MLB Draft out of Long Beach State. During his four seasons with Chicago, Marjama climbed as high as Winston-Salem, where he hit .266 in 70 games in 2014. The Sox traded the Roseville, Calif., native to Tampa Bay before the 2015 season, and he remained with that system until August of this year, when the Rays dealt him to Seattle. After playing 21 games with Triple-A Tacoma, Marjama earned a promotion to the Mariners on Friday and made his debut as a defensive replacement on Sunday.
Seven former Winston-Salem players have reached the Major Leagues for the first time this season. This trio joins outfielders Adam Engel and Jacob May and pitchers Aaron Bummer and Brad Goldberg, all of whom made their debuts with the White Sox.