Threshers Crush Three Homers in 6-2 Victory
Pitching Staff Allows 3 Total Hits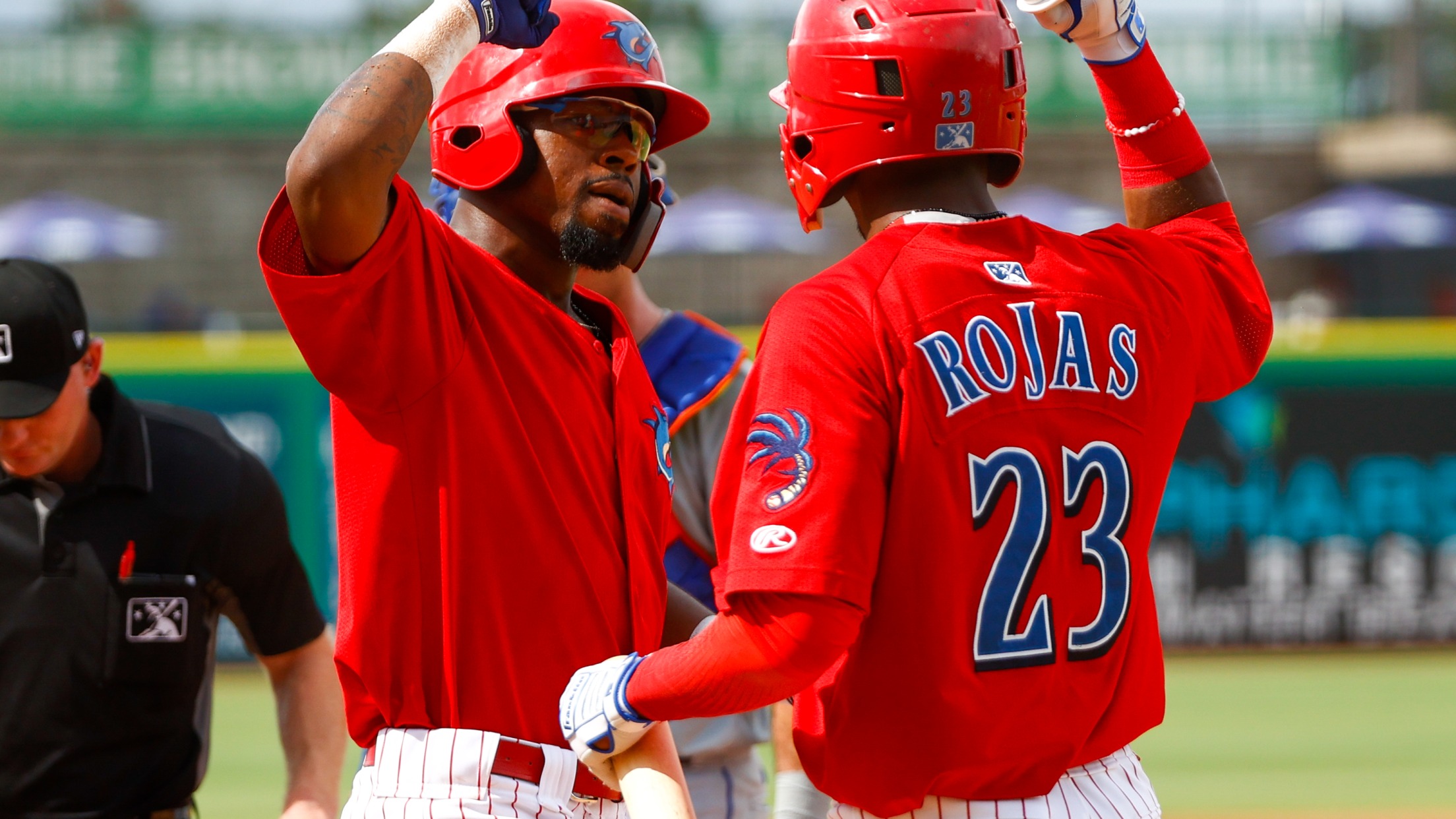 Kendall Simmons and Johan Rojas Celebrate Hit (CLEARWATER THRESHERS)
CLEARWATER, Fla. – The Clearwater Threshers took advantage of the home run ball in a 6-2 victory in the series finale against the Tampa Tarpons on Sunday afternoon. BOX SCORE Kendall Simmons scored the first run of the ballgame with a solo home run in the bottom of the third
CLEARWATER, Fla. – The Clearwater Threshers took advantage of the home run ball in a 6-2 victory in the series finale against the Tampa Tarpons on Sunday afternoon.
Kendall Simmons scored the first run of the ballgame with a solo home run in the bottom of the third inning to give the Threshers a 1-0 lead.
The Threshers (45-53) added to their advantage with a two-out rally in the sixth inning. Jared Carr drew a four-pitch walk and Felix Reyes followed up with a line-drive single into left field that allowed Carr to reach third. Catcher Juan Aparicio then lifted a homer over the center field fence to put the Threshers ahead 4-0.
Clearwater added more insurance in the bottom of the seventh inning. Johan Rojas reached base and made it all the way to third on a throwing error. He later scored on a Matt Joyce sacrifice fly. Luis Garcia then followed up with his eleventh home run of the season for a 6-0 Threshers' lead. The home run was Garcia's third long ball of the series.
The Tarpons (67-33) scored two runs in the eighth inning, but the Threshers came out on top 6-2 on Sunday afternoon.
The Threshers' pitching staff was dominant, surrendering just three combined hits. Starter Matt Osterberg did not factor in the decision. He hurled three scoreless innings, gave up one hit, permitted one walk, and struck out four batters in the start. Alex McKenney gave up one hit and recorded one walk and two strikeouts in his two innings on the mound. Jared Wetherbee logged his first win of the season with two hitless innings with four strikeouts. Jason Ruffcorn was tagged for two runs on one hit with two walks and a strikeout. Tommy McCollum got the save, tossing 1.1 hitless innings and striking out one batter.
The Threshers are on the road Tuesday, August 31 – Sunday, September 5 against the Lakeland Flying Tigers at Joker Marchant Stadium. The Threshers return home for their final home series of the 2021 season Tuesday, September 7. SCHEDULE