Threshers Spotlight: Jose Pujols
Toolsy outfielder turning the tables in 2018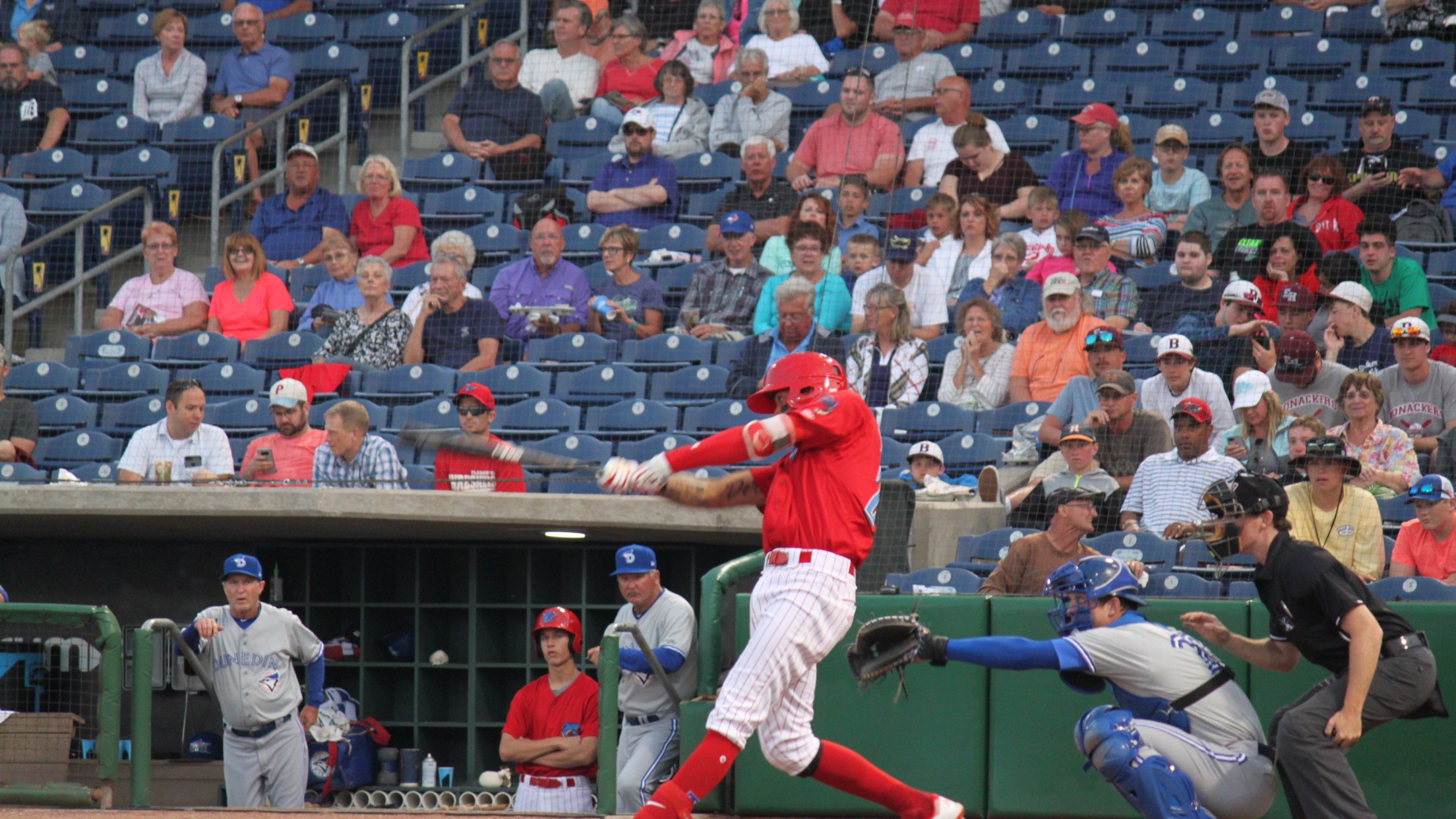 Jose Pujols has come a long way in a year.After setting a then-Lakewood Blue Claws record with 24 home runs in 2016, Pujols hit just .194 with eight homers in his first season as a Clearwater Thresher the following summer."I learned a lot, I mean, last year was kind of
Jose Pujols has come a long way in a year.
After setting a then-Lakewood Blue Claws record with 24 home runs in 2016, Pujols hit just .194 with eight homers in his first season as a Clearwater Thresher the following summer.
"I learned a lot, I mean, last year was kind of a hard year for me, starting from the beginning," Pujols said. "But for me, it was my best year, because I learned from the bad things.
"I learned this is not an easy game, and you've got to put your mind right. You've got to stay positive."
2018 has been quite the turnaround.
Through mid-July, the 22-year-old owned the ninth-highest average in the Florida State League at .296. His 12 home runs were tied for fourth, and his .471 slugging percentage ranked fifth.
Pujols credits a mechanical change he made in the offseason, which helps him both to put better swings on the ball, and to lay off pitches he may otherwise reach for.
"I got a little change in my approach this year," Pujols said. "I'm just trying to be more on time with my hands, and I think that got me on the right track this year from the beginning."
Threshers manager Shawn Williams has worked with Pujols since the very beginning of his professional career.
Williams first managed Pujols in 2014 with the Williamsport Crosscutters, where Williams started his managerial career, and has had Pujols on his roster the past three seasons - with the Lakewood Blue Claws in 2016, and with Clearwater the past two years.
"I think that it all has to do with his plan," Williams said of Pujols' improvements this year. "It depends pitcher to pitcher, but he's looking for pitches in a specific zone, and he's sticking to it. And when he doesn't get it there, he's laying off pitches.
"So you're seeing him lay off those tough breaking balls, or he maybe even takes a couple of fastballs for strikes, maybe they're a little bit away or in, maybe he's looking vice versa. Where maybe last year he would've just chased them or swung at them, now he's being really disciplined with his plan, to where he's laying off those pitches."
Williams says Pujols has also made some physical adjustments, employing two different swings depending on the game situation.
"You'll see sometimes he has a leg kick, sometimes he doesn't. Mainly early in the count you'll see him with a leg kick, if he has guys in scoring position he goes no leg kick, little things like that. Little adjustments that help him put the ball in play.
"He's athletic in the box, he can hit some tough pitches, which he's shown this year - tough breaking balls where he kind of flicks them out to right field. He's even hit a couple home runs that way. So it's just to shorten him up."
Pujols' raw tools are considerable. Baseball America rates Pujols as having the best outfield arm in the Phillies farm system. His 12 home runs were tied for the fourth-most among Phillies farmhands as of mid-July, trailing only Darick Hall (21), Zach Green (17), Joey Meneses (15), and Austin Listi (13).
The Dominican-born outfielder has also become a fan-favorite. After a volunteer event at local Eisenhower Elementary school, the children returned for a game on Education Day at Spectrum Field, chanting their support for their new favorite Thresher.
"For me - and I've seen him for six years - he's a kid that keeps getting better," Williams said. "And I think the older he gets, he's going to keep getting stronger, he's getting more coordinated. If you'd have seen him when he was 16 years old compared to now, it's amazing how much better he's gotten. Everything - running-wise, throwing, his fielding - everything has gotten so much better, so there's no telling how much better he's going to keep getting.
"That's why he's an exciting player to watch."