Thunder come back again to win series, 4-3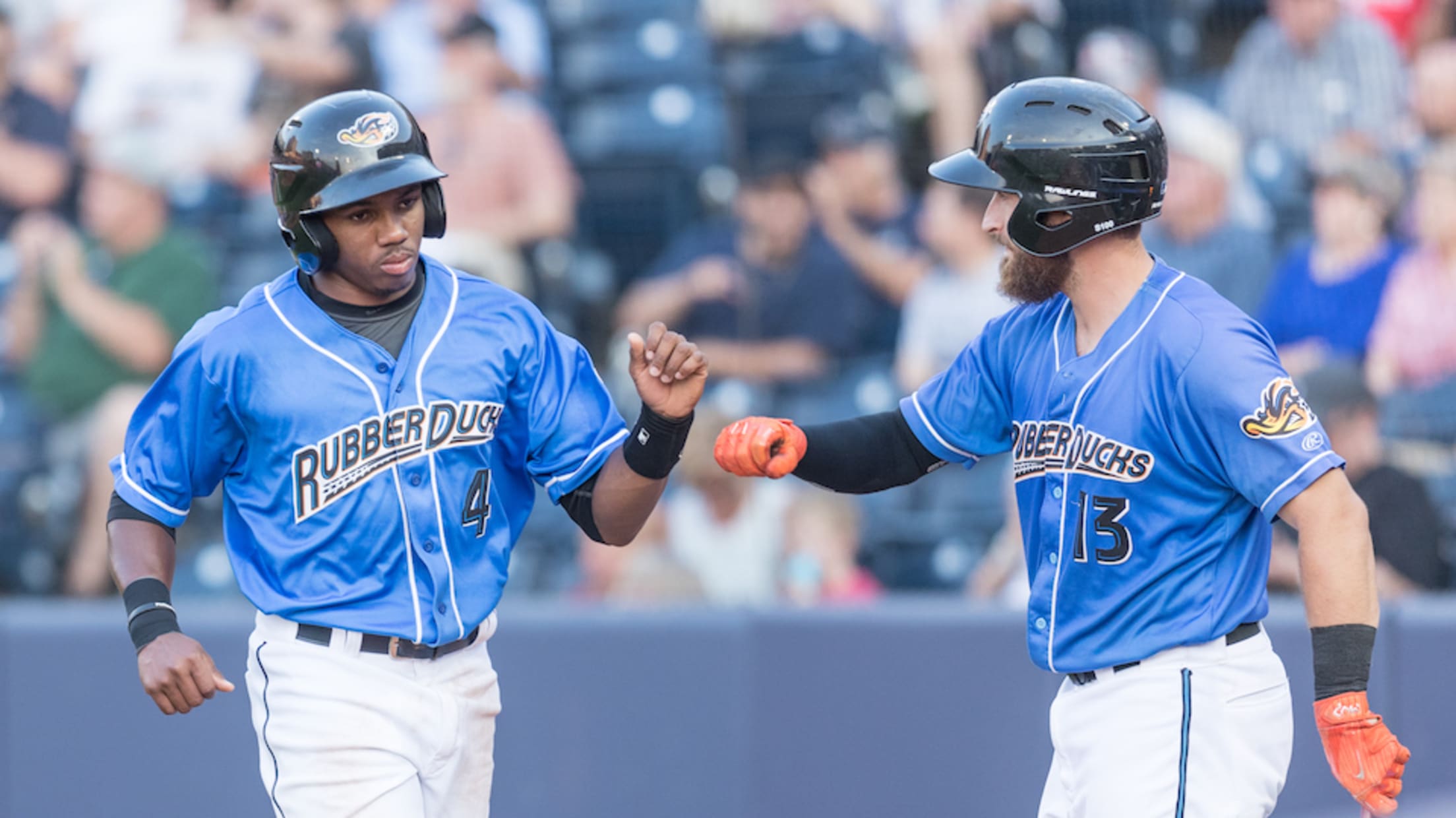 Greg Allen led off the game with his second home run of the season while Eric Haase hit his 25th of the year in the RubberDucks' 4-3 loss to the Thunder at ARM & HAMMER Park. (David Monseur)
RubberDucks Game RecapThunder 4 RubberDucks 3WP: Jose Mesa Jr. Jr. (2-0) LP: Robbie Aviles (5-3) Save: noneSummaryTrenton's Zack Zehner drove in the ultimate, game-winning run with a sacrifice fly in the bottom of the eighth inning, capping a three-run rally, as the Thunder slipped by the Akron RubberDucks, 4-3, Thursday
RubberDucks Game Recap
Thunder 4 RubberDucks 3
WP: Jose Mesa Jr. Jr. (2-0) LP: Robbie Aviles (5-3) Save: none
Summary
Trenton's Zack Zehner drove in the ultimate, game-winning run with a sacrifice fly in the bottom of the eighth inning, capping a three-run rally, as the Thunder slipped by the Akron RubberDucks, 4-3, Thursday night at ARM & HAMMER Park in Trenton, New Jersey.
Turning Point
The Thunder (80-42) wiped out a 3-1 deficit with three runs in the eighth against a trio of Ducks pitchers. Thairo Estrada stroked a two-run single off Robbie Aviles (5-3) to tie the game. After Mitch Brown walked a batter and hit another to load the bases, Zehner lifted a sacrifice fly to center off Cameron Hill to score Estrada, who narrowly beat a strong throw from Greg Allen, to give the Thunder a 4-3 lead.
Winging It
Aviles suffered his first blown save and snapped an eight-inning scoreless streak. Shao-Ching Chiang started for the RubberDucks and worked six innings, allowing only one run on three hits.
Duck Tales
Allen led off the game with a solo home run off Thunder prospect Domingo Acevedo. Eric Haase followed suit in the fourth, blasting his 25th of the year to give the Ducks a 2-1 lead at the time. Haase has homered in back-to-back games, and is two homers shy of tying the all-time, single-season Akron record.
Notebook
Jose Mesa Jr., Jr. (2-0) earned the win by hurling the final four innings…Mesa, Jr., the son of the former Indians closer, walked five, including a bases-loaded walk in the eighth, but also fanned seven…Trenton took two of three in the series…The RubberDucks now sit in 3rdplace in the EL West, two games out of first, with 18 games left to play…Time of game: 2:59… Attendance: 5,635.
On Deck
The RubberDucks (62-60) will open the second leg of the road trip with the opener of a three-game, weekend series at Richmond Friday night at 7:05 p.m. The game will be broadcast on Fox Sports 1350 AM, the WARF iHeart channel, and the TuneIn Radio App.