Toolshed: How prospects held up after trades
Kopech, Gohara lift stocks while Lopez, De Leon go other way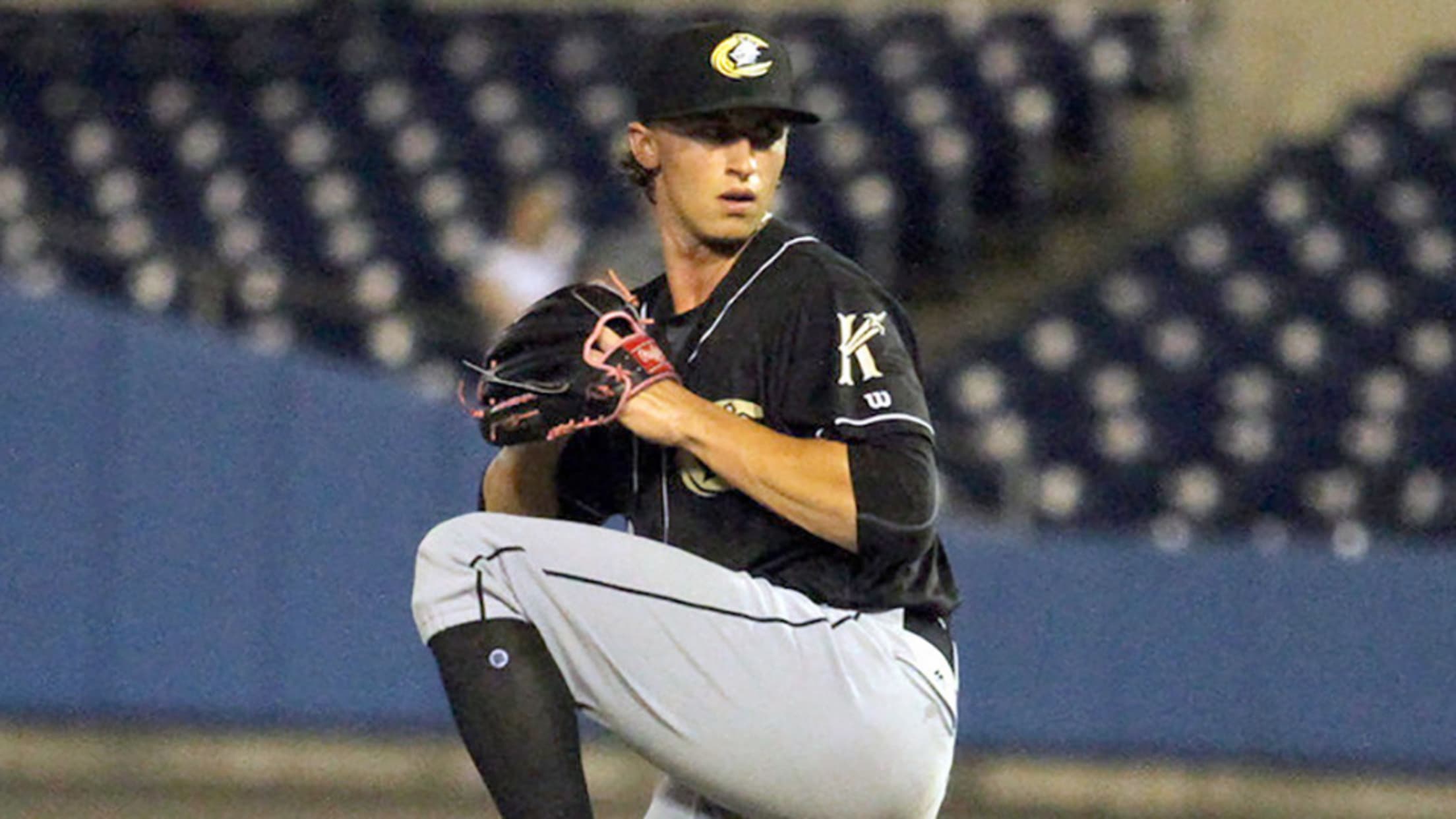 Michael Kopech ranked sixth in the Minors with 172 strikeouts over 134 1/3 innings this season. (Les Treagus/Norfolk Tides)
It's quiet. Too quiet.Outside of some relatively minor deals the past couple weeks -- most of which involve the Mariners -- there hasn't been much to report in the way of completed trades since the World Series ended 27 days ago. Giancarlo Stanton's expected exit out of Miami seems like
It's quiet. Too quiet.
Outside of some relatively minor deals the past couple weeks -- most of which involve the Mariners -- there hasn't been much to report in the way of completed trades since the World Series ended 27 days ago. Giancarlo Stanton's expected exit out of Miami seems like the first major domino that will fall at some point, Shohei Ohtani looms large over any potential transaction and the Winter Meetings, which will take place Dec. 10-14 in Orlando, usually lead to some big moves. But even at this point -- with apologies to perhaps Ryon Healy -- there are usually at least a handful of solid Major League trades to discuss.
In their stead, this Toolshed will look back on some of the bigger prospects to be dealt last offseason and how their stocks have held up over their first seasons with their new clubs.

Stock up
Michael Kopech --
No one doubted Kopech's potential when the White Sox acquired him from the Red Sox in the deal for Chris Sale that will be discussed a few more times in this column. He was a hard-throwing, projectable right-hander who had struck out 38.2 percent of the batters he faced in 2016. But there were questions. He had been suspended for a positive stimulant test the year before. He missed much of 2016 with a broken hand that he suffered in a fight with a teammate. He had control issues. In his first season in pale hose, he did his best to answer those questions and now stands as the
game's top pitching prospect
according to MLB.com. His 134 1/3 innings between Double-A Birmingham and Triple-A Charlotte marked a career high. He still managed a strikeout rate of 31.3 percent. His 11.8 percent walk rate was far from great, but it's certainly a step in the right direction. Kopech certainly feels more like a potential Major League ace than he did 11 months ago, not that Boston should regret anything just yet with Sale proving to be the genuine article in 2017.
Luiz Gohara --
The Mariners had their reasons for sending the then-20-year-old left-hander to the Braves for reliever
Shae Simmons
and speedster
Mallex Smith
(who was soon after flipped for
Drew Smyly
). A 6-foot-3 southpaw out of Brazil, Gohara had shown promising stuff but had yet to to throw more than 69 2/3 innings in each of his first four Minor League seasons. Although he broke out in 2016, he still only had 10 starts of Class A ball under his belt. A year later, Gohara is looking less like a young chip and more like the headliner of this particular trade. He climbed from Class A Advanced Florida all the way to the Majors in 2017, striking out 147 over 123 2/3 innings in the Minors along the way, and should at least contend for a spot in Atlanta's rotation in 2018 after averaging 96.3 mph over a five-start stint at the highest level in September. Gohara is now MLB.com's No. 82 overall prospect after entering the season outside the Top 100 and is likely to climb higher during this offseason's update.
Luis Castillo --
The Reds have had difficulty turning Minor League arms into impressive Major League contributors of late, but Castillo was by far a standout, even if he has been in the system only one year after coming over from Miami for
Dan Straily
in January. Ranked as the Marlins' No. 5 prospect at the time of the trade, Castillo had only three Double-A starts on his resume before the deal and returned to the level with Pensacola, where he sported a 2.58 ERA with 81 strikeouts and 13 walks in 80 1/3 innings. Cincinnati brought him straight up in late June and he never looked back, posting a 3.12 ERA with 98 strikeouts and 32 walks in 89 1/3 frames. His 1.7 FanGraphs WAR was fourth-highest among National League rookie pitchers, and he earned one third-place vote for NL Rookie of the Year. Castillo's high-90s fastball and impressive changeup already draw raves, enough that manager Bryan Price said in August that
he'll be in the 2018 rotation
. Expect to hear Castillo's name a bunch in the sleeper section of fantasy baseball columns in the spring.
Mitch Haniger --
The Mariners may have looked like they jumped ship too quickly on Gohara, but they also got on board at just the right time with Haniger. The outfielder was the D-backs' No. 21 prospect when he moved from Arizona to Seattle in a deal that sent
Ketel Marte
and Taijuan Walker the other way. Though his prospect status wasn't high, Haniger had become an intriguing name after hitting .321 with 25 homers and a .999 OPS at Double-A Mobile and Triple-A Reno in 2016, though his Major League numbers (.229/.309/.404) weren't much to get too excited about. He ended up being a solid regular for the Mariners in right field, batting .282/.352/.491 with 16 homers in 96 games.
Aaron Judge
(8.2) and
Matt Chapman
(2.7) were the only AL rookies to post a higher fWAR. Haniger's 2016 numbers could have been those of a Quad-A player. Instead, the 26-year-old is expected to contribute in Seattle again next summer.
Alex Jackson --
OK, last former Mariners prospect. Seattle dealt the 2014 sixth overall pick to the Braves in a change-of-scenery deal. The catch here is that the 21-year-old slugger still doesn't look like the top talent he was perceived to be three years ago, but he did take steps in the right direction in his first season with his second organization. Jackson posted career highs in most power categories including slugging (.480), OPS (.808) and home runs (19) in 96 games with Class A Advanced Florida and Double-A Mississippi before standing out as well in the Arizona Fall League, a far cry from the numbers he posted when he was struggling to make it past Class A in the Mariners system. The Braves also moved him from right field back to catcher, his position in high school, but he still has a lot to work to do in all aspects behind the plate. The good news is the bat is back on track.
Albert Abreu --
It can be tough to believe now, but the Yankees played the role of sellers last November when they traded catcher
Brian McCann
to the Astros for Abreu and fellow right-handed pitching prospect
Jorge Guzman
. (The arrival of
Gary Sánchez
had a lot to do with this, so the Yanks were dealing from a point of strength.) The trade has worked out well for all parties so far -- McCann won a World Series in Houston and Abreu has been one of New York's most promising pitching prospects. His fastball can touch triple digits, and his curveball draws raves as well. The 22-year-old right-hander was limited to only 51 1/3 innings in his first season in pinstripes by a shoulder injury, but he struck out 61 batters and sported a 3.38 ERA to stay plenty enticing. He also led the AFL in innings (27 2/3) to help make up for the lost time. Questions remain about Abreu's control, command and ability to hold up on the mound. But the pieces are there to make him worth watching in 2018.
Stock about the same
Yoán Moncada --
Here's the Sale trade again. At the time of last December's deal, Moncada was still considered MLB.com's top overall prospect. One year and 231 Major League plate appearances later, it'd be interesting to debate where Moncada would belong on that list now alongside
Gleyber Torres
,
Victor Robles
,
Vladimir Guerrero Jr.
and
Ronald Acuña Jr.
. Alas, he has graduated from prospectdom. In so doing, he showed a lot of the tools that made him one of the game's most enticing talents. Moncada hit a career-high 20 home runs between the Minors and Majors in 2017, and that power, along with a solid ability to reach base (.338 OBP, 12.6 percent walk rate) made him about an average Major League bat (104 wRC+) at just 22 years old. What's more, he continued to be a menace on the basepaths and was the
12th-fastest sprinter
in the Majors according to Statcast, above even speedsters Mallex Smith,
Trea Turner
and Lorenzo Cain. There is still a lot of swing-and-miss there (32 percent K rate in the Majors), but a year later, there's no doubting Moncada will be a key piece of Chicago's rebuild.
Lucas Giolito --
This is the toughest to categorize. Giolito's name should still elicit excitement among those who have followed his rise as a prospect, but the early results following his move from Washington to Chicago along with
Reynaldo López
and
Dane Dunning
for
Adam Eaton
certainly weren't promising. His ERA at Triple-A Charlotte was still above 5.00 as late as July 29. He started to look a little like the promising right-hander of old by the end of his run in the International League and helped his case by posting a 2.38 ERA and a 0.95 WHIP over seven starts (45 1/3 innings) in The Show. There might have been some luck involved in there, as evidenced by his low .189 BABIP-against and much higher 4.94 FIP in the Majors, but unlike his initial run with the Nationals, there's a legit case to be made that Giolito has had enough success as a starter at the game's highest level. Even if he doesn't look like he'll ever be an ace, those same doubts existed this time last year.
Mauricio Dubón --
Milwaukee acquired Dubon on the heels of his breakout 2016, when he hit .323/.379/.461 and 30 steals between Double-A Portland and Class A Advanced Salem, but even then, he looked more like a utility infielder type. That evaluation hasn't changed much in the last 12 months. His offensive numbers (.274/.330/.382) at Double-A Biloxi and Triple-A Colorado Springs were somewhat underwhelming, but he continued to show speed with 38 steals and defensive versatility by splitting his time between shortstop and second base.
Orlando Arcia
shouldn't be worried that Dubon will be out for his job in Milwaukee, but the Honduras native could be a piece to round out the big club's roster in 2018, especially after he was added to the 40-man roster last week.
Jorge Guzman --
What was Guzman before he came over with Abreu? A right-hander who had posted his share of 100s on the radar gun and could record some impressive strikeout numbers but who had never pitched in a full-season league and had faced his share of control concerns. All of that still applies. Guzman amassed a 2.30 ERA with 88 strikeouts and 18 walks over 66 2/3 innings at Class A Short Season Staten Island. There were improvements, especially when it came to free passes, but the Dominican Republic native, who turns 22 in January, needs to be tested over a longer campaign to see how his velocity and wild nature hold up before he makes a jump along the lines of Abreu, who has a deeper arsenal despite being only four months older.
Dane Dunning --
The White Sox didn't get overly aggressive with the 2016 first-rounder out of the University of Florida, and he played up to the expectations of an impressive college arm navigating the lower levels. After burning through the South Atlantic League in four starts, Dunning sported a 3.51 ERA with 135 strikeouts and 36 walks over 118 innings at Class A Advanced Winston-Salem. He's got three above-average pitches and solid control, though he might lack the electricity of bigger arms in the system like Kopech,
Alec Hansen
and
Dylan Cease
. Dunning should be reliable, though, as he climbs the chain, and his ceiling remains that of a mid-rotation piece.
Stock down
Reynaldo López --
There's a case to be made that Lopez should be in the "Same" category with Giolito. Before moving to the White Sox, he was a right-hander with impressive stuff who faced questions about his ability to stick as a Major League starter after a rough go of it at the highest level. One year later, it's the same story. Over 91 2/3 Major League innings, Lopez has recorded a 4.81 ERA, a 4.35 FIP and a 1.44 WHIP. Those aren't numbers that command additional starting looks. Now even though his 2017 was much a repeat of 2016, what puts the 23-year-old here is that he's a year closer to being moved to the bullpen. He could be dominant in shorter stints, but it's not quite the same value as being a consistent starter.
José De León --
The Rays and Dodgers did a fun swap with De Leon heading to Tampa Bay and second baseman
Logan Forsythe
going to Los Angeles. It didn't end up being a banner move for either side. Forsythe was an impressive defender at the keystone but couldn't manage to be even an average hitter. At least he played 119 games for the Dodgers, though. A strained flexor tendon and a lat strain kept De Leon from making more than one appearance for the Rays. He also managed only 38 1/3 innings in the Minors. De Leon's season high for innings remains just 114 1/3, and while it's amusing to think what he's capable of (especially in terms of strikeouts) when healthy, this lost season leaves many things wanting.
Luis Alexander Basabe --
The tools were there for Basabe to be the third-most intriguing prospect in the Sale deal. Third-most intriguing may sound like faint praise, but that's notable when the first two spots go to Moncada and Kopech. Basabe is quick enough and has the arm to be a plus defender in center. However, his bat wasn't nearly up to snuff in 2017. The 21-year-old switch-hitter produced just a .221/.320/.320 line in 107 games at Class A Advanced Winston-Salem and his home run total dropped from 12 in 2016 to five this past summer. Chicago still saw enough to protect him from the Rule 5 Draft with a 40-man roster add this month, and at 21, plenty of time remains on Basabe's side. But it's not as easy to get excited about his offensive future as it was 12 months ago.
Sam Dykstra is a reporter for MiLB.com. Follow and interact with him on Twitter, @SamDykstraMiLB.