Toolshed: A look back at 2016's trade deadline
Checking in on the top prospects who were dealt one year ago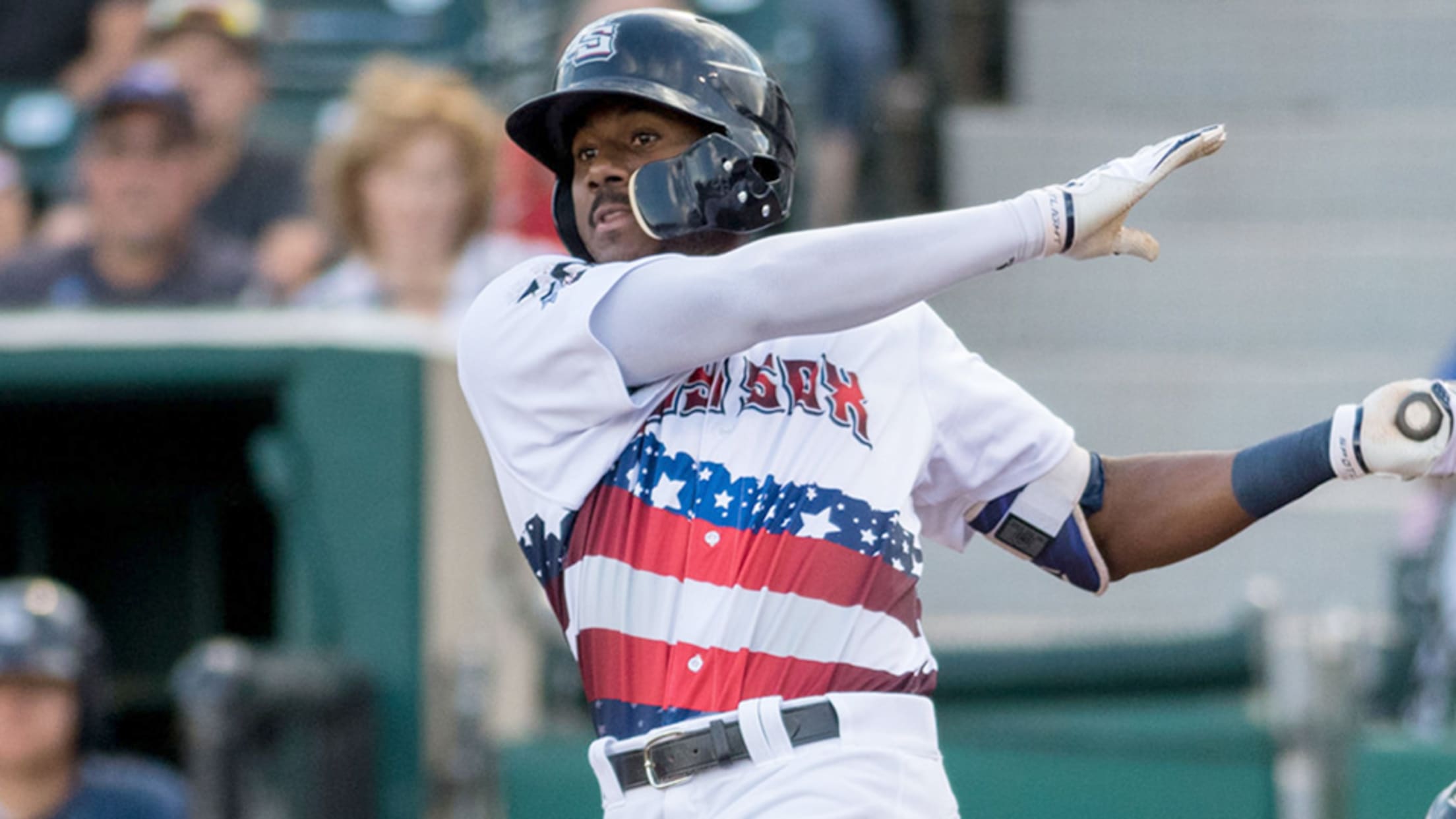 Lewis Brinson has 14 home runs over 90 games with Triple-A Colorado Springs since last year's trade. (Bobby Stevens/MiLB.com)
The date is Aug. 1, 2016. The time, a little after 4 p.m. ET. The dust has settled on the 2016 Major League Baseball trade deadline. Numerous prospects, some the most promising in the game, have been moved to new organizations, and questions abound about what lies ahead for them
The date is Aug. 1, 2016. The time, a little after 4 p.m. ET. The dust has settled on the 2016 Major League Baseball trade deadline. Numerous prospects, some the most promising in the game, have been moved to new organizations, and questions abound about what lies ahead for them in their new homes.
One year later, with the 2017 deadline nearly upon us, we're closer to having some answers. Some of those prospects have grown their profiles since were moved; others have seen their stock slip or remain about the same as they've tried to work their way up new Minor League ladders.
Here, with MLB's trading frenzy once again in full swing, Toolshed ranks the top 10 players with remaining prospect eligibility who were dealt before last season's deadline, including how their stock has trended over the past 12 months.
1. Yankees SS Gleyber Torres (from Cubs): Yes, the 20-year-old shortstop underwent Tommy John surgery that will keep him out for the remainder of the season, but that doesn't erase the gains he made after joining the Yankees organization in the Aroldis Chapman deal. Torres, last autumn's Arizona Fall League MVP, was one of the younger players in both the Eastern and International Leagues this season before his injury and hit .287/.383/.480 with seven homers, two triples and 14 doubles in 55 games between the two stops. He showed a clear ability to adapt to the competition of the Minors' two highest levels, and it seemed like he was well on his way to the Bronx in 2017 before hitting the disabled list. Few doubt he'll be able to hit the ground running when he returns next spring. The Cubs won't regret getting a piece in Chapman that helped them bring a World Series to Wrigleyville, but the Yankees could be thankful for quite a while to have gotten Torres and three others for less than half a season of Chapman. Trending: Up
2. Brewers OF Lewis Brinson (from Rangers): The Brewers acquired Brinson as the main prospect in the deal for catcher Jonathan Lucroy and reliever Jeremy Jeffress at a time when it was still difficult to determine what kind of prospect Brinson could be. He'd hit .332 with 20 homers, 18 steals and a 1.004 OPS across three levels in a breakout 2015 but had seen his numbers fall to .237/.280/.431 back at Double-A Frisco. Twelve months later, it's pretty clear he's the real deal. MLB.com's No. 18 overall prospect is hitting .345/.417/.569 with 10 homers and 11 steals in 67 games for Triple-A Colorado Springs while providing impressive defense in center, proving to be the five-tool threat the Brewers were hoping for on deadline day. He's already played 14 games with Milwaukee and seems to be on his way back to the NL Central leaders. The next step is putting it together at the Major League level, but given all Brinson has done in the system thus far, it shouldn't be long before he's making a consistent big-league impact. Trending: Up
3. Yankees OF Clint Frazier (from Indians): Not surprisingly, the Yankees are going to keep popping up on this list. Frazier came over from Cleveland in the Andrew Miller trade but struggled out of the gate in Triple-A Scranton/Wilkes-Barre. He did a better job of making the most of his trademark bat speed this season at the same level, hitting .256/.344/.473 with 12 homers in 74 games before getting called up on July 1. Still, the 2013 first-rounder might have earned a stagnant trending grade here, if not for the way he's performed since joining the Bronx Bombers. Frazier is hitting .277/.284/.569 with three homers, two triples and six doubles in 17 games with the Yankees -- numbers that have been good enough to earn a starting spot in left field of late, pushing Brett Gardner over to center and squeezing out Jacoby Ellsbury. At just 22, the right-handed slugger has joined forces with Aaron Judge to give the Yanks two rookie sensations in the corner outfield spots, a pairing that could last a while in the Bronx. Trending: Up
4. Padres RHP Anderson Espinoza (from Red Sox): This is the first of two one-for-one trades on this list, yet it still had a blockbuster feel. Espinoza was only 18 and in the midst of his stateside debut while drawing unfair comparisons to Red Sox great Pedro Martinez when he was dealt for All-Star left-hander Drew Pomeranz. The move was a small shock, given the way the Sox had praised the Venezuelan right-hander and his development over his first two seasons in the system. Yet a year later, Espinoza has been an example of why low-level pitching can still be far from a sure thing. He hasn't pitched in a game this year after experiencing forearm tightness in April and is still working his way back to full health. As such, he's fallen from No. 25 in MLB.com's preseason prospect rankings to No. 61 in the update. When healthy, the 19-year-old has an impressive fastball and two above-average off-speed pitches in his curve and changeup. But until he can put that arsenal on display on a Minor League mound again, his stock will continue to drop. Trending: Down
5. Yankees LHP Justus Sheffield (from Indians): Sheffield joined Frazier in the Miller deal and has met expectations in the 12 months since. The 2014 first-rounder was sent to Double-A Trenton when he was still 20 and has held his own, posting a 3.09 ERA and 1.35 WHIP. However, he hasn't quite missed as many bats as one would hope for a top-100 prospect (79 strikeouts in 90 1/3 innings), given his four-pitch mix. The 5-foot-11 southpaw is still on track to be a No. 3 or 4 starter for New York in the future, which is about what his potential was in Cleveland. (Note: Sheffield is currently on the disabled list with an oblique injury.) Trending: Stagnant
6. Brewers RHP Luis Ortiz, Double-A Biloxi (from Rangers): Traded alongside Brinson, Ortiz has also come as advertised in his first full season with the Brewers. The 21-year-old right-hander, who has two plus pitches in his fastball and slider, owns a 3.57 ERA and 1.13 WHIP with 72 strikeouts and 31 walks in 80 2/3 innings. Those are solid numbers, especially for the Southern League's fifth-youngest player on Opening Day, but nothing that's taking the world by storm. With 80 2/3 innings under his belt, Ortiz needs only 10 more to match last year's career high and could crack triple digits for the first time. His development is continuing apace, and that's fine for all involved. Trending: Stagnant
7. Astros OF/1B Yordan Alvarez, Class A Advanced Buies Creek (from Dodgers): This would 've been the surprise name on the list a year ago. Like Espinoza, Alvarez was in a one-for-one deal involving reliever Josh Fields. However, Alvarez hadn't even played in a Minor League game yet, having been signed for $2 million out of Cuba in June. The left-handed slugger earned that bonus with his bat, and he's shown it off in his first full season in 2017. Alvarez batted .360/.468/.658 with nine homers in 32 games at Class A Quad Cities before earning a promotion on June 23. He has yet to produce those same numbers in the Carolina League (.278/.354/.443, one homer in 22 games), but it's still early for the 20-year-old at the Class A Advanced level. Questions remain about his defense as he's split time between left field and first base, and that's what's holding him back from a potential spot among MLB.com's top 100 right now. A Futures Game participant earlier this month, Alvarez will need to keep hitting to maintain his value up the chain, but he's already moved up from No. 14 among Astros prospects at the start of the season to his current spot at No. 6. Trending: Up
8. Athletics RHP Grant Holmes, Double-A Midland (from Dodgers): The A's went right-handed-pitcher-heavy in their return for outfielder Josh Reddick and lefty Rich Hill on deadline day, and among the three arms they received, Holmes is the only one with prospect eligibility remaining. A former top-100 arm, the 21-year-old has dropped to the No. 9 spot in the A's prospect rankings because of sustained control issues. He's walked 8.7 percent of batters faced this season in the Texas League, the sixth-highest mark in the circuit. Though he's struck out a solid 22.2 percent, he still owns a 4.54 ERA, and opponents are hitting .275 against him. Holmes still earns plus grades for his fastball and curve, but he'll need to find the strike zone with increased regularity if he's going to have a chance at reaching his one-time high ceiling. Trending: Down
9. Padres 1B Josh Naylor, Double-A San Antonio (from Marlins): The Canadian first baseman was involved in that convoluted Padres-Marlins swap that had to be altered when Miami complained about Colin Rea's health. Rea was traded back to San Diego, while Luis Castillo, who would've placed just above Sheffield on this list, was returned to Miami. That left Naylor as the most prominent prospect in the deal, and he's basically met expectations with the Friars. The left-handed slugger was a bit above average in the California League, producing a .297/.361/.452 with eight homers in 72 games for Class A Advanced Lake Elsinore before getting the bump to Double-A San Antonio two weeks ago. The promotion was a bit of a head-scratcher for a 20-year-old who wasn't putting up monster numbers in an offensive league. What's more, it made Naylor the Texas League's youngest player, but he's holding his own with a .286 average and .797 OPS through 13 games. Naylor's power is his standout tool, but it's yet to bust out during games with nine long balls in 85 games this season. If he matures into more pop, he'll become more of a standout first-base prospect. For now, he's more of a steady option in an impressive system. Trending: Stagnant
10. Rays SS Lucius Fox, Class A Bowling Green (from Giants): Fox's career resembles a bit of a parabola. He was signed for $6 million out of the Bahamas in 2015, then struggled with a .207/.305/.277 line in 75 games for Class A Augusta before being included in the Rays' three-player return for Matt Moore on deadline day. A foot injury kept him out for the remainder of the season, and the Rays sent the switch-hitting shortstop back to Class A for 2017. He's back on the upswing, hitting .278/.362/.361 with 27 steals in 77 games for Bowling Green, and was promoted to Class A Advanced Charlotte on Tuesday. Fox's plus-plus speed is the obvious standout tool, and his quickness has earned him plaudits for his work at shortstop. The improvements also got him a spot in the Futures Game in Miami earlier this month. The 20-year-old still has some work to do with the bat -- power is a small part of the equation right now -- but with Moore proving ineffective in San Francisco and Matt Duffy sitting out after Achilles surgery, there are reasons to be optimistic about one player included in the deal. Trending: Up
Sam Dykstra is a reporter for MiLB.com. Follow and interact with him on Twitter, @SamDykstraMiLB.