Toolshed: Most interesting roads to the LCS
Changing positions, beating odds among memorable MiLB routes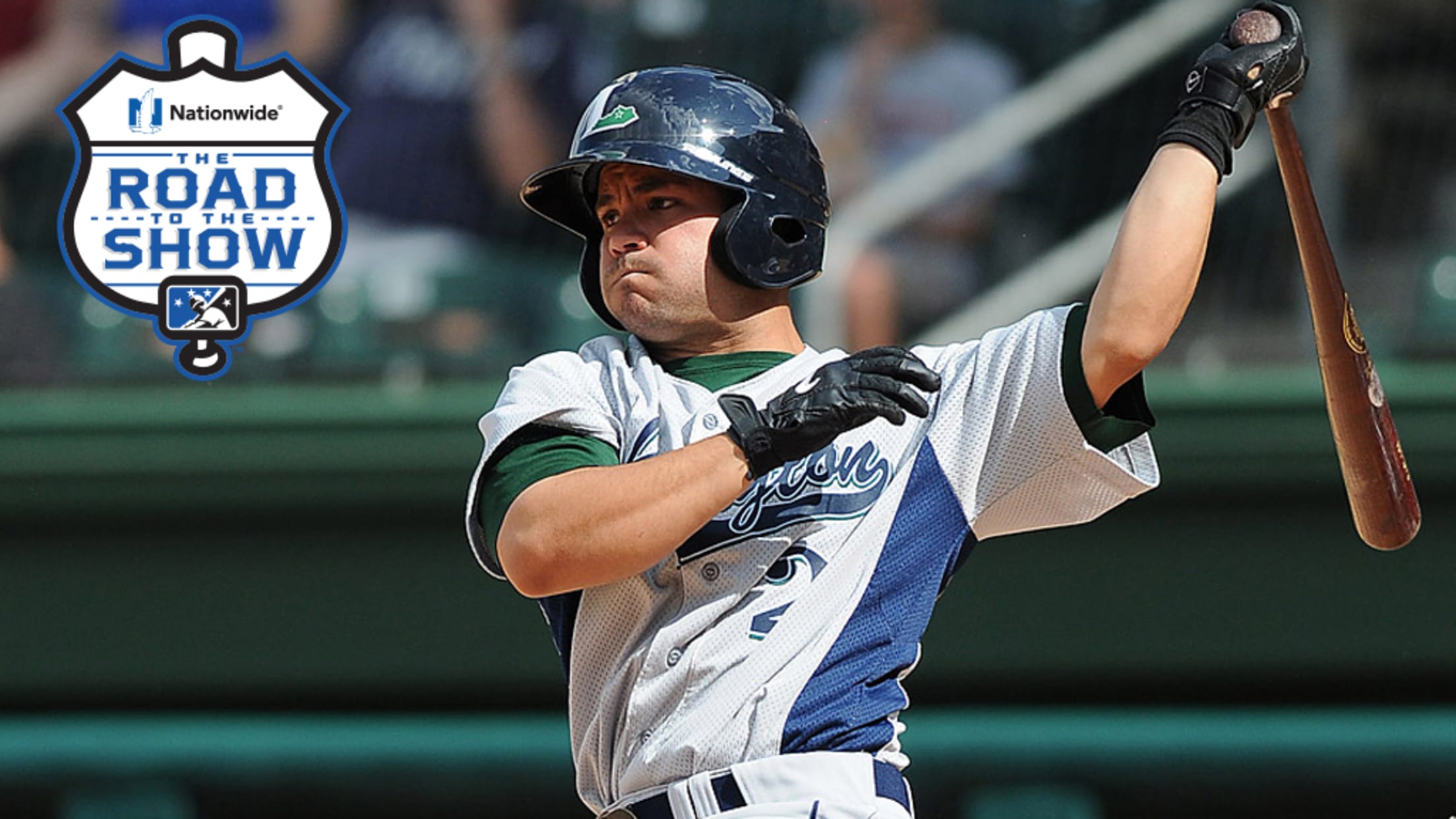 Jose Altuve was a South Atlantic League mid- and end-of-season All-Star for Lexington in 2010. (Tom Priddy/MiLB.com)
The specific destinations are all the same for this year's American and National League Championship Series. The roads to get there have been very different. Sure, it's great to see No. 1 overall picks Dansby Swanson and Carlos Correa play prominent roles for successful ballclubs, but that was always expected
The specific destinations are all the same for this year's American and National League Championship Series. The roads to get there have been very different.
Sure, it's great to see No. 1 overall picks Dansby Swanson and Carlos Correa play prominent roles for successful ballclubs, but that was always expected for such high selections and other former big-time prospects like Clayton Kershaw or Corey Seager. What's more fun is to look back on the players who took, let's say, more interesting routes to the World Series' doorstep. Small signing bonuses. Late Draft picks. Position changes. Many stops across multiple circuits. There is no direct path to eventual postseason success.
These are the three players (along with some honorable mentions) from each League Championship Series club with the most interesting roads through the Minor Leagues to the 2020 playoffs.
Houston Astros
José Altuve, second baseman: The poster child for this type of story. At 5-foot-6, he was too short when Major League clubs evaluated him in his native Venezuela. The Astros, who turned him down after a previous tryout, eventually signed him for just $15,000. Altuve was never a prominent Houston prospect either, topping out at No. 28 on _Baseball America_'s list for the Astros system prior to the 2011 season, despite being a consistent .300-level hitter at the lower levels. Part of that was Altuve's breakout was yet to come; he batted .389/.426/.591 with 42 extra-base hits in 82 games between Class A Advanced and Double-A in 2011, prompting a Major League debut that July at just 21 years old. Altuve picked up enough at-bats in that first season to graduate before he could be seriously considered for a Top-100 list. Despite all the size concerns, Altuve was an All-Star by 2012, a Silver Slugger by 2014, a Gold Glover by 2015 and an MVP by 2017. Whenever solid-producing hitters lack size, there is still a small voice inside evaluators' heads that say, "Well, there was Jose Altuve."
Martín Maldonado, catcher: Maldonado reportedly received offers from multiple clubs last offseason before choosing to re-sign with Houston on a two-year deal. That's a far cry from 14 years ago, when the Angels released the 2004 27th-rounder two seasons later. At that point, the Puerto Rico native had played three straight years in the Rookie-level Arizona League and had yet to produce an OPS above .600 at the complex. Realizing his defensive potential with good framing and a plus-plus arm, the Brewers signed the backstop and gave him his first taste of full-season ball at Class A West Virginia in 2007. Four years and a lot of offensive development later, he cracked the Majors with Milwaukee. Maldonado also made stops in The Show with the Royals, Cubs and ... yes, Angels at last. The Astros traded for Maldonado twice before signing him last offseason and have used him as their primary catcher in 2020.
Cristian Javier/Enoli Paredes, right-handed pitchers: We pair these two together for one simple reason -- both hurlers signed for only $10,000 out of their native Dominican Republic. Neither was a typical July 2 signing either, as is the case for many young international prospects. Javier inked his deal one week shy of his 18th birthday in March 2015, while Paredes was 20 when he officially made his Minor League debut. Both used impressive improvements to make big jumps toward the Major Leagues. Javier developed what's been termed his "invisiball," a high-spin rate fastball that was nearly impossible for Minor League hitters to pick up, while Paredes improved his velocity to the point at which he averaged 95.7 mph on his heater this season. Both played primarily at Class A Advanced and Double-A last season, but those jumps in stuff made the Astros comfortable about giving them their MLB debuts in this shortened campaign. Javier was used as a starter during the season before transitioning into a relief role in the playoffs, while Paredes has remained in the bullpen the whole time. Two big Major League arms for $20,000 signing bonuses combined.
Honorable mentions: Right-hander Josh James was a 34th-round pick out of an Oklahoma junior college in 2014 and broke out four years later, in part after solving a sleep apnea issue. ... Abraham Toro was another Oklahoma JuCo find in the fifth round of the 2016 Draft. A .938 OPS at the Minors' top two levels last season prompted him to get a Major League spot. ... Game 1 starter Framber Valdez signed in March 2015, played in the Dominican Summer League exclusively that season and was in the Majors three years later.
Tampa Bay Rays
Nick Anderson, right-handed pitcher: Anderson has posted a 1.43 ERA with 67 strikeouts and only five walks since joining the Rays in a 2019 deadline deal, making him one of the best valuable relievers in the game at present. Eight years ago, he was a 2012 32nd-round pick who didn't sign, spending the 2012, 2013 and 2015 seasons in the independent Frontier League and the 2014 campaign with Minnesota men's league club Tri-City Shark. He even had a 7.71 ERA with 20 strikeouts and 21 walks in 32 2/3 innings in that 2012 campaign with Rockford. The Twins purchased his contract from the Frontier Grays in August 2015 and immediately put him in the Class A Cedar Rapids bullpen. Anderson made it as high as Triple-A Rochester in the Minnesota system before he was moved to the Marlins for third baseman Brian Schales in November 2018. He cracked the Marlins' Major League bullpen the following spring and showed a promising enough mid-90s fastball and curveball to move him in a deal that included Top-100 prospect Jesús Sánchez. Anderson has lived up to the promise from that trade, but it's crazy to think that the 30-year-old reliever still has more seasons in independent ball (four) than he does in the Majors (two).
Mike Brosseau, infielder: There were 40 rounds in the 2016 Draft. That worked out to 1,216 players selected in that year's process. None of them were Brosseau, a senior infielder who produced a 1.022 OPS in his final season at Oakland. The Rays scooped him up as a free agent in late June, and the right-handed slugger managed to touch almost every level of the Tampa Bay system over four quick seasons in the Minors with an OPS of at least .776 at every stop. His biggest pro breakout came in 2019 when he batted .304/.394/.567 with a career-high 16 homers over just 73 games at Triple-A Durham. Brosseau continued to be a solid option in the shortened 2020 campaign, when he had a .936 OPS over 36 games while seeing time at first base, second, third and both corner outfield spots. (He even pitched a third of an inning with the one out coming on a K.) Brosseau's game-winning homer off Aroldis Chapman in Game 5 of the ALDS could prove to be one of the biggest in Tampa Bay's history, depending on how deep the club travels this postseason.
Pete Fairbanks, right-handed pitcher: Another member of The Stable. Fairbanks already had Tommy John surgery in his injury history when the Rangers took him in the ninth round of the 2015 Draft out of the University of Missouri. Unfortunately, he needed the procedure again in 2017, knocking him out for all of 2018 and forcing him into a relief role in 2019. As he was climbing the Texas ladder and making the Majors, Fairbanks was showing off an upper-90s fastball and impressive slider that put him on the Rays' radar. One month after his MLB debut, Tampa Bay swapped Nick Solak for the right-hander in July 2019. Fairbanks still throws his fastball and slider exclusively out of the bullpen and threw more than one inning in only four of his 27 appearances this season, thus protecting his elbow from further issues. Comebacks from Tommy John surgery are becoming common in baseball. Comebacks from multiple such elbow procedures are still eye-opening.
Honorable mentions: Kevin Kiermaier was just a 31st-round pick in 2010 out of Parkland College and quickly became one of the best fielders not only in the Rays system but all of baseball. ... Ji-Man Choi started out his Minor League career as a catcher in the Mariners system and won the 2010 AZL MVP award while playing the position part-time. ... Randy Arozarena and Yandy Díaz got their starts in the Cardinals and Indians pipelines respectively after defecting from Cuba. More on Arozarena's journey in this in-depth story by MLB.com's Juan Toribio. ... Ryan Thompson is one of the rare success stories from the Minor League phase of the Rule 5 Draft. The 28-year-old right-hander missed the 2018 season in the Astros system due to Tommy John surgery, was plucked by the Rays in the process that December and debuted in the Majors this year.
Atlanta Braves
Ronald Acuña Jr., outfielder: This might be grading on a curve, but it's important to remember just how far Acuña has come in becoming one of the sport's superstars. The Braves signed Acuña -- the son of a former Minor Leaguer by the same name -- for just $100,000 out of Venezuela in 2014, a fraction of what any other organization would have paid had they even an inkling of the five-tool talent he became. Acuña moved directly stateside for his 2015 season and would have broken out the season after, if not for a thumb injury that limited him to 40 games at Class A Rome. The right-handed slugger went Down Under to make up for the lost time in the Australian Baseball League -- where he posted a 1.001 OPS in 20 games for the Melbourne Aces -- before he burst on the scene for real in 2017. Acuña shot up three levels that season, hitting .325 with 21 homers and 44 steals in 139 games, and debuted in the Majors the following April, having become the game's No. 2 overall prospect by that point (behind only Shohei Ohtani). A top prospect becoming a Major Leaguer isn't always interesting. A somewhat low-level signing becoming a superstar -- that's the type of development on which major contenders are built.
Chris Martin, right-handed pitcher: Following a scoreless inning in Monday's Game 1 win over the Dodgers, Martin has made four appearances for the Braves this season. That's no small feat for a pitcher who was drafted in 2004 and 2005, injured his shoulder, did not sign, worked various odd jobs for years (including in a Lowe's warehouse) and jumped on with Grand Prairie in the independent American Association in 2010 when he felt the shoulder had fully healed. With a 1.96 ERA over 36 2/3 innings for the AirHogs, Martin showed enough for the Red Sox to sign him to a Minor League deal in March 2011. He climbed steadily through the Boston system, was traded to Colorado in December 2013, saw time in the Majors with the Rockies and Yankees, spent two seasons in Japan, returned to his native Texas to sign with the Rangers and was acquired by the Braves as a relief option at the 2019 Trade Deadline. It's a lengthy trip through all sorts of levels of baseball that might make Forrest Gump jealous.
Tyler Matzek, left-handed pitcher: The Minor Leagues aren't just for prospects. They also provide roads back for players who have seen The Show and are desperately fighting their way back. As a 2009 first-rounder, Matzek was once a top pitching prospect in the Rockies system who debuted in the Majors with Colorado in 2014. Just one year later, he started dealing with significant control issues, walking 44 in 35 2/3 innings between the Majors and Minors. The Rockies released him in November 2016, and he didn't see a mound again until jumping on with the same independent club as Martin (now called the Texas AirHogs) in 2018 and 2019. Sandwiched in between was a brief three-outing turn in the Mariners system, but it was the Braves who kept Matzek on for good when they signed him in August 2019. Though he was still dealing with some mechanical issues, the 6-foot-3 left-hander showed signs of his old self in the Atlanta system, striking out 18 and walking only five over six appearances (12 1/3 innings) between Double-A Mississippi and Triple-A Gwinnett. With the yips behind him, Matzek carried the momentum from those Minor League stints into strong spring and summer camps, winning a Major League spot outright. He posted a 2.93 ERA with 43 K's and 10 free passes over 29 innings during the season and has made three scoreless appearances in the playoffs. Matzek has yet to walk a batter in the postseason.
Honorable mentions: Reliever Jacob Webb was the first pitcher drafted from NAIA school Tabor College when he went in the 18th round of the 2014 Draft. He underwent Tommy John surgery in 2015. ... Adam Duvall signed with the Giants for only $2,500 coming out of Louisville in the 11th round of the 2010 Draft. ... Travis d'Arnaud was considered a top catching prospect in the Phillies, Blue Jays and Mets systems and was traded twice while maintaining Top-100 status.
Los Angeles Dodgers
Kenley Jansen, right-handed pitcher: It's well-trod territory at this point in Jansen's legend and still worth returning to in a column such as this. Jansen started out his career as a catcher and was a decent one at that, even representing the Netherlands behind the plate at the World Baseball Classic during his days in the low levels of the Dodgers system. (He also served as Clayton Kershaw's batterymate in the Gulf Coast League.) But by the end of 2009, his greatest strength remained his arm, and that year, Los Angeles decided to get him some innings, first at Class A Advanced Inland Empire and later in the Arizona Fall League. His stuff -- highlighted by a strong fastball with plenty of cut -- seemed to work just fine. Jansen posted a 1.60 ERA with 78 strikeouts over 45 innings between Inland Empire and Double-A Chattanooga in his first full season on the mound, prompting a Major League debut on July 24, 2010. He was a valuable member of the bullpen in 2011 and took over closing duties for good in 2012. His 312 saves are 24th-most all-time and second among active leaders behind only Craig Kimbrel's 348. It'd be fun to see what Jansen's caught-stealing rate could have been had he stuck behind the plate. This was still a lot better of an outcome.
Pedro Báez, right-handed pitcher: Jansen isn't the only member of the Los Angeles bullpen who used to play a completely different position. Báez was originally signed out of the Dominican Republic as a third baseman and climbed as high as Double-A at the position. In fact, he was considered a top-20 prospect in the system because of his plus power potential and good arm from the hot corner. But when Báez struggled to produce an OPS above .700 in back-to-back seasons in the Southern League in 2011-12, the Dodgers tried him on the mound, hoping to recreate their success from Jansen's transition. Like the closer, Báez got in one full season on the mound in 2013, made positive strides in his second campaign and debuted in the Majors that same year. With an often slow approach to pitching, Báez can be a bit maddening to watch at times, but he has shown the fastball-slider-change mix to be effective in his second life in the game. The 32-year-old right-hander hasn't posted an ERA+ below 130 since 2015.
Victor Gonzalez, left-handed pitcher: Make it a clean sweep for the catchers. Gonzalez came over to the Dodgers in the same Mexican League deal that brought over Julio Urías in 2012. Urias moved quickly through the L.A. system. Gonzalez most certainly did not. Going in 2017, he had still yet to climb above Class A, and Tommy John surgery that year delayed hopes of climbing higher any time soon. Following a lost year in 2017 and a year of rehab on the mound in 2018, Gonzalez started to show improved stuff coming out of the surgery, especially when it came to velocity, as he was starting to touch the high-90s. Working mostly as a reliever, Gonzalez climbed three levels in 2019, posting a 2.31 ERA with 93 strikeouts in 89 2/3 innings. He opened the 2020 season with the Major League club and stuck around for much of the season, thanks to a 1.33 ERA, 23 strikeouts and only two walks in 20 1/3 frames. Not bad for a pitcher with only 62 1/3 innings above Class A Advanced and a major elbow surgery on his ledger coming into 2020.
Honorable mentions: Mookie Betts was most notably not Mookie Betts during his time in the Minors. Rather, the 2011 fifth-rounder was originally a second baseman in the Red Sox system who didn't see time in the outfield until 2014 at Double-A. ... Tony Gonsolin, who would feature in most Major League rotations, only signed for $2,500 as a senior sign out of St. Mary's when he was taken in the ninth round of the 2016 Draft.
Sam Dykstra is a reporter for MiLB.com. Follow and interact with him on Twitter, @SamDykstraMiLB.