Toolshed: Nuggets about rookies in the playoffs
Legendary matchups, possible records among postseason fun facts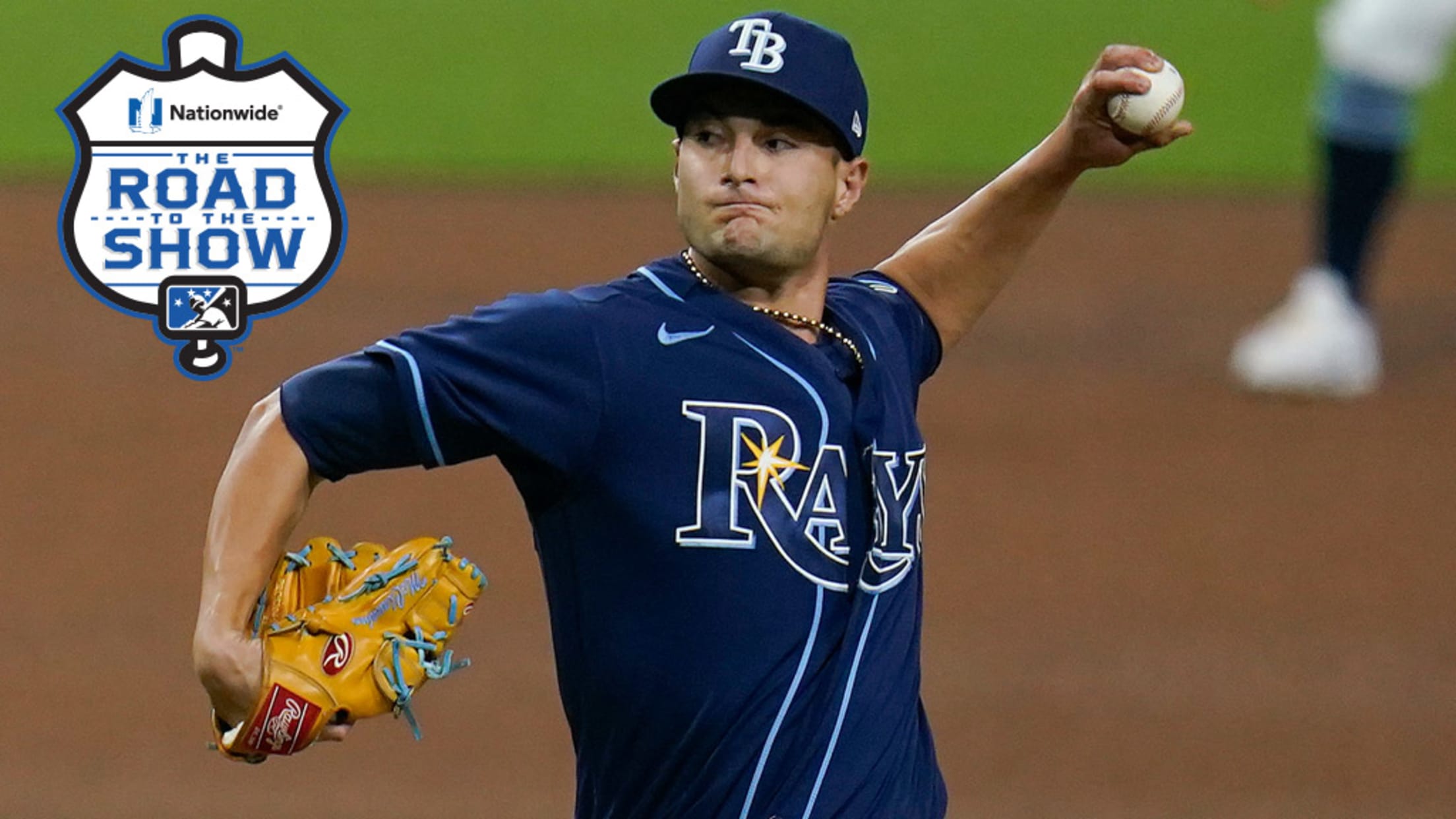 On Tuesday, Shane McClanahan became the first pitcher in the modern era to make his Major League debut in the postseason. (Gregory Bull/AP)
Many Major Leaguers go long stretches, or in some cases their entire careers, without making the postseason. Hall of Famer Ernie Banks, for example, owns the Major League record for most games without a playoff appearance with 2,528. With the Wild Card era and the potential of the expanded 2020
Many Major Leaguers go long stretches, or in some cases their entire careers, without making the postseason. Hall of Famer Ernie Banks, for example, owns the Major League record for most games without a playoff appearance with 2,528. With the Wild Card era and the potential of the expanded 2020 postseason extending beyond this season, it's a record that may never fall, right up there with Cal Ripken Jr.'s 2,632 consecutive game streak and Cy Young's 511 career wins, but it illustrates how much even some of the greats missed out on performing on the biggest stage.
But at the opposite end of the spectrum, there are plenty of rookies who see the promised land of the postseason as early as possible in their budding Major League careers. Entering Tuesday, 50 different rookies had appeared in the 2020 playoffs, either in the eight Wild Card Series or the first two games of the American League Division Series.
To celebrate the young players who have gotten a taste of the playoffs early in their Major League tenures, Toolshed shares some rookie-based nuggets about the postseason. These aren't meant to be exhaustive. Consider them fun facts to keep in your pocket for your next pub trivia round or to impress your friends during commercials.
As rookie as it gets: This has been the rookie-based fun fact of the playoffs so far, and it is worth repeating because of how cool it is. Entering 2020, only two Major Leaguers in the modern era debuted in The Show in the postseason: Mark Kiger (2006) and Adalberto Mondesi (2015). Already in 2020, that number has doubled. Twins outfielder Alex Kirilloff made his first Major League appearance last Wednesday in Game 2 of Minnesota's Wild Card Series loss to the Astros. On Monday, Rays left-hander Shane McClanahan became the fourth player on the list -- and the first pitcher -- when he recorded an out against the Yankees in the ALDS opener. As it stands, this is the first postseason with two Major League debuts, and that number could grow to three if outfielder Chas McCormick, who remains on Houston's active roster, gets in a game. It's also important to note that the "modern era" designation is important. While many were quick to state Kirilloff was the first rookie to make his Major League debut as a starter, Major League Baseball historian John Thorn pointed out that Bug Holliday started in his debut for the Chicago White Stockings during the World Series in 1885. In any event, seeing players reach the big leagues in the playoffs used to be a rarity, or for some decades, a laughable concept. Another norm that has changed in 2020.
Youngest of the young: At 18 years, 318 days old, New York Giants third baseman Freddie Lindstrom remains the youngest rookie to appear in a Major League postseason game after getting the start in Game 1 of the 1924 World Series against the Washington Senators. Not only did the teenaged Lindstrom start for the Giants, he batted leadoff in that first game in Griffith Stadium, despite having appeared in only 52 games for the big club during the regular season. Lindstrom remains the only 18-year-old to play in any Major League postseason game dating back to 1903, and he took part in all seven games, going 10-for-30 (.300) with a pair of doubles, as the Senators took the Series, 4-3. Lindstrom was selected to the Baseball Hall of Fame by the Veterans' Committee in 1976.
When Mays met the Mick: Anyone would be hard-pressed to find a more talented matchup of rookies than the one in the 1951 World Series. That Fall Classic pitted the New York Giants and National League Rookie of the Year Willie Mays against the New York Yankees and up-and-coming center fielder Mickey Mantle. The meeting looks more stellar in retrospect than it did at the time. Mays didn't quite live up to the early hype, going 4-for-22 (.182) with no extra-base hits in six games, while Mantle only got in two games as right fielder, finishing 1-for-5 with two walks because Joe DiMaggio was busy in center wrapping up his Major League career with one last World Series title. That said, Mays (156.2) and Mantle (110.2) rank fifth and 21st respectively in career Baseball-Reference WAR. They were only two of four among the top 25 to reach the postseason in what we call their rookie years. (The others being Alex Rodriguez and Stan Musial.) The fact that they crossed paths on such a big stage early in their budding careers was historic.
Jackie and Yogi: While we're on the topic of rookie matchups in the World Series, Jackie Robinson famously helped guide the Brooklyn Dodgers to the 1947 World Series after he broke Major League Baseball's color barrier that same year. Robinson has a good case for being baseball's most famous and important rookie in the history of the big leagues. But he wasn't alone among to-be legends in the '47 Series. Yogi Berra was also technically a rookie, having only 22 at-bats in 1946, and he made his playoff debut in the same Classic. Berra's Yankees squeaked by Robinson's Dodgers in seven games. Usually a catcher, Berra played the final two games of the Series in right field. He wouldn't mark time in the outfield in a postseason game again until 1960.
Already at the pinnacle: There have been three rookies to win League Championship Series MVP awards: Orioles right-hander Mike Boddicker (1983 ALCS), Marlins right-hander Livan Hernandez (1997 NLCS) and Cardinals right-hander Michael Wacha (2013 NLCS). There have been two rookies to win the World Series MVP, dating back to when that award began in 1955: Dodgers right-hander Larry Sherry (1959) and Hernandez. Beyond the fact that all five are northpaw pitchers, it's not difficult to discern the other center of this Venn diagram. Hernandez is one of seven players to nab LCS and World Series MVP honors, and as noted, was the only rookie to do so during the Marlins' first run to a title 23 years ago. His standout performance of the playoffs was a Game 5 start in the NLCS against the Braves in which he struck out 15 batters over nine innings -- the rookie postseason record for K's in a single game and third-most in playoff history by a pitcher of any experience level. Hernandez's World Series numbers were less rosy (5.27 ERA, seven strikeouts in two starts), but his ability to earn the win in both appearances gave him the necessary boost to claim his second individual honor of the 1997 postseason.
Dinger records: Led by five homers from Cubs slugger Kyle Schwarber, rookie sluggers combined to hit a record 19 long balls in 2015, more than doubling the previous record of nine set in 2007. Outside of 2017, when rookies went deep 12 times, no class has come particularly close to that record. Rookies in 2018, for instance, only went deep once, and that was courtesy of Ronald Acuña Jr.. The 2020 postseason could give that number a run for its money, but it might come with an asterisk. The expanded playoff structure brought 16 more Wild Card Series games to the schedule than the 2019 format allowed. Sean Murphy, Jake Cronenworth and Luis Robert went deep last round to give 2020 rookies a three-homer start, and those first two are on teams still alive in the playoff hunt. It's going to take even more pop to catch up to a class that boasted Schwarber, Kris Bryant, Michael Conforto, Stephen Piscotty, Jorge Soler and Carlos Correa, but the extra games could make it close. Murphy and Randy Arozarena added two more dingers to the total Monday, giving 2020 rookies five on the postseason through two games in the LDS. Fourteen more to go. Watch this space.
On the starting blocks: Speaking of records that could fall in 2020, there's the matter of most rookie starting pitchers used in a single postseason. That record stands at seven, set in 2013 when Wacha, Gerrit Cole, Sonny Gray, Hyun-Jin Ryu, Danny Salazar, Dan Straily and Julio Teheran got playoff starts in their rookie years. Following Monday's ALDS play, that number stands at six for 2020: Ian Anderson, Dane Dunning, Kwang Hyun Kim, Jesus Luzardo, Sixto Sanchez and Jose Urquidy. One more rookie pitcher this postseason ties the record. Looks like that will be Deivi Garcia for the Yankees in Game 2 of the ALDS on Tuesday. Two more breaks the mark outright. Seems simple, but it's not a given that will happen. The best chance for an eighth rookie starter seemed to be Astros right-hander Cristian Javier, who made 10 starts during the regular season. However, Houston manager Dusty Baker used Javier out of the bullpen in his club's Game 1 win and could keep him available in that role the rest of the series against the A's. The lack of off days could mean more bullpen games, like the one the Padres utilized to win Game 3 of their Wild Card Series against the Cardinals. That elevates the chances Adrian Morejon or Luis Patiño get a start, even if it's an abbreviated one. Something to follow as the postseason bops along.
Where art thou, Lux: Gavin Lux was meant to be an NL Rookie of the Year candidate in 2020. Things didn't quite work out that way. Best to remember the better times instead. Fresh off a Minor League campaign in which he produced a 1.028 OPS between Double-A and Triple-A, the Dodgers infielder made history with his power last postseason when he went deep in Game 1 of the NLDS against the Nationals at 21 years, 314 days old. That made him the youngest player to hit a pinch-hit homer in the playoffs. It also made him the second-youngest player to go yard in his first postseason plate appearance, coming in just 86 days older than Brian McCann , who went deep for the Braves in the 2005 NLDS against the Astros. The dinger left something of an impression. Lux started at second base in the following three games of the series, but sat again in the decisive Game 5 loss. For reference, Cristian Pache does not yet have a postseason plate appearance, but will be 21 years, 322 days old Tuesday, making him eight days too late to break Lux's pinch-hit mark or McCann's homer record.
Sam Dykstra is a reporter for MiLB.com. Follow and interact with him on Twitter, @SamDykstraMiLB.