Toolshed: Prospects with World Series connections
Top-100 talents have ties to Fall Classic, even away from Arlington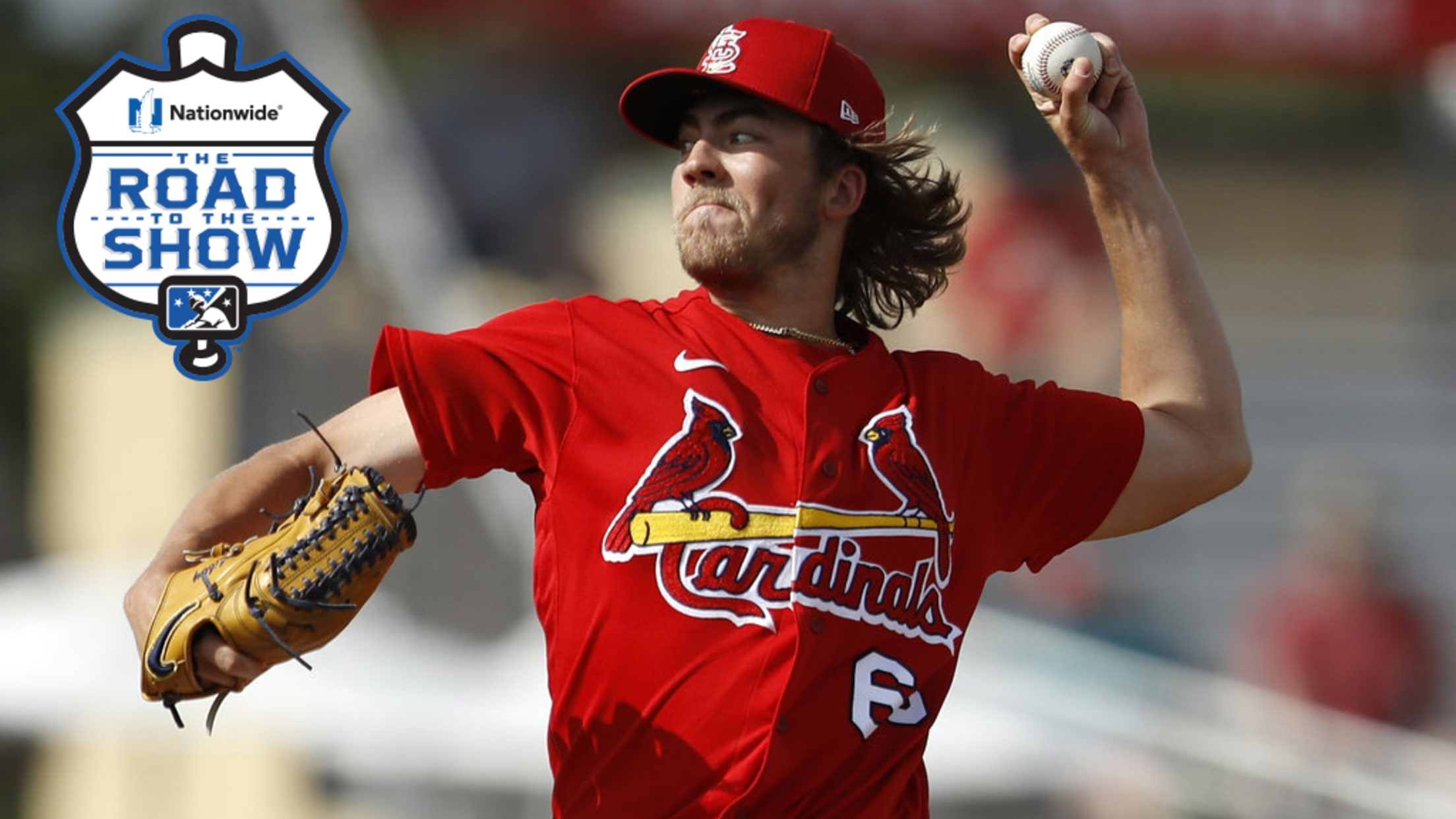 Acquired from the Rays, Matthew Liberatore saw time in Spring Training and at the Cardinals' alternate site but did not pitch in the Majors in 2020. (Julio Cortez/AP)
This is not a World Series for the prospect lover. Then again, not many World Series are. Sure, there are two ranked prospects left -- both from the Rays roster -- and they have their own stories to tell. No. 19 Tampa Bay prospect Randy Arozarena has been one of
This is not a World Series for the prospect lover. Then again, not many World Series are.
Sure, there are two ranked prospects left -- both from the Rays roster -- and they have their own stories to tell. No. 19 Tampa Bay prospect Randy Arozarena has been one of the hottest hitters of the postseason and one of the biggest stories when he became the first rookie position player to be named a playoff series MVP. No. 6 Shane McClanahan actually made his Major League debut in this postseason, has pitched three times out of the Rays bullpen and remains on the World Series roster despite his limited experience.
And that's it.
That doesn't mean there aren't other top prospects who come to mind as the Dodgers and Rays do battle over the coming days after splitting Games 1 and 2 earlier in the week -- big names who were left off the postseason roster who maybe could have helped; others traded to bring in the top talent leading Los Angeles and Tampa Bay to the precipice of October glory. Below are the Top-100 prospects Toolshed is still thinking about as the World Series rages on:
1. Wander Franco: The game's top overall prospect nearly gave baseball fans a heart attack on social media this week when he posted a quick video of his Rays jersey with a World Series patch. The panic was for naught. The 19-year-old, switch-hitting shortstop is a member of Tampa Bay's 40-man player pool and has been kept within the bubble throughout the playoffs, just in case the club really needed him. As such, he gets a World Series jersey that he is highly unlikely to wear in a game, barring an injury that allows the Rays to put him on the active roster. No one wishes for that type of circumstance to arise, but it's fun to think about Tampa Bay adding Franco to the World Series roster before Game 1, making him the first position player to make his Major League debut in the Fall Classic since Adalberto Mondesi in 2015. (Mondesi got one plate appearance and struck out.) Franco's elite skill right now is his hit tool and incredible ability to make lots of contact -- and good contact at that. Reports of his batting practice sessions have indicated that he's putting on power shows there as well. That's all well and good, but this is still a teenager with just 52 games above the Class A level. Throwing him into the fire of a World Series is typically ill-advised. Sometimes a dream needs to stay a dream.
12. Brendan McKay: This one takes far less imagination. McKay entered 2020 with 49 innings of Major League experience and was certain to graduate from prospect status, if he avoided injury. Unfortunately, that didn't happen. The 24-year-old left-hander missed time before the season due to a positive COVID-19 test and, shortly after returning, suffered a shoulder injury that required season-ending surgery in August. With Tampa Bay's heavy reliance on its full pitching staff, it's hard not to think that McKay couldn't have played a crucial role, either as a starter or multi-inning reliever. At the very least -- with his plus fastball and plus cutter -- he has a higher ceiling than the other lefties in the bullpen: Ryan Yarbrough, Josh Fleming, Aaron Loup and Ryan Sherriff. In fact, it's unlikely that McClanahan gets the call for his debut if McKay is healthy. Heck, it's even possible that McKay could have been an emergency bat as well off the bench after the Rays refused to rule out his two-way status last offseason. Instead, the former Louisville hurler heads into 2021 with his prospect status intact, and we're left wondering what his World Series debut would have looked like.
40. Jeter Downs: It's been a common refrain during these playoffs: "How could the Red Sox trade Mookie Betts?" While Alex Verdugo was solid in his first season in Boston, he certainly fell shy of the standard set by its previous right fielder. But really it's Downs who was the headliner from a prospect perspective, and there are some important factors to keep in mind here. For starters, remember that the Dodgers technically acquired Betts for only one season, driving down the price. They took advantage of his time in the organization by signing him to a 12-year extension, but the Betts contract they initially traded for had one year left before the former AL MVP was going to hit free agency. Downs, a 22-year-old middle infielder, quickly became the top prospect in the Red Sox system, and with above-average potential in both his hit and power tools, he has every chance to be Boston's second baseman of the future. But since he was acquired with two others and will be under team control for several years, it's unfair to use every big Betts hit or great defensive play as a pressure point on Downs' career. It's one thing to get upset about a trade that happened for financial reasons. It's another to take it out on the evaluation process of the prospect involved in that trade.
41. Vidal Brujan: Similar to Franco but without the heart palpitations. Brujan was included on the Rays' 40-man postseason player pool but has yet to crack a roster in any of Tampa Bay's four playoff series. Depending on how you view ceiling vs. proximity to the Majors, Brujan might have made a case for an easier call-up than Franco if the AL champs did require infield help. Beyond the 55 games of Double-A time on his resume, the 22-year-old would have served as an excellent pinch runner with his plus-plus speed that helped him steal more than 60 bases in each of his last two Minor League seasons. What's more, Brujan -- also a switch-hitter -- has more experience playing both second and short and could have filled in at either spot. In other words, the Dominican Republic native is more of a classic fit on a playoff bench. Instead, the Rays have used Brett Phillips and Hunter Renfroe as their two pinch runners in this World Series. Brujan's wheels will have to wait.
52. Matthew Liberatore: Speaking of trades that have constantly come up throughout this postseason, the general consensus is that the Rays pulled off a great deal in picking up Arozarena from the Cardinals last January. The club also traded for José Martínez (now of the Cubs) in the swap and gave up Liberatore and catcher Edgardo Rodriguez. If it's possible to remember nine months ago, recall that Liberatore was actually the biggest name in the deal at the time. The 2018 16th overall pick was coming off a solid first full season in which he posted a 3.10 ERA with 76 strikeouts in 78 1/3 innings at Class A Bowling Green. With two plus pitches in his fastball and curve and another above-average one in his changeup, the pieces are there for Liberatore to be a strong Major League starter some day. It's still going to take some time for him to reach that ceiling, which can be hard for Cardinals fans to swallow while they see Arozarena win hardware on the game's biggest stage. Still, there's every possibility for the Cuban outfielder to come back toward Earth. Arozarena still only has 58 games of Major League experience between the regular season and playoffs, and based on his Minor League time, he was expected to be a fourth outfielder at the top level. He could exceed those expectations but still look like a disappointment based on this hot run in September and October. This is the perfect trade that draws hot takes and instant reactions. Resist that urge in St. Louis.
62. Josiah Gray: Even with off-days scheduled for the World Series, the Dodgers have stayed pitching-heavy on their 28-man roster by carrying 15 hurlers -- the same group they had for the NLCS. Gray isn't one of those 15 at present, though he does remain a part of the taxi squad. Following the graduations of Gavin Lux and Dustin May in 2020, the 22-year-old right-hander has become the Dodgers' top prospect on the strength of a mid-90s fastball, above-average slider and 55-grade control. In a normal 2020 season, it's possible that Gray would have gotten at least some Major League time, considering he ended 2019 with nine appearances at Double-A Tulsa. His time ran out in a 60-game season, and Los Angeles decided against giving him that McClanahan-style debut in the playoffs with so many other arms around with experience in The Show. Surely, Gray's stuff could have gotten some outs, especially with the way manager Dave Roberts has kept certain pitchers from working too deep into games. But with LA being much more risk-averse when it comes to players with little or Major League experience, Gray's chance will have to wait for 2021.
68. Keibert Ruiz: The Dodgers carried three catchers in the Wild Card series, allowing Ruiz to back up Will Smith and Austin Barnes behind the plate. The 22-year-old backstop, who appeared in only two games during the regular season, didn't feature against the Brewers and has been kept off the Los Angeles roster for subsequent rounds. There was a thought that he could be added back to the 28-man for the World Series, given that the scheduled off-days would lighten the load on the pitching staff. His case was only strengthened by the fact that the Dodgers have used both Smith and Barnes in the starting lineup, typically when Barnes serves as Clayton Kershaw's personal catcher, and have had to make late-game defensive changes that rob the club of its designated hitter. Perhaps it's again Ruiz's lack of experience working with this pitching staff directly that is keeping him from serving as defensive cover at this late stage. But if a moment comes up in the Series where Roberts has to pinch-hit for the pitcher in a high-leverage situation because a catcher swap led to a loss of the DH, know that that situation could have been a little easier had Ruiz been there for protection behind the plate.
76. Jesús Sánchez: It was one of the most perplexing trades of the 2019 Trade Deadline. The Marlins and Rays pulled off an intra-Florida swap that sent relievers Nick Anderson and Trevor Richards to Tampa Bay for Sánchez and reliever Ryne Stanek. Teams don't usually include Top-100 prospects in trades so easily, but the Rays system was deep enough to absorb the loss. Before long, it was clear why the AL East club pulled the trigger. It liked Anderson that much. The former indy ball right-hander has been one of the most dominant relievers since the trade and posted a 0.55 ERA and 0.49 WHIP with 26 strikeouts in 16 1/3 innings during the 2020 regular season. Despite some rougher results this postseason, manager Kevin Cash continues to use Anderson as his first arm out of the 'pen in high-leverage situations in the middle of games. Sánchez, meanwhile, played in 10 games for the Marlins in his first taste of the Majors but managed to go only 1-for-25 with 11 strikeouts. Like the other traded names on this list, the 23-year-old outfielder has plenty of time to show off the above-average hit and power tools he showed at lower levels, but with every big out Anderson makes in October, the trade becomes less and less perplexing.
Sam Dykstra is a reporter for MiLB.com. Follow and interact with him on Twitter, @SamDykstraMiLB.