Toolshed's best of the decade: Offensive players
Reviewing, ranking 2010s MiLBY winners for work with the bat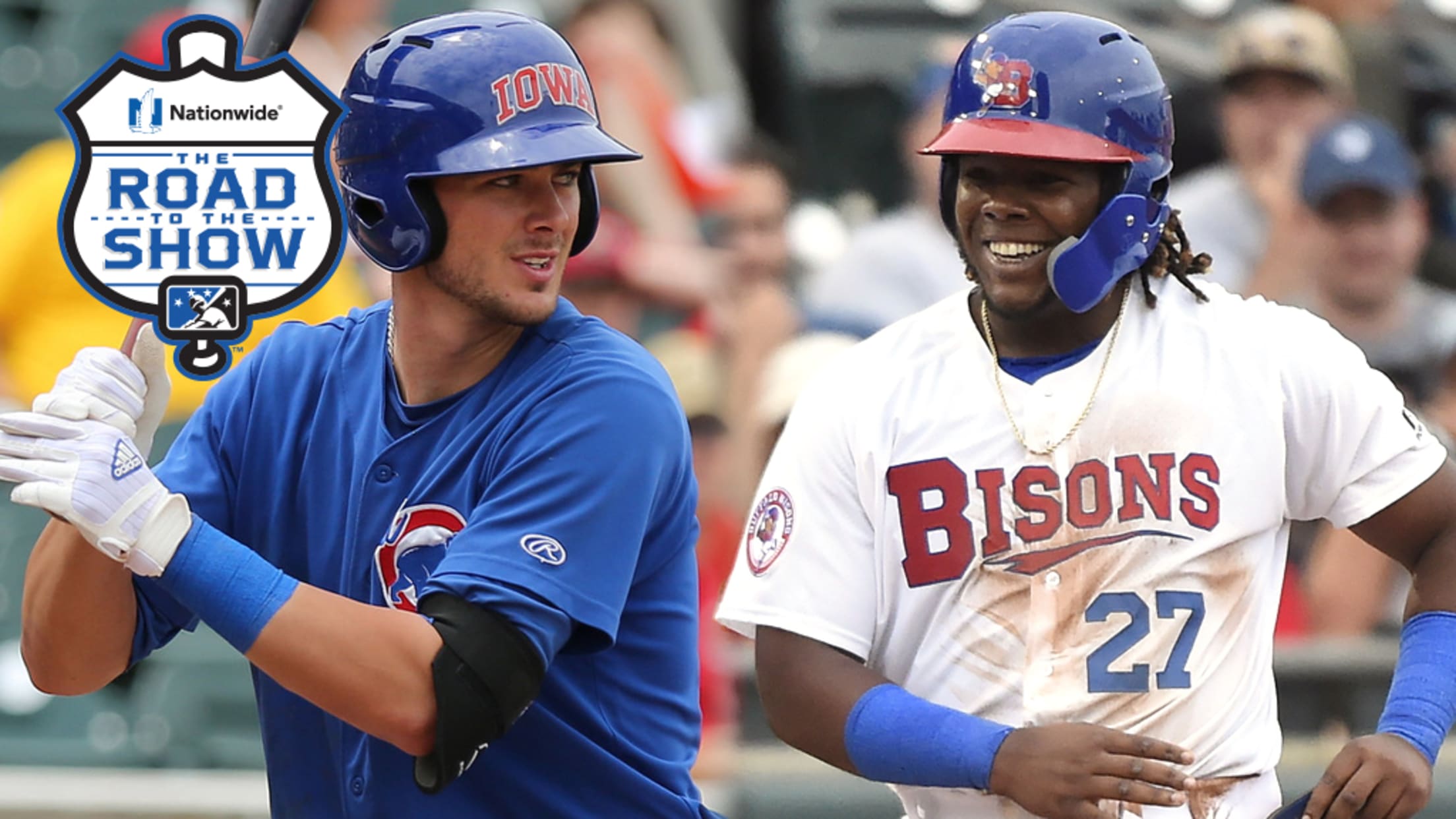 Kris Bryant and Vladimir Guerrero put together two memorable seasons at the plate in the 2010s. (Dylan Heuer/Iowa Cubs, Nathan Denette/The Canadian Press)
There was no Minor League season in 2020, and unfortunately, that means there will be no MiLBY Awards this year either. In their stead, Toolshed is taking the next couple weeks to look back at MiLBY winners from the major categories in the 2010s. The series will rank all the
There was no Minor League season in 2020, and unfortunately, that means there will be no MiLBY Awards this year either. In their stead, Toolshed is taking the next couple weeks to look back at MiLBY winners from the major categories in the 2010s. The series will rank all the winners from 10-1 to evaluate which players truly had the most standout Minor League seasons in the last decade. (Note: The 2010 and 2011 MiLBYs were chosen by level, instead of Minor League-wide, so Toolshed has taken some license in selecting those year's winners for consideration in this series.) This first edition takes on Top Offensive Players.
10. Wil Myers, 2012
Teams: Double-A Northwest Arkansas, Triple-A Omaha
Stats: 134 G, 591 PA, .314/.387/.600, .987 OPS, 37 HR, 109 RBI, 6 SB, 156 wRC+
Overview: Myers has been many things in his career. A Royals catcher/outfielder/third baseman. A Rays Rookie of the Year. A Padres veteran. In 2012, he was arguably the Minor Leagues' most productive hitter. He ranked second in the Minors with 37 homers, which remain seven more than he has hit in any other season in the Minors or Majors. He was also one of only three players to slug at least .600 over 400 plate appearances or more. For reference, that number stood at nine in 2019. By the way, all of this came after the right-handed slugger went deep only eight times and posted a .745 OPS for Northwest Arkansas the season before. (A knee injury was partially to blame.) Myers used the breakout 2012 season to surge to No. 4 in MLB.com's Top-100 rankings the same offseason he was dealt from the Kansas City system to Tampa Bay.
9. Dylan Cozens, 2016
Teams: Double-A Reading
Stats: 134 G, 586 PA, .276/.350/.591, .941 OPS, 40 HR, 125 RBI, 21 SB, 155 WRC+
Overview: The Minor League version of the Bash Brothers in the 2010s could be found in Reading in 2016. Cozens and fellow Phillies prospect Rhys Hoskins went back and forth for much of the summer, chasing the Minor League lead in home runs. In the end, it was Cozens who pulled away with 40 to Hoskins' 38 in second place. That also made Cozens one of three sluggers to belt 40 long balls in a Minor League season in the last decade, joining Kris Bryant (2014) and Joey Gallo (2014 and 2017). His Minors-best 125 RBIs as well as 22 steals only added to the left-handed hitter's impressive resume. Cozens was one of only three 20-20 players in the Minors in 2016, and he doubled the home-run requirement for such a designation. It's worth pointing out that, yes, Cozens did all of this while spending an entire season with Reading, which lays claim to Double-A's most hitter-friendly stadium. In fact, 29 of Cozens' 40 homers came at home. But a 40-20 player was too enticing to pass up as the 2016 Top Offensive Player, and it's the type of season worth remembering here, even though Cozens now calls the Rays system home.
8. AJ Reed, 2015
Teams: Class A Advanced Lancaster, Double-A Corpus Christi
Stats: 135 G, 622 PA, .340/.432/.612, 1.044 OPS, 34 HR, 127 RBI, 0 SB, 182 wRC+
Overview: A Golden Spikes Award winner as a two-way player at Kentucky, Reed was a 2014 second-round pick by the Astros, who immediately made him into a full-time first baseman. By the end of his first full season, it was pretty clear why they liked the bat. Reed won the 2015 Joe Bauman Home Run Award with 34 blasts, his first two of such honors before claiming the 2017 award with the exact same total. As expected, his best numbers came in the California League, where he posted a .346/.449/.638 slash line with 23 blasts in only 82 games, but the left-handed slugger still produced a .976 OPS at the much more pitcher-friendly Texas League. Reed ended the 2015 campaign as the full-season leader in homers, slugging percentage, OPS and wRC+ -- signs that he probably shouldn't have started at Class A Advanced or at least should have seen some time at Triple-A. He entered 2016 as the No. 40 overall prospect, but struggled to replicate his Minor League dominance in the Majors, which hurt doubly so considering he was stuck to first base defensively. Reed batted .149/.241/.234 over 62 games between the Astros and White Sox and retired from the game last March.
7. Paul Goldschmidt, 2011
Teams: Double-A Mobile
Stats: 103 G, 457 PA, .306/.435/.626, 1.061 OPS, 30 HR, 94 RBI, 9 SB, 178 wRC+
Overview: Goldschmidt was a breakout prospect in 2010, having racked up 35 homers at Class A Advanced Visalia one year after being an eighth-rounder out of Texas State. That made his 2011 campaign all about proving his previous slugging ways were not California League mirages. The first baseman left no doubt with his turn at Double-A Mobile, where he ranked among the top five full-season Minor Leaguers (minimum 400 plate appearances) in OBP, OPS, wRC+ and walk rate (17.9 percent). It was that wRC+ that gave him the push to be Toolshed's pick here because Bryan LaHair was another strong consideration with an MiLB-best 38 homers and 1.070 OPS. Alas, LaHair's big numbers came in the hitter-friendly PCL, leading to just a 155 wRC+, while Goldschmidt performed his dominance in the fairer Southern League. The D-backs liked enough of what they saw to call up their future franchise cornerstone on Aug. 1, 2011, and Goldschmidt (now of the Cardinals) hasn't played in the Minors since.
6. Bo Bichette, 2017
Teams: Class A Lansing, Class A Advanced Dunedin
Stats: 110 G, 499 PA, .362/.423/.565, .988 OPS, 14 HR, 74 RBI, 22 SB, 180 wRC+
Overview: This one came down almost entirely to the batting average. Bichette won the Minor League batting title at age 19 with a .362 mark across Lansing and Dunedin. He was especially good out of the gate at the former, where he posted a .384 average with a 1.071 OPS in the first 70 games of his first full season. Bichette didn't exactly have much competition. Ryan McMahon (.355) was the only full-season batter to produce an average above .350 that year. It wasn't an empty .362 either, as the shortstop's slugging percentage indicates. The then-Blue Jays prospect laced 41 doubles, placing fourth in the Minors in the category, and finished with 59 total extra-base hits between the two stops. Performing so well on more pitcher-friendly circuits like the Midwest and Florida State Leagues boosted Bichette's wRC+ to 180, right up there with the more powerful seasons on this list. Bichette has continued to produce with the bat at the top level, where he sports a .307/.347/.549 line with 16 homers in 75 career games.
5. Luis Robert, 2019
Teams: Class A Advanced Winston-Salem, Double-A Birmingham, Triple-A Charlotte
Stats: 122 G, 551 PA, .328/.376/.624, 1.001 OPS, 32 HR, 92 RBI, 36 SB, 170 wRC+
Overview: Last year's honoree sure has aged well. Robert was a key piece in getting the White Sox back to the postseason this fall for the first time since 2008. It's funny to think back to early 2019, when he entered the season with only three home runs over his first 78 games. The Cuba native got off to an incredible start at Winston-Salem, where he went 34-for-75 (.453) with 16 extra-base hits and eight steals in 19 games, and never looked back. He hit at least .297 and slugged at least .500 at each of the three stops, erupting for 32 homers along the way. Along with Kyle Tucker -- whose entire Minor League experience in 2019 was at the offensively charged Triple-A level -- Robert was one of two 30-30 performers in the Minors last season and ended with the highest wRC+ among those with at least 400 plate appearances to boot. This is just an offensive category, but if defense came to play, you can bet the 2020 Gold Glove finalist would surge even higher in the rankings.
4. Brandon Belt, 2010
Teams: Class A Advanced San Jose, Double-A Richmond, Triple-A Fresno
Stats: 136 G, 595 PA, .352/.455/.620, 1.075 OPS, 23 HR, 112 RBI, 22 SB, 181 wRC+
Overview: The Giants first baseman went from 2009 fifth-rounder to two-time World Series champion in five years. Along the road of that journey, he was the Minors' most dominant offensive player to begin the decade. In his first full season, the University of Texas product led the Minors in batting average, OPS and wRC+, ranked second in OBP and placed seventh in slugging percentage (minimum 400 plate appearances). He walked 93 times in 136 games across three levels, a number he's topped only once -- when he took 104 free passes for San Francisco in 2014. For good measure, his 22 stolen bases also remain a career high with 18 of those coming at San Jose alone. Not long after he went 147th overall in the Draft, Belt became a consensus top-25 prospect, and while opinions may differ on whether he lived up to that hype, his 10-year Major League career speaks volumes about his impact in the Bay Area.
3. George Springer, 2013
Teams: Double-A Corpus Christi, Triple-A Oklahoma City
Stats: 135 G, 589 PA, .303/.411/.600, 1.010 OPS, 37 HR, 108 RBI, 45 SB, 174 wRC+
Overview: One of the best all-around seasons among MiLBY winners in the decade. Springer threatened to become the Minors' first 40-40 player since 1956, but fell only three homers short. Those 37 long balls still tied for second-most in the Minors that season. Only Joey Gallo (40) hit more below the Majors. What's more, there were 34 players to steal at 40 bases in 2013. Springer was the only one of them to go deep more than 15 times, and he cleared that bar by 22. Also incredibly, the outfielder's homers and steals were split almost evenly between Corpus Christi and Oklahoma City -- 19 and 23 at Double-A, 18 and 22 at Triple-A. That rare mix of power and speed propelled Springer to the 2013 MiLBY, and it's also worth noting his hit tool was at its peak at this time in terms of production. Springer hasn't batted above .300 or produced an OPS above .900 over a full season since. That said, there were some cracks in the veneer as he struck out in 27.3 percent of his plate appearances. Still at a time when the Astros were in full rebuild mode, Springer showed he was on the cusp of joining the next contending crop in Houston, and he helped the club reach the pinnacle just two seasons later.
2. Vladimir Guerrero Jr., 2018
Teams: Double-A New Hampshire, Triple-A Buffalo (rehab appearances at Rookie-level GCL Blue Jays, Class A Advanced Dunedin)
Stats: 95 G, 408 PA, .381/.437/.636, 1.073 OPS, 20 HR, 78 RBI, 3 SB, 194 wRC+
Overview: Would have been in the top spot if not for a knee injury that limited some of the counting stats. Guerrero's 2018 was otherwise one of the most memorable offensive campaigns since the turn of the century, never mind decade. The most noteworthy part of the Blue Jays third baseman's run was his flirtation with batting .400. Guerrero actually did hit .402 in 61 games for New Hampshire, but the number fell to .336 in 30 games in Buffalo. His final .381 mark remained 32 points higher than anyone else in the Minors with at least 400 plate appearances that year. Beyond just the hit tool -- which also resulted in a pleasant 38/37 K/BB ratio -- the slugger also produced some legendary home runs, including one that hit off a hotel beyond left field in New Hampshire. Guerrero was the only Minor Leaguer to slug at least .600 in 2018. That offensive wonder made the son of a Hall of Famer the game's top overall prospect before he graduated in 2019, and while he hasn't quite lived up to that hype yet (beyond a dynamic turn in last year's All-Star Home Run Derby in Cleveland), it's important to remember Guerrero will only turn 22 in March, making him younger than current top-10 prospects Adley Rutschman, MacKenzie Gore, Casey Mize, Nate Pearson and Cristian Pache.
1. Kris Bryant, 2014
Teams: Double-A Tennessee, Triple-A Iowa
Stats: 138 G, 594 PA, .325/.438/.661, 1.098 OPS, 43 HR, 110 RBI, 15 SB, 192 wRC+
Overview: It doesn't get more dominant than this. Bryant was selected second overall by the Cubs in 2013 and quickly went about showing the rest of the pro baseball world why he was so advanced coming out of the University of San Diego. Chicago assigned Bryant to Double-A right out of the gate, only for the third baseman to hit .355/.458/.702 with 22 homers in 68 games in the Southern League. Upon a mid-June promotion, Bryant showed his bat could play at the Minors' top level too, compiling a .295/.418/.619 slash line with 21 homers in 60 games in the PCL. His 43 total taters were the most by a player over a single season in the entire decade. His 1.098 OPS was the highest of anyone on this list. Focusing on 2014 specifically, Bryant led all batters (minimum 400 plate appearances) that season in homers, extra-base hits (78), total bases (325), OBP, slugging percentage, OPS and wRC+. The Cubs tried to claim Bryant's glove needed work and kept him from debuting in the Majors until April 2015, but the offensive proof was in the pudding. Bryant's bat was ready for The Show much earlier. In 2014, he had done more than win a MiLBY Award. He had put on the best single-season hitting showcase by a Minor Leaguer in the entire 2010s.
Apologies are in order: Since this list contained only MiLBY Award winners for Top Offensive Players, if a prospect didn't win the award, they weren't eligible. It was as simple as that. That meant some really prominent seasons were left off the list. Gallo was mentioned twice for his two 40-homer seasons. Billy Hamilton set the Minor League world on fire with 155 steals in 2012. Mike Trout could have been nominated for 2010 or 2011, but didn't quite make the cut either season. Ronald Acuña Jr. hit 21 homers and stole 44 bags across three levels in 2017, netting him a Breakout Prospect MiLBY, but not the top prize. Gavin Lux (2019) and Corey Seager (2014) had almost equally dominant seasons as Dodgers shortstops. Francisco Mejía's 50-game hitting streak in 2016 didn't earn him an Offensive Player MiLBY, but will live on in Minor League lore.
Sam Dykstra is a reporter for MiLB.com. Follow and interact with him on Twitter, @SamDykstraMiLB.