Toolshed: Trade winds take Fraley to M's
Ex-Rays outfielder heads to Seattle after breakout FSL season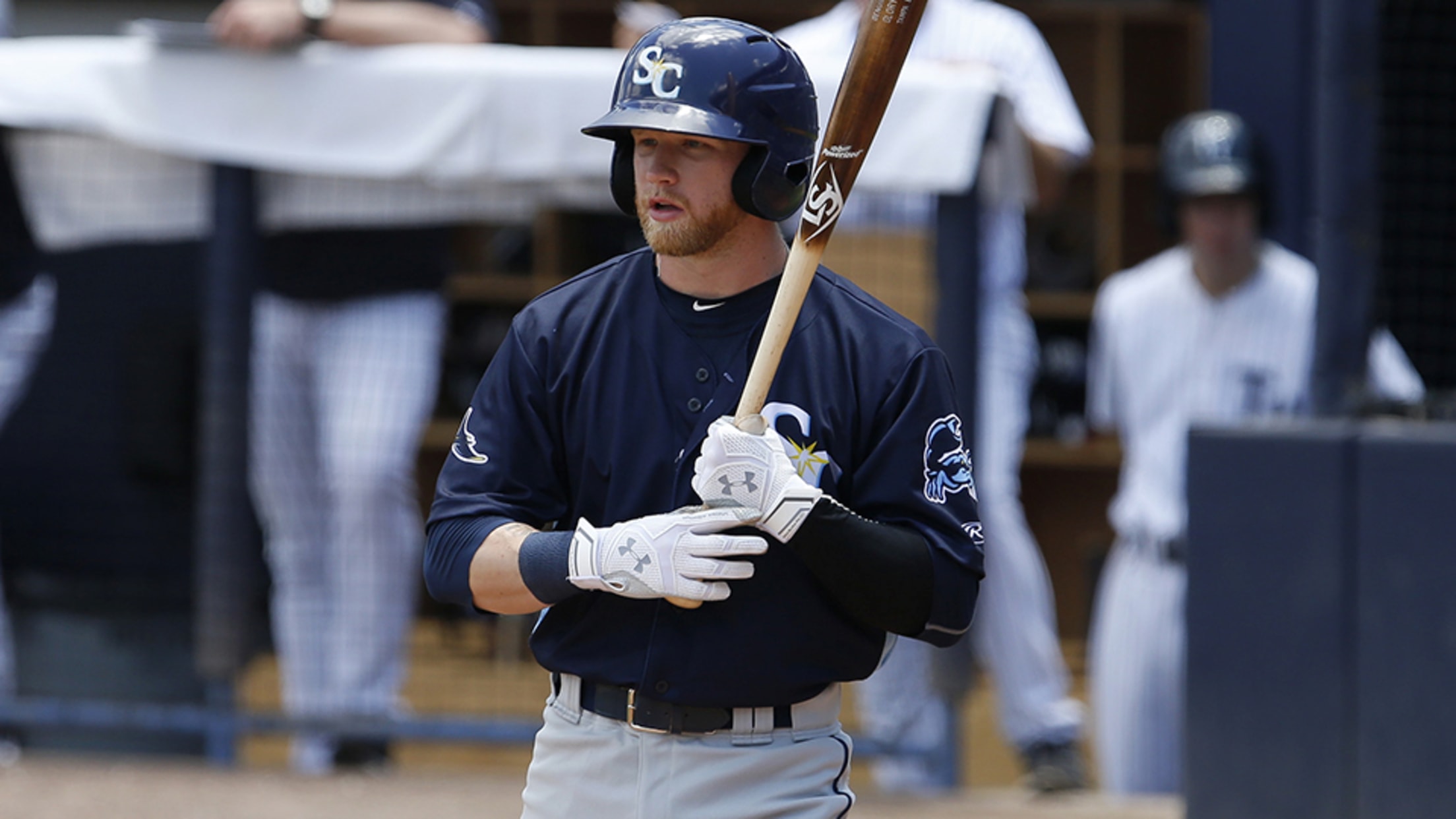 Jake Fraley produced a .962 OPS over 66 games with Class A Advanced Charlotte this season. (Mark LoMoglio/MiLB.com)
The Rays and Mariners have become fairly well acquainted for two clubs based more than 3,000 miles apart. Since Jerry Dipoto became Seattle's general manager in September 2015, the two sides have traded with each other eight times, including Thursday's five-player deal that sent outfielder Mallex Smith and Minor League
The Rays and Mariners have become fairly well acquainted for two clubs based more than 3,000 miles apart. Since Jerry Dipoto became Seattle's general manager in September 2015, the two sides have traded with each other eight times, including Thursday's five-player deal that sent outfielder Mallex Smith and Minor League outfielder Jake Fraley to the Pacific Northwest and catcher Mike Zunino, outfielder Guillermo Heredia and Minor League left-hander Michael Plassmeyer to the Sunshine State. But both sides wanted Fraley to know he was more than just a small throw-in on a Major League-focused transaction.
"I actually got contacted by a couple guys from the Tampa Bay front office before the trade became official, and they were saying good luck and all that because I had a lot of really good relationships with all of them," said Fraley, the new No. 21 prospect in the Mariners system. "But what they also said was [that] they wanted me to know how hard Seattle had fought to make sure I was in the trade. The Mariners really, really wanted me, so I knew I was going into a good opportunity. So yeah, there's some change there, but I truly believe the sky's the limit in this new situation."
It's an opportunity that Fraley likely hit himself into with a breakout 2018.
The left-handed-hitting outfielder was a solid performer during his days at LSU, putting together a .328/.397/.462 line with 10 homers and 59 stolen bases over his three years with the Tigers, and he handled himself well in two separate stints in the wood-bat Cape Cod Baseball League. Those distinctions earned him the No. 89 spot in MLB.com's rankings for the 2016 Draft. (That was one spot behind Red Sox third baseman Bobby Dalbec and one spot above Blue Jays shortstop Bo Bichette.) The Rays took him with the 77th overall pick that year and signed him for just below slot at $797,500, betting that Fraley's plus speed and overall hitting ability would translate from the SEC to the pro ranks.
The former did translate quite quickly, as Fraley stole 33 bases in 55 games at Class A Short Season Hudson Valley in 2016. But with a .238 average, .703 OPS and one homer in 239 plate appearances, the former Tiger was somewhat humbled by his first taste of Minor League pitching. Even though he was coming off a collegiate season that had begun in late winter and still managed a 115 wRC+ in the New York-Penn League, Fraley could sense he was going to have to rebuild his offensive approach if he wanted to be more than just an OK hitter at the upper levels.
"When I was in college, I obviously did enough to give myself the opportunity to be a top Draft pick, and I was happy with it," Fraley said. "But when I got here [to the pros], I realized I got away with a few things. It's good competition [in college], but I still didn't face anything like I was seeing in pro ball. Maybe on Fridays, you'd see a really good pitcher, but on the weekends, that's when you could boost the stats a little bit. I immediately knew in the pros that my swing was very flat, that I was basically throwing my hands at the ball, taking the rest of my body out of the process, and I knew that had to change."
Upon moving to Miami that first offseason, Fraley hooked up with swing consultant Lorenzo Garmendia of Gradum Baseball in an attempt to rebuild that swing from the bottom up.
"We started by looking at what the best hitters in the world do -- Mike Trout, Miguel Cabrera, José Altuve, Mookie Betts, Andrew Benintendi, all of those guys," Fraley said. "They all have two things in common. They have a unique rhythm and setup, comfortable to whatever works for them. But as soon as the foot goes down, they all have the same movements. I want to be the best, too. That's a goal I really have for myself. So I want those same movements. It became about learning about what and where my body is supposed to be.
"So for me, the big thing is swing path. Get the barrel early in the zone and cover as much of the zone as possible. Even if I'm late on the fastball, I can still do damage. So as early as possible, I have to use my entire body and make sure I'm using the biggest muscles I have. I'm talking about my [butt], my quads, my core. The hands are the last thing firing. Now, I'm using all 210 pounds of me to make the ball go, which wasn't always the case."
Fraley and Garmendia began that process during the former's first professional offseason. Although the outfielder showed enough in spring 2017 to garner a move to Class A Advanced Charlotte to begin his first full season, it took some time for the changes to produce any results that would show up on a stat sheet. Fraley got off to a slow start in his first taste of the pitcher-friendly Florida State League, hitting .170/.238/.255 with five extra-base hits in his first 26 games with the Stone Crabs. It was small-sample territory to be sure, but it would stay there as Fraley's 2017 experience would be limited to those little more than two dozen contests. In a May 27 home game against Fort Myers, both sides traded plunkings in the early innings before Fraley came up in the sixth only to be hit in the knee by a fastball from Miracle starter Randy LeBlanc. He missed the rest of the FSL season, getting into four rehab games in the Gulf Coast League at the end of August.
The swing changes really took hold the following winter when the Rays sent Fraley down to the Australian Baseball League to make up for the lost at-bats. He ended up being the best hitter Down Under during his time with Perth, winning the Helms Award for MVP. Fraley showed off his well-established running game by leading the ABL with 39 steals -- no one else had more than 10 -- but he was also tops in total bases (115) and tied for the league lead in hits (61) over his 40-game stay. He produced a .361/.449/.680 line and, perhaps most notably, hit 13 home runs -- equal to the amount he'd slugged at LSU and with Rays affiliates combined up to that point.
Upon his return Stateside in 2018, Fraley again had to deal with injuries, this time a sprained left toe that held him out until June 7. But it didn't take long for the newly built swing to make an impact with Charlotte. The 23-year-old hit .347/.415/.547 with four homers, seven triples, 19 doubles and 11 steals in 66 games this year. His 172 wRC+ ranked second among the 102 batters with at least 250 plate appearances in the FSL, just behind Austin Listi's 189 in first and just above Alex Kirilloff's 168 in third. Though his power wasn't quite at the levels it was in the ABL -- where the pitching isn't exactly of the same caliber -- Fraley's jump from a .085 isolated slugging percentage during his first go at Class A Advanced to a .200 this summer was certainly a point in his favor. It also fit in nicely with the numbers he was starting to chew on when going through the self-evaluation process.
"Whether it's ISO, exit velo, gauging how I'm doing with two strikes, all of those little numbers are things I'm looking at," he said. "My batting average could be .350, but if those are slap singles, I know that's not going to work the higher I go. Those singles aren't going to be hits. I need to do more than that. I'm trying to do more than that."
Along those lines, the next step Fraley has identified -- and an issue he planned to tackle with Garmendia this offseason -- was his groundball rate, which had dropped only slightly from 42.3 percent in 2017 to 40.4 this season while his flyball rate bumped from 38.0 to 38.8. It's not enough to make hard contact. Any over-the-fence pop Fraley's going to produce is going to come from lifting the ball more regularly.
Still, he knows the positive steps he's already made were enough to make him a point of focus in this week's trade talks.
"Oh, of course," he said. "This may have been a small surprise, but you understand being in baseball from a development or scouting side that someone is always watching. Obviously, I had a little success and took my game to the next level from winter ball to now. ... I was able to put it all together to where the Mariners liked what they saw."
Dipoto backed that up publicly Thursday, comparing Fraley to another speedster in Smith.
"Jake Fraley exhibits a similarly exciting set of athletic and baseball skills," Dipoto said in a released statement. "His offensive game blossomed in 2018 and creates an exciting profile when coupled with his exceptional defense and overall instincts. Both players fit our desire to build a younger, more athletic and exciting roster."
His plus speed has allowed him to play all three outfield spots as a professional, though his below-average arm likely means a future in center or left. He'll likely start 2019 at Double-A Arkansas, where he'll be motivated to show 2018's gains weren't mirages and that he still has more surprises in the bag for his new parent club -- namely becoming a bit more of a power hitter.
"I'm 100-percent confident I am going to be that," he said. "What I've done recently and what I've done to dig deeper into other analytical numbers, everything is working toward adding power to my game. I know that's something I'm capable of. And, hey, I don't have to worry about the FSL anymore."
Sam Dykstra is a reporter for MiLB.com. Follow and interact with him on Twitter, @SamDykstraMiLB.