Top Five: Gwinnett's International League Postseason All-Stars
Three Rookies of the Year, one Batting Champion, and one Most Valuable Pitcher highlight Gwinnett's most notable IL Postseason All-Stars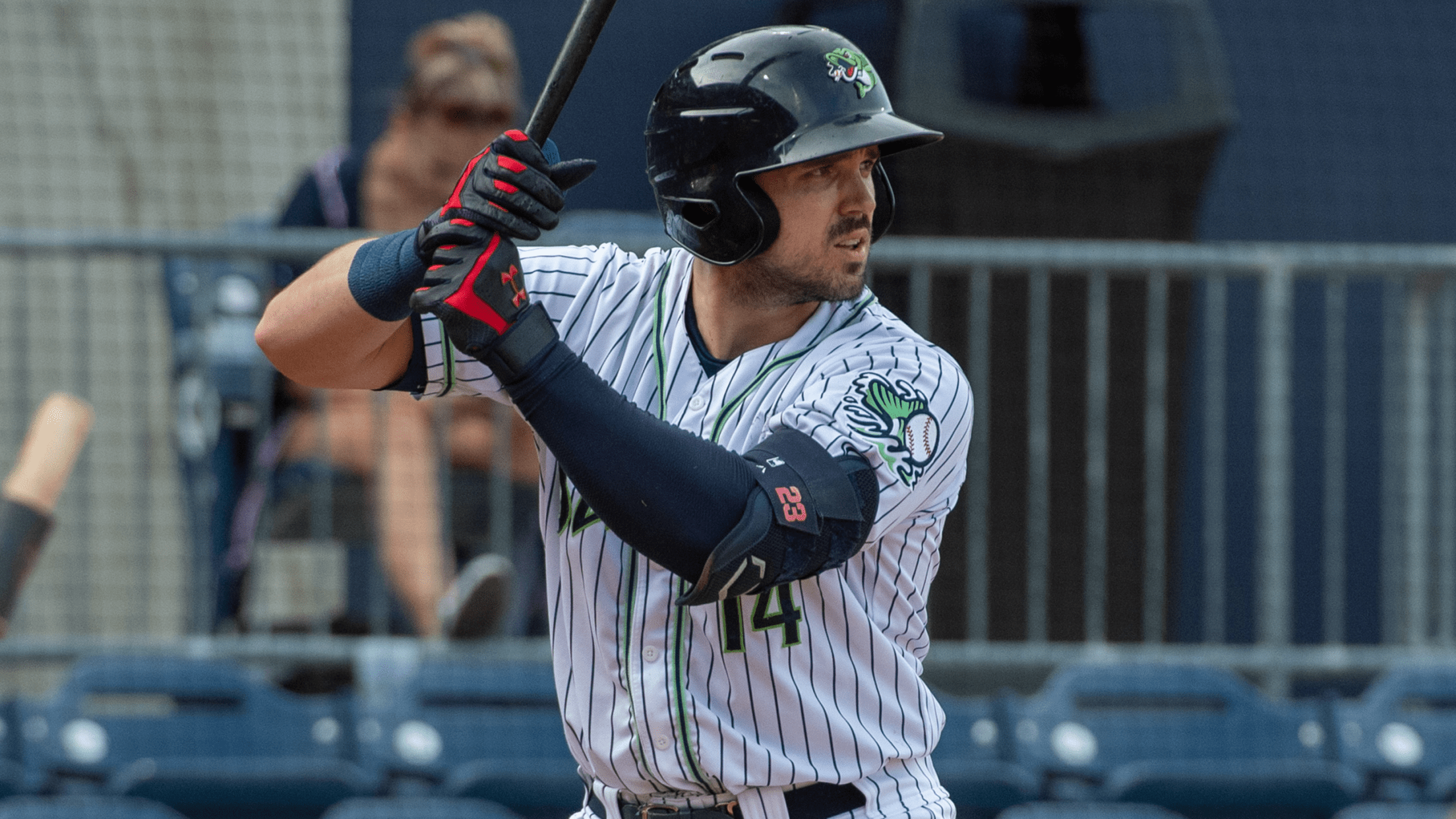 Adam Duvall set Gwinnett records for home runs (32), RBIs (93), slugging (.602), and OPS (.966) during his IL All-Star campaign in 2019. (Bernie Connelly)
In a normal Triple-A season, late-August is a time when teams are either making a push for the playoffs or counting down the days until the schedule ends. It is also the time when field managers, coaches, media members, and front office officials across the International League vote for the
In a normal Triple-A season, late-August is a time when teams are either making a push for the playoffs or counting down the days until the schedule ends. It is also the time when field managers, coaches, media members, and front office officials across the International League vote for the circuit's Postseason All-Stars.
Unlike the Midseason All-Star selections, which includes online fan voting to fill out a full 30-man roster for the Triple-A All-Star Game, the IL Postseason All-Star selections are limited to the votes of league insiders for the purpose of naming the best individual player at each position. It is this vote that also determines the IL's most prestigious awards: Most Valuable Player, Most Valuable Pitcher, Rookie of the Year, and Manager of the Year.
To date, 11 Gwinnett players have been selected to the IL Postseason All-Star Team. No G-Brave or Striper has ever won Most Valuable Player, but three have been named Rookie of the Year (Freddie Freeman in 2010, Julio Teheran in 2011, Ernesto Mejía in 2012) and one has earned Most Valuable Pitcher (Teheran in 2011). Gwinnett has also produced one Manager of the Year, Damon Berryhill in 2019.
IL Postseason All-Stars in Gwinnett History (2009-19):
2009: RP Jairo Asencio, DH Bárbaro Cañizares
2010: DH Bárbaro Cañizares, 1B Freddie Freeman
2011: OF Stefan Gartrell, SP Julio Teheran
2012: 1B Ernesto Mejía
2013: OF Joey Terdoslavich
2014: UTL Phil Gosselin
2017: 2B Ozzie Albies
2019: OF Adam Duvall, MGR Damon Berryhill
This week's 'Top 5" ranks the best seasons ever produced by Gwinnett players who have gone on to earn IL Postseason All-Star accolades.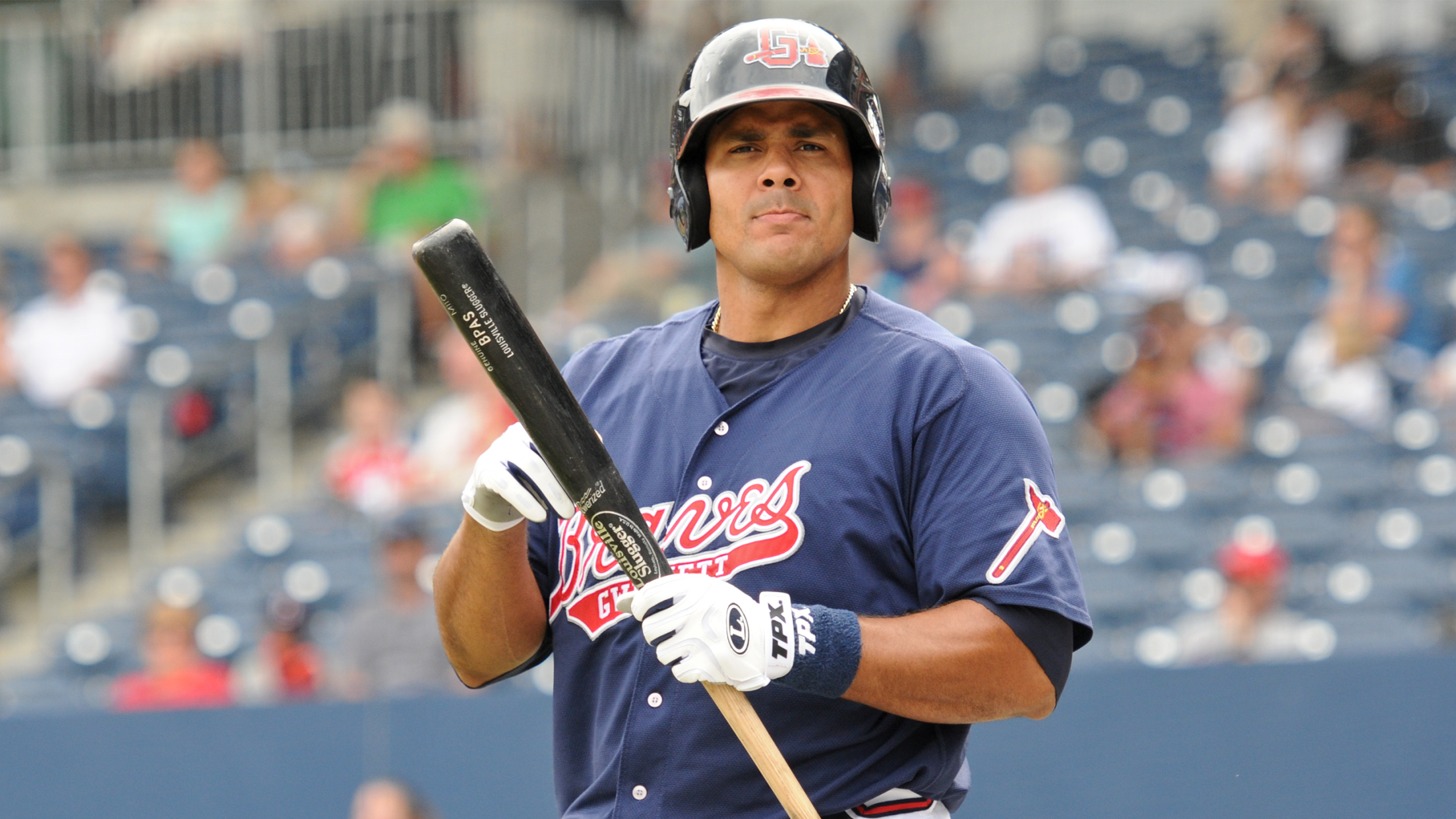 5. Bárbaro Cañizares (2010)
In 2009, Cañizares made history as the first Gwinnett hitter to be selected to the IL Postseason All-Star Team after batting .294/.366/.435 with 45 extra-base hits, 79 RBIs, and an .800 OPS in 130 games. A season later, the 30-year-old designated hitter from Havana, Cuba became the only Gwinnett player ever to repeat as an IL Postseason All-Star, bashing his way to the club's first IL Batting Title.
Cañizares had by far the best year of his affiliated career in 2010, hitting .341/.403/.504 with 28 doubles, one triple, 13 home runs, 58 runs, 77 RBIs, and a .907 OPS in 126 games with the G-Braves. He bested future Gwinnett outfielder Jose Constanza (.319 with Columbus) by a sizable 22-point margin for the IL Batting Title, and ranked among the league's top 10 in on-base percentage (2nd), OPS (3rd), hits (3rd, 145), slugging percentage (6th), and RBIs (8th). His red-hot season included his third straight appearance in the Triple-A All-Star Game (2008 with Richmond, 2009 with Gwinnett).
The .341 average posted by Cañizares is the second-highest by a Gwinnett player in a single season, surpassed only by Phil Gosselin during his IL Postseason All-Star campaign in 2014 (hit .344, but finished second in batting behind Syracuse's Steven Souza Jr., who hit .350). Only one Gwinnett player has won an IL Batting Title since Cañizares, Constanza with a .314 mark in 2012. Through 2019, nobody has yet matched his Gwinnett single-season record for most hits with runners in scoring position (47 in both 2009 and 2010).
Cañizares' five-year stint in affiliated baseball ended after that 2010 season. Though he had briefly reached Atlanta for his MLB debut in 2009 (.190/.190/.238 in five games), he never returned to the big leagues. His career transitioned to foreign and independent leagues, as he played for Oaxaca (2011-13), Veracruz (2017), Quintana Roo (2017), and Union Laguna (2018) of the Mexican League, Winnipeg of the American Association (2012), and the Fukuoka Softbank Hawks of the Japan Pacific League (2014-16).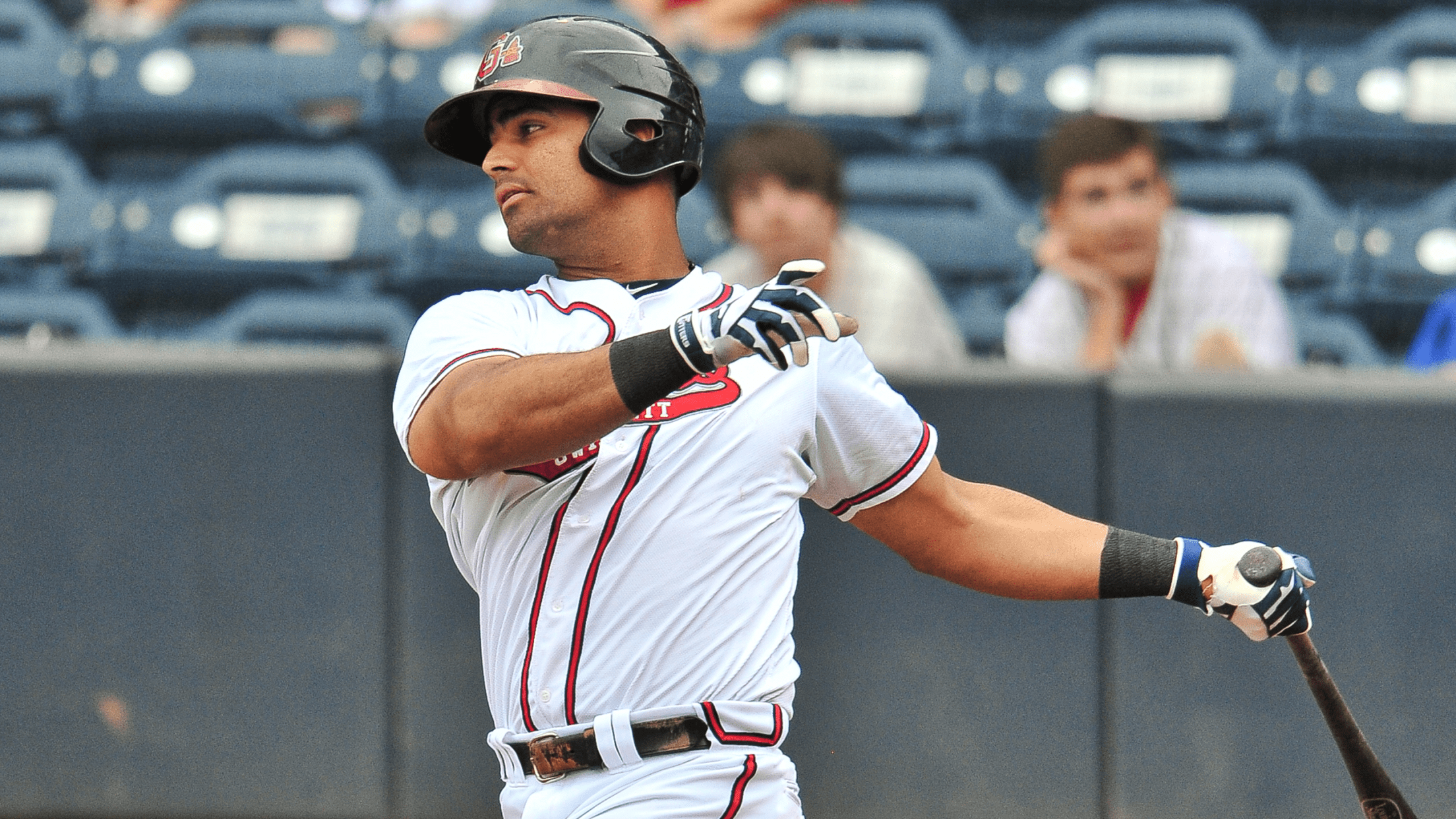 4. Ernesto Mejía (2012)
Gwinnett's incredible three-year run producing IL Rookie of the Year winners culminated with Mejía taking home the award in 2012. The 26-year-old first baseman from Guanare, Venezuela entered the season with huge expectations after receiving Postseason All-Star honors from the Double-A Southern League in 2011. In 137 games with Mississippi, he had hit .297/.375/.531 with career highs in home runs (26), total bases (265), RBIs (99), and OPS (.906).
Mejía nearly equaled those numbers in his Triple-A debut with Gwinnett, batting .296/.347/.502 with 32 doubles, one triple, 24 homers, 73 runs, 92 RBIs, and an .849 OPS in 133 games. He finished atop the IL in RBIs, hits (152), total bases (258) and at-bats (514), while ranking among the league's top 10 in slugging percentage (3rd), extra-base hits (3rd, 57), homers (T-3rd), games (T-3rd), runs (5th), doubles (6th), OPS (6th), and batting (9th). His 92 RBIs were a Gwinnett single-season record at the time (passing Gartrell's 91 RBIs in 2011), and he fell just short of equaling club records in homers (one short of Gartrell's 25 in 2011), hits (two short of Mauro Gomez's 154 in 2011), and doubles (two short of Freeman's 35 in 2010).
The bulk of Mejía's damage came in the first half, when he batted .302/.360/.527 with 21 doubles, 17 homers, 46 runs, 59 RBIs, and an .888 OPS in 87 games. Fans across MiLB took note, making him one of the 13 players elected by online voting for the 2012 Triple-A All-Star Game.
Mejía returned to the G-Braves for another record-setting season in 2013. Though his slash line was down to .249/.323/.497, he did set a Gwinnett record with 28 homers (a new career high), tied Freeman's doubles record (35), and once again led the IL in RBIs (83). He was named to a second straight Triple-A All-Star Game at midseason, but did not repeat as an IL Postseason All-Star. After opening 2014 with a 20-game stint in Gwinnett, Mejía left the Braves organization to sign with the Seibu Lions of the Japan Pacific League, where he continues to play in 2020.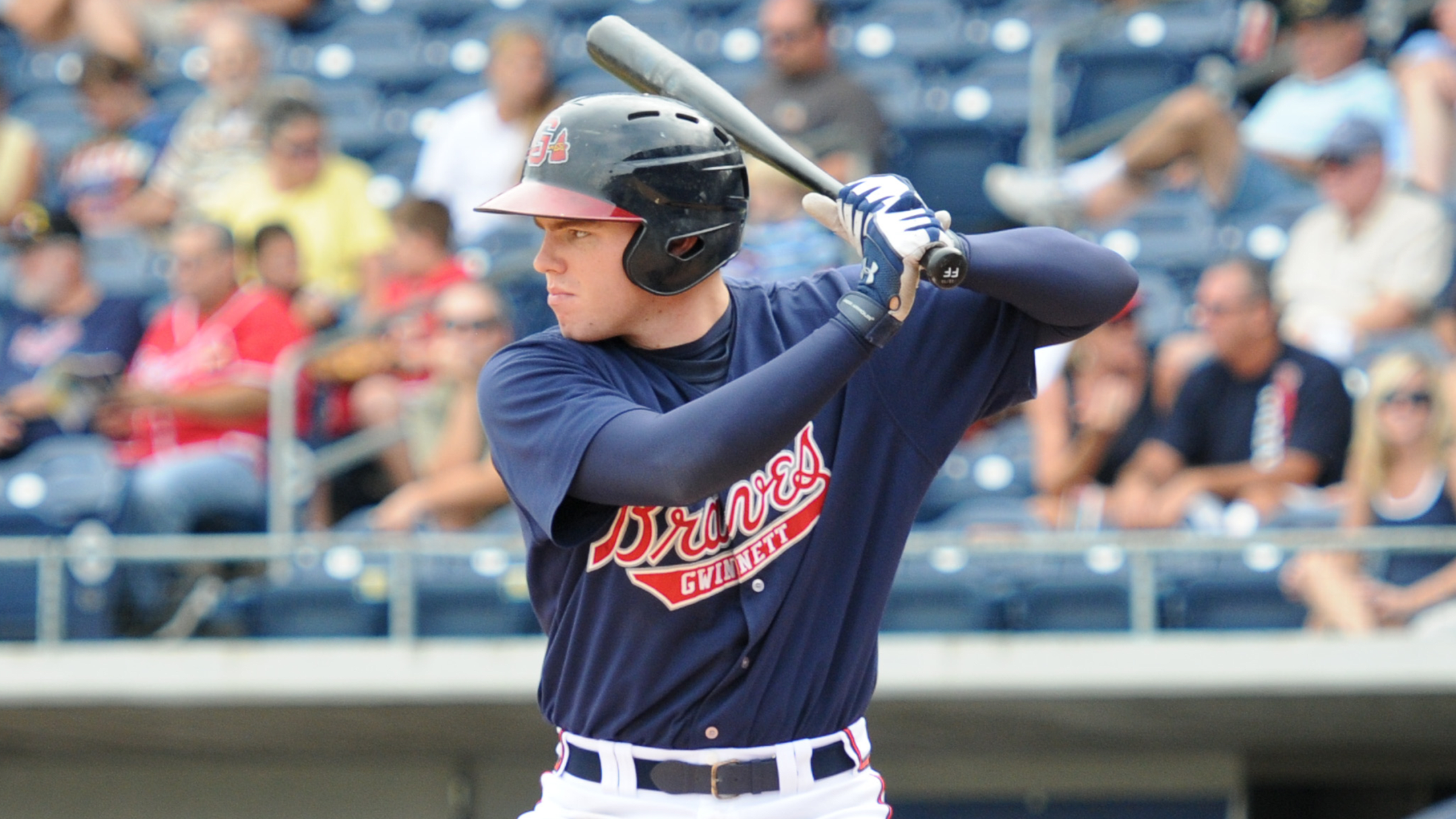 3. Freddie Freeman (2010)
Before he became the face of the Braves franchise and a perennial MLB All-Star, Freeman capped off his rapid ascent through the minors with an IL Rookie of the Year season in Gwinnett in 2010.
The 20-year-old first baseman entered his third full professional season in 2010 rated the Braves' No. 2 prospect by Baseball America. After a sluggish start (.200/.214/.291 with one homer in his first 14 games), he busted out with a 4-for-4, two-homer, four-RBI game on April 22 at Norfolk and never looked back. Freeman went on to hit .319/.378/.521 with 35 doubles, two triples, 18 homers, 73 runs, 87 RBIs, and a .898 OPS in 124 games, becoming the first Gwinnett player to be named IL Rookie of the Year. At the time, he was only the fifth Braves farmhand ever to win the award, and the first since Richmond's Chipper Jones in 1993.
Freeman led the IL in hits that year with 147, edging teammate Matt Young by one (146). He also topped the circuit in total bases (240, one more than future G-Brave Gartrell's 239 with Charlotte) and ranked among the IL top 10 in doubles (2nd), batting (3rd), RBIs (3rd), slugging percentage (4th), OPS (4th), on-base percentage (7th), and runs (T-7th). His 35 doubles set a Gwinnett single-season record that has been matched just once, by Mejía in 2013.
Snubbed from the Triple-A All-Star Game despite hitting .287 with 10 homers and 50 RBIs in 80 games, Freeman surged in the second half, batting .375/.432/.595 with 13 doubles, eight homers, 37 RBIs, and a 1.027 OPS in his final 44 games with Gwinnett. Atlanta selected his contract for his big-league debut on September 1, and he has been the Braves' everyday first baseman ever since. The four-time NL All-Star (2013, 2014, 2018, 2019), 2018 NL Gold Glover and 2019 NL Silver Slugger entered 2020 with a .293/.379/.504 slash line, 227 homers, and 805 RBIs in 1,346 career MLB games.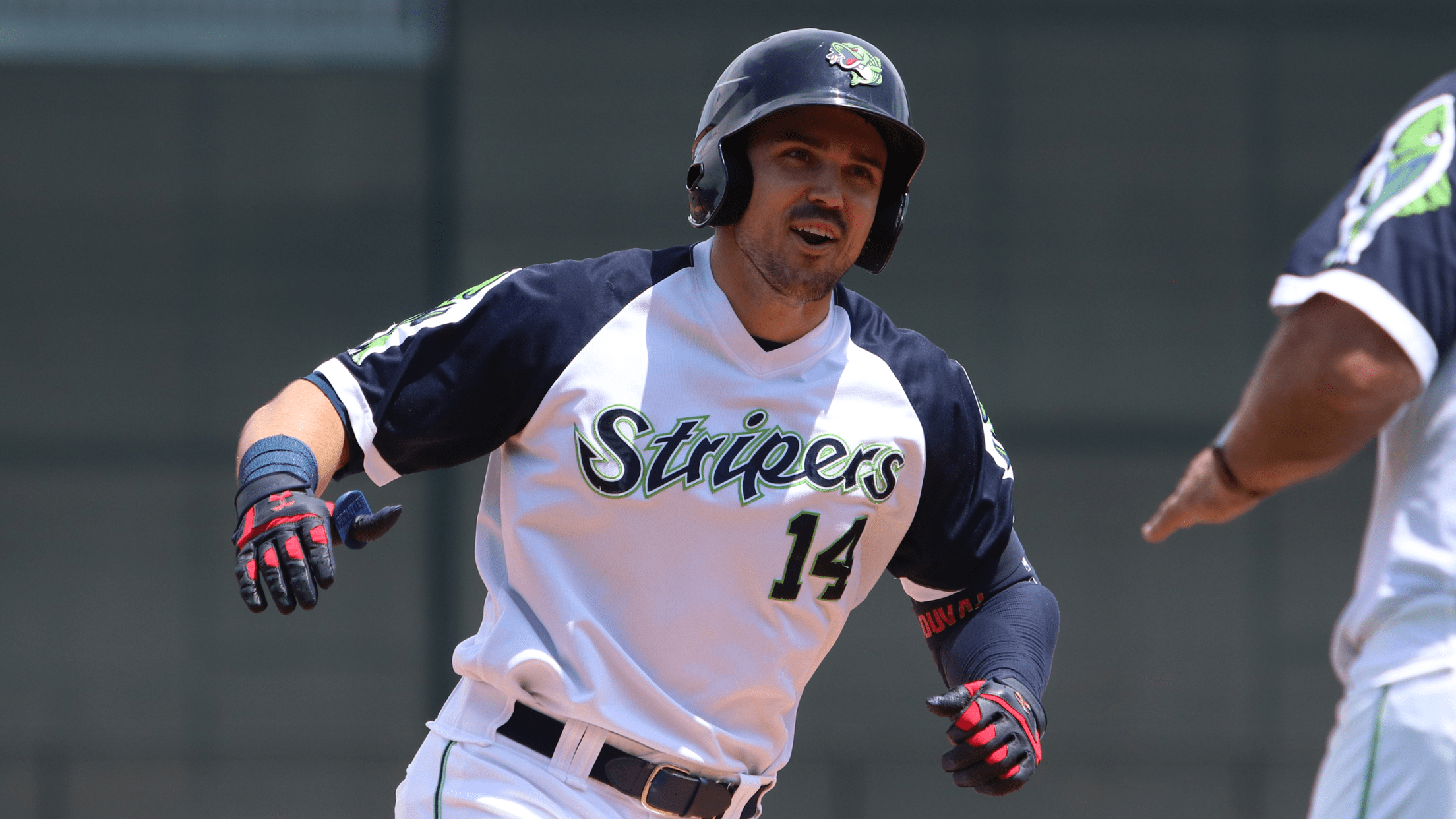 2. Adam Duvall (2019)
Coming off a 2018 in which he hit a paltry .195/.274/.365 in 138 games between Cincinnati and Atlanta, Duvall accepted an assignment to Gwinnett in 2019 looking to regain the swing that produced back-to-back 30-homer seasons with the Reds in 2016 and 2017. Just three years removed from his 2016 National League All-Star selection, the 30-year-old outfielder spent far more time in Triple-A than expected, but in the process slugged his way to arguably the best offensive season in Gwinnett history.
Duvall batted .266 in 101 games with the Stripers, setting Gwinnett single-season records for home runs (32), RBIs (93), slugging percentage (.602), and OPS (.966). Though just edging Mejía for the RBI record (92 in 2012), he easily passed Mejía's homer record (28 in 2013), crushed Gomez's slugging percentage record (.522 in 2011) and obliterated Cañizares' OPS record (.907 in 2010).
In becoming Gwinnett's 11th and most-recent IL Postseason All-Star, Duvall ranked among the league's top 10 in slugging percentage (1st), homers (2nd), RBIs (2nd), OPS (2nd), extra-base hits (T-6th, 56), and total bases (9th, 222). Nearly all his homers were game-changers for the Stripers, who went 24-5 (.828) in 29 games with a Duvall clout. He carried the lineup for several stretches of the year, winning Gwinnett Player of the Month awards in both April (.312, eight homers, 21 RBIs, 1.081 OPS) and June (.261, nine homers, 27 RBIs, .938 OPS).
Duvall's Triple-A resurgence resulted in the big-league comeback he desired, and he hit .267/.315/.567 with 10 homers and 19 RBIs in 41 regular-season games for the Braves in 2019. Selected to a Postseason roster for the first time in his MLB career, he produced two legendary moments during the NL Division Series vs. St. Louis, blasting a pinch-hit two-run homer off Jack Flaherty in Atlanta's 3-0 victory in Game 2 and lining a game-winning two-run single in the ninth inning of the Braves' 3-1 win in Game 3. Duvall was a member of the Braves' Opening Day roster in 2020.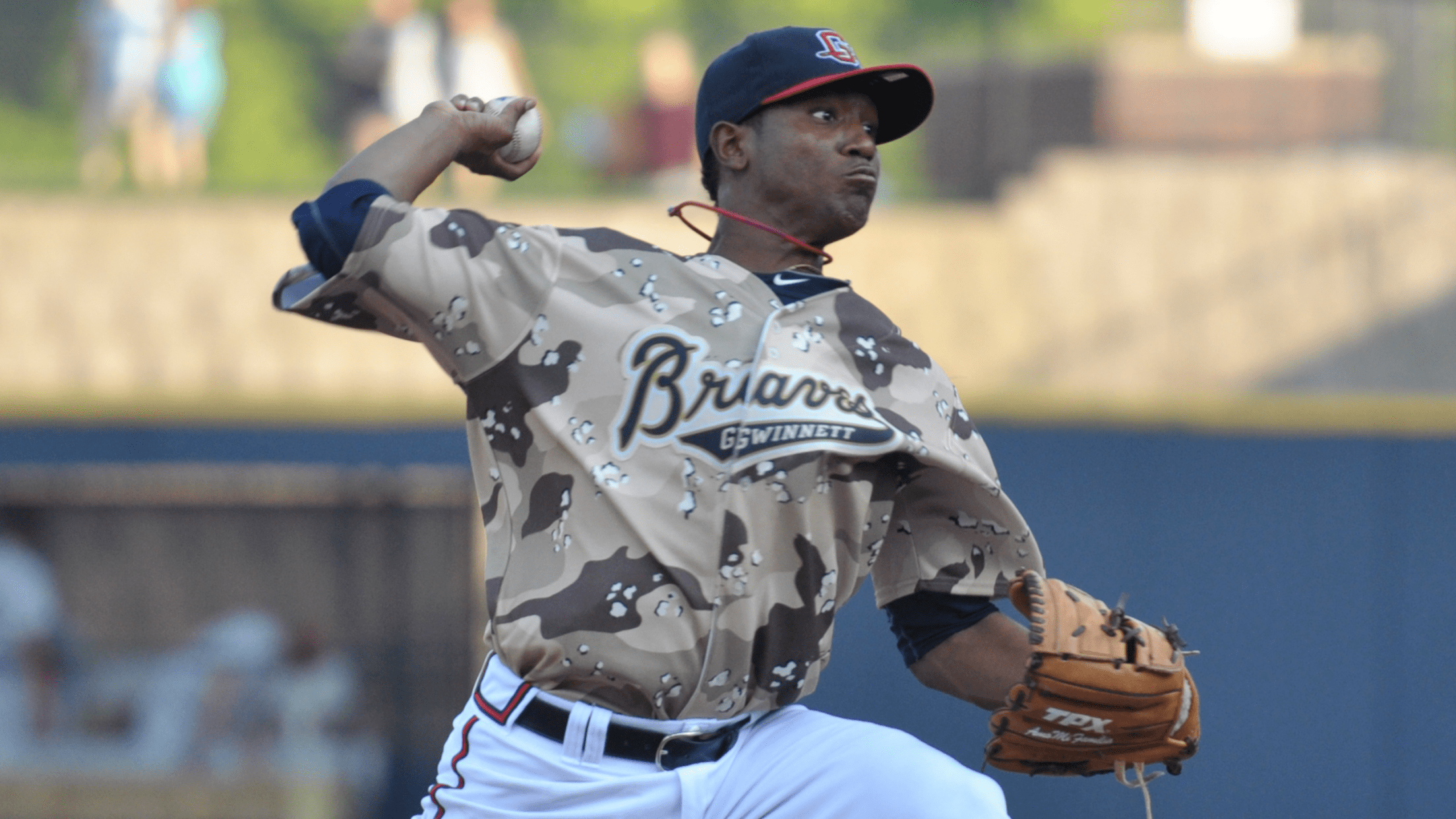 1. Julio Teheran (2011)
Teheran's amazing Triple-A rookie campaign in 2011 remains the most impressive individual season in Gwinnett history. The 20-year-old right-hander from Cartagena, Colombia entered the year rated the Braves' No. 1 prospect by Baseball America and ended it as both the IL Rookie of the Year and Most Valuable Pitcher. To date, he's the only Gwinnett player ever to earn IL Most Valuable Pitcher honors, and one of just three Braves farmhands to win it all-time (Richmond's Craig McMurtry in 1982 and Brad Woodall in 1994).
Teheran exceeded his prospect hype that year, going 15-3 with a 2.55 ERA, 1.18 WHIP, .232 BAA, and 122 strikeouts over 144.2 innings spanning 25 games (24 starts) with the G-Braves. He led the IL in wins and nearly finished in a tie for the league ERA title, falling literally decimal points shy of Columbus's Jeanmar Gomez (2.5496 to 2.5506). Teheran also ranked in the top 10 among league qualifiers in lowest BAA (2nd) and WHIP (4th).
In the Gwinnett history book, Teheran still holds single-season records for wins and lowest ERA, and his 8-0 winning streak over 11 starts from June 4 to July 31 has been matched just once (Kyle Wright, 8-0 in 12 starts from June 14 to August 31, 2019). He was named IL Pitcher of the Week on May 2 and again on June 27, making him at the time just the third Gwinnett pitcher to win multiple weekly awards in one season (Todd Redmond won twice in 2010, Mike Minor won twice earlier in 2011).
Teheran's 2011 breakout included a brief MLB debut with Atlanta, where he went 1-1 with a 5.03 ERA in five games across three stints. After a rocky return to Gwinnett in 2012 (7-9, 5.08 ERA in 26 starts), he became a rotation regular for the Braves in 2013, logging at least 30 starts in each of the next seven seasons. The two-time National League All-Star (2014, 2016) went 77-73 with a 3.67 ERA in 229 games (226 starts) over parts of nine seasons with Atlanta before signing with the Los Angeles Angels on December 21, 2019.