Top draft pick Henry Davis assigned to Hoppers
Star college catcher from Louisville triples in debut with Greensboro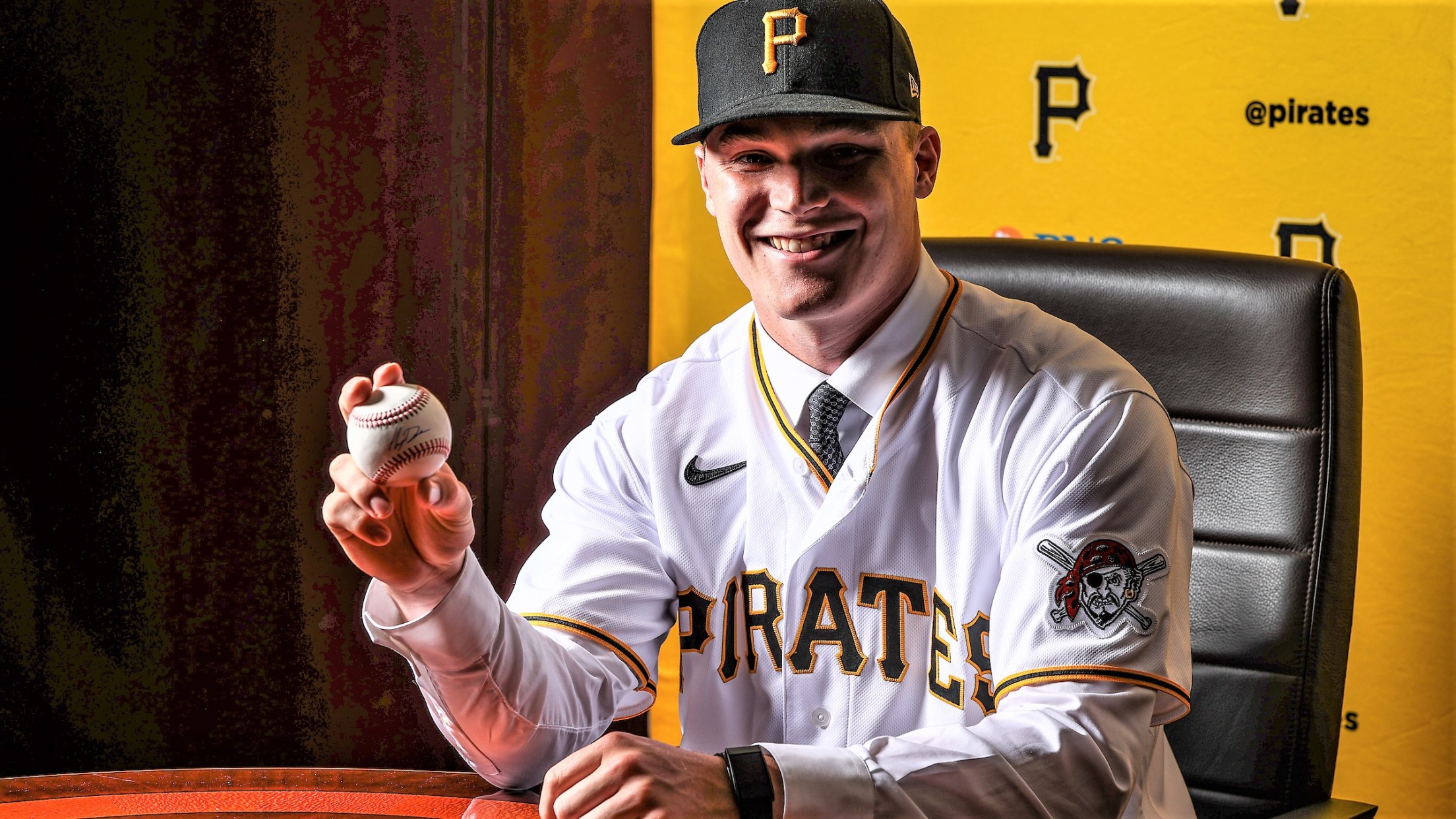 Henry Davis, a catcher from Louisville, was the No. 1 pick in the draft and signed Aug. 3 with the Pirates. (Pittsburgh Pirates)
GREENSBORO ― Henry Davis, the No. 1 overall pick in the MLB draft July 11, has been assigned to the Greensboro Grasshoppers and made his debut Thursday night at Winston-Salem. Davis, 21, tripled on a deep fly ball to left field in his first plate appearance for the Hoppers and
GREENSBORO ― Henry Davis, the No. 1 overall pick in the MLB draft July 11, has been assigned to the Greensboro Grasshoppers and made his debut Thursday night at Winston-Salem.
Davis, 21, tripled on a deep fly ball to left field in his first plate appearance for the Hoppers and was thrown out at the plate trying to stretch the hit into an inside-the-park home run.
He finished 1-for-3 with a walk.
Davis was a first-team All-ACC catcher with Louisville who the Pittsburgh Pirates selected first in the draft.
Davis signed July 18 for a reported $6.5 million bonus, nearly $2 million below the "slot value" assigned to the top pick. The money saved on the pick allowed Pittsburgh to pay more than the assigned slot value to their next four picks in the draft.
The Pirates sent Davis to the rookie-level Florida Complex League on Aug. 3, and he went 3-for-7 with a home run and two doubles in two games.
Pittsburgh had seen enough, and the Pirates skipped Class-A Bradenton and assigned Davis to Greensboro of the High-A East league.
Davis joins a Hoppers team that includes seven of Pittsburgh's top 30 prospects in the MLB Pipeline rankings: No. 1 Nick Gonzales (2B), No. 2 Quinn Priester (RHP), No. 4 Liover Peguero (SS), No. 6 Tahnaj Thomas (RHP), No. 11 Carmen Mlodzinski (RHP), No. 22 Braxton Ashcraft (RHP) and No. 27 Mike Burrows (RHP).
Mlodzinski (shoulder) and Burrows (oblique) are expected back from the injured list before the season ends, while Ashcraft is on the 60-day IL.
Davis proved he could hit elite college pitching. In his last 50 games at Louisville, Davis batted .370 with 15 home runs and 48 RBIs, striking out just 24 times in 228 plate appearances.
In his career at the News & Record, journalist Jeff Mills won 10 national and 12 state writing awards from the Associated Press Sports Editors, the Society for Features Journalism, and the N.C. Press Association.