Trade roundup: Cards get prospects for Pham
Orioles pick up four Braves prospects in big deal for Gausman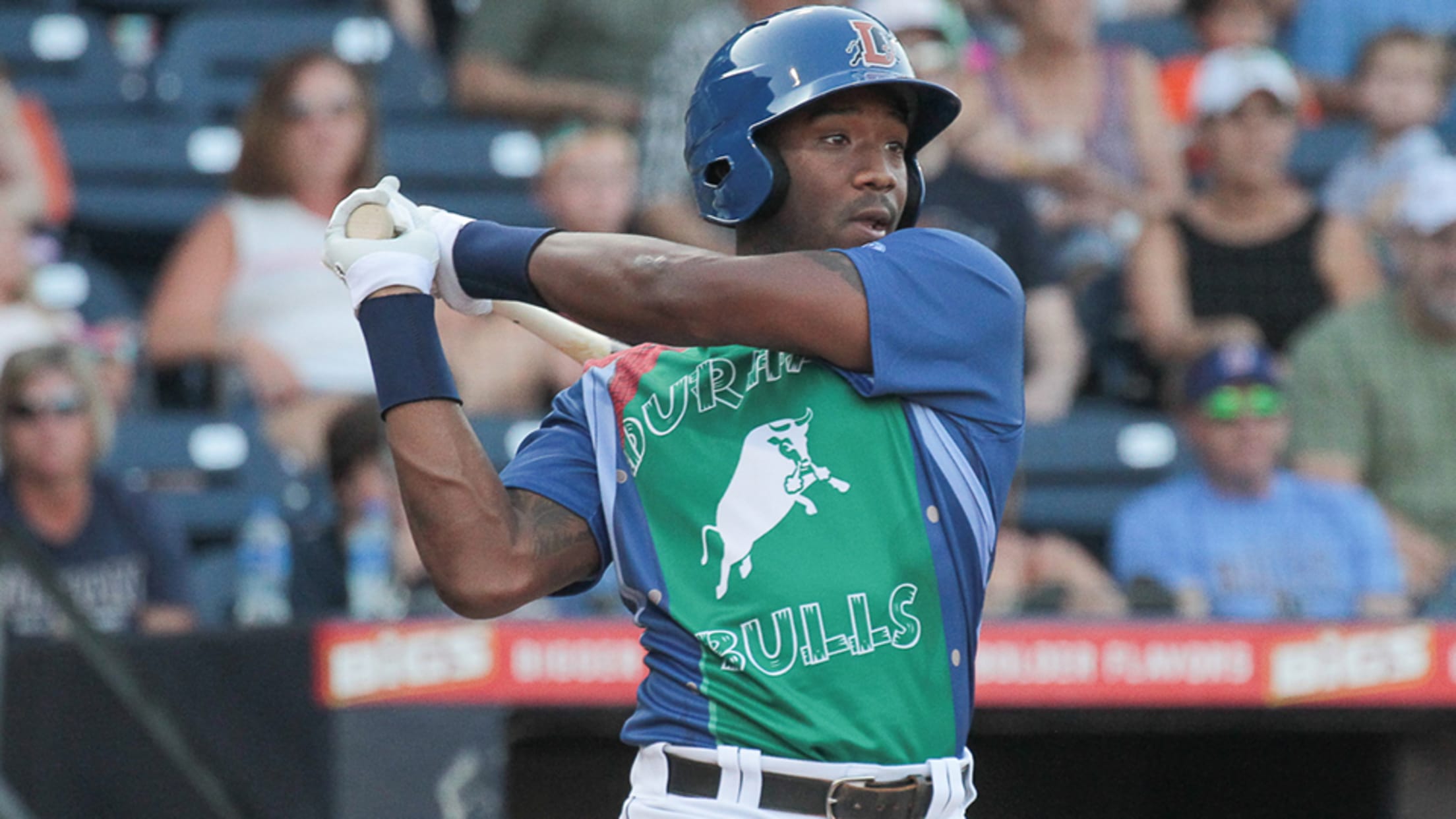 Justin Williams has produced a .775 OPS over six seasons in the Minor Leagues. (Chris Baird/MiLB.com)
Major League Baseball's non-waiver trade deadline is Tuesday at 4 p.m. ET. With many moves expected throughout the day, this is where MiLB.com will round up the group of notable prospects switching teams.With so much focus on bigger names, the Rays and Cardinals began deadline day with an under-the-radar move
Major League Baseball's non-waiver trade deadline is Tuesday at 4 p.m. ET. With many moves expected throughout the day, this is where MiLB.com will round up the group of notable prospects switching teams.
With so much focus on bigger names, the Rays and Cardinals began deadline day with an under-the-radar move Tuesday morning. Tampa Bay acquired outfielder Tommy Pham and international bonus money from St. Louis for No. 14 prospectJustin Williams, No. 25 prospect Génesis Cabrera and Double-A reliever Roel Ramirez.
Williams is hitting just .258/.313/.376 with eight homers and four steals in 94 games at Triple-A Durham and will turn 23 on Aug. 20. Hitting from the left side, the 2013 second-rounder has shown the potential to be a solid hitter at other levels and has a .299 batting average over six seasons in the Minor Leagues. Williams was added to the Rays' 40-man roster last offseason and made his Major League debut with one at-bat 10 days before Tuesday's deal. He's played primarily in right field this season and led the International League with 13 outfield assists.
One level below Williams at Double-A Montgomery, Cabrera has posted a 4.12 ERA and 1.29 WHIP with 124 strikeouts and 57 walks in 113 2/3 innings this season. His 26.2 percent strikeout rate is the highest he's posted with a full-season affiliate, but so is his 12.0 percent walk rate. The 21-year-old left-hander has two above-average pitches in his fastball and slider, but he'll need to sharpen his control to remain a starter in the St. Louis system.
Ramirez, an eighth-round pick in 2013, has posted a 2.53 ERA and 1.09 WHIP with 60 strikeouts and 17 walks in 53 1/3 innings out of the bullpen at Class A Advanced Charlotte and Double-A Montgomery this season. He was used as a starter at times through his first four seasons with Tampa Bay but became a full-time reliever this year. The 23-year-old right-hander has been tougher against Double-A lefties this season (.207 average-against) than righties (.266 average).
The Rays jumped at the opportunity to acquire Pham before he enters arbitration for the next three seasons beginning in 2019. The 30-year-old center fielder broke out in 2017, hitting .306/.411/.520 with 23 homers and 25 steals while being worth 6.1 WAR (per FanGraphs), but has struggled to a .248/.331/.399 line with 14 homers this year. He reportedly became frustrated by fruitless extension talks with the Cardinals this spring, and the development of outfielders Harrison Bader and Tyler O'Neill made him expendable in St. Louis' eyes.
After sending Manny Machado to the Dodgers earlier this month, the Orioles attempted to strengthen their rebuild further by moving right-handed starter Kevin Gausman and reliever Darren O'Day to the Braves for four Atlanta prospects -- No. 14 Jean Carlos Encarnacion, No. 30 Brett Cumberland, Triple-A reliever Evan Phillips and Double-A starter Bruce Zimmermann -- and international signing bonus money.
Encarnacion brings the most talent to the O's system. The 20-year-old third baseman is hitting .288/314/.463 with 10 homers, five triples and 23 doubles through 97 games with Class A Rome in his second stateside season. His arm is his best asset, but the youngster has already committed 30 errors at the hot corner in 2018. Encarnacion has drawn only 13 walks this season compared to 100 strikeouts, but given his 6-foot-3 frame, the O's should like his potential for power.
Cumberland, the 76th overall pick in the 2016 Draft out of Cal, is an offense-first backstop who was promoted to Double-A Mississippi on July 25. He hit .236/.367/.407 with 11 homers and 15 doubles through 82 games with Class A Advanced Florida before the promotion. The 23-year-old switch hitter takes plenty of walks and provides some pop with an approach that stresses putting the ball in the air. He's made gains behind the plate with a 40.6 percent caught-stealing rate this season, but his bat will be key to his value.
Phillips has bounced between Triple-A and the Majors since having his contract purchased in late June. The 23-year-old right-hander has been dominant with Gwinnett, posting a 1.99 ERA, 1.03 WHIP and .199 average-against while striking out 59 in 40 2/3 innings, but has yet to put it together in the Majors, where he's given up six earned runs on six hits (three homers) and four walks in 6 1/3 frames. He should get a chance to improve that resume in Baltimore.
Zimmerman was taken in the fifth round out of the University of Mount Olive and had climbed quickly through the Braves system. The 23-year-old right-hander posted a 2.76 ERA with 99 strikeouts and 18 walks over 84 2/3 innings at Class A Rome before jumping straight up to Double-A, where he saw his control numbers slip significantly. Zimmerman has a 3.14 ERA but has walked 19 in 28 2/3 innings and has seen his WHIP jump to 1.53.
Gausman is the big prize for Atlanta, which sits only half a game back in the NL East and Wild Card races. The 27-year-old right-hander's numbers may not jump off the page -- he has a 4.43 ERA and 1.3 WAR through 124 innings this season -- but he does have two more years of team control beyond this one. A former top prospect in the O's system, Gausman could see his stuff prove more effective with with a new team in a new league.
O'Day is also a controllable asset for the Braves, as he's signed through 2019. However, he might not pitch for his new club anytime soon -- the right-handed reliever has been on the 60-day disabled list since June 29 with a left hamstring strain. He had a 3.60 ERA with 27 strikeouts and four walks in 20 innings before the injury.
The Baltimore farm got another influx of talent just before the deadline when the Orioles sent infielder Jonathan Schoop to the Brewers for No. 7 prospect Luis Ortiz, No. 14 Jean Carmona and Major League infielder Jonathan Villar.
Ortiz was once a top-100 prospect but has seen his stock fall due to concerns about his size and durability. (He hasn't thrown more than 94 1/3 innings in any of his five Minor League seasons.) The 6-foot-3, 230-pound right-hander has a 3.71 ERA and 1.19 WHIP with 65 strikeouts and 18 walks in 68 innings this season, his third at Double-A Biloxi. When healthy, he has a plus fastball in the mid-90s as well as a plus slider and an improving changeup. On stuff alone, he'll be up there with Dillon Tate and Hunter Harvey for most interesting right-handed prospect in the Baltimore system.
Carmona will be joining his second organization just two years after signing out of the Dominican Republic. The 18-year-old shortstop produced a .239/.298/.406 line with four homers, three triples, eight doubles and five steals in 39 games this season at Rookie-level Helena. A switch-hitter, Carmona could develop average pop as he grows into his 6-foot-1 frame, and his plus arm helps him on defense, though he may outgrow short some day. With a 74 wRC+, it's still all about projection rather than production for him.
Schoop will join a Milwaukee infield that was already crowded by the addition of third baseman Mike Moustakas earlier this month. Moustakas' arrival pushed Travis Shaw to second base, which is where Schoop has played almost exclusively in the Majors, though he was a shortstop in the Minors. Schoop is hitting .244/.273/.447 with 17 homers this season and won't be a free agent until after the 2019 season.
The Indians needed outfield help, and they got it from a division rival. Cleveland picked up center fielder Leonys Martin and pitching prospect Kyle Dowdy from the Tigers for No. 8 prospect Willi Castro.
Castro, a switch-hitting shortstop, has produced a .245/.303/.350 line with five homers, 13 stolen bases and an 87 wRC+ in 97 games for Double-A Akron this season. That's a pretty significant downturn from his 2017 campaign, in which he hit .290/.337/.424 with 11 homers, 19 steals and a 115 WRC+ at Class A Advanced Lynchburg. He was added to Cleveland's 40-man roster after that campaign. He's only 21, however, and has shown above-average speed and the tools necessary to stick at shortstop. It'll be interesting to see how the Tigers handle him with prospects Isaac Paredes and Sergio Alcántara manning the middle infield at Double-A Erie.
Martin joins an AL Central-leading Cleveland side that has seen its center fielders combine for just 0.6 WAR this season. The 30-year-old is hitting .251/.321/.409 with nine homers and seven steals in 78 games but has provided plenty of value defensively, leading to a 2.1 WAR per FanGraphs. His 13.4 UZR/150 ranks second behind only Lorenzo Cain among Major League center fielders. Martin will be a free agent this offseason after signing a one-year deal with Detroit last December.
Dowdy, a 12th-rounder in 2015, has posted a 4.74 ERA with 92 strikeouts and 32 walks in 95 innings between Triple-A Toledo and Double-A Erie this season. The 25-year-old right-hander, who began the season as a reliever but recently moved back to a starting role, will provide organizational depth for the Tribe.
As a veteran right-handed reliever who will be a free agent this offseason, Brad Ziegler always looked like a prime target to be shipped out of Miami. Now, he knows his destination -- Arizona. The 38-year-old was dealt to the D-backs in exchange for Minor League reliever Tommy Eveld.
Eveld was not ranked among Arizona's top 30 prospects by MLB.com, but he has put up some impressive numbers this season. He's posted a 1.11 ERA and 0.93 WHIP with 47 strikeouts and eight walks in 40 2/3 innings between Class A Advanced Visalia and Double-A Jackson. He hasn't allowed an earned run in his last 15 appearances, having struck 23 and walking only three in 17 1/3 innings over that span. The 24-year-old right-hander has an interesting background as a quarterback at the University of South Florida who didn't take a snap after two ACL tears. More on that in Merisa Jensen's story for MiLB.com here.
Ziegler has a 3.98 ERA in 52 innings and has earned 10 saves this season with the Marlins. He'll likely be a righty specialist for the NL West-contending D-backs -- he's held fellow right-handers to a .219 average this season.
Never ones to sit out an opportunity to trade, the Mariners dealt No. 19 prospect Bryson Brigman and international singing pool money to the Marlins for center fielder Cameron Maybin.
Brigman is hitting .304/.373/.391 with two homers and 15 steals in 98 games at Class A Advanced Modesto this season. After splitting time between the two middle infield spots in 2017, the 23-year-old has played mostly at shortstop this year. After making 15 errors there, however, it's still likely that second base will be his ultimate destination. His best tool is his above-average speed, but he's shown gains with the bat in 2018 with a 112 wRC+ and just a 13.6 percent strikeout rate in the California League.
Maybin will help out on the grass for Seattle, which holds a two-game lead for the final spot in the AL Wild Card race. The 31-year-old is hitting .251/.338/.343 with three homers and eight steals in 99 games this season. He will be a free agent at season's end.
The Dodgers have long admired second baseman Brian Dozier and finally added him to the mix, sending No. 19 prospect Luke Raley, Double-A pitcher Devin Smeltzer and Major League infielder Logan Forsythe to Minnesota.
Raley has jumped 10 spots after opening the year as the Dodgers' No. 29 prospect, thanks to a solid season at Double-A Tulsa. The left-handed slugger has hit a career-high 17 homers while producing a .275/.345/.477 line in 93 Texas League games. He's played all three outfield spots and has made 43 starts at first base, making him an intriguing utility option for Minnesota.
Smeltzer, a sixth-round pick in 2015, owns a 4.73 ERA and 1.35 WHIP with 67 strikeouts in 83 2/3 innings, also with Tulsa. His 5.2 percent walk rate is second-lowest among Texas League pitchers with at least 80 innings pitched.
On the Major League side, the Dodgers basically swap Forsythe, who had a 55 wRC+ and has been worth -0.6 WAR this season, for Dozier and his 91 wRC+ and 1.1 WAR. Dozier provides Los Angeles with infield depth should Justin Turner miss more time with a groin injury.
After taking Ziegler from Miami, Arizona got more bullpen help in the form of Rangers left-hander Jake Diekman, sending No. 22 prospect Wei-Chieh Huang and a player to be named later to Texas, according to a report by Robert Murray of The Athletic.
Huang, a Taiwan native, has put up a 2.31 ERA, 1.03 WHIP and .181 average-against to go with 78 strikeouts and 23 walks in 58 1/3 innings at Class A Advanced Visalia and Double-A Jackson. The 24-year-old right-hander has been a multi-inning reliever, tossing as many four frames in a single outing, and features two above-average pitches in his fastball and curveball. He has been a starter in the past but moved to the bullpen in 2017 and has never thrown more than 76 2/3 innings in a Minor League season.
Diekman has a 3.69 ERA with 48 strikeouts and 23 walks in 39 innings this season in Texas. He's also posted interesting reverse splits, with righties hitting only .190 against him while fellow lefties have hit .273 off the southpaw.
Who says the trade deadline has to be all about the Majors? The Cardinals and Indians completed a trade just before Tuesday's deadline involving only prospects. St. Louis sent No. 10 prospect Oscar Mercado to the Cleveland for its No. 14 prospect Conner Capel and Rookie-level outfielder Jhon Torres.
The move clears up a 40-man spot for the Cardinals and gives the Indians another much-needed outfield option at the upper levels. Mercado was added to the St. Louis 40-man roster for Rule 5 protection last November and has produced a .285/.351/.408 line with eight homers and 31 stolen bases in 100 games at Triple-A Memphis this season. He's considered a plus runner, backed up by the fact he leads the Pacific Coast League in thefts, and has also shown the glove and arm necessary to stick in center. He could be a prime pinch-runner/defensive specialist for the Tribe down the stretch.
Capel showed promising power with 22 homers at Class A Lake County last season but has struggled to match the performance in that department with only six long balls at Class A Advanced Lynchburg. That said, the 21-year-old has still been an above-average hitter in the Carolina League with a 111 wRC+ and .261/.355/.388 line and has made the most of his above-average speed with 15 steals. He's played all three outfield spots and has shown a solid arm out there with nine outfield assists as well.
Torres signed with Cleveland out of his native Colombia in July 2016 and is in the midst of his first stateside season. The 18-year-old outfielder has hit .273/.351/.424 with four homers and three steals in 27 games in the Arizona League, where he's played primarily in right field.