Hairy Men RHP Trent Baker Named TCL Pitcher of the Week 
Angelo State University Hurler Dazzled in Combined Round Rock No-Hitter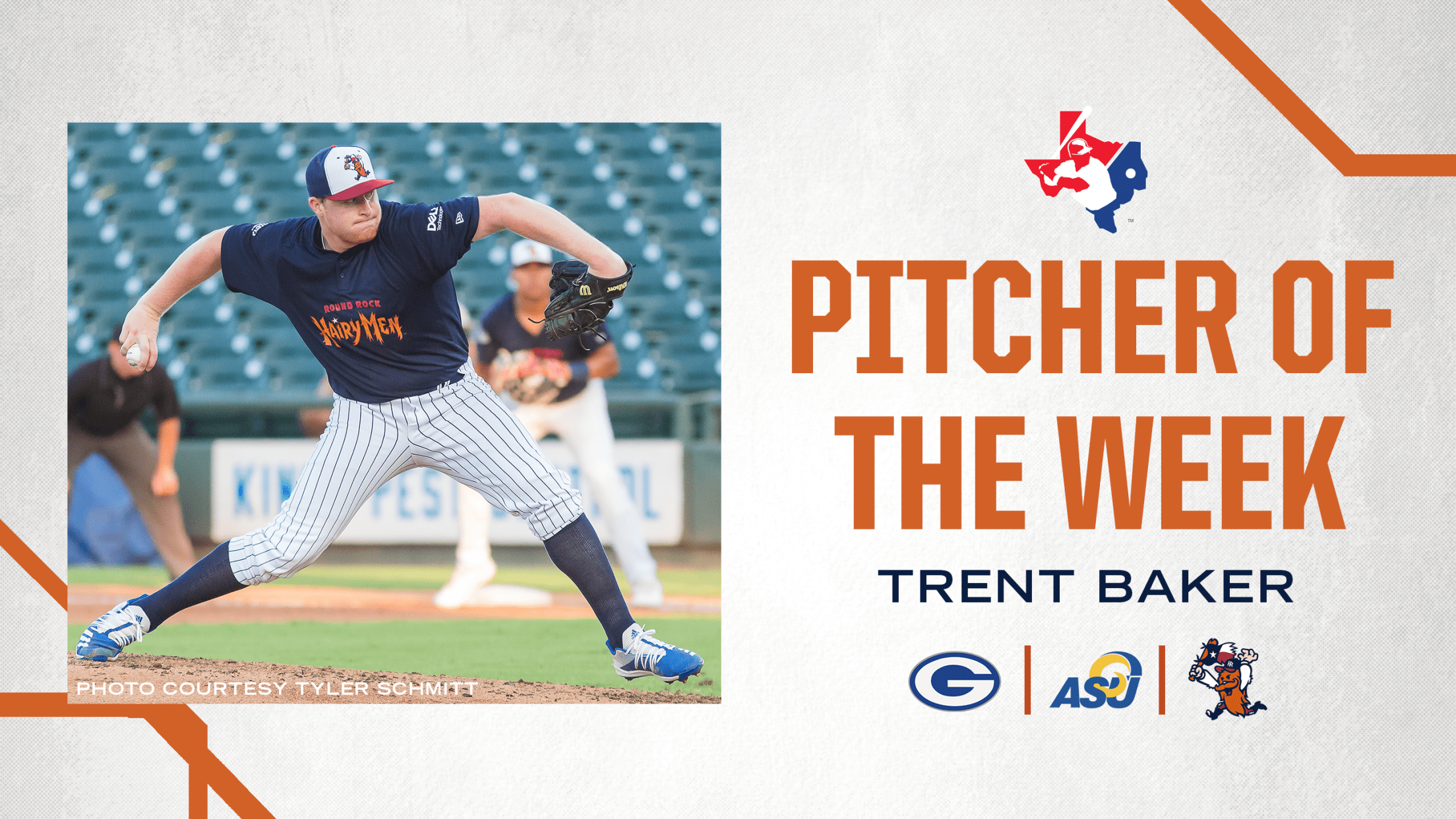 ROUND ROCK, Texas – For the third consecutive week, the Texas Collegiate League has honored a member of the Round Rock Hairy Men as RHP Trent Baker has been named the TCL Pitcher of the Week for the span of July 14-20. Round Rock INF Ryan Hernandez was tabbed the
ROUND ROCK, Texas – For the third consecutive week, the Texas Collegiate League has honored a member of the Round Rock Hairy Men as RHP Trent Baker has been named the TCL Pitcher of the Week for the span of July 14-20. Round Rock INF Ryan Hernandez was tabbed the league's Player of the Week for July 7-13 after RHP Jacob Ashkinos earned the league's first Pitcher of the Week honors for June 30-July 6.
Baker kicked off a combined no-hitter on July 16 against the Acadiana Cane Cutters in his only action of the week. The Angelo State University product faced the minimum in 5.0 scoreless innings, striking out five Cane Cutters hitters in the process. Only one batter reached base during Baker's start as LF Cole McConnell jumped aboard via a fielding error. However, in the very next at-bat, SS Ethan Lege chopped into a rare 2-4-3 double play to eliminate the threat.
Following Baker's departure, Round Rock RHP Austin Smith kept the no-hitter intact with 3.0 strong innings of relief. After walking the first two batters he faced, the fireballer struck out eight of the next 11 hitters that stepped to the plate. RHP Carter Poulson polished off the no-no, working around a pair of walks in a scoreless ninth inning of relief.
The efforts of Baker, Smith and Poulson marked just the second no-hitter in Dell Diamond's 21-year history. The only other no-hitter at the venue came back on June 25, 2007 as Nashville's Manny Parra threw a perfect game in Triple-A Pacific Coast League action.
The combined no-hitter:
9.0 IP
0 H
0 R
0 ER
14 K

What a night for these three #RRHairyMen pitchers! pic.twitter.com/n9nfd3W5Ie

— Round Rock Hairy Men (@RRHairyMen) July 17, 2020
On the year, Baker has been one of Round Rock's most successful pitchers. Through four appearances, including three starts, the Georgetown native is 2-0 with a sterling 1.38 ERA after allowing just one earned run on nine base hits in 13.0 total innings pitched. Baker has racked up 14 punchouts to just two walks to begin the season while holding opposing hitters to a .188 batting average to go along with a 0.85 WHIP.
Baker has pitched in 35 games, including 30 starts, for Angelo State University during his three-year collegiate career, compiling an 18-6 record and a 3.41 ERA. The righty jumped out to a hot start in 2020, posting a 5-1 record to go along with a 3.13 ERA for the Rams. Baker was named a 2019 All-Conference and All-Region First Team selection with Angelo State. He threw a no-hitter in 2016 during his standout career at Georgetown High School.
Baker and his Hairy Men teammates are in the midst of a six-game roadtrip against the Victoria Generals and Acadiana Cane Cutters. The Hairy Men and Generals face off in game two on Wednesday night at 7:05 p.m. All the action can be seen live on TCL TV.
Round Rock returns home on Tuesday, July 28 to kick off a span of five home games in six days to close out the regular season. The Hairy Men begin the homestand with a 7:05 p.m. first pitch against the Brazos Valley Bombers. Tickets are available now by visiting RRHairyMen.com.
For more information about the Round Rock Hairy Men and the 2020 Texas Collegiate League season at Dell Diamond, visit RRHairyMen.com or call (512) 255-2255. Follow the Round Rock Hairy Men on Twitter to stay up to date with the latest news and information.