Trio of Round-Trippers Leads Hooks Over Frisco
Arauz, Shaver, Adams go yard in 6-2 win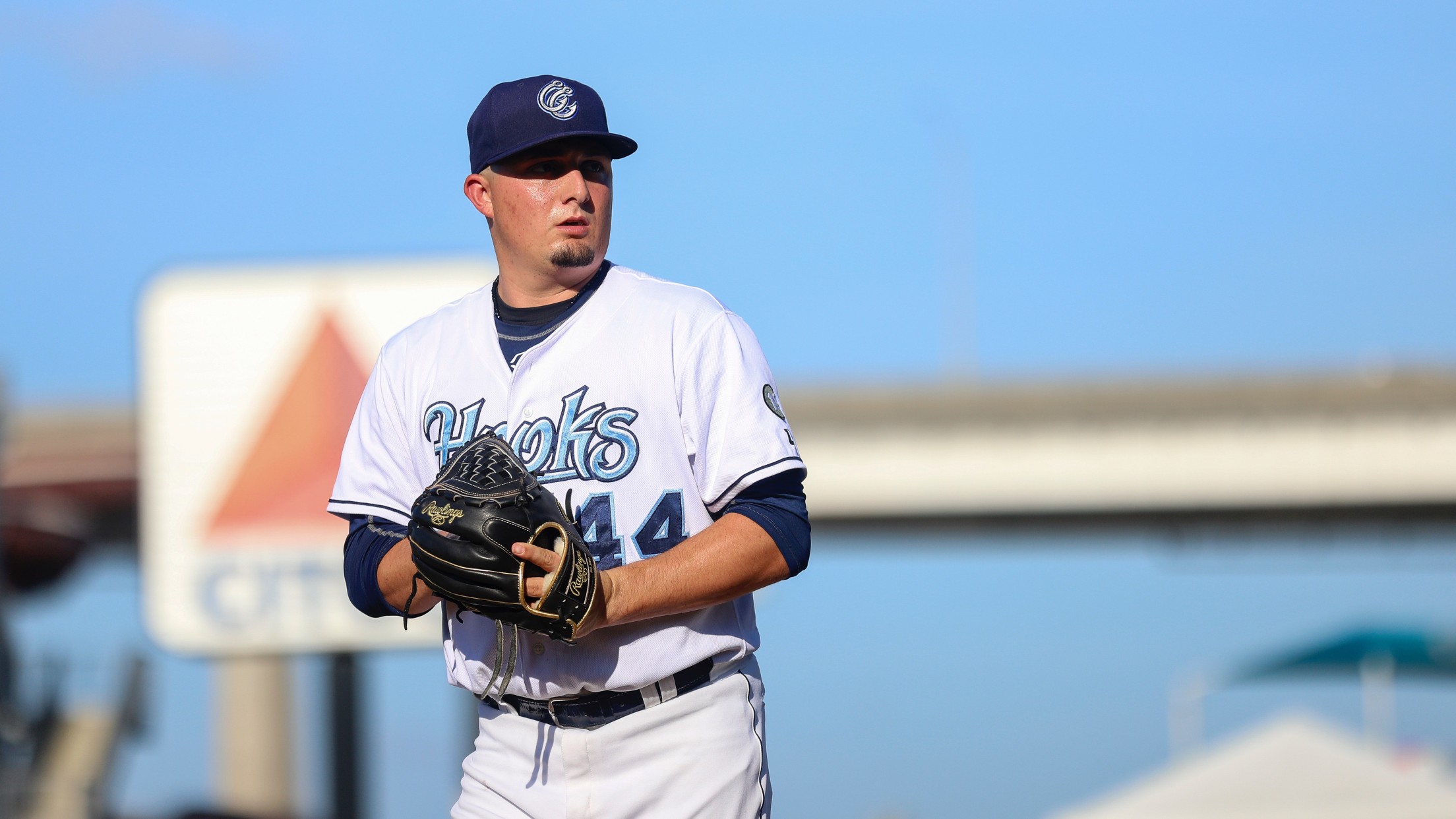 Chad Donato retired 16 in a row over a stretch to earn his second win with Corpus Christi. (Olivia Rook/Corpus Christi Hooks)
CORPUS CHRISTI - Three Hooks home runs carried the team to a 6-2 win over the Frisco RoughRiders Tuesday night at Whataburger Field.Jonathan Arauz (2), Colton Shaver (13) and Jake Adams (3) each went deep between the fourth and fifth innings to ambush Frisco and starter Tyler Phillips (L, 5-9)
CORPUS CHRISTI - Three Hooks home runs carried the team to a 6-2 win over the Frisco RoughRiders Tuesday night at Whataburger Field.
Jonathan Arauz (2), Colton Shaver (13) and Jake Adams (3) each went deep between the fourth and fifth innings to ambush Frisco and starter Tyler Phillips (L, 5-9) for a 4-0 lead. For Arauz, it was his first long ball at Whataburger Field, while Adams' marked his third in as many games.
Frisco had a chance to jump out early against Chad Donato, who loaded the bases with one out before fanning Juremi Profar and Michael De Leon to end the threat. The Profar strikeout began a thread of 16 straight batters retired by Donato, a streak that lasted until the sixth inning.
Make that 151 Hooks homers! 🤷🏻‍♂️@Jakeadams23 with a 440-foot BLAST into the Driscoll Health Plan Kids Zone! That's his 3rd in 3 games! pic.twitter.com/jmjfTFXSI0

— Corpus Christi Hooks (@cchooks) August 14, 2019
After getting the first two outs, Donato walked Eliezer Álvarez and gave up three straight singles resulting in two runs for the RoughRiders. Donato (W, 2-1) was pulled after 5.2 innings allowing five hits and two walks with five punchouts.
The Hooks tacked on two insurance runs in the seventh via a Bryan De La Cruz sacrifice fly and an Arauz RBI groundout. Nick Hernandez threw 2.1 scoreless frames to bridge to Erasmo Pinales, who finished off the victory.
Corpus Christi looks to make it four wins in a row with Brandon Bailey (3-3, 3.51) on the hill against Frisco's Richelson Peña (0-3, 5.44). Wednesday is Bark in the Park at Whataburger Field, with discounted tickets in the berm and Section 110 for fans with dogs!