Trio twirls first no-hitter in Patriots' history
Rehabbing Severino, Semple and Marinaccio combine on feat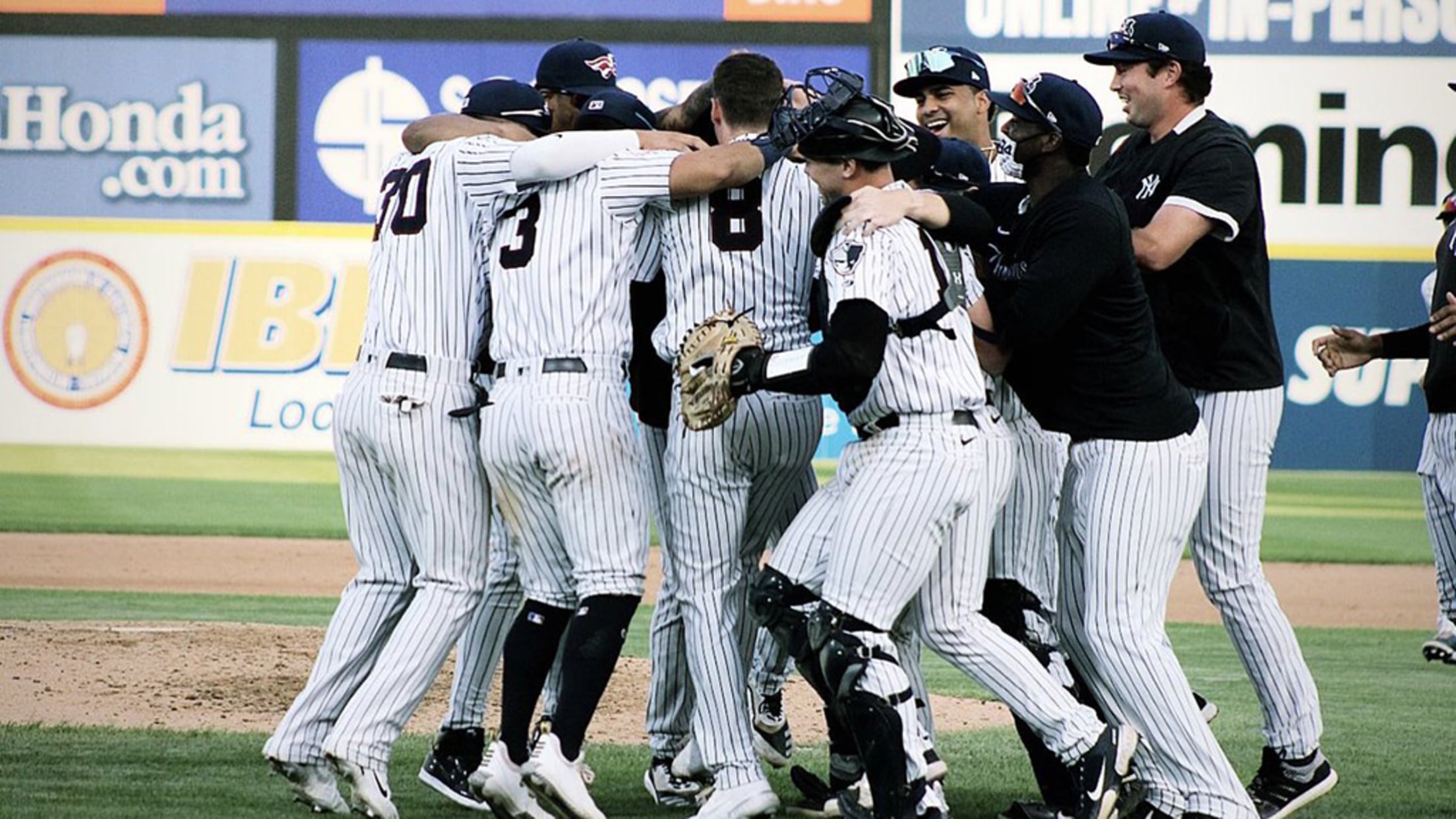 The Somerset Patriots celebrate on the mound after completing the first no-hitter in franchise history. (Somerset Patriots)
History was made at TD Bank Ballpark on Sunday -- and it was nearly perfect.
History was made at TD Bank Ballpark on Sunday -- and it was nearly perfect.
Yankees rehabbing starter Luis Severino, Shawn Semple and Ron Marinaccio combined to toss the first no-hitter in Double-A Somerset history as the Patriots blanked the Bowie Baysox, 7-0. The pitchers took a perfect game into the ninth inning, when Marinaccio allowed the only baserunner on a four-pitch walk with one out.
"All of us are really proud and happy about it, to have the first no-hitter in franchise history here," Patriots skipper Julio Mosquera said in a conference call after the game. "It's something you can't take away from us. The pitching staff did a fantastic job and the defensive players made some nice plays. Like I said the whole year, they're gonna come and compete and they're gonna give us a chance, and they did that without giving up a hit today."
Making his second straight rehab start with Somerset, Severino plowed through the Baysox lineup over the first four innings. The right-hander needed just 10 pitches to get through the first and tossed just one ball in an 11-pitch second. The former All-Star notched four of his five strikeouts over his final two frames -- including getting MLB Pipeline's top overall prospect Adley Rutschman to swing through a high fastball for the second out in the fourth. Severino exited after 48 pitches -- 36 for strikes.
"I think it was a bigger improvement from the last start," Mosquera said. "His pitches were sharper, he just went after and attacked guys, and it was impressive to see him go out there and compete."
Semple took over in the fifth and was equally -- if not more -- impressive. The righty used just seven pitches to navigate through the fifth and six in the sixth. He whiffed the side in the seventh -- when he faced the only three-ball count of his outing. Semple went to 3-2 on Rutschman with one out in the frame, and froze him with a fastball low in the zone.
"It was a fastball down and away. I knew I had to go with my best pitch in that spot and it was a fastball, and I have really good feeling with that location," Semple said. "So I went up and ripped it down and it found its spot. It was awesome! To get there, get the K and just continue the game going from there."
The 25-year-old added a pair of whiffs in the eighth to bring his total to five and left after throwing 29 of his 40 pitches for strikes. Semple earned the victory to improve to 5-2 while lowering his ERA on the season to 3.11.
"That's the same guy that I saw every time he toes the rubber. He's an absolute bulldog," Patriots pitching coach Daniel Moskos said. "He always pitches above whatever his stuff is that day, so he brought the same thing today. Just picked up where Sevy left off -- came in pounding the zone and attacking, just so special and impressive to me."
"When I come off the mound, I always wanna go back out there, but I know the plan that they had and they were gonna continue with it because that's what we did all year," Semple added. "And I knew Ron would come in and shut it down."
Mosquera and Moskos discussed going to Marinaccio in the ninth earlier in the day because he had not pitched for four games.
"We didn't want him to go too many days without throwing," Mosquera said. "So it was already premeditated -- it was the plan the whole time. We gotta go out there and continue to develop players."
Marinaccio was also aware of that plan -- and the situation he was entering.
"I felt the pressure coming into the game, being the last leg and wanting to pull through for your team," he said. "Especially when you know you're pitching the ninth [inning] all day, and you're perfect through four even, I was like, 'Oh boy, here we go.' ... At one point, I thought I was the only one who knew, but I definitely knew going in."
The 26-year-old opened the ninth with a six-pitch strikeout of Cadyn Grenier. After falling behind Zach Watson, 2-0, the right-hander tossed a pair of borderline pitches that were called balls to put Watson on first.
"No one really said anything to me at that point," he said. "I heard my infielders say, 'You got this,' and I just locked back in and went from there."
Marinaccio coaxed Malquin Canelo into a groundout to short for the second out and then completed the feat when Patrick Dorrian lifted a can of corn to right to end the game.
"I think the thing I'm excited about is being able to -- and I had the nerves there -- but I was able to settle back down and finish it off for the team," he said. "It was super special -- having Severino start, and Shawn -- a buddy I came up with since 2017, and me and him being able to pitch in Double-A together, behind Severino, is pretty freaking awesome."
Just guys being dudes and throwing no-hitters! pic.twitter.com/4UJtz3Otpx

— Somerset Patriots (@SOMPatriots) August 9, 2021
There were 15 outs recorded in the field of play and only six of those were made beyond the infield.
"First year coaching on the field, so a lot of firsts this year ... but this is something that's much bigger than first win or first shutout, this takes a whole team effort," Moskos said. "So to see everyone come together and put the team effort and come out with a no-hitter is just incredible."
Rob Terranova is a contributor to MiLB.com. Follow him on Twitter @RobTnova24.