Triolo's walk-off double in 10th inning lifts Hoppers over Asheville
Pitching prospect Carmen Mlodzinki leaves start early with shoulder tightness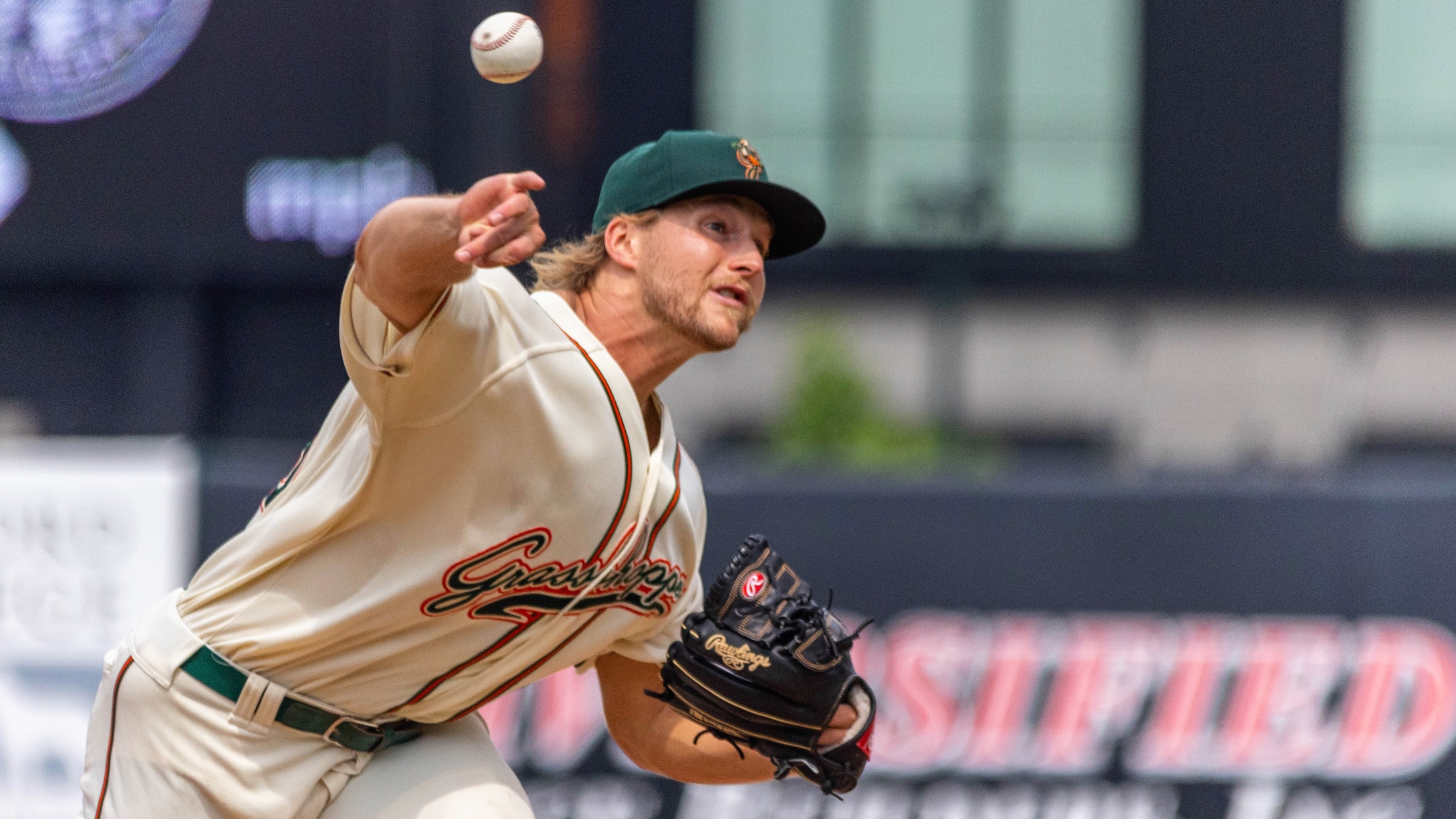 Through nine starts, Carmen Mlodzinski is 2-2 with a 2.63 ERA and has held opponents to a .185 batting average. (Jak Kerley/Greensboro Grasshoppers)
GREENSBORO ― Jared Triolo doubled down the left-field line, driving home Aaron Shackelford from second base with the winning run in the bottom of the 10th inning as the Greensboro Grasshoppers beat the Asheville Tourists 4-3 on Saturday night at First National Bank Field. The Hoppers spilled out of the
GREENSBORO ― Jared Triolo doubled down the left-field line, driving home Aaron Shackelford from second base with the winning run in the bottom of the 10th inning as the Greensboro Grasshoppers beat the Asheville Tourists 4-3 on Saturday night at First National Bank Field.
The Hoppers spilled out of the dugout and mobbed Triolo at second base, celebrating their fifth walk-off win of the season. Five different players have delivered game-winning RBIs in those victories: Triolo, Matthew Fraizer, Matt Gorski, Lolo Sanchez and Nick Gonzales.
"It's a unified group, man, pulling in the same direction and playing for each other," Hoppers manager Kieran Mattison said. "Everybody has the confidence that they can do the job on any given night. That's what good teams do, and guys are ready for their moment."
This moment belonged to Triolo, who went 2-for-4 with a walk, a run scored and his RBI to lead the Hoppers, who manufactured all four of their runs in a rare game in Greensboro's cozy ballpark without a home run.
"Triolo's a gamer, man. He does everything well," Mattison said. "He plays above-average defense, and he's above-average running the bases. And he's clutch at the plate, a guy who can get you a big hit. For awhile earlier this season, he was leading this team in RBIs, going back and forth with (Fabricio) Macias. ... Whoever's in front of Triolo, he's going to find a way to drive him in. He has hit at every level he's played. He's prospect, that's for sure. The future is bright for him."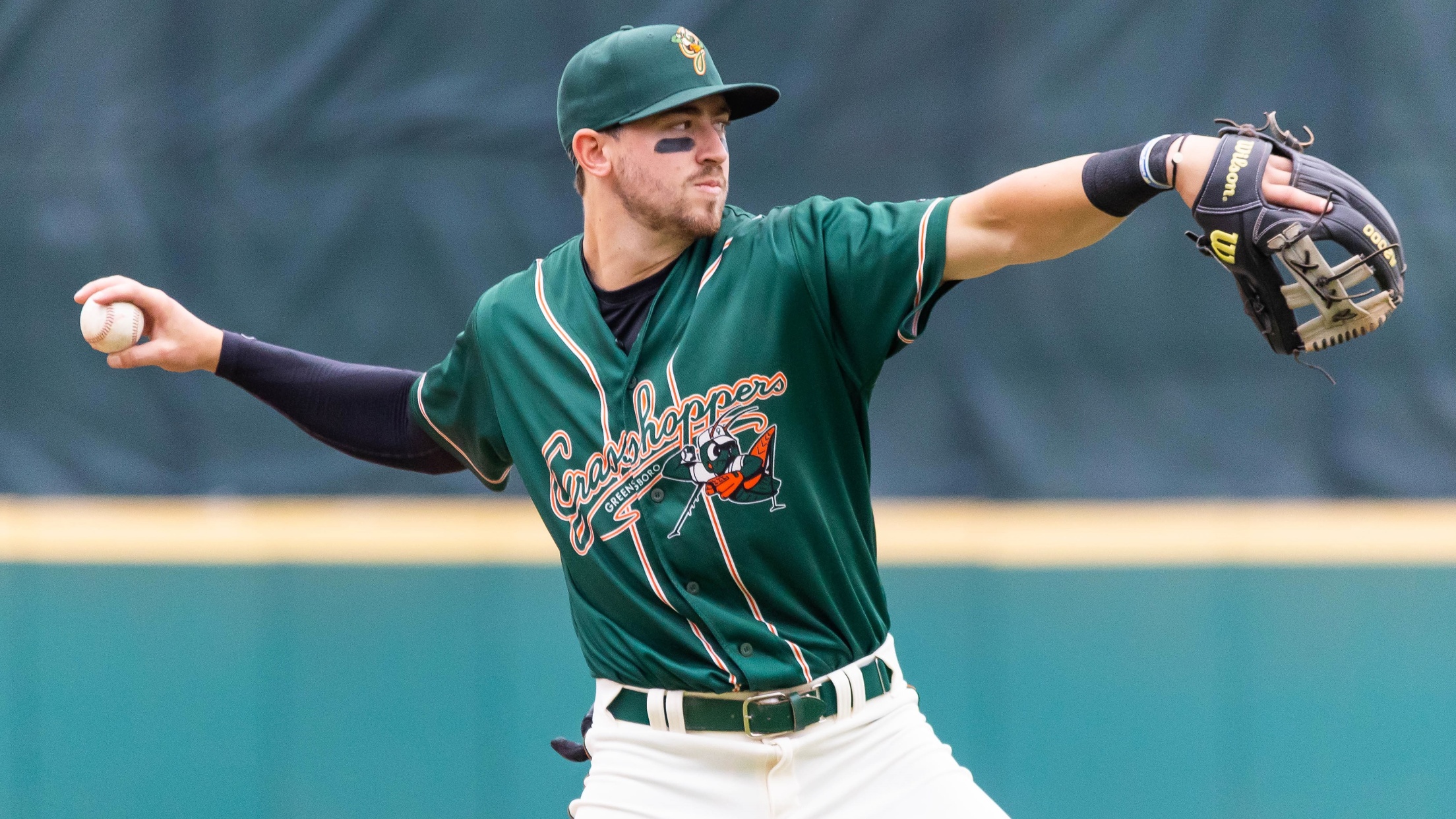 One of the Hoppers' top prospects, starting pitcher Carmen Mlodzinski, took himself out of the game with two outs in the top of the fourth inning and Greensboro leading 2-0.
Mlodzinki, a right-hander rated by MLB Pipeline as the No. 10 prospect in Pittsburgh's farm system, was uncharacteristically wild in his ninth start of the season. He walked four and hit a batter, and after the last walk motioned to the dugout.
Pitching coach Matt Ford and trainer Victor Silva came out to the mound, while Mlodzinki (2-2, 2.63 ERA) rubbed the back of his right shoulder. He was lifted after throwing 69 pitches, just 33 for strikes.
"He was having some discomfort in the back of his shoulder," Mattison said. "He said he felt fine until that (fourth) inning, but when he went into the stretch he started to feel it tighten up on him. It was more just precautionary to get him out of there. You don't want him to try to push through it and make it worse.
"It's our job to protect our players as much as possible. We did some tests on him when he came out of the game, and the results were all positive. We'll do a re-evaluation in the morning (Sunday), but we think it's nothing severe and we're all grateful for that. He was smart to let us come out there and check him out when he did."
Relievers Alex Manasa and Colin Selby pitched the next four innings of a close game that included a terrifying moment.
Selby, a hard-thrower whose fastball sat between 95 and 99 mph on the radar gun in his two innings of work, hit Asheville's C.J. Stubbs in the head with a 3-2 pitch with one out in the eighth inning.
The 97 mph fastball broke the ear flap on Stubbs' batting helment, and he was down on the ground while trainers examined him. Stubbs eventually walked off the field on his own, and he returned to Asheville's dugout for the 10th inning.
Selby walked the next batter, then coaxed back-to-back grounders to keep the score tied 3-3.
"It's very, very difficult to move on after you hit somebody in the head like that," Mattison said. "I've done it before when I was pitching, and it's tough. It rattles you. You're out there, and you basically eliminate the whole inner third of the plate after it happens because you get tentative and don't want to make the same mistake. I thought Selby did a great job of getting through that mentally and continuing to pitch. Because it's easy to let your mind go to where you can't keep going. It was huge for him to finish that inning. Selby's a tough kid."
Right-hander Austin Roberts (3-2, 4.40 ERA) pitched two scoreless innings to finish the game and pick up the win in relief. He allowed no hits, struck out two and stranded the potential go-ahead run at third base in the 10th inning.
The Hoppers took an early 2-0 lead with good base-running.
Triolo drew a walk to lead off the second inning, stole second base and went to third on Gorski's sharp single. Triolo scored on a wild pitch.
Fraizer drew a walk to start the third, took second on Gonzales' infield hit, third on a balk and scored on Shackelford's sacrifice fly.
Liover Peguero's bases-loaded sacrifice fly in the seventh inning drove in Grant Koch with the tying run.
Greensboro is 4-1 against Asheville this week, and the series concludes with a game at 2 p.m. Sunday.
NOTES: The second-place Hoppers (35-24) pulled within 3 games of Bowling Green (38-21) in the High-A East's South Division standings. ... Fraizer went 1-for-2 with two walks to extend his hitting streak to nine games. Fraizer is 18-for-37 (.487) during the hitting streak, and he has hit safely in 13 of his last 14 games. ... Fraizer leads the High-A East in batting average (.329), hits (73) and runs scored (42). He ranks second in home runs (14) and on-base percentage (.407). ... Teammates Fraizer, Triolo and Shackelford are all tied for eighth in the league with 36 RBIs. ... Mlodzinki has walked 14 and struck out 54 in 41 innings of work, holding opponents to a .185 batting average.
In his career at the News & Record, journalist Jeff Mills won 10 national and 12 state writing awards from the Associated Press Sports Editors, the Society for Features Journalism, and the N.C. Press Association.