Tucker, Moran and Reed homer to top River Cats Tuesday night
6.0 scoreless IP from Hauschild in 5-2 victory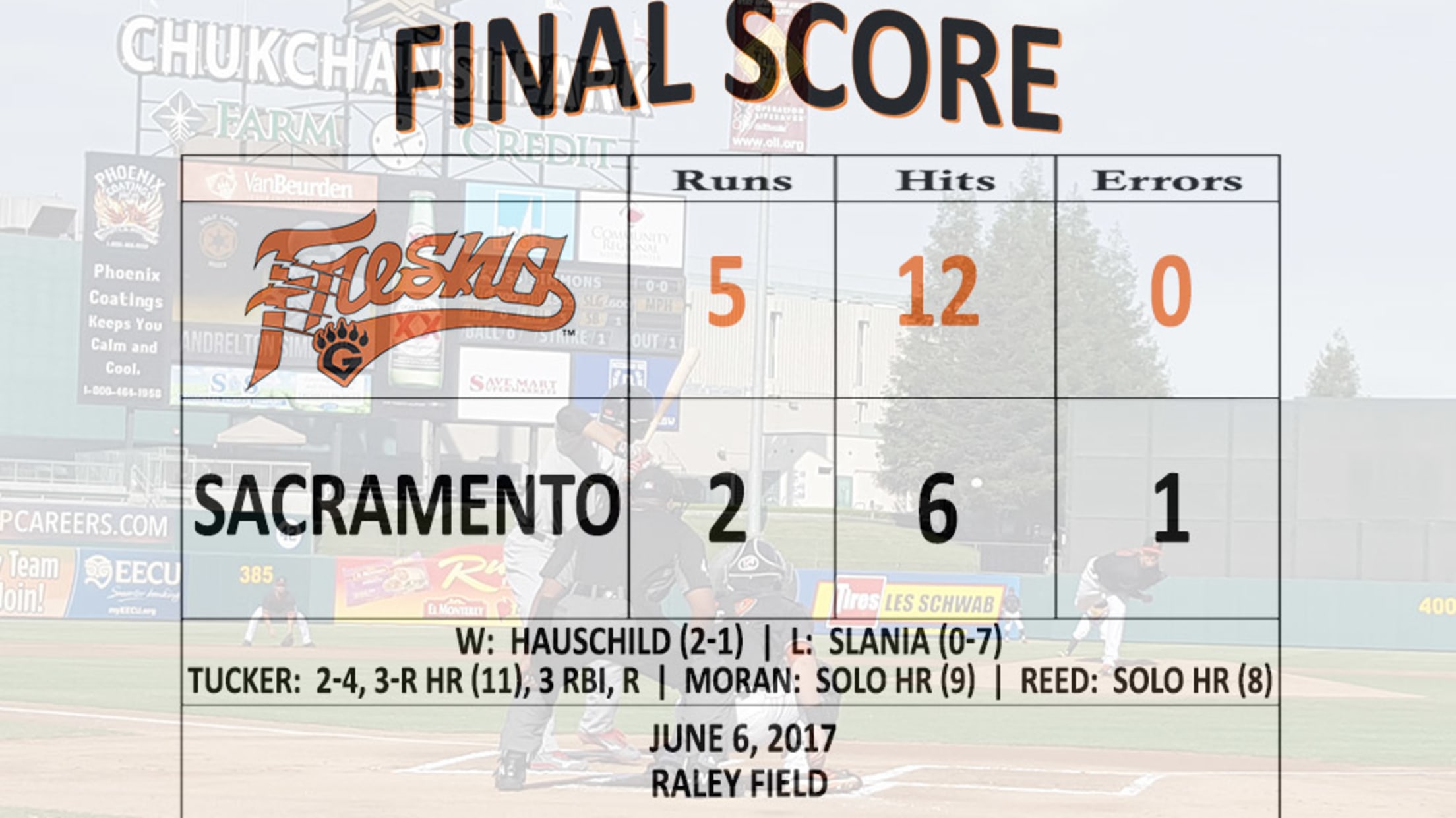 The Fresno Grizzlies (27-32) defeated the Sacramento River Cats (23-34) in the second of a four-game series on Tuesday night at Raley Field. Three Fresno homers and a quality start from Mike Hauschild propelled the Grizz to a 5-2 victory. It's the fifth time this season the Grizzlies have hit
The Fresno Grizzlies (27-32) defeated the Sacramento River Cats (23-34) in the second of a four-game series on Tuesday night at Raley Field. Three Fresno homers and a quality start from Mike Hauschild propelled the Grizz to a 5-2 victory. It's the fifth time this season the Grizzlies have hit three or more home runs in a game. They have one four-homer game on May 28 against Albuquerque.
Preston Tucker (2-for-4) hit a three-run home run in the fifth to put Fresno up 3-0. His 11th long ball of the season was hit to right and scored Reid Brignac (2-for-4) and Max Stassi who both singled to get on. For Tucker, it was his second three-RBI game of the season. His first, on May 30 against Albuquerque, also came in the form of homers when he hit a solo shot and a two-run shot.
The Grizzlies increased their lead to 4-0 in the sixth with a solo home run from Colin Moran. It was his ninth of the season and was also hit to right field.
Fresno starter Hauschild (2-1) earned his second quality start of the season with six scoreless innings. He allowed just three hits and three walks for the win. His six strikeouts marked a new 2017-high. Hauschild's first quality start of the season was the same game Tucker last had three RBI.
In the eighth, the River Cats cut the Grizzlies lead to 4-2. Mac Williamson hit a RBI double that scored Christian Arroyo, and then Chris Shaw (2-for-4) drove him home with a RBI single.
The Grizzlies gained a run back in the ninth when A.J. Reed hit his eighth long ball of the season, a solo shot to right field. The homer gave the Grizzlies a 5-2 victory.
Sacramento starter Dan Slania (0-7) suffered the loss in 4.2 IP. He allowed three runs on five hits and four walks with six strikeouts.
The four-game series between the Grizzlies and the River Cats continues on Wednesday at 7:05 p.m. RHP Francis Martes (0-2, 5.29) will make his ninth start of the season for Fresno against Sacramento RHP Tyler Beede (3-3, 8.05).