Tucker's homer, Moran's big hit in 8th lift Grizz to 5-2 win at Tacoma
Hauschild fires 106 pitches, Reed goes 2-for-4, Comer slams door for team victory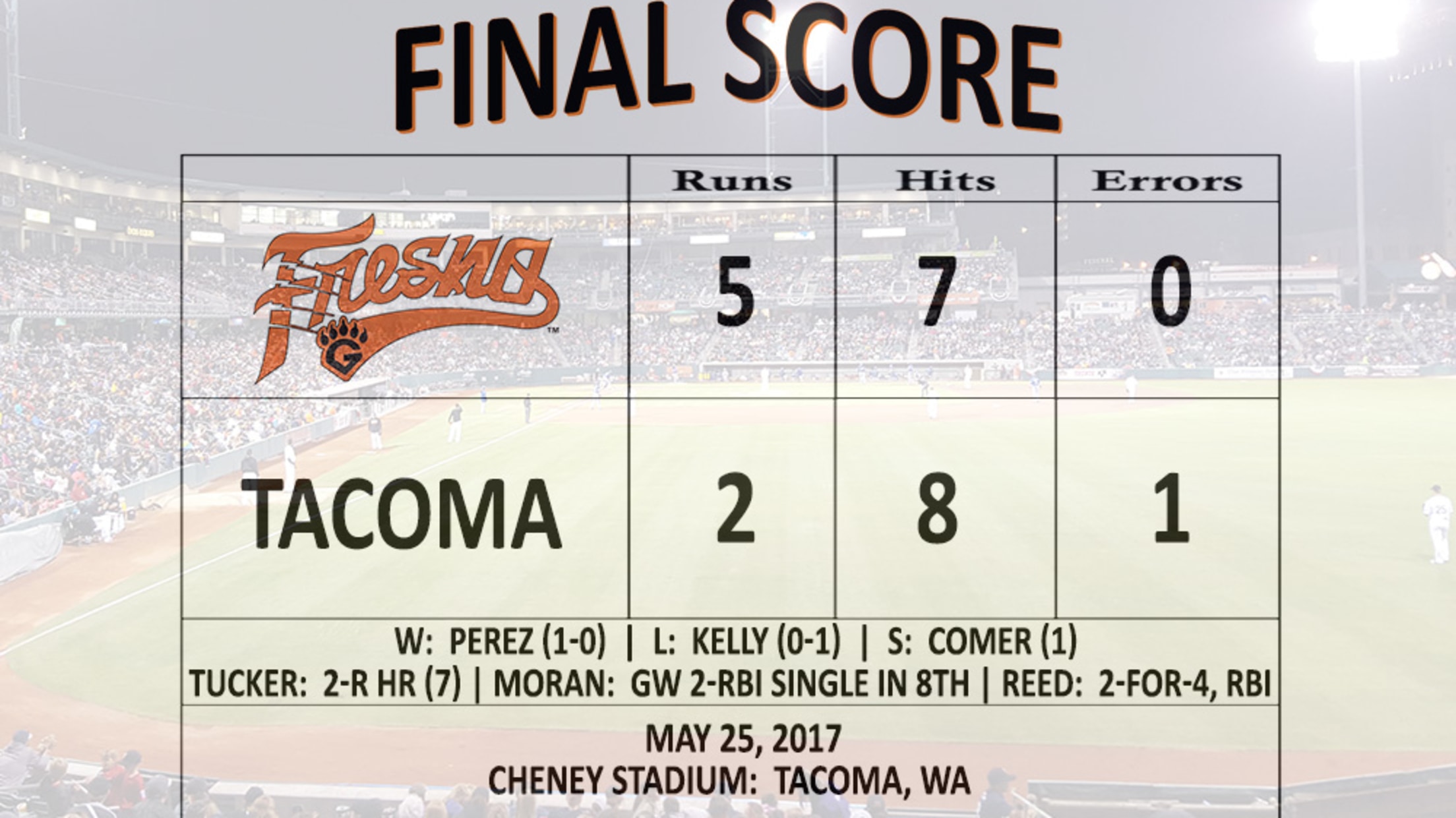 An eight-batter, three-run eighth inning delivered the knockout blow to the homesteading Tacoma Rainiers (29-17) Thursday night, as the Fresno Grizzlies (19-29) snapped a losing streak of three overall, and in road games with 5-2 victory. In his fifth start of the season, Mike Hauschild did not allow a run
An eight-batter, three-run eighth inning delivered the knockout blow to the homesteading Tacoma Rainiers (29-17) Thursday night, as the Fresno Grizzlies (19-29) snapped a losing streak of three overall, and in road games with 5-2 victory. In his fifth start of the season, Mike Hauschild did not allow a run until the sixth, as Fresno improved to 3-2 with him on the mound in 2017.
A hard-hit first inning single to right field gave Grizzlies centerfielder Derek Fisher at least one hit in 23 of his last 27 games, batting .345 with seven homers, nine doubles and 20 RBI in that span.
With the ballgame scoreless into the fifth, Preston Tucker connected on his seventh home run of the season, a line drive rocket with one out and A.J. Reed (2-for-4) on first base after a leadoff single. Tucker's seventh longball equaled Colin Moran for second on the club; Fisher leads the team with 10 dingers.
Still leading 2-0 in the sixth, the Rainiers broke up the shutout when Zach Shank lifted a two-RBI, bases loaded single into centerfield to tie the game. Grizz reliever Tyson Perez allowed the base hit, Shank being the first batter he faced after inheriting the bases loaded from Hauschild with two out. However, those were the first runs charged to Hauschild in three career starts at Tacoma; the right-hander's scoreless streak at Cheney Stadium lasted 17.2 innings, beginning with two starts last season.
Hauschild's final line read 5.2 IP, five hits, four walks and five strikeouts; both runs were earned on a season-high 106 pitches. Tacoma starter Andrew Moore scattered just four hits in six IP, with a walk and five strikeouts. Both runs on Moore were earned as well, on 91 pitches, and neither starter would factor into the decision.
With the bases loaded and two out in the top of the eighth, Moran un-tied the game with a RBI liner into center, first pitch swinging. Max Stassi (double) and Tyler White (fielder's choice) scored, making it a 4-2 game. It was 5-2 moments later when Reed's RBI single scored Teoscar Hernández, who was intentionally walked to load the bases.
Reliever Kevin Comer earned his first save of the season and in Triple-A, firing a scoreless eighth and ninth. Comer struck out three allowing just one hit (no walks), his 12th career save in six pro seasons. Perez (1-0) picked up the win in an inning and a third of relief, with Ryan Kelly (0-1) taking the loss in just a third of an inning, giving up Moran's game-winning knock.
The big eighth improved Fresno to 4-0 this season when tied after seven innings. The Grizzlies paused their recent struggles at Tacoma, improving to 21-30 there since becoming a Houston Astros affiliate in 2015, and are now 9-18 at Cheney Stadium as an Astros farm.
The series concludes Friday evening with a 7:05 p.m. first pitch. Houston top prospect Francis Martes (0-2, 5.25) will start for Fresno.