'Tugas retire final 17 hitters in-a-row, top Mets, 4-3
Orewiler, Byrne, Cox, Bennett dominate to end four-game skid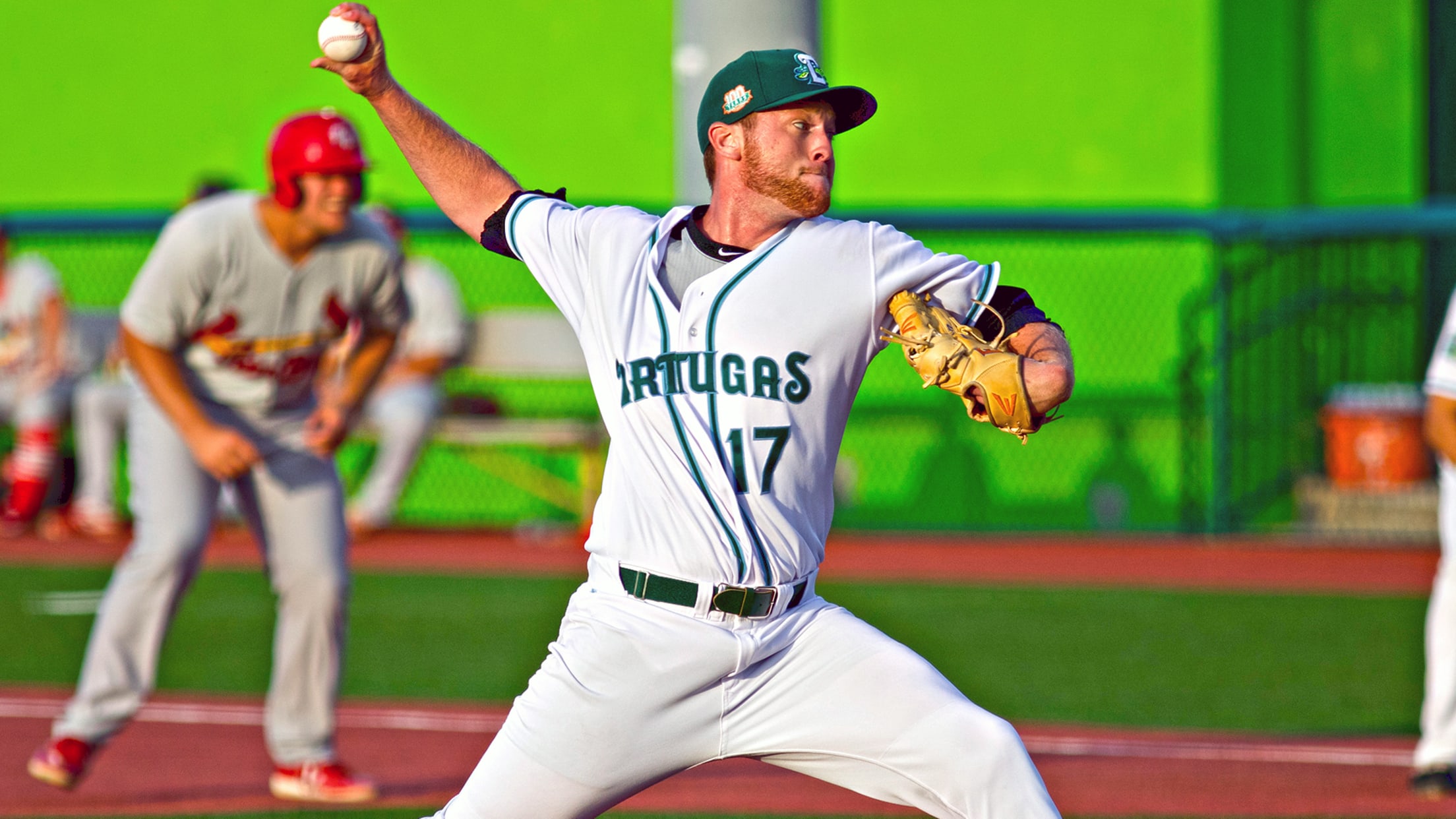 RHP Michael Byrne earned the win and retired all seven batters he faced, as he and three other pitchers combined to set down the final 17 St. Lucie hitters, as the Daytona Tortugas knocked off the Mets, 4-3, in front of 2,063 fans at Jackie Robinson Ballpark on Saturday night. (Aldrin Capulong)
DAYTONA BEACH, Fla. - Daytona's RHP Austin Orewiler , RHP Michael Byrne,  LHP Andy Cox , and RHP Connor Bennett united to retire the final 17 St. Lucie hitters in-a-row, as the Tortugas snapped their four-game losing streak with a 4-3 win over the Mets in front of 2,063 fans at Jackie Robinson Ballpark on Saturday
DAYTONA BEACH, Fla. - Daytona's RHP Austin Orewiler , RHP Michael Byrne, LHP Andy Cox , and RHP Connor Bennett united to retire the final 17 St. Lucie hitters in-a-row, as the Tortugas snapped their four-game losing streak with a 4-3 win over the Mets in front of 2,063 fans at Jackie Robinson Ballpark on Saturday night.
Trailing 3-2 entering the bottom of the sixth, Daytona (20-24, 55-54) put the first two men aboard with back-to-back singles from 3B Bryant Flete (2-3, 2 R, HR, 2 RBI, SO) and SS José García (2-4, R). RF Andy Sugilio (2-4, 2B) then lined out to third, but - in an attempt to pick García off of first - an errant throw was made allowing both runners to move to second and third.
On a 2-1 delivery, C Hendrik Clementina (1-4, 2 RBI, SO) spanked a base-hit into left. Both men came across to score on the 22-year-old's single to put the Tortugas in front, 4-3.
The Tortugas bullpen made sure that lead held up. Byrne (2.1 IP, SO), Cox (0.2 IP), and Bennett (1.0 IP, SO) did not allow a baserunner from that point onward. Byrne was credited with his fifth victory of the season, while Bennett earned his first Florida State League save.
St. Lucie (28-16, 60-50) jumped out to an early lead in the top of the first. DH Carlos Cortés (1-3, R, 2B, BB) laced a one-out double into right-center and came across to score on a triple by RF Jacob Zanon (1-4, 3B, RBI).
Down 1-0, the Tortugas snagged their first lead of the night in the third. After a misplay in center enabled 2B Alejo López (1-4, R, 3B, SO) to end up with a stand-up triple, Flete unloaded a deep drive to right. The 26-year-old's clout sailed over the fence for a two-run home run - his second - to make it a 2-1 Daytona advantage.
Daytona's lead was not long-lived, as SS Manny Rodríguez (2-3, R, 2B, HR, 2 RBI) launched a two-RBI blast over the left-center field wall. The former Cincinnati Bearcats' first longball over the year gave the Mets a 3-2 edge.
Despite starting the streak of 17-straight batters retired to end the night, Orewiler (5.0 IP, 5 H, 3 R, 3 ER, BB, 6 SO) took a no-decision for the 'Tugas. St. Lucie's RHP Luc Rennie (6.0 IP, 6 H, 4 R, 3 ER, BB, 5 SO) garnered a quality start but was saddled with his fifth defeat.
RHP Jared Solomon (0-5, 4.31 ERA) - Cincinnati's No. 23 prospect according to MLBPipeline.com - is expected to take the mound for Daytona in the rubber match on Sunday. The Mets are scheduled to counter with RHP Joe Cavallaro (5-3, 3.90 ERA).
The Tortugas Pre-Game Show will kick off the broadcast at 5:20 p.m. ET, leading up to the 5:35 p.m. ET start at Jackie Robinson Ballpark. Sunday evening's contest can be heard on www.daytonatortugas.com or via the TuneIn Radio and MiLB First Pitch apps.
The first 500 fans through the gates will receive a Smiley Shelldon T-Shirt Giveaway courtesy of Lifetime Dentistry of Port Orange. The best kids club in town will have plenty of games and activities, as well for another Tiny Tugas Night. Immediately after that game's conclusion, all youngsters in attendance will be able to enjoy Kids Run the Bases.
Multi-game plans and single-game tickets are still currently available and can be purchased online at www.daytonatortugas.com, or by calling the Tortugas' Ticket Office at (386) 257-3172.
ABOUT THE DAYTONA TORTUGAS
The Daytona Tortugas are the High-A Affiliate of the Cincinnati Reds and a member of the Florida State League. The Tortugas play at Jackie Robinson Ballpark in downtown Daytona Beach, Fla. Jackie Robinson Ballpark also plays host to Bethune-Cookman University, the Beijing Shougang Eagles of National Pro Fastpitch (NPF) and many large community events and initiatives throughout the season.