Twelve 2021 Stripers Included on Braves' NLDS Roster
Atlanta's 26-man roster includes 21 Gwinnett alums overall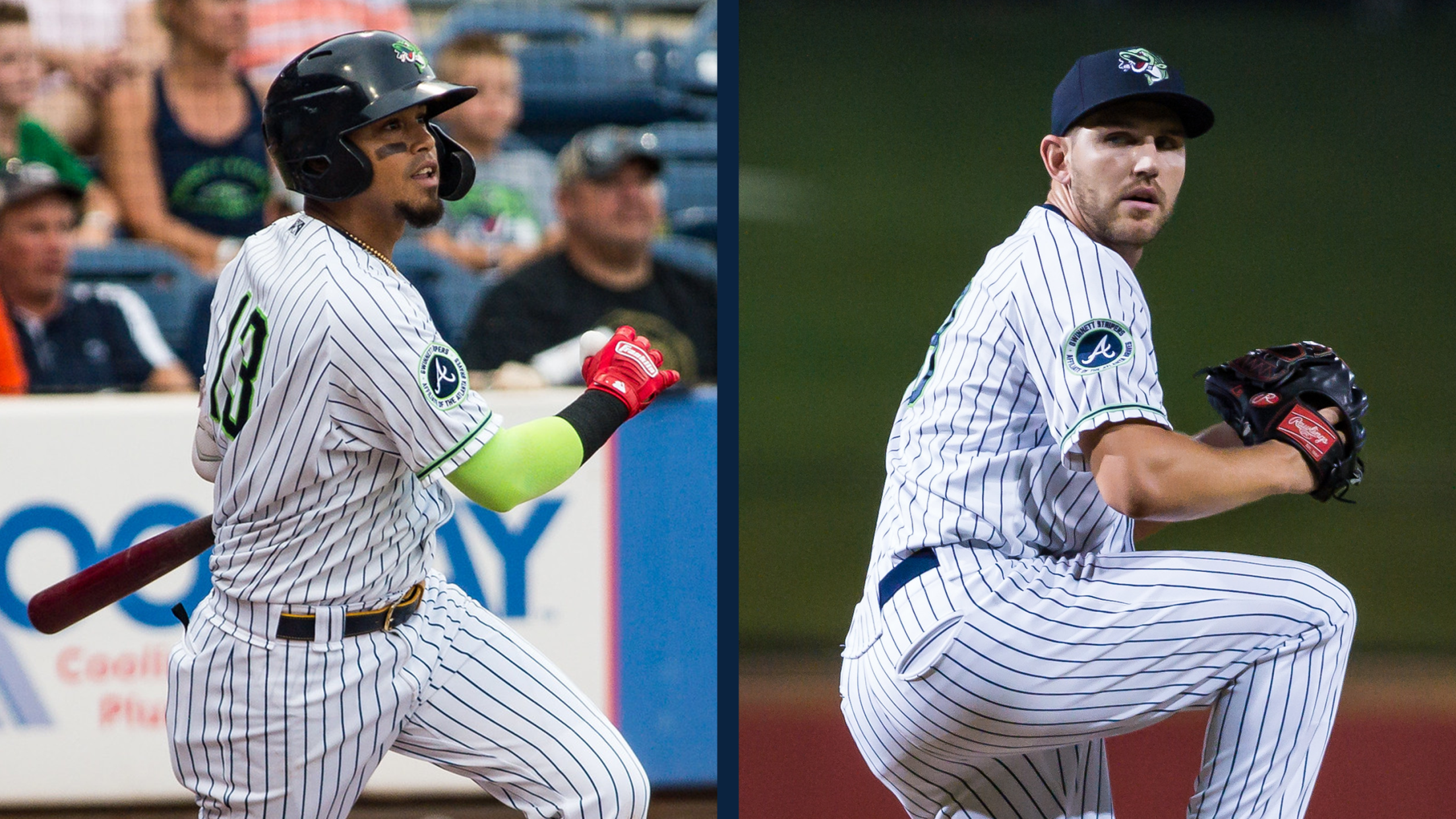 Orlando Arcia (left) batted .282 with 17 homers and 37 RBIs for the Stripers, while Dylan Lee (right) went 5-1 with a 1.54 ERA in 35 outings as Gwinnett's Most Outstanding Reliever. (Will Fagan)
During the regular season, 34 players who saw action with the Gwinnett Stripers also played for Atlanta, helping the Braves capture their fourth consecutive National League East Division title. Today, 12 members of Gwinnett's 2021 club have been included on the Braves' 26-man roster for the opening round of the
During the regular season, 34 players who saw action with the Gwinnett Stripers also played for Atlanta, helping the Braves capture their fourth consecutive National League East Division title.
Today, 12 members of Gwinnett's 2021 club have been included on the Braves' 26-man roster for the opening round of the 2021 MLB postseason, the best-of-five National League Division Series against the Milwaukee Brewers.
The group includes pitchers Ian Anderson, Jesse Chavez, Dylan Lee, A.J. Minter, Jacob Webb, and Huascar Ynoa, catchers William Contreras and Travis d'Arnaud, infielder Orlando Arcia, and outfielders Terrance Gore, Guillermo Heredia and Eddie Rosario.
Your 2021 Atlanta #Braves NLDS Roster:#BattleATL pic.twitter.com/bvYt87KgLx

— Atlanta Braves (@Braves) October 8, 2021
Pitchers (6)
Anderson and Ynoa, both part of Atlanta's starting rotation during the regular season, each spent brief rehab assignments with Gwinnett in 2021. Anderson made four starts with the Stripers in August while returning from right shoulder inflammation, going 0-0 with a 3.68 ERA, .218 BAA, and 20 strikeouts over 14.2 innings. Ynoa started twice in August as well while recovering from a fractured right hand, going 0-0 with a 4.32 ERA, .250 BAA, and 11 strikeouts over 8.1 innings.
Atlanta's NLDS bullpen includes Minter and Webb, the two pitchers tied for the Gwinnett lead in saves with six (T-10th in Triple-A East). Minter didn't allow a run over 7.1 innings spanning his seven outings with the Stripers in from July 21 through August 8, converting all six of his save opportunities. Webb was optioned to Gwinnett six different times in 2021, and went 1-2 with a 3.00 ERA, .193 BAA, and 33 strikeouts over 24.0 innings while going 6-for-7 in save chances.
The 38-year-old Chavez was stellar in his early-season relief role with the Stripers, going 1-0 with a 2.25 ERA and two saves while holding Triple-A opponents to a .179 average in 13 appearances. He served an important role as a mentor to many of Gwinnett's younger arms before having his contract selected on June 24.
One of those young up-and-comers, the 27-year-old Lee, made his Major League debut with the Braves in October after capturing Gwinnett's Most Outstanding Reliever award. He went 5-1 with a 1.54 ERA, 0.75 WHIP, .176 BAA, one save, and 54 strikeouts in 46.2 innings spanning 35 outings with the Stripers. Over his final 18 games from July 18 to September 29, Lee yielded just one earned run over 21.2 innings for a microscopic 0.42 ERA, held opponents to a .147 average, and piled up 30 strikeouts.
Catchers (2)
Both members of Atlanta's postseason catching corps – Contreras and d'Arnaud – spent time in a Gwinnett uniform this year.
12 GAMES 😱 6 HOME RUNS 😱

William Contreras hits another homer to double our lead with a 3 run blast!

Stripers: 6 Tides: 0 pic.twitter.com/Wjg1mrZwFB

— Gwinnett Stripers (@GoStripers) July 24, 2021
Contreras would have likely opened 2021 with the Stripers, but was summoned from the Alternate Training Site on May 2 when d'Arnaud suffered a left thumb sprain. The 23-year-old Venezuela native hit .204 with seven home runs, 21 RBIs, and a .666 OPS in 44 games during his time as Atlanta's primary catcher, and was optioned to Gwinnett for more seasoning on July 7. Making his Triple-A debut despite having already played in the Majors, Contreras thrived at the plate, batting .290 with eight doubles, nine homers, 29 RBIs, and an .873 OPS in 44 games before being recalled for good on September 10.
After missing nearly three months due to the left thumb sprain, d'Arnaud's first step back to the big leagues was a rehab assignment with Gwinnett. He started five games behind the plate from July 30 to August 8, batting .250 (4-for-15). His final hit in a Stripers uniform provided one of the memorable moments of the year as his two-out RBI single scored Drew Waters for a 4-3 walk-off win over Charlotte in game one of a doubleheader on August 8.
TRAVIS D'ARNAUD WALK-OFF WINNER IN GAME 1!!! pic.twitter.com/crYpwUbWee

— Gwinnett Stripers (@GoStripers) August 8, 2021
Infielders (1)
Arcia opened 2021 with Gwinnett after being acquired via trade with the Milwaukee Brewers on April 6. The 27-year-old shortstop immediately took on a starring role for the Stripers, reaching base in 47 of his first 51 games and batting .303 with 11 doubles, 13 homers, 41 runs, 28 RBIs, and a .932 OPS through July 3. He led the team in multi-hit (16) and multi-RBI (8) games, and ranked first in the Triple-A East in runs, hits, and total bases (111) when he was recalled by Atlanta on July 4. Gwinnett's lone walk-off homer of the year came courtesy of Arcia on May 16 vs. Louisville.
ORLANDO ARCIA WALKS US OFF!!!

He hits his seventh home run in twelve games to secure the victory as the Stripers come from behind to win 5 - 4. pic.twitter.com/mhmAfAMXdP

— Gwinnett Stripers (@GoStripers) May 16, 2021
After serving as an outfielder out of necessity with the Braves, Arcia returned to Gwinnett to play shortstop from July 31 through August 31. In 74 total games across his two stints, he hit .282 with 16 doubles, 17 homers, 54 runs, 37 RBIs, five steals, and an .867 OPS.
Outfielders (3)
Heredia and Rosario, key depth in the outfield for the Braves, both rehabbed with Gwinnett this year.
While out with right hamstring inflammation in May, Heredia spent just one game on a rehab assignment with the Stripers, going 1-for-3 on May 14 vs. Louisville.
Rosario, hampered by a right abdominal strain when he was acquired from Cleveland at the trade deadline on July 30, made his Braves organization debut on a rehab assignment with Gwinnett in August. Though hitting just .196 in his 13-game stint, Rosario launched four homers and tallied 16 RBIs as a middle-of-the-order producer. He notched five straight multi-RBI games from August 18-24, one shy of the Gwinnett record (Adam Duvall's six-game streak in 2019). All four of his homers provided game-winning margins, including a grand slam in a 4-1 win on August 18 at Louisville and a ninth-inning solo shot in a last-at-bat 3-1 win on August 24 at Nashville.
There is no doubt that Eddie Rosario can have a little salami.

The first home run on his rehab assignment gives the Stripers a four-run lead in the fifth. pic.twitter.com/zX2HUnacBK

— Gwinnett Stripers (@GoStripers) August 18, 2021
Gore is the only former Stripers player added to Atlanta's NLDS roster that did not log a Major League game during the 2021 regular season. The 30-year-old speedster from Macon, Ga. played 49 games with Gwinnett, going 18-for-22 in stolen base attempts (his 18 steals ranked T-15th in the Triple-A East). In his limited time at the plate, he hit .232 with five extra-base hits, 19 runs, and one RBI.
Terrance Gore's coverage map is more expansive than those of most cell phone companies. pic.twitter.com/fGe9ADrJYc

— Gwinnett Stripers (@GoStripers) May 16, 2021
In all, 21 members of Atlanta's NLDS roster have previously played for Gwinnett, including pitchers Max Fried (2017-18), Luke Jackson (2017-18), Tyler Matzek (2019), and Charlie Morton (2009), infielders Ozzie Albies (2016-17), Freddie Freeman (2010, 2013, 2015, 2017), Austin Riley (2018-19), and Dansby Swanson (2017), and outfielder Duvall (2019).
The Braves' coaching staff also includes three Gwinnett alums, including manager Brian Snitker (managed from 2014-16), assistant hitting coach Bobby Magallanes (coached in 2019), and bullpen catcher Jose Yepez (played from 2013-15).
NLDS Begins Today
The Braves begin the 2021 NLDS today at American Family Field in Milwaukee. First pitch against the Brewers is set for 4:37 p.m. ET. For continuing coverage of former Stripers players in the MLB postseason, follow @GoStripers on Twitter, Facebook, and Instagram.