Twins edge out Reds, 6-5, despite Oliver's four-hit night
Cleveland, Tenn. native goes 4-for-4, clubs three-run homer in loss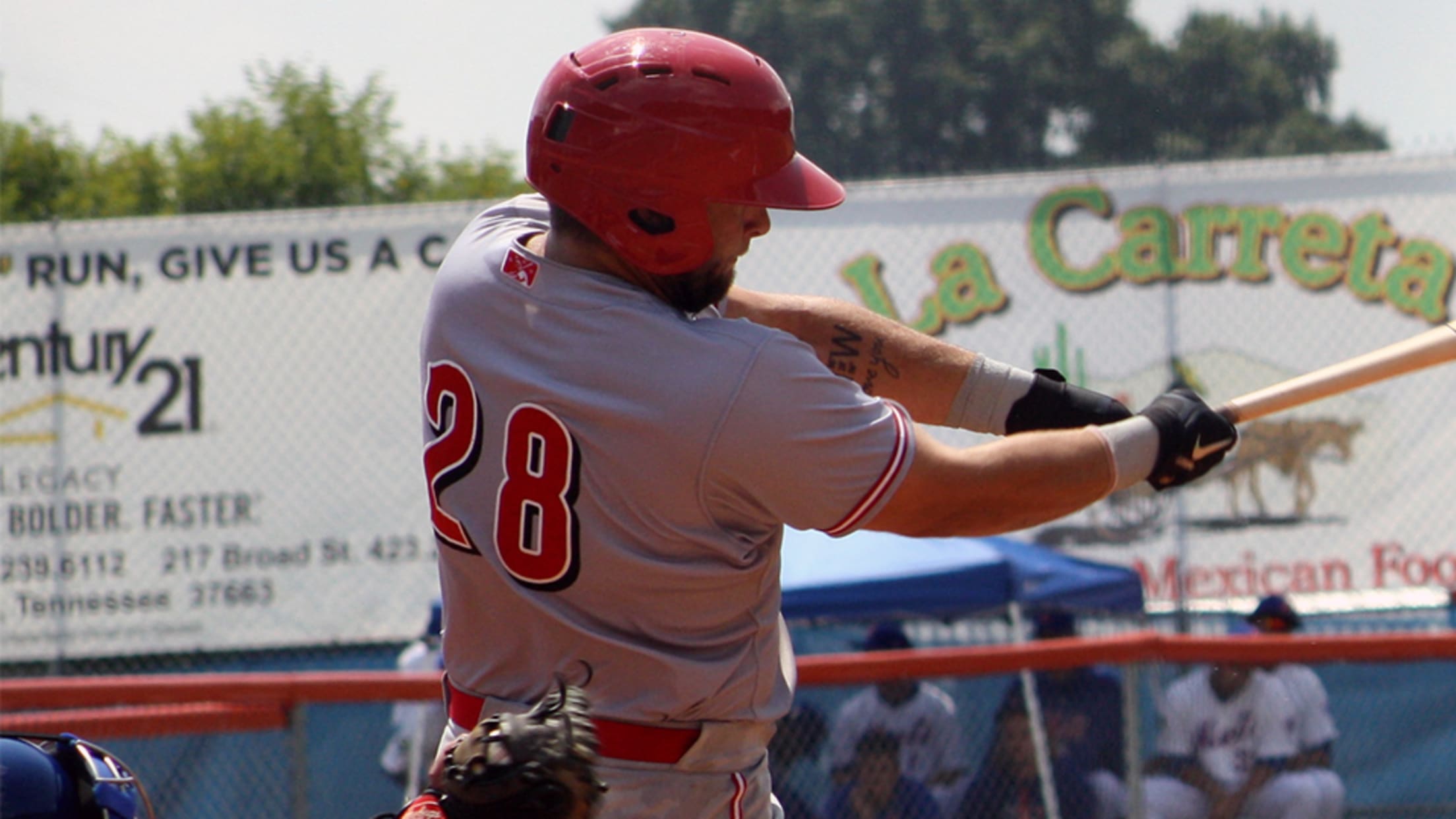 C Hunter Oliver went 4-for-4 and clubbed a three-run home run, but the Greeneville Reds were edged out by the Elizabethton Twins, 6-5, on Wednesday night at Joe O'Brien Field. (Johnny Painter / Greeneville Reds)
ELIZABETHTON, Tenn. - C Hunter Oliver continued his assault on Appalachian League pitching, collecting four hits - including a three-run home run - however, it was not enough, as the Elizabethton Twins edged out the Greeneville Reds, 6-5, on Wednesday night at Joe O'Brien Field.With the loss, the Redlegs fell to 9-17 on
ELIZABETHTON, Tenn. - C Hunter Oliver continued his assault on Appalachian League pitching, collecting four hits - including a three-run home run - however, it was not enough, as the Elizabethton Twins edged out the Greeneville Reds, 6-5, on Wednesday night at Joe O'Brien Field.
With the loss, the Redlegs fell to 9-17 on the young season. Elizabethton's victory improved their mark to an Appalachian League Western Division-leading, 17-9.
Thanks to CF Mike Siani's (2-5, R, 2B, SO) speed, Greeneville jumped out to an early advantage. Following the 19-year-old's leadoff double, with one out, Twins' RHP Tyler Palm (5.0 IP, 6 H, R, ER, 3 SO) offered a pitch that caromed off the shin guard of C Ryan Jeffers . With the ball bouncing high off the netting, Siani never stopped running, scoring from second on the wild pitch to give the Reds the lead, 1-0.
In the fourth, Elizabethton was finally able to even the tide. CF Lean Marrero (2-4, R) started the frame with a single and moved to second on a stolen base. After a wild pitch and a walk, 1B Chris Williams (1-4, R, RBI, SO) hit a grounder to second. With the infield back, Marrero scored to tie it at one.
The Twins offense exploded in the bottom of the sixth to jump in front. A walk to Jeffers (1-2, 2 R, 2B, 2 BB) and a single by Williams set the stage for RF Trevor Larnach (1-4, R, 2 RBI). In his professional debut, the Oregon State alum lined a single to right to bring home his first pro-RBI and give the E-Twins a 2-1 edge. Immediately after a wild pitch allowed Williams to score, DH Trevor Casanova (1-3, R, HR, 2 RBI, BB, SO) launched a shot to deep right field. The blast sailed over the fence for a two-run home run - his first of the year - giving Elizabethton a four-run cushion, 5-1.
Thanks to Oliver (4-4, 2 R, 2B, HR, 3 RBI), however, Greeneville was able to draw even. After the Cleveland, Tenn. native's inning-starting double in the seventh, a passed ball permitted him to advance to third. Subsequently after a walk, RF Brian Rey (1-4, RBI) grounded into a fielder's choice - scoring Oliver - to bring the Reds within three, 5-2.
In the eighth, it was the long ball that knotted it up. After two errors by the pitcher allowed 2B Jonathan Willems (1-4, R) to reach, a walk to 1B Rylan Thomas (0-3, R, BB, 2 SO) brought Oliver back to the dish. On a 0-1 pitch, the 20-year-old clobbered the offering well over the left-field fence for a three-run shot. The blast - his team-high-tying fifth of the season - evened the affair back up at five.
Elizabethton did not let it stay tied for long, though. Jeffers began the bottom of the eighth with a ringing double down the left-field line and scooted to third on a balk. With one out, Larnach hit a scorcher that deflected off of Thomas at first. The throw home by Willems was high, allowing Jeffers to score the go-ahead run, giving the Twins the lead again, 6-5.
The Reds put the tying run on base in the ninth, but a strikeout from RHP Derek Molina (1.0 IP, BB, 2 SO) ended the game, as the right-hander garnered his third save of the season.
Neither starter received a decision, but both faired well on Wednesday. 18-year-old RHP Lyon Richardson (4.1 IP, 2 H, R, ER, 3 BB, 2 SO) walked three but issued just two hits and one run over a career-high 4.1 innings for the Reds. His counterpart - Twins' RHP Palm (5.0 IP, 6 H, R, ER, 3 SO) - did not walk a batter over five frames.
Despite issuing the game-tying homer, RHP Moises Gomez (3.0 IP, 2 H, 4 R, ER, 2 BB, 3 SO) earned his second win of the season for Elizabethton. It was a rough night for Reds' RHP Francis Jones (3.0 IP, 4 H, 5 R, 5 ER, 2 BB, 2 SO), yielding a season-high five runs in his first defeat of the year.
Greeneville is expected to turn to RHP Alexis Diaz (2-0, 3.00 ERA), as they attempt to even the series at a game apiece on Thursday night. Elizabethton is projected to counter with RHP Andrew Cabezas (0-2, 5.25 ERA).
The G-Reds Pre-Game Show will kick off the broadcast at 6:45 p.m. ET, leading up to the 7:00 p.m. ET start at Joe O'Brien Field. Thursday evening's contest can be heard on GreenevilleReds.com or via the TuneIn Radio and MiLB First Pitch apps.
Following the brief three-game road trip, the Reds will return home to Pioneer Park on Saturday, July 21 to kickstart a three-contest set against the Burlington Royals. Fans are advised to arrive early, as the first 350 patrons through the gates will receive a Lee Landers Bobblehead in honor of his upcoming retirement as Appalachian League President.
Season and single-game tickets are still available and can be purchased online at GreenevilleReds.com or by calling the Reds' Ticket Office at (423) 609-7400.