Unlikely Generals Rally Upends Smokies
Jackson mounts four-run rally in ninth, completes comeback in extras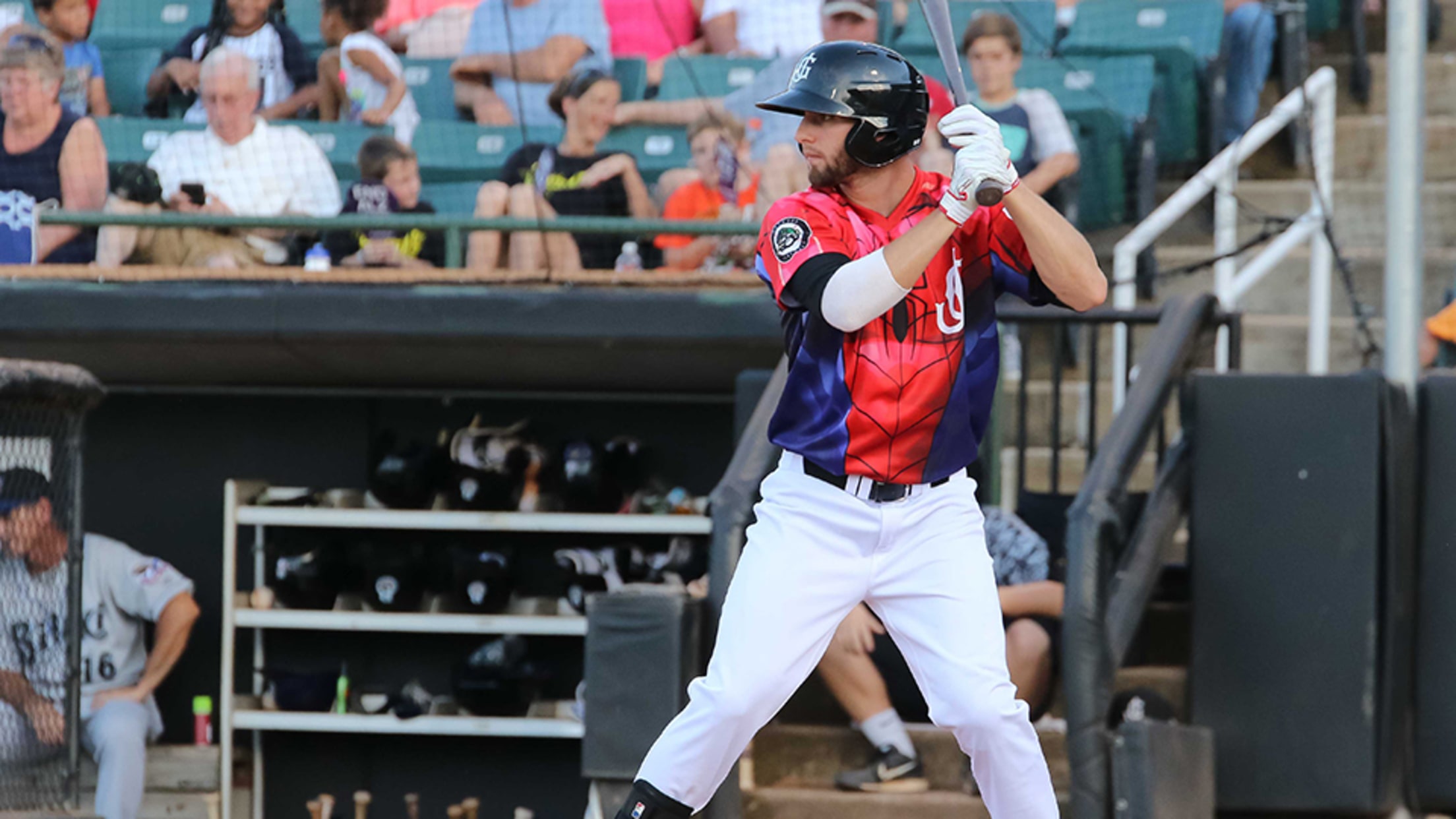 Daniel Lockhart starred in Thursday's 8-7 win over Tennessee, collecting three hits while scoring three times and driving in a run. Lockhart's 11-pitch at-bat in the ninth inning proved pivotal in a four-run game-extending rally. (Cody Cunningham)
Sevierville, Tenn. - Down to his team's last strike with a two-run deficit, Daniel Lockhart faced long odds to extend Thursday's game at Smokies Stadium. The Jackson Generals' center fielder bet on himself, and at the end of an 11-pitch at-bat, he slapped an RBI single to left field, keeping
Sevierville, Tenn. - Down to his team's last strike with a two-run deficit, Daniel Lockhart faced long odds to extend Thursday's game at Smokies Stadium. The Jackson Generals' center fielder bet on himself, and at the end of an 11-pitch at-bat, he slapped an RBI single to left field, keeping Jackson alive against Tennessee (30-35, 66-68).
Unbeknownst to him, Lockhart's at-bat would prove a pivotal moment in an outstanding comeback effort by the Generals (32- 34, 69-67), who somehow swung a 5-2 ninth-inning deficit into an 8-7 extra-innings win in the series opener. The Generals pounded out six runs and eight hits over the ninth, tenth and eleventh innings, scoring their first win this season in 53 games when trailing after eight innings.
Ahead of Lockhart's ninth-inning at-bat, the Generals executed with playoff-grade intensity. Jamie Westbrook ripped a double to right field on the first pitch of the inning, and he advanced to third base on a wild pitch during Vladimir Frias' at-bat. Frias then singled home Westbrook on the third pitch of the at-bat, cutting the Jackson deficit to 5-3. Jose Queliz followed with a seven- pitch, full-count walk, putting the potential tying run on base.
Behind Queliz, Galli Cribbs Jr. swung on the first pitch he saw, grounding a comebacker to Tennessee's Craig Brooks that looked like a near-certain double-play ball. Brooks threw to second to force out Queliz, but a mad dash down the first base line by Cribbs beat the relay throw, staving off a critical second out. Frias moved to third on the play, putting men on the corners with one outs. Oscar Hernández, pinch hitting in the pitcher's spot, struck out swinging for the second out of the frame, drawing Lockhart to the plate.
The 24-year-old Lockhart took a called strike before swinging and missing on the second pitch from Brooks, falling behind 0-2. On the next five pitches in a row, Lockhart spoiled offerings from Brooks, finally taking consecutive balls on the eighth and ninth pitches to even the count at 2-2. The tenth delivery was yet another foul ball before finally Lockhart put the barrel to the eleventh pitch, lacing a single to left field that scored Frias. It was Lockhart's third single of the night, propelling his batting average north of .200 for the first time since August 5.
With Lockhart aboard as the potential go-ahead run, Marty Herum attacked the first pitch from Brooks, grounding a single into left field. Cribbs turned on the jets to score from second base, tying the game at 5-5, with Lockhart wheeling to third base. The very next pitch-with Kevin Cron hitting-was wild, allowing Lockhart to score the Generals' fourth run of the inning for an improbable 6-5 lead.
The bottom of the ninth was a tale of two ten-pitch sequences for Jackson's Mason McCullough (3-0, 2.35 ERA). In the first five pitches, McCullough allowed Trey Martin to single and Carlos Penalver to bunt him over to second base. Cael Brockmeyer then struck out on five pitches, bringing the Smokies to the brink. The next ten pitches saw McCullough plunk Charcer Burks, walk Andrew Ely on four pitches, and then hit David Bote on the fourth pitch of the at-bat, loading the bases and then bringing home in the game-tying run as consequences. McCullough struck out Jason Vosler to end the inning, moving the two teams into the tenth frame.
After an inning without scoring on either side, the Generals opened the eleventh with a pinch-hit single from Victor Reyes off Tennessee's James Norwood (1-3, 4.86 ERA). Lockhart executed a sacrifice bunt to move Reyes into scoring position, and Herum singled next to put men on the corners with one out. Cron-who was named the Southern League's Most Valuable
Player this week-lifted a sacrifice fly to center field that scored Reyes with Jackson's second tie-breaking run in three innings. Kelly Dugan followed Cron's productive approach with a single up the middle, scoring Herum to give Jackson a necessary insurance run at 8-6.
J.R. Bradley (S, 1) gave up back to back singles to begin the bottom of the 11th, putting Charcer Burks and Andrew Ely on the corners with David Bote batting. Bote grounded a ball to Cribbs that the shortstop could not cleanly field, giving Burks time to score and pull Tennessee back within a run at 8-7. As Bote stood at first base representing the winning run, Bradley knuckled down and induced flyouts from Jason Vosler and Yasiel Balaguert to again push Tennessee within one out of a loss. Jeffrey Baez, pinch hitting in the pitcher's slot, defied Bradley with a single to left field that re-loaded the bases. Bradley again found a way to cut through the pressure with a strikeout of Trey Martin, capping perhaps the year's best victory with his first save.
Lost in the glowing heat of the rally was a flawed but impressive Double-A debut by right-hander Tyler Badamo. The 25-year- old allowed five earned runs over the first three innings to Tennessee, but he also struck out ten batters, becoming just the third Generals player this season to record a ten-strikeout game. Badamo finished six innings, allowing ten hits that included one solo home run to Andrew Ely. Seven of Badamo's final ten outs came via strikeout. Gabe Speier took the ball after Badamo and pitched two scoreless frames, keeping the Generals in range for the late-inning charge.
Jackson's first run came in the first inning, with Lockhart getting on base by singling off Tennessee's Zach Hedges. Two batters later, Dugan singled to put men on the corners with two outs, but Jackson manager J.R. House called for a double- steal. Dugan broke for second base, drawing a throw from catcher Ian Rice that gave Lockhart just enough time to scamper home for a 1-0 lead.
Offensively, the Generals cashed in seven times in 16 chances with runners in scoring position, with Jamie Westbrook collecting the only extra base hit. Jackson stole three bases (two by Lockhart) and turned three double plays in the field to help their cause. Lockhart scored three runs and had his first three-hit game as a General, while Herum collected a trio of knocks for the fourth time at Double-A. Dugan finished with two hits and two RBI, as Jackson won a run-one game for a 24th time.
The Generals continue their final series of 2017 with a 7:00 pm ET start on Friday, as right-hander Brad Keller (9-9, 4.94 ERA) takes on Tennessee's Matt Swarmer (0-1, 5.40 ERA). Fans can hear all the action starting with the Pregame Show 15 minutes before first pitch on Willie 94 FM & 1390 AM, as well as the Jackson Generals Baseball Network via TuneIn Radio!
Thank you to all the great fans that made 2017-Jackson's first as an Arizona affiliate-a success! The Generals open up the
2018 season at home on April 5 against Jacksonville! Call the team at (731) 988.5299, stop by The Ballpark or go online to jacksongeneralsbaseball.com to get season tickets for next year now!