Valiant bullpen effort not enough in extras
7th-inning rally keys comeback, but Generals can't hold lead in 11th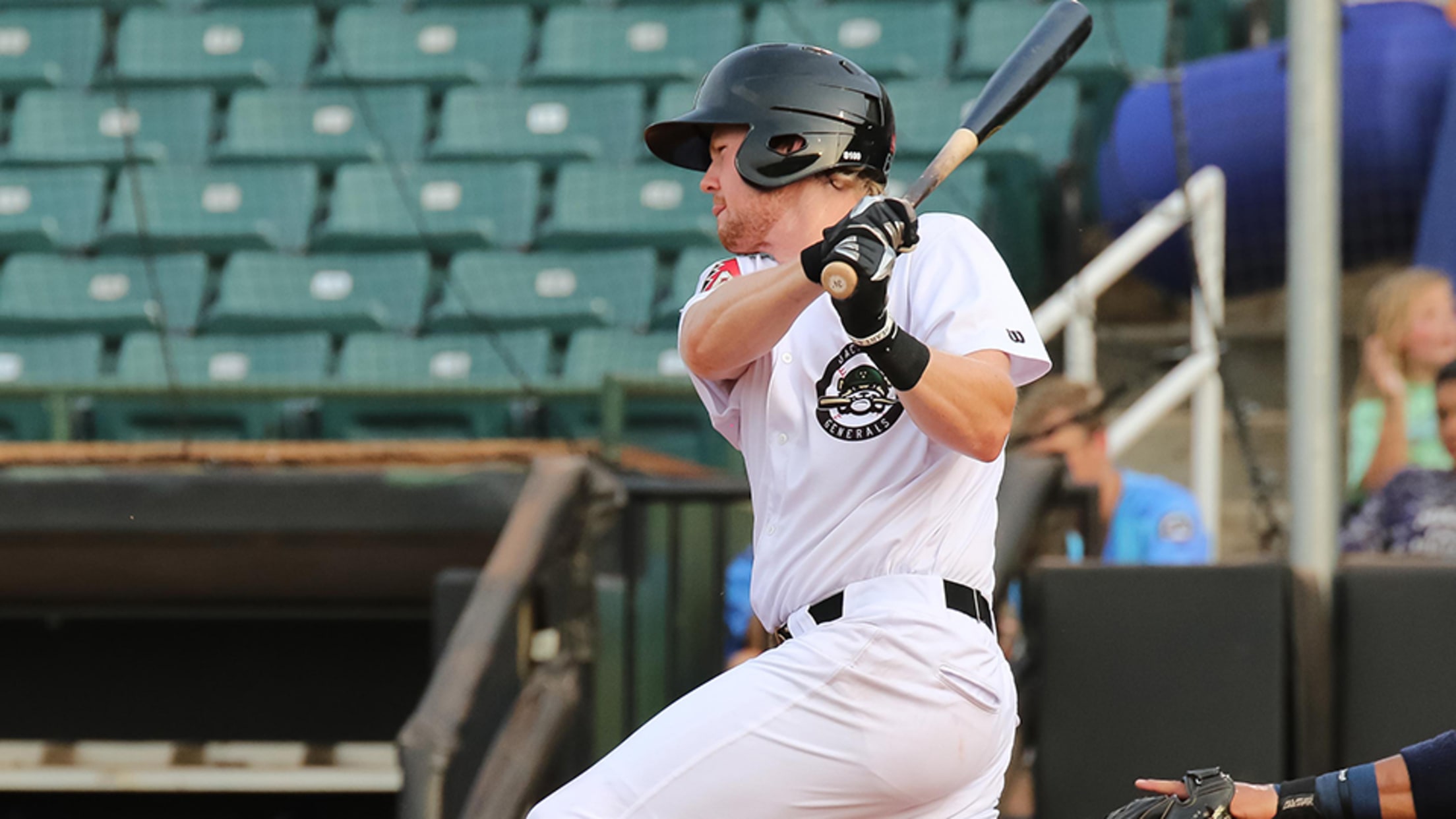 (Cody Cunningham)
Sevierville, Tenn. - The streak of tight games between the Tennessee Smokies and the Jackson Generals continued on Friday, extending what has become a thrilling daily ritual.
Sevierville, Tenn. - The streak of tight games between the Tennessee Smokies and the Jackson Generals continued on Friday, extending what has become a thrilling daily ritual.
After breaking up a shutout with a four-run seventh inning, the Generals pushed the game to extra innings, where Alberto Rosario's 11th-inning double drove home Jason Morozowski with a tie-breaking run. The Generals were done in by a two-RBI single from Jason Vosler, as the Smokies walked off 6-5 winners.
In defeat, the Generals got an excellent night from their bullpen. Ryan Atkinson's 2018 debut did not go as planned, as the right-hander was removed after getting bogged down in a three-run third inning for the Smokies. In his place, Michael Dimock tossed a scoreless inning and a third, and Anthony Vasquez added length to the tune of three innings with only one run allowed. Colin Poche and Yuhei Nakaushiro worked three combined scoreless frames, but the Generals couldn't cash in after getting the lead.
The Generals' offense, to their credit, found enough juice to keep pace after being stifled by Tennessee starter Thomas Hatch through the first five innings. Marty Herum and Juniel Querecuto went a combined 5-for-10 at the plate with three runs batted in, but the Jackson lineup also left 12 men on base and converted just 4 of their 17 opportunities with runners in scoring position. The loss snaps a four-game win streak for Jackson, though they can still claim a series win with a victory tomorrow or Sunday.


Top Performers - GENERALS
3B Marty Herum - 2-5, 2 RBI, 3B
SS Juniel Querecuto - 3-4, R, RBI, 3B
LHP Colin Poche - 2.0 IP, 0 R, 0 H, 0 BB, 5 K

Top Performers - TENNESSEE
RHP Thomas Hatch - 5.0 IP, 3 H, 0 R, 2 BB, 3 K
1B Jason Vosler - 2-4, 2 R, 3 RBI, BB
RHP Daury Torrez - 2.0 IP, 2 H, 0 R, 0 BB, 2 K

MOMENTS THAT MATTERED
TOP 7: Smokies right-hander Craig Brooks walks Jason Morozowski and hits Galli Cribbs Jr. with a pitch, creating RBI opportunities for both Juniel Querecuto and Jamie Westbrook. The two batting Generals come through, getting the Generals within a run before an out is recorded. After a sacrifice bunt and a strikeout, Marty Herum drives a 2-1 pitch for a triple, scoring Westbrook and Querecuto to send the Generals in front by a run.
>>SCORE: JXN 4, TNS 3
BOTTOM 10: With one out and a runner at third, the Generals go with five infielders and two outfielders (center field and right field), as Jose Vinicio comes in to plug up space in the infield. With left-hander Yuhei Nakaushiro on the hill and a right-handed hitter at the plate, Nakaushiro strikes out Trent Giambrone. After the K, Vinicio goes back to left field with an outfielder's glove, and Nakaushiro then induces an infield groundout to Querecuto at shortstop to extend the game.
>>SCORE: JXN 4, TNS 4
**BOTTOM 11: The Smokies start with catcher Erick Castillo as the designated runner at second base. Trey Martin lays down a bunt to try to move Castillo to third, but Generals first baseman Rudy Flores picks up the ball quickly and fires to third to try and nab Castillo. Generals fans saw Flores make a similar play against Jacksonville in the previous series, but the gamble doesn't pay off this time, as both runners reach their destination bases safely. With men on the corners and no outs, Yoan López falls behind in the count against Ian Rice and is forced to walk him intentionally to load the bases, thereby setting up force-out opportunities at each station. Eye to eye with Tennessee Smokies slugger Jason Vosler, Lopez (0-1, 2.70 ERA) blinks first, as Vosler singles on a two-strike pitch to drive in Castillo and Martin to end the contest.
>>SCORE: TNS 6, JXN 5
NEXT GAME:
6pm CT Saturday (4/14) at Smokies Stadium (Sevierville, TN)
RHP Sam Lewis (Generals) vs. RHP Oscar De La Cruz (Tennessee Smokies)

NEXT GENERALS HOMESTAND:
April 16-25 (vs. Birmingham Barons & Chattanooga Lookouts)
Dial 731-988-5299 for tickets to see Jackson Generals Baseball!